News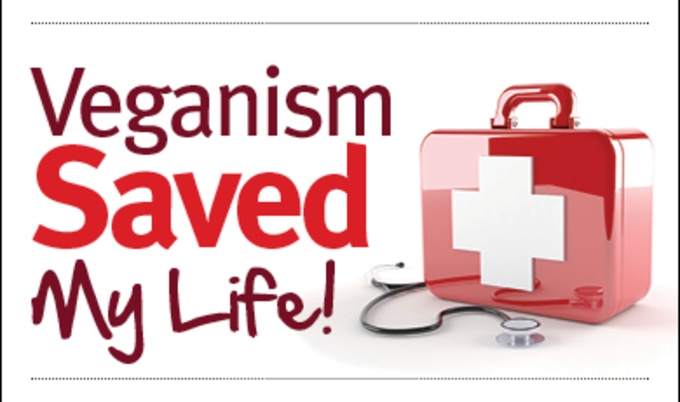 Veganism Saved My Life: Mark Eisenhart
In this special series, we share inspiring stories of people who have witnessed extraordinary health overhauls thanks to a plant-based diet.
January 20, 2013
---
Name: Mark Eisenhart
Diagnosis: Morbidly obese with 20 different diseases, including diabetes, high blood pressure, high cholesterol, a 90-percent loss of feeling in both feet from diabetic neuropathy, anxiety, depression, an eating disorder, loss of hearing, post-traumatic stress disorder, and many others
Prognosis: At the time just prior to my rock bottom, my status was critical and my prognosis was grim. I was hospitalized, and after my discharge I was placed in a partial-hospitalization clinical-immersion program. I was classified as disabled. I told my doctors I intended to get back down to my ideal weight without surgery, eradicate the diseases, and restore the vibrant health I enjoyed as a teenager, and they told me it was impossible.
Year Diagnosed: I have struggled with weight management and an eating disorder my whole life. I was diagnosed with diabetes in 2007 and over the course of the two years before my rock bottom, my diabetes became significantly worse. The diagnosis for PTSD came in 1999 following a career change. In summary, in my mid to late 30s I was not in control of my life.
What was your life like before your diagnosis?
At times in my life I was very healthy and in excellent shape, I just could never sustain it for very long. I have been an athlete all my life and played football and wrestled in high school and college as well as a short career playing minor league baseball. In my mid- to late-30s, my whole life spiraled out of control. I wasn't living. I was dying.
How did you find out about your diagnosis?
I was under the care of a very competent primary-care physician. I also used to work in healthcare so I was well informed.
What was your treatment plan laid out by your doctor?
My treatment plan consisted of everything from prescription medications to counseling to changes in my diet and lifestyle and outpatient psychiatric treatment. My doctor urged me to take my health seriously and comply with this program, but I didn't stick to it. I would stop and start. Then I watched my father—my best friend, my hero—beat cancer to die of liver disease. I was devastated. I decided after that to make getting and staying healthy my full-time job and highest priority.
How did you find out about a vegan diet?
I did a lot of research online and talked with experts in the field of nutrition, dietetics, etc. I read Brendan Brazier's book Thrive. That was a huge incentive for me. He was and continues to be a big inspiration for me.
When did you decide to give it a try?
December 2009. It was the one of the most important decisions I ever made (the most important decision was asking for help). Once I did that, it was just a matter of making and affirming the commitment to myself to get and stay healthy no matter what the cost.
What was it like to transition to a vegan diet?
It was difficult for me at first because there was a lot to learn. One of the first things I learned was that for every piece of information available there was a piece of disinformation. It was a fairly steep learning curve at first. Once I developed discernment and the ability to learn to listen to what my body was telling me it became much easier. I also did a cleanse, which made a huge difference for me. It allowed me to clean up all the bad plumbing that had accumulated over time. I not only transitioned to a vegan diet, but I also became gluten- and soy-free (and later agave-free too), high raw, and organic. Around 70 to 80 percent of my diet is raw.
What was a normal day of eating like before you started eating vegan?
My diet was horrible. I had a horrible eating disorder with an affinity for processed foods, sweets, over eating, and binge eating. I was quite fond of fast food (especially burgers, fries, and pizza). It was not uncommon for me to eat frozen pizza and fried chicken while watching a movie after midnight and finish with caramel corn and/or chocolate.
What is a day of eating like now?
I eat every two hours and six to eight times a day. I alternate greens, favoring spinach, kale, chard, and mustard greens. Quinoa and organic sprouted buckwheat and brown rice are staples in my diet along with lentils and beans. Flax crackers from Foods Alive have replaced bread in my diet and I use their dressings and oils on my salads all the time. I prefer vegetables including asparagus, Brussels sprouts, squash, sweet potatoes, broccoli, zucchini, and root vegetables such as sunchokes, beets, etc. I also eat sea vegetables to get my minerals. I begin each meal with raw apple cider vinegar and enzymes by Enzymedica as well as alkalinized water. I eat for satiety and practice mindful and conscious eating, paying attention to what is happening in my emotional and physical body.
When did you start to see results? What did your doctor think?
I began seeing results almost immediately. I noticed more energy, a feeling of being full having eaten considerably less food than before, and of course a significant amount of weight loss right away. My doctor was absolutely stoked. Though overall he was not surprised that the vegan and high-raw diet was working, he was surprised at how well and how quickly it was working.
How are you doing today?
I am healthier now than I have been at any other time in my life. I have more energy than when I was a teenager. I am garnering international publicity, having appeared on more 45 shows (including CBS' The Doctors). I competed on NBC's American Ninja Warrior, and will publish my second book in 2013 titled Changing What You Eat Changes Who You Are. I am also going to climb Aconcagua, a 7,000-meter peak in Argentina, which will be the subject of a documentary film titled Rattle The Cages. I am truly thriving and am just getting started.
Want more inspiring stories? Read about Natalie, Jeremy, Andres, Mary, Judy, and David's amazing health transformations!
Want more of today's best plant-based news, recipes, and lifestyle?
Get our award-winning magazine!
Subscribe