Vegan Weddings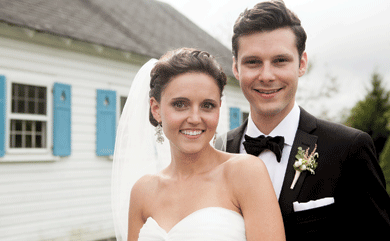 Vegan Weddings 2013: Kristen Powell & Michael Prince
While this couple knew each other in high school, it wasn't until their college days did they begin to attract each other's gaze.
October 2, 2013
---
Kristen Powell & Michael Prince
Guests: 155
Location: Wilmington, VT and West Dover, VT
Budget: $48,000
Their Story: It all goes back to homeroom, freshman year of high school. Since teachers often arranged the seating in their classrooms alphabetically, Kristen and Mike ended up near each other. But nothing romantic happened until college, when Mike asked Kristen out to a movie. He impressed her father by coming to the front door and shaking his hand, an anecdote that even made it into his wedding speech. They began dating long distance, did the on-again, off-again thing for a while, and eventually became a bona fide couple when they both ended up in New York.
The Big Day: Kristen and Mike had the honor of holding the first vegan wedding at Vermont's Hermitage Inn. Luckily, chef Paul Eschbach welcomed the challenge of crafting a vegan meal (and didn't bat an eye at Kristen's 47-page list of suggested menu items). The bride and groom made it their priority to ensure that every last detail—from the candles on the table to the crayons for the kids—was cruelty-free. And while no animals were harmed during the celebration of their wedding, one friend was. Close pal Clayton danced so hard he split his chin open on the dance floor. Now that's commitment!
The Menu
Savory Hors D'oeuvres
Veggie Sliders with Homemade Tomato Marmalade
Chickpea Fritters with Parsley and Tzatziki Sauce
Tostones with Fresh Heirloom Tomatoes and Herbs
Hummus Tacos with Harissa Sauce and Fresh Mint
Asian-Inspired Hors D'oeuvres
Raw Flax Tempeh Spring Rolls with Spicy Peanut Sauce
Veggie and Tofu Sushi
Noodles in Chinese Take-Out Boxes
Edamame Dumplings with Spicy Sauce
Tofu Spoons
Beverages
Cucumber Mint Water
Handcrafted Root Beer, Ginger Brew, Blueberry Mandarin Orange, and Lemon-Lime Vegan Sodas
Coffee and Tea with Soy Blenders and Vegan Cane Sugar
Entrées
Heirloom Tomatos and Mushroom Ragout Over Homemade Fettuccine
Plantain Chips, and Cilantro Purée
Roasted Vermont Summer Vegetables and Candle 79 Seitan Wrapped in Phyllo Dough
Wedding Cake
Chocolate Coffee Cake Layers with Mocha and Raspberry Fillings
Vanilla Cake Layers with Blueberry Filling, Whole Organic Blueberries, and Apricot Spread and a Lemon Rosewater Buttercream
Dessert
Apple, Blueberry, and Mixed Berry Pies, with Coconut Bliss Vanilla Ice Cream
Sorbet Trio in Plum, Strawberry Red Wine, and Lemon-Lime
S'mores
Want more vegan weddings? Purchase our special wedding issue featuring Kristen and Michael's vegan wedding! Check out all of our 2013 wedding couples here, 2019 couples here, 2018 couples here, 2017 couples here, our 2016 couples here, and our 2014 couples here!
Love the plant-based lifestyle as much as we do?
Get the BEST vegan recipes, travel, celebrity interviews, product picks, and so much more inside every issue of VegNews Magazine. Find out why VegNews is the world's #1 plant-based magazine by subscribing today!