News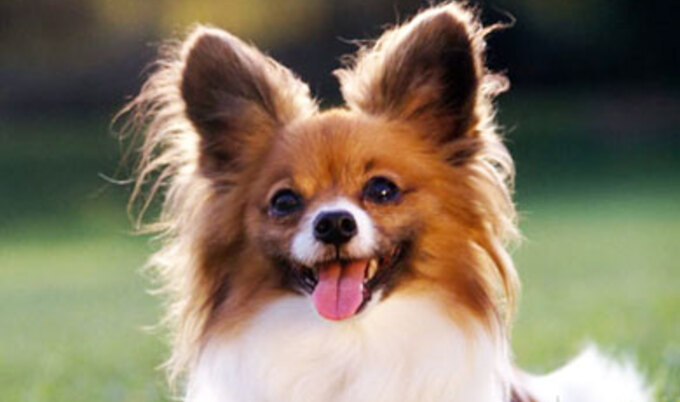 13 Adoptable Pups for National Puppy Day
In celebration of National Puppy Day, why not adopt a furry friend?
March 20, 2013
---
Started in 2006 by animal behaviorist and author Colleen Paige, March 23rd is National Puppy Day––an annual holiday to celebrate the unconditional love and companionship pups offer their guardians, educate the public on puppy mills, and encourage adoption. There's not a day that goes by at the VNHQ that we aren't emailing each other cute doggy photos or audibly awing over puppy postings, so we've put together a list of 13 dogs we wish we could adopt ourselves but hope you will. It was a tough task looking at endless photos of fuzzy puppies, but someone had to do it.
Bear
Portland, OR
Aptly named, Bear is a cuddly four-legged friend who is part golden retriever and part great Pyrenees. He and his brother, Tank (also looking for a good home), were rescued off the streets after Hurricane Isaac. Bear likes being active outdoors and rolling around on soft grass.
Chewbaca
San Jose, CA
Meet Chewbaca, a chocolate brown pomeranian whose toothless grin is as big as his name would suggest. He may have lost all his teeth due to a rough past, but that doesn't stop him from snuggling right up to his foster parents or enjoying car rides with his long pink tongue happily dangling out the side of his mouth.
Chiclet
Philadelphia, PA
Chiclet is an Australian shepherd/border collie mix, no-nonesense kinda gal. Just look at that face of hers; she's serious about finding the perfect parents to cuddle up with and playfully herd. Fuzzy and cute in all the right places, this little youngin' would make a great addition to a caring family.
Garfunkle
Madison, KS
Garfunkle is a two-year-old shih tzu with the best name and coolest puppy pompadour we've ever seen. This good-looking guy was born in a puppy mill before being rescued, neutered, and microchipped. He is currently being housetrained and is in need of all the love and affection he can get. With a face this sweet, we don't think it'd take much to fall for him.
Jack
Jamestown, ND
While the holiday is technically dubbed National Puppy Day, we know there are plenty of parents in search of an older companion to sit and watch TV with, and it's definitely not just puppies who need to find a good home. So we'd like to introduce you to cutie-pie Jack, a two-year-old Pekingese who plays well with other dogs and loves his chew toys.
Jagger
Chicago, IL
Attention Star Wars fans: adopt Jagger, you should; this boxer/Boston terrier mix, with his Yoda-esque ears, has eyes (and ears) no one could resist. A playful pup at about nine weeks old, he's got energy to burn and would love a family with furry siblings to run around with.
Jasper
Delhi, NY
Don't let this cute, mischievous face fool you, Jasper the four-year-old coonhound is here to prove you can teach an old dog new tricks. A graduate of the SUNY Delhi Veterinarian Science Program, Jasper received a Certificate of Training and Enrichment after completing a 14-week training course. He loves the outdoors and would be ideal for an active family.
Mia
Cedar Crest, NM
Pretty pup Mia is 10 years young and still has a lot of love to give to patient parents who can spend quality time with her, preferably folks who work from home so she can love up on them all day. She is mixed Siberian husky and chow chow, but is all sweetheart. She's a low-key dog that doesn't ask for a lot other than the compassion and care she deserves.
McGee
Hightstown, NJ
A Scottish terrier/Yorkie mix, McGee is a fun-loving and adventurous little rascal who enjoys the outdoors and gets along with everyone. He digs taking walks and strutting his adorably unruly black fur. Plus, have you seen the little white tufts on his paws? We think McGee gives presidential pup Bo a run for his money in terms of cuteness.
Molly
Lansing, MI
Good golly, Miss Molly, look at all that long flowing golden fur! This sweet lady has been working hard, dropping from a whopping 111 pounds to a svelte 88; healthier than ever, she's ready to take that car ride home with you. She has a few quirks and hopes to find guardians that will lovingly teach her the ways.
Rowdy
Greensboro, NC
We dare you to stare into this terrier's big brown eyes and not feel warm and fuzzy inside. A little older than two months, Rowdy weighs in at a tiny two pounds, half of which we're sure are his giant eyes. His wiry white fur and light brown ears lead us to believe he's part Jack Russell terrier. Rowdy's mother is a sweet rat terrier who is also looking for a good home.
Sterling
Houston, TX
This beautiful gray pit bull terrier puppy is just a baby with two stunning, different colored eyes anyone could love. Sterling is part of a liter of pups born in early October and just wants to go home with kind parents who have room in their life and home for a big dog with an even bigger heart.
Zing
Winter Haven, FL
You aren't seeing things, Zing really is winking at you; though the young shih tzu/pug mix had to have one eye removed from an old injury, he doesn't let it stop him, frolicking and keeping up with his two-eyed friends just the same. With a friendly temperament and small stature, Zing is happy to share his home with children and other pups.
If these 13 pups aren't right for you or your family, we hope you will stop by your local shelter or rescue group and consider adopting a companion. There are wonderful furry friends out there just waiting to love you unconditionally.
Please support independent vegan media and get the very best in news, recipes, travel, beauty, products, and more.
Subscribe now to the world's #1 plant-based magazine!
Subscribe