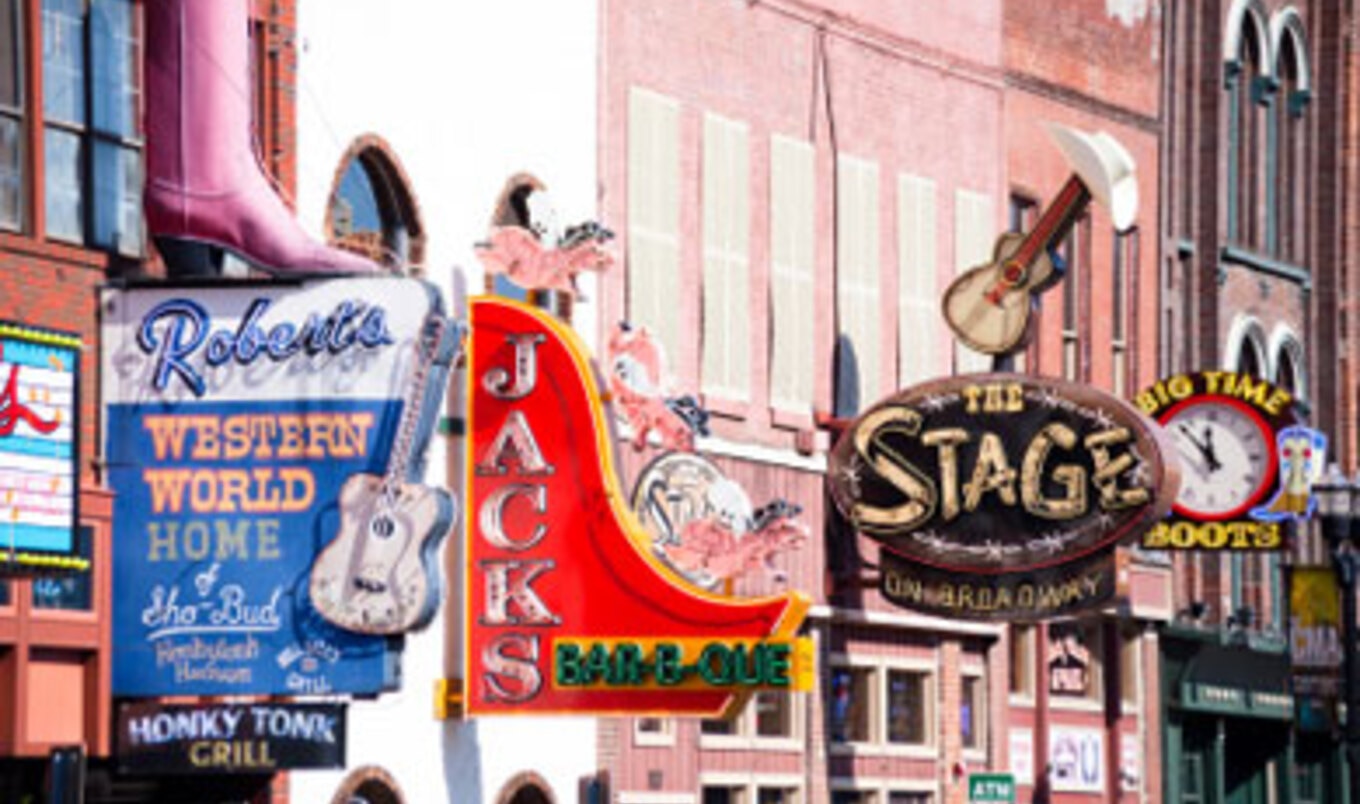 Music City, USA has way more vegan fare than what we could cram into two magazine pages. Here are 10 more stellar options for sustenance.
May 5, 2013
---
While the musical drama captured in ABC's hit show Nashville has rightfully enjoyed consistent acclaim, there's more to Tennesse's capital than warring country stars and lovelorn songsters trying to hold it together. In the May+June 2013 issue of VegNews, Christopher Greenslate takes readers on a tour of one of America's most musical—and veg-friendly—towns. These 10 food stops might not have made it into the magazine along with the likes of The Wild Cow, Hatch Show Print, and Chill Spot, but that doesn't mean you shouldn't stop by any one of them after a night at The Bluebird Café or a long walk down Broadway.
Khan's Desserts
Don't let the name fool you: even though they're known for a boatload of vegan cakes, cupcakes, scones, and other sugary goods (many of which it supplies to area eateries), Khan's recently opened café makes this Nashville's newest all vegan must-eat establishment. Savor the biscuits and gravy for weekend brunch or stop in anytime for a panini sandwich. Ordering The Surly Bird on fresh baked focaccia will commit your mouth to delicious crispy baked chicken, topped with vegan cheddar cheese, Lacinto kale, tomato, red onion, and chipotle agave mustard with toasted cumin.
Taco Mamacita
You might have to wait for a table, but the fact that the owners created a vegan menu stocked with options including Freakin' Vegan and Jerk tacos (which includes sautéed plantains, refried black beans, and mango salsa with a Caribbean jerk sauce) make this hip spot a great stop for a fun, casual bite.
Grins Cafe
Located near the Shulman Center of Jewish Life at Vanderbilt University, Grins (pronounced Greens) is both all vegetarian and certified Kosher. While they've got innovative wraps and BongoJava's signature vegan cookies, you'd be a fool to miss the Nashville Hot Tofu, a cayenne-breaded fried tofu with purple slaw on fresh baked bread.
Gojo Ethiopian Cafe
If you'd rather eat with your hands, nothing beats the veg platter with homemade injera at Gojo, Nashville's premier Ethiopian enclave. You'll get a series of tasty samplings, including miser w'et, split lentils cooked with onion, garlic, and ginger in a house-made sauce with hot pepper. If you're on a date, have it prepared for two and share your meal on the same platter.
The Dog
Within walking distance of Vanderbilt, The Dog stakes its claim as a student favorite in Hillsboro Village. A veggie dog topped with guacamole and sautéed mushrooms, or the Coney Island veggie dog topped with mustard, sauerkraut, and Tabasco onions keep the studious and the slacker alike coming back to this omni hotspot.
Bridgestone Arena
Chances are after an obligatory honky tonk crawl you'll be ready for some arena rock or seriously tough hockey. Don't be fooled by the token soft pretzels and popcorn on the ground floor as your only options. Your trip to Smashville would be incomplete without a visit to the Red Line Grill on the second floor, where vegan burgers are made in house and topped with fresh lettuce, tomato, and onion. Also, the chefs at the Patrón Platinum Club would also be happy to whip up a vegan dish upon request.
Woodlands
All vegetarian all the time, the all-you-can-eat lunch buffet at Woodlands is even more popular than its dinner menu (although that's great too). Voted Nashville's best in reader's polls year after year, this Indian staple is just the place for your belly to enjoy fresh dosas or aloo gobi for $10. Luckily the service is quick, so it won't take long to fill up that plate.
Mas Tacos, Por Favor
Despite having one of the most sought-after food trucks in town, Mas Tacos' sit-down location in East Nasty (hipster slang for east Nashville) often has a line stretching out the door. The Sweet Potato Quinoa and Fried Avocado tacos are obligatory, but you'll be quite surprised by the fried plantains over beans as well. All tacos are $3 and that includes tax and free limes. Can you say "si, por favor"?
The Frothy Monkey
While you could get a vegan bagel sandwich at the Frothy Monkey, you'd probably regret missing out on the Ned, an Italian tofu sandwich complete with hummus, cucumbers, sprouts, red peppers, and spinach on toasted multi-grain bread. The designer coffees are good too, especially when you sip one at the new satellite location inside Nashville's vinyl geek mecca Grimey's Too Records.
The Front
New in town but no stranger to late-night calls, The Front somehow manages to bake delicious cookies at all hours of the day and still have the energy to deliver them to you by bike messenger until 3am. That's right, specialty vegan cookies, brought to you on a bike, into the wee hours of the morning. It's no surprise that The Front was started by musicians and artists accustomed to late-night cravings, and with ever-rotating options including Orange Coconut, Lime Coconut, Chocolate Chili, and Bacon Chocolate Chip it's no wonder The Front takes pride in its skills.
Pick up the May+June issue of VegNews for more of Chris' Nashville picks.