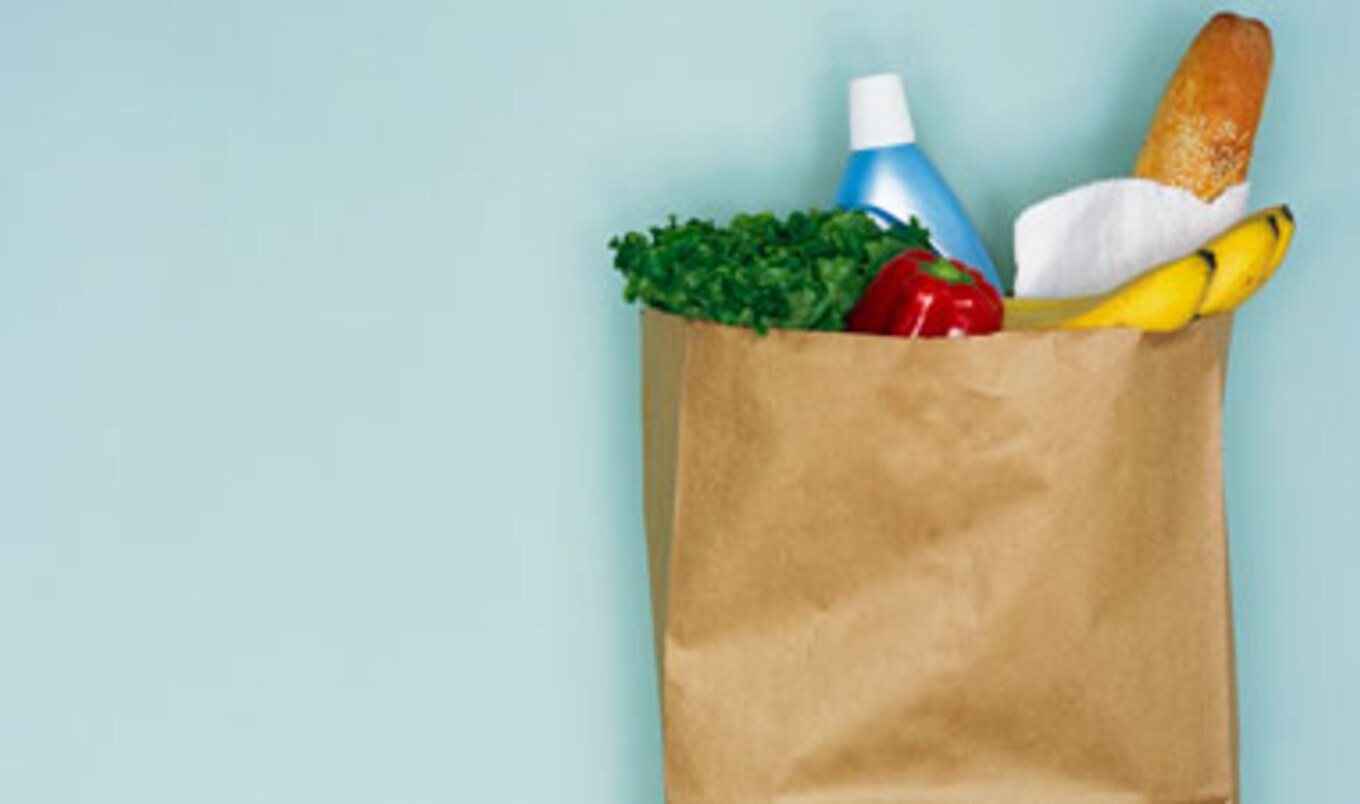 No Whole Foods? No Trader Joe's? No problem! Thanks to The Laziest Vegans, finding vegan eats at your typical American supermarket is easier than you think.
May 13, 2013
---
For some of us (namely West Coasters and New Yorkers), health food stores seem to be on every corner, but for many Americans, supermarkets are the only easily accessible way to stock one's cupboards. As a vegan, this may seem challenging at first—navigating seemingly endless rows of pre-packaged foods with questionable ingredient lists in search of a suitable plant-based snack to call your own. But, hark! John McDevitt, the voice behind blog The Laziest Vegans in the World, is here with a formidable library of tips and tricks for making the most of your run-of-the-mill mainstream grocery store. Read on, shop on, and nosh on.
Lettuce Begin
As a vegan, the best place to start is the produce aisle. Even if you are the laziest vegan alive, there are fruits and vegetables that you will love. Grocery stores always have pre-washed/ pre-cut produce for sale, so there is no excuse for not eating your greens! Pre-washed salad mixes from brands such as Earthbound Farm always hit the spot. Throw in some tomatoes, avocado, and onion, and enjoy. Even some brands of bacon bits are vegan (surprise!), and prepared guacamole and hummus also come in handy. Mainstream stores will have tofu and soymilk (we've come so far!), and don't forget the fruit—freeze some bananas, add frozen berries, and make a creamy smoothie.
Do The Can Can
In the canned food section, there's a plethora of plant-based choices. Hormel makes a vegan chili, and many varieties of Progresso soup are vegan. Of course, you can also load up on canned beans, which can be used in really easy ways: everything from a mock-tuna salad featuring chickpeas to a black-bean burger or taco meat made from lentils. And don't forget the refried beans. Old El Paso and many other supermarket brands are already vegan or offer vegan varieties.
Good to the Grain
The rice and grain aisle is a godsend of vegan goodness. Rice-a-Roni Spanish Rice and several of Uncle Ben's rice varieties are as simple as pressing a button on the microwave or boiling some water. And of course, there's plenty of pasta to be had. From gluten-free to whole-wheat varieties, most mainstream supermarkets will have a lot to chose from.
Vegan Eats World
The international aisle has a wide variety of vegan offerings. There are some really popular brands, such Thai Kitchen, La Choy, and Annie Chun's, that offer meat-free soups, noodles, and rice dishes. Even Knorr-Lipton gets in on the action with its Singapore Curry Noodles and Asian Curry varieties, and Near East has amazing boxed couscous. Tasty Bite and Patak's also has some delicious pre-packaged Indian meals that are ready in a flash.
Snack Attack!
The snack aisle (my favorite) has an abundance of vegan eats. Everything from Fritos, Oreos, and Spicy Sweet Chili Doritos to Nutter Butters and some Teddy Grahams are vegan. For something a little less processed, salted cashews are the best. And don't forget to grab a Spicy Hot V-8 from the beverage aisle for good measure.
Killer Cereal
Of course, you can't forget about the cereal aisle. Trix, Corn Chex, Rice Krispies, and Life are all vegan, plus many natural cereals. Unfrosted Pop-Tarts, Quaker Instant Oatmeal, or even Fruit-by-the-Foot will also help ward off your munchies.
Frozen Fun
In the frozen section, you can find everything from vegan sorbet to puff pastries. I'm going straight towards the SuperPretzels, Ore-Ida Tater Tots, and Edy's Whole Fruit Bars. And don't forget your frozen veggies stir-frys and frozen fruit for your smoothies!
Store Lore
Local grocers are your friend because they want your business rather than depending on corporate cash. When you visit, make sure you fill out a customer feedback card and request vegan items. Better yet, have all of your friends put in requests! National grocery chains have their perks too. One example is Kroger. While vacationing in Columbus, OH, I noticed Kroger has its own line of products and some happen to be vegan—let's just say my week in Columbus was full of bagels. Wegmans has a vegetarian guide on its website with a mention of veganism, and even Walmart and Target have jumped on the vegan diet trend with tons of products at low prices. Your store inventory may vary, but most will have soymilk, organic veggies, tofu, cereal, and more. As most towns have a Walmart or Target, this is a great equalizer! Even warehouse stores have jumped on the bandwagon. Costco sells some of the most popular vegan products in bulk—imagine buying Field Roast sausages or Gardein tenders by the boatload, or even vegan staples such as frozen vegetables, nuts, canned beans, or my favorite, frozen quinoa. Big-box stores are a great place to stock up in large quantities to save time and money.
Veganism gets easier every day. This year marks my 10th anniversary of being vegan, and I can truly say I feel the tide shifting. Now let's eat some Oreos!