News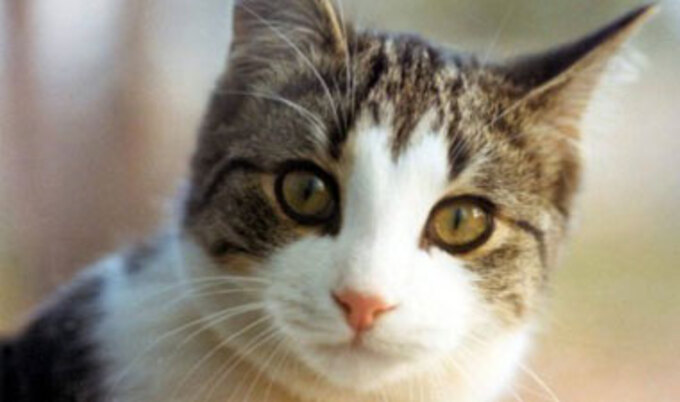 13 Adorable, Adoptable Feline Friends
These fine felines will, purr, climb, and pounce their way into your heart this Adopt a Cat Month
June 17, 2013
---
Cats have captured the affection and attention of people for millennia, from ancient Egyptians who looked on them with reverence, to average PC users who help pass the workday with feline meme emails. While cats' "awww" inspiring characteristics make them instantly loveable, millions are stuck living in animal shelters or are euthanized every year. You can save them from such a fate by taking one in, and there's no better time than June, which is Adopt a Cat Month. We have compiled a list of 13 feline friends who are waiting for you and your family to welcome them into your home.
Alaska
Memphis, TN
If you already have a feline family member and want another cat who knows how to play nice, then Alaska is your girl. She is a Tennessee native with crystalline blue eyes that are complemented by her stunning white paws. She was rescued from a high-kill shelter and needs some humans (and animals) to give her some love on her second lease on life.
Emily
Boston, MA
A staff member of the Animal Rescue League of Boston says that Emily "soaks up affection like a sponge," so if you're looking for a pretty kitty to love, Emily is an ideal candidate. Her all-white fur coat and big blue eyes will melt your heart, and your lap is always the best seat in the house—you'll never be lacking company.
Flint
Austin, TX
This Lone Star State cat was raised by a hoarder and lived in cramped and unsanitary conditions before he was rescued. His name is befitting of his warm nature and fiery zest for life. He's extremely social and as charming as a prince, so you can expect him to make your friends, his friends.

Harley Hooligan
Chicago, IL
Harley Hooligan spent his early life stuck in a cramped cage with many other animals, but the folks at Chicago Cat Rescue were able to take him and find him a foster home. Harley is known for his dynamic nature, which ranges from exuberantly playful to laid-back and snuggly. While he is beloved by his current foster mom, he is looking for a permanent family to join.
Madeline
New York, NY
Madeline is a tiny calico cat with a big heart. While she is from the city that never sleeps, she is completely cool with lounging around on lazy afternoons and getting her tummy rubbed. Madeline's previous parents surrendered her because they were moving to a new home. She's comfortable in a domestic setting and is unanimously cherished by children.

Madelyn
Phoenix, AZ
Madelyn is a two-year-old calico cat who has a lustrous coat of fur that just begs to be petted. She relishes attention, and will show her appreciation with a resounding purr. Madelyn may be shy when you first make her acquaintance, but after a few minutes she comes around. This cat does well in single households, with families, and with other feline friends. While she appreciates the simple things in life—a comfortable cushion to lie on and a window to gaze out of—she will gladly accept any and all toys you give her.
Mario
New Orleans, LA
Mario was brought in to the animal shelter when he was just a kitten. At 10 months old, he's ready to begin a new chapter in his life with human companions who want to give him the affection and admiration he deserves. Mario has developed an irresistible charisma and has a habit of cozying up to people—make room on the couch!
Neechie
Rockford, IL
Neechie is a hairless sphynx who emanates love and yearns for attention. He has a penchant for following humans around, and likes to wait for them to sit so he can claim his perch on their laps. Neechie was declawed by his previous owner, so he also must be kept indoors.

Odee
Orlando, FL
Odee may be a baby, but his life has already been a big adventure. Odee and his brother Mouse were abandoned in front of a Petco at an early age, and he temporarily has a home with foster parents. His black and white face and looming, innocent eyes will surely make him love at first sight.
Pele
San Mateo, CA
Pele is an ideal companion for couples who have a low-key home and want a new furry friend with some character. He is of the Persian persuasion and specializes in spreading laughter and cheer with his quizzical countenance and idiosyncratic demeanor. Pele has been declawed, so he must stay indoors for his own safety.

Phoebe
Atlanta, GA
Phoebe's mother was rescued in Atlanta this April only days before giving birth to Phoebe and her siblings. This kitten's curious, wide-eyed gaze makes her instantly endearing and nearly impossible not to cuddle. Phoebe is a playful companion and gets along well with other furry, four-legged housemates.
Rosemary
Portland, OR
Rosemary, an American Shorthair Tabby, was abandoned by her last guardian in Portland and was eventually taken into custody by Animal Aid Inc. after a neighbor found her looking for food. She is house-trained and has a shy and tranquil nature, which makes her the perfect recipient for some TLC. You'll know she's a smitten kitten when you hear her loud purr!
Salsa
Boise, ID
Salsa may be a black cat, but you won't mind if she crosses your path. Her dark, velvety, coat and large, emerald eyes make her an enchanting sight. She is low-maintenance and doesn't need to be doted on—a belly rub from time to time will suffice—and true to her Midwestern roots, she is congenial, warm, and welcoming.
These are just 13 of the many cats who are in need of a permanent home. This Adopt a Cat Month, make a trip down to your local shelter and meet the furry felines just waiting for you and your family to give them the love and attention they deserve.
Please support independent vegan media and get the very best in news, recipes, travel, beauty, products, and more.
Subscribe now to the world's #1 plant-based magazine!
Subscribe