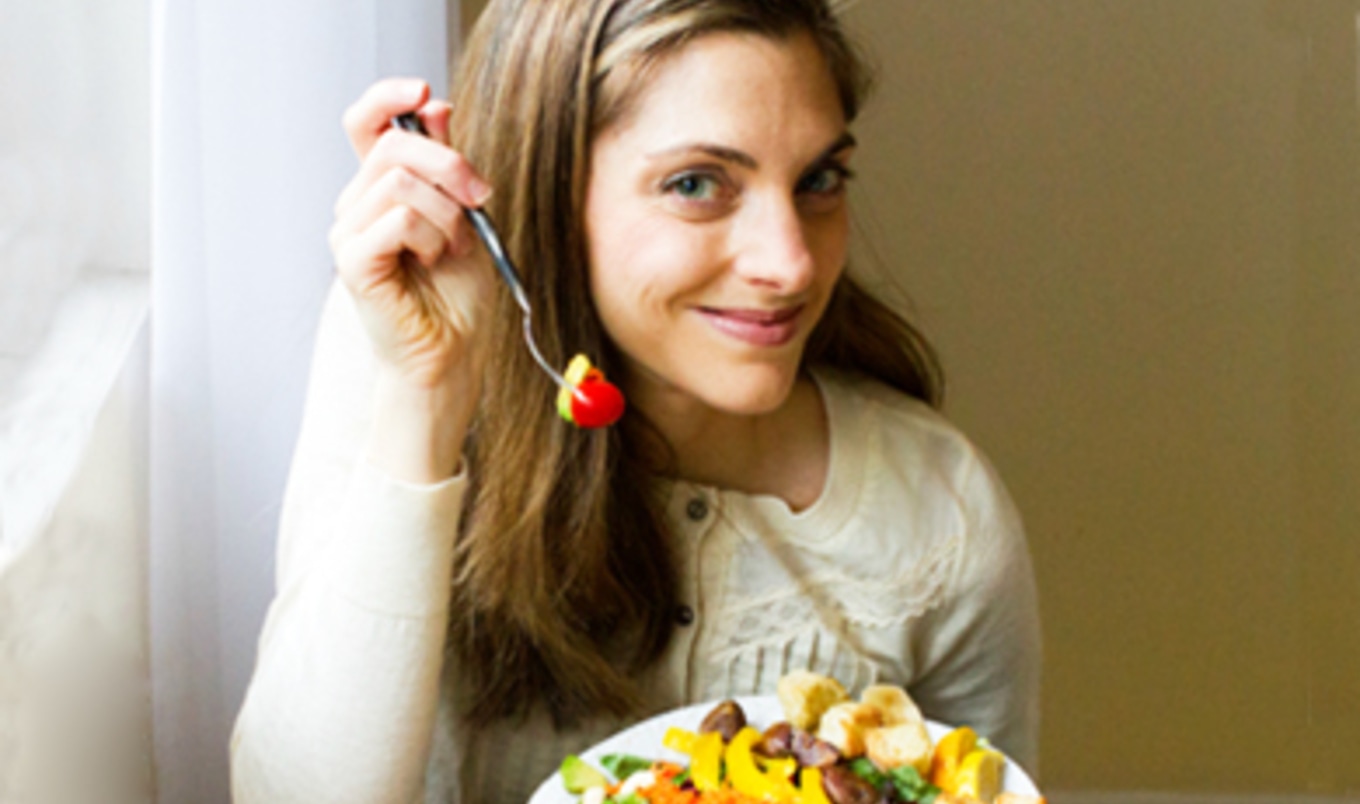 The prolific vegan blogger behind Healthy Happy Life shares what goodies are on her plate in 72 hours of straight food magic.
June 10, 2013
---
Kathy Patalsky of popular vegan food blog Healthy Happy Life is gearing up for the July 2 release of her new book 365 Vegan Smoothies. In between posting tantalizing recipes and creative smoothie ideas, Patalsky takes a little time off to go trapeze-flying on the Santa Monica pier, snooze on a sun-covered deck with her kitty, and enjoy a stroll through the Los Angeles farmers' market, while letting us in on the healthy, delicious treats she indulges in through it all.
Friday, May 31
Breakfast: I woke up bright and early, because I was meeting my friend Stephanie in Santa Monica to go trapeze-flying on the Santa Monica Pier. I had my usual Goji Berry Lemon Tea (with cayenne, maple syrup, fresh lemon juice, gojis, and hot water), but I skipped breakfast and just had a banana since trapezeing and large meals do not mix well! It was hot out during the day so I chugged a bottle of ZICO coconut water all through the two-hour flying class on the pier.
Lunch: Steph and I were starving, so we headed over to Real Food Daily for lunch. I had a Glow Juice with extra ginger and the special Pura Vida Salad. It had pickled radishes, kale, beans, and I added some blackened tempeh. After lunch, I ate a giant gluten-free chocolate chip cookie. I was planning on saving it for later but I guess I was pretty hungry from the busy morning! I drank a Gingerberry Synergy Kombucha when I got home, and also broke into a bag of kale chips and nibbled. Later, I enjoyed some freshly chopped pineapple and raw jungle peanuts for a snack.
Dinner: My husband and I decided to kick off the weekend with mimosas and appetizers. I made a platter with chilled organic red grapes, fresh pico de gallo salsa, warm hummus with pumpkinseed oil drizzled on top, red pepper slices, and some toasted ciabatta bread slices for dipping. For dinner, I whipped up a few "pizza salads" with fresh chopped romaine, tomatoes, diced cucumbers, and sweet onion, plus some sautéed BBQ tofu cubes on top … and I stuck a frozen Amy's Vegan Margarita Pizza in the oven for us to share. I always jazz up my frozen pizzas by adding plentiful fresh toppings such as chopped mushrooms, onion, and a few chunks of pineapple too. For dessert, I had a small bowl of cappuccino-flavored Larry & Luna's coconut milk ice cream.
Saturday, June 1
Breakfast: This was my first weekend back at home after a few weeks of traveling, so I was happy to sleep in. When I rolled out of bed around 11am I had my Goji Berry Lemon Tea (as always!), and about a half hour later, I made my husband and myself two giant protein smoothies. I made him Spicy Cacao Banana, and I had my fave Secret Ingredient Matcha Shake, which has frozen banana, frozen watermelon (my secret ingredient), almond milk, matcha green tea, and a scoop of vanilla protein powder. I am obsessed with this smoothie and make it a few times a week. We were super boring since we both had tons of work to catch up on (post-vacation week!) so we perched ourselves in a cozy sunbeam and worked on our laptops, snoozing kitty by our side. All morning, I chugged chilled lemon-mint water (I keep some in the fridge) and nibbled on One Lucky Duck Cheese-y Quackers. I also drank a bottle of Pressed Juicery green juice I had in the fridge.
Lunch: I passed out in a sunbeam nap with my kitty (I instagrammed a photo!). It felt so good! (I will blame the trapezeing.) When I woke up, I was starving and whipped up some skillet-hot quesadillas. I used giant spinach tortilla wraps and stuffed them with hummus, avocado, sweet onion, and juicy tomato, then sautéed them in safflower oil until crispy and browned. We shared the quesadillas and had homemade limeade on the side.
Dinner: We watched a movie that night (I made my husband watch Reality Bites since he had never seen it!), and then for a late dinner, we continued the tortilla trend by making some giant salad wraps. I stuffed them with blackened tempeh, tomato, onion, avocado, and plenty of fluffy spring mixed greens, plus Chipotle Vegenaise with some Trader Joe's sweet potato tater tots on the side. I had sparkling mineral water with lemon at dinner, and coconut water right before bed.
Sunday, June 2
Breakfast: I woke up, and we went to my fave place in LA: the farmers' market! I loaded up on fresh fruit and veggies, drank a huge glass of fresh grapefruit juice at the market, and ate a handful of organic blueberries. We drove home with our goodies and then went to Le Pain Quotidien for vegan brunch. I ordered a soy latte and steel cut oats with maple pecans and bananas, plus a large fruit salad. I also had a few bites of my husband's vegan tofu scramble. We split a slice of vegan carrot cake too.
At home later that afternoon, fresh fruit was calling my name, so I gobbled down a giant bowl of cherries from the market. I had a lot of fruit today, but just couldn't help myself!
Dinner: We were feeling pretty tired and decided to order takeout from Native Foods Café. I had the OC Raw Chopper Salad, a few of my husband's sweet potato fries, and the Scorpion burger, which is loaded with tempeh, zesty shaved onions, and yummy sauce. For dessert, we split a chocolate cupcake from Native Foods Café with lemon water to drink.
Kathy Patalsky's new book 365 Vegan Smoothies will be available July 2, 2013. Click here to order it.