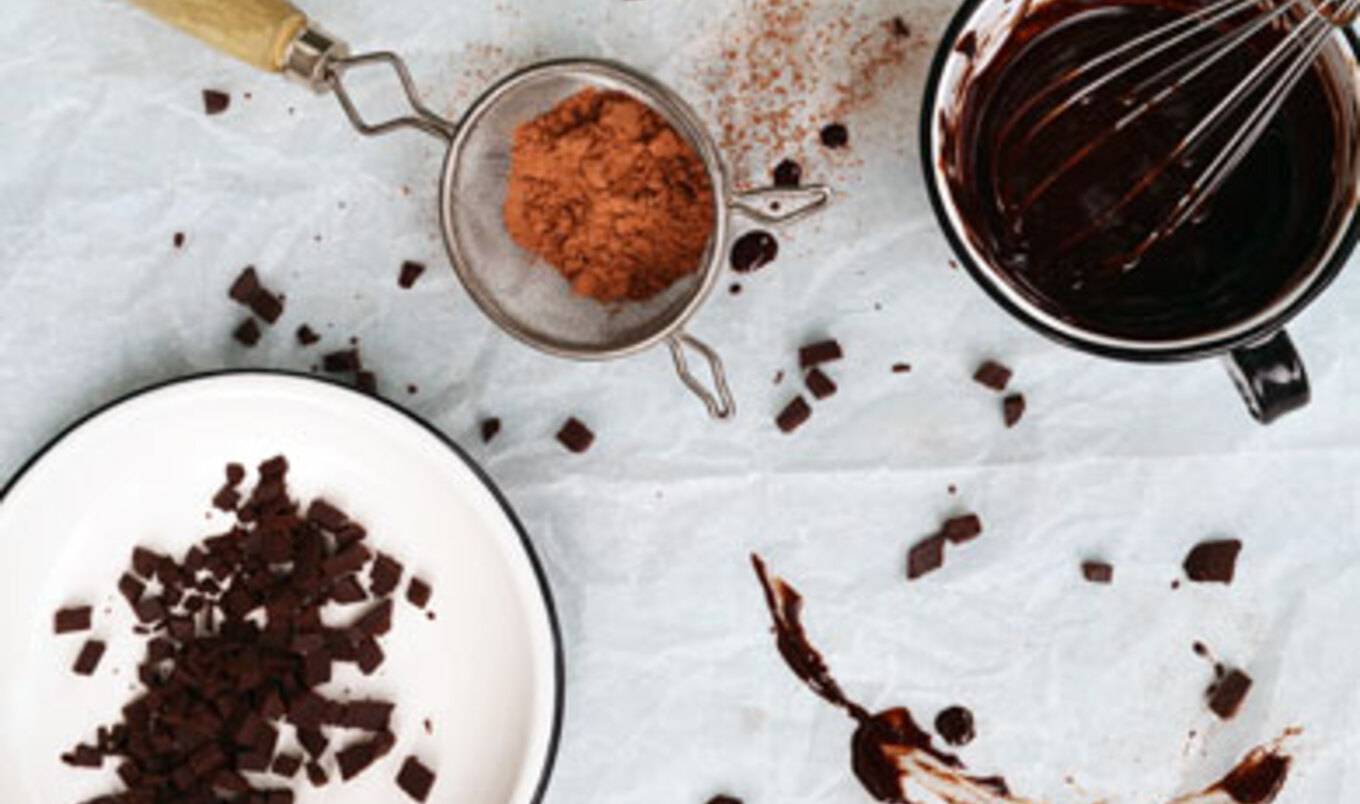 The inspiration behind these light and fluffy vegan cupcakes is none other than mint chocolate chip ice cream, and we wouldn't have it any other way.
August 27, 2013
---
Makes 12 cupcakes 
What You Need: 
3/4 cup plus 1 tablespoon soy milk
4 teaspoons cider vinegar
1-1/4 cups plus 2 teaspoons self-rising flour
1/4 cup cocoa powder
1 cup sugar
1/4 teaspoon salt
1/4 teaspoon baking soda
1/4 teaspoon baking powder
1/3 cup light rapeseed or other flavorless oil
1 tablespoon vanilla 
1/2 teaspoon mint extract, oil, or flavoring
1/2 serving of Chocolate Spread Topping (recipe below)
1 serving of Mint Buttercream Icing (recipe below)
Chocolate, for grating or shaving
Chocolate chips (optional)
What You Do:
Mix the soymilk and vinegar together. Set aside for 10 minutes. Preheat oven to 350 degrees. Line a muffin tray with muffin liners.
In a bowl, mix the flour, cocoa powder, sugar, salt, baking soda, and baking powder by hand until fully combined.
Add the soymilk mixture, oil, vanilla, and the mint extract, and using a metal spoon, quickly mix everything together for about 10 seconds until the ingredients are just combined. Don't mix the batter too much; it should still be a little lumpy. Tap the bowl on the work surface to stop the rising agents from working too quickly—you will see the bubbles pop.
Using an ice cream scoop or a spoon, place the batter evenly into each of the muffin tins and tap the muffin tray on the work surface to pop the bubbles again.
Place in the oven and bake for about 15 minutes. Cool in the muffin tray on a wire rack for 10 minutes, then transfer the cupcakes in their cups to the rack to cool completely.
Once cool, top each cupcake with Chocolate Spread Topping (add a few additional drops of mint extract for extra mint-y-ness) and Mint Buttercream Icing. Decorate with grated chocolate and chocolate chips.
Chocolate Spread Topping
For 12 cupcakes
What You Need:
1 cup cocoa powder
1/2 cup plus 1 tablespoon light rapeseed or other flavorless oil
1/3 cup agave syrup
What You Do:
In a bowl, stir all the ingredients until completely combined. If it feels too thick, add a little extra oil.
Cool in the fridge for about an hour to firm up.
Mint Buttercream Icing
For 12 cupcakes
What You Need:
5 tablespoons vegan margarine
5 tablespoons vegetable shortening
1 tablespoon vanilla 
6 cups powdered sugar
2 tablespoons plus 2 teaspoons soy or rice milk
1 teaspoon mint extract, oil, or flavoring
1/4 teaspoon green food coloring paste (not liquid)
What You Do: 
Using an electric or hand-held mixer, whip together the margarine, shortening, and vanilla until creamy, about 30 seconds.
Add half of the powdered sugar, 2 tablespoons non-dairy milk, mint extract, and food coloring paste and continue mixing, slowly at first and then bringing up the speed until combined.
Add the rest of the powdered sugar and mix for about a minute until you have a smooth consistency. If the icing is too firm, them mix in a bit more milk. If it is too soft, add a bit more powdered sugar. 
Photo credit: Nicole Axworthy