Food + Recipes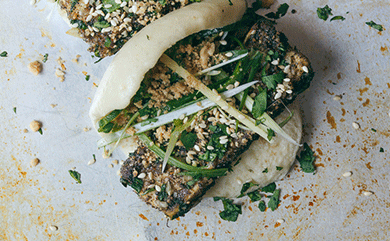 Vegan Miam Salt and Pepper Tofu Gua Bao
A medley of herbs, spices and veggies makes this a dynamic dish that will satisfy your sweet and savory side.
---
Serves 2 to 3 people or makes 10-piece appetizer
What You Need: 
For the pickled cucumber salad:
3 Persian cucumbers or 1 ½ English cucumbers, thinly sliced in small rounds
½ teaspoon sea salt
¾ teaspoon raw cane sugar
2 tablespoons rice vinegar
½ tablespoon toasted sesame oil
¼ teaspoon dried chili flakes
½ teaspoon cilantro leaves, rinsed, patted dry, and coarsely chopped
For the ground sweet roasted peanuts:
½ cup roasted unsalted peanuts
2 ½ tablespoons raw cane sugar 

For the salt and pepper tofu:
4 green scallions
1 ½ tablespoons 5-blend peppercorns (or use white and black peppercorns), freshly ground
½ tablespoon Szechwan peppercorns, freshly ground
4 tablespoons potato starch
2 teaspoons fleur de sel or sea salt
1 16-ounce firm tofu, pressed overnight (up to 8 hours)
Rice bran for frying (2-4 tablespoons per batch depending on the size of wok or shallow pot)
2-inch fresh ginger, peeled, and finely sliced lengthwise into thin matchsticks
2 teaspoons garlic, finely minced
2-3 tablespoons cilantro leaves, rinsed, patted dry, and coarsely chopped for garnish
Toasted sesame seeds for garnish 
What You Do:
For pickled cucumber salad, in a bowl, place the cucumber slices and toss with salt. Let sit for about 30 minutes. Rinse and drain well. In a small bowl, combine sugar, rice vinegar, toasted sesame oil, and dried chili flakes. Add mixture to the salted cucumber. Add cilantro for garnish. In a glass container or jar with a lid, refrigerate for an hour. Serve chilled.
For ground sweet roasted peanuts, using a mortar and pestle, crush the peanuts until they appear coarsely chopped. Add the sugar. Mix together well. Store the mixture in an airtight container and set it aside.
For salt and pepper tofu, rinse scallions, cut off the root ends and the top of the dark parts. Cut each scallion into three equal sections. Halve each section lengthwise and cut each half into thin matchsticks. Set them aside in a bowl. Keep ¼ cup julienned green onions for garnish in the end.
Using a mortar and pestle or coffee grinder, grind the Szechwan peppercorns and the 5-blend peppercorns separately. If you do not have 5-blend peppercorns, use black and white peppercorns.
For "tofu mixture," in a medium baking dish or tray, mix potato starch, salt, ½ tablespoon Szechwan peppercorns, and 1 ½ tablespoons 5-blend peppercorns. Make sure the bottom is covered with the "tofu mixture."
Slice the block of tofu width-wise into 10 rectangular blocks. Make sure the tofu blocks are wet. Coat the tofu blocks on all sides with the tofu mixture and toss well.
In a large wok or shallow pot over high heat, heat the rice bran oil until very hot. Start adding the coated tofu blocks. Top with ginger, garlic and scallions. Stir-fry for 4 to 5 minutes until the tofu blocks are slightly browned. If your wok is too small to fit all 10 tofu blocks, halve the tofu blocks, ginger, garlic, and scallions and make two batches. Season the cooked tofu blocks with toasted sesame seeds. You can also toast sesame seeds in a small saucepan over medium heat, shaking the pan occasionally until slightly darkened and fragrant for 3-5 minutes, and then allow the sesame seeds to cool.
Set up a bamboo steamer on the stove. Do not crowd the buns (gua bao). On the parchment squares, steam the buns for about 2 to 3 minutes if frozen, or 10 minutes if made from scratch, until soft and warm. Remove them immediately and set them on a wire rack.
Once the buns are ready and warm, add the salt and pepper tofu and top with pickled cucumber salad, ground sweet roasted peanuts, chopped cilantro leaves, and julienned scallions. Do this for every bun. Serve immediately.
Chef's Tip:
You can use store-brought and frozen buns (gua bao) at your local Asian markets, however some of them contain dairy (non-fat dry milk). If you're feeling inspired, make your own using this
gua bao recipe
, adapted from
Momofuku
cookbook. 
Please support independent vegan media and get the very best in news, recipes, travel, beauty, products, and more.
Subscribe now to the world's #1 plant-based magazine!
Subscribe