Food + Recipes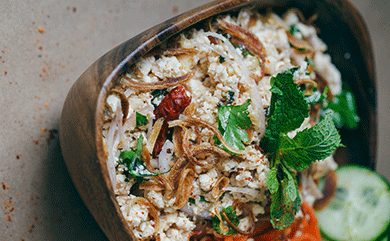 Vegan Miam Tofu Laap
Vegan fish sauce and ground Thai chili peppers give this Tofu Laap a spicy, seafood twist.
---
You can serve the laap with fresh julienned or sliced vegetables mixed with steamed rice, or use them as fillings for collard wraps.
Serves four
What you need:
For the vegan fish sauce:
2 tablespoons raw cane sugar (Turbinado)
¼ cup filtered or spring water
¼ cup canned pineapple juice
2 tablespoons light soy sauce 
For the toasted rice powder:
3 tablespoons uncooked rice (glutinous, sticky, jasmine or white)
Coffee grinder or mortar & pestle
For the ground dried Thai chili peppers:
3-4 dried Thai chili peppers
For the fried shallots garnish:
3 tablespoons shallots, peeled and finely sliced lengthwise
3 tablespoons or more rice brain oil
For the leap:
2 14-oz. firm tofu, pressed overnight (up to 8 hours)
2 tablespoons rice brain oil
3 ounce shallots, peeled and finely sliced lengthwise
3 tablespoons lemongrass stalk, trimmed and sliced into thin rounds
½ cup + 2 tablespoons vegan fish sauce (see above)
½ cup lime juice, freshly squeezed
1 ¼ teaspoons ground roasted Thai chili (see above), plus more for spicier version
½ cup cilantro leaves, coarsely chopped
½ cup fresh mint leaves, coarsely chopped
2 ½ -3 tablespoons store-brought or homemade toasted rice powder (see above)
What You Do:
For fish sauce, in a large bowl stir the water and sugar together until the sugar dissolves. Add the pineapple juice and light soy sauce and mix well. Refrigerate in a glass container or jar with a lid for an hour. You will use all of it in this recipe.
For toasted rice powder, in a pan over high heat, add the rice and keep stirring until slightly dark brown and toasted. Set aside to cool. Using a mortar and pestle or coffee grinder, grind toasted rice into a fine rice powder. Transfer to a bowl and set it aside.
For ground dried Thai chili peppers, in a pan over high heat, add dried chili peppers. Keep stirring until slightly charred on all sides. Using a mortar and pestle or coffee grinder, grind them into a fine powder (you may see some seeds and skin, it is optional to remove these for ground powder). Always handle chili peppers with caution. Transfer to a bowl and set it aside. You will have extra if you like very spicy laap.
For the shallots garnish, make sure your shallots are patted dry. In a microwavable bowl, add enough oil to cover the shallots. Place the bowl in the microwave and cook on high for about 2 to 3 minutes, stirring every minute until shallot turns slightly golden in color. Let them stand for 1 to 2 minutes in the hot oil and transfer them to a paper towel-covered bowl. Set aside to cool.
Break up the tofu blocks into small crumbles with your hands, resembling ground "seitan."
In a large saucepan, over medium heat, cook rice bran oil and tofu for 3 to 4 minutes or until thoroughly cooked. Using a wooden spatula, break up tofu into smaller crumbles if there are still big lumps.
Remove the pan from the heat immediately. Add the shallots and lemon grass rounds as quickly as possible and gently stir to combine. Add vegan fish sauce, sugar, lime juice and ground dried Thai chili peppers. Stir to combine. This is a mildly spicy dish. For medium heat, add additional ½-1 teaspoon, or very spicy, add additional 2-3 teaspoons to taste. Make sure you stir before tasting.
Add the cilantro and mint and gently toss together. Garnish with toasted rice powder shortly before serving. 
Ingredient Insight: I used Pearl River Bridge Superior Light Soy Sauce. It is GMO-free.
Please support independent vegan media and get the very best in news, recipes, travel, beauty, products, and more.
Subscribe now to the world's #1 plant-based magazine!
Subscribe