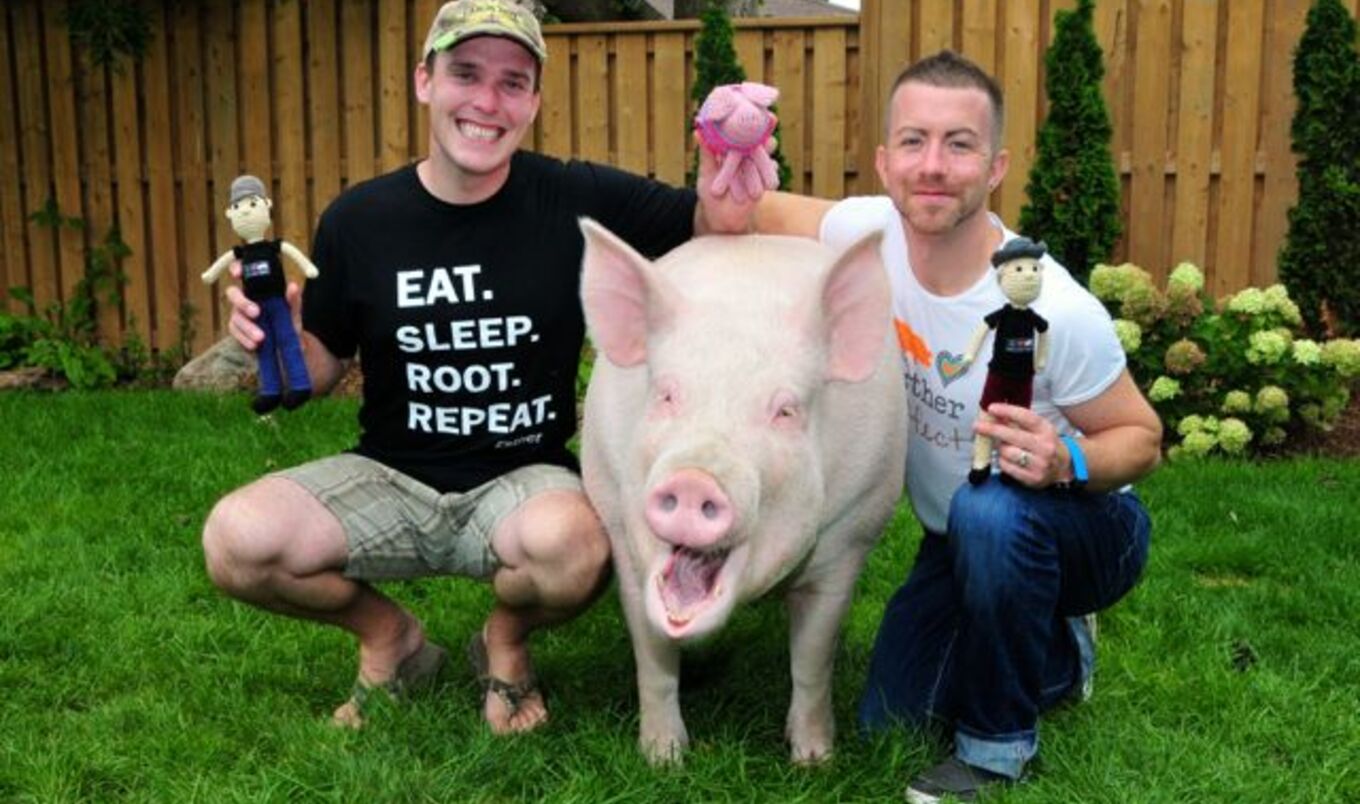 "Person of the Year" honors the biggest vegan of them all!
December 28, 2014
---
Each year VegNews Magazine chooses a Person of the Year who best embodies the spirit and aspirations of veganism; the individual who, over the last year, had the largest impact toward promoting the ideals and benefits of a cruelty-free lifestyle. In 2014 no one loomed larger (figuratively or literally!) than Esther the Wonder Pig, reaching millions of people around the world with her charisma and smile while changing hearts and minds about the beings we eat.
Esther's two non-vegan dads, Steve Jenkins and Derek Walter, rescued her as a (supposedly miniature) piglet in late-2013. One day shortly thereafter Derek and Steve were about to eat bacon when they realized the hypocrisy of their actions. Both immediately went vegan. Esther, meanwhile, started to grow. And grow. And grow. Miniature she was not. Meanwhile, all this was happening in Steve and Derek's suburban home on Southern Ontario.
A Facebook page was created with daily updates of Esther's antics. Today the page has close to a quarter-million "likes" and each post or video is viewed by nearly 1 million people. It's worth noting that neither dad had much social media experience prior to being rescued by Esther.
Unable to keep a very large pig secret in their residential backyard, Derek and Steve turned to Indiegogo to raise funds to buy a farm to turn into a sanctuary. Setting an almost-unrealistic goal of $400,000, in just two months the campaign raised more than $440,000. The property was purchased and is being transformed into Happily Ever Esther, a farmed animal sanctuary. Late this year Esther & Co. moved in, and today it is home not only to Esther, Steve, and Derek, but four additional pigs, a horse, and a donkey. As for Esther, she's nearly 700 pounds and still growing!
As a global movement to confer personhood to non-human animals is rapidly building steam, the editors of VegNews believe it is time to recognize that not all great people stand upright and walk on two legs. It is with great honor that we award Esther the Wonder Pig our 2014 Person of the Year. Esther joins past esteemed recipients of the POTY award including Rory Freedman, Kathy Freston, Heather Mills, Tal Ronnen, and The Vegan Athlete.
Photo: Melissa Li