Food + Recipes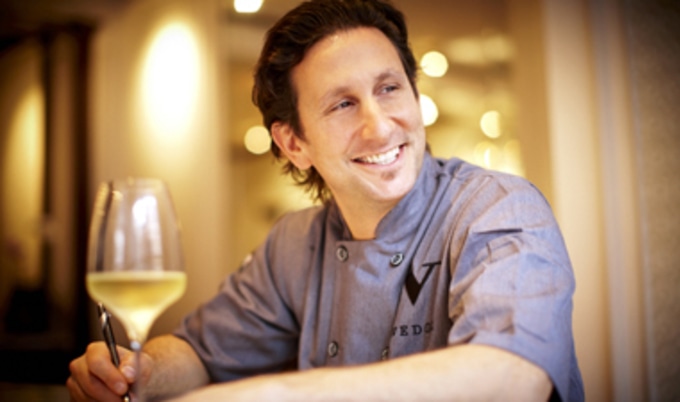 A Day in the Life: Vedge Chef Rich Landau
Ever wonder what it's like to run a flourishing vegan restaurant? For one day, we follow Philadelphia"s Rich Landau for an inside look.
---
From Food Network's Chopped to NBC's Today show, everyone seems to be talking about vegan chefs these days. But what really goes on behind the bustling scenes at veganism's hottest restaurants? VegNews gives readers a sneak peek as we follow James Beard-nominated Rich Landau of Philadelphia's Vedge to see just how this vegan chef makes the magic happen.
6:50am
First alarm goes off. But I'm up anyway—great on weekdays, a curse on Sundays when I should be sleeping in. Downstairs to start the coffee. Maybe I should know more about coffee than I do in my line of work, but I know what I like. Super strong, espresso roast with just a little Silk creamer to smooth out the edges.
7:15am
The smell of coffee brewing is just enough to get Kate [Jacoby—Landau's wife, Vedge's co-founder, and the restaurant's sommelier and pastry chef] out of bed, and Rio [Landau's son] will be stumbling down not far behind. So I start our favorite breakfast: soba noodles in shiitake dashi. Over the years, we've picked up many breakfast rituals during our travels, but I credit Japan for the greatest influence in our daily eating habits. The food there is elevated and beautiful, intensely seasonal, and prepared with restraint and respect for ingredients. A full Japanese breakfast is very veg-friendly: a feast of rice, tofu, braised and pickled vegetables, seaweeds, and leafy green salads. Noodle bowls for breakfast are simple to prepare. One pot goes on for the dashi, add dried shiitakes, kombu, and tamari. Another pot for the noodles. Cook, drain, strain, and breakfast is served. From the fridge I find chopped scallion, spinach, and tofu. A little togarashi, done.
8am
We rush to the car and drive Rio to school. One or both of us escort him into class, always eager to learn what the hot vegetarian lunch option will be. Today it's barbecue seitan (albeit foodservice quality, but a great sign of the changing times). Then we head back home to tidy up the house a bit. Before we know it, the phone rings and the work day has begun.
9:30am
Phone calls fielded and emails returned, we're now heading to the restaurant. It's a mile from home, a great walk and chance for us to talk shop. Once we arrive, Kate disappears to the office with a stack of papers, an I hit the kitchen to meet up with Val and Allison, my daytime dream team. Allison has the farm's produce delivery all checked in, and Val and I figure out what the day's Dirt List [a daily selection of seasonal starters] will be. We still have ramps, though they must be used quickly, and we have some beautiful kale rabe (the flowery stalks of kale that have gone to seed) Allison jumps on flatbread dough, and Val has a pot on for blanching. I start stocks and sauces and work on the rest of my prep list. I'm constantly picking and grazing through our work. Caper bagna cauda, mushroom XO sauce, yuzu kosho vinaigrette—you have to taste it to know it's right.
Noon
Kate is back from the office, talking about ice creams and sorbets with Allison, and I'm making lunch for us. After tasting all morning, we like to keep things simple: a big romaine salad with sherry vinaigrette and crumbled cauliflower, and broccoli rabe sautéed with garlic, chili flakes, and extra virgin olive oil. Green on green—perfect.
1:30pm
My staff arrives, and we go over the night: the Dirt List, expected covers, who's been naughty and nice, etc. It's pretty gloomy out, so we decide on a soup on the Dirt List. As the rest of the kitchen team rolls in, Kate and I head home so we can pick up Rio. We ask him how his day was, and our second question is always, "How was lunch?"
3pm
This part of our afternoon is always family time with snacks. Today it's vegetable antipasto with bread and Sicilian olive oil from one of Kate's favorite winemakers. Fancy as that sounds, it's really just cold leftovers from the fridge, but why not make a little celebration out of it? Brussels sprouts, olives, garbanzo salad, and marinated radishes. One great thing about veggies is, when prepared right, they can be even more delicious served cold the next day.
3:30pm
Pans out again, I'm starting dinner for Rio and his longest-standing babysitter, Ryan. Rio requested tempeh. I spent years of my life shunning the stuff as one of the evil icons of vegetarianism, but now I take it all back—I absolutely love it, as does Rio. Forget the health food stigma—as a food product it stands up with its awesome, nutty flavor and a great texture. I give it a spice rub of coarse garlic, thyme, sage, salt, and pepper, cut it into workable strips, then sear it in a really hot pan with safflower oil. I brown it on all sides, then finish with extra virgin olive oil to give it a nice shine. Out comes the tempeh and in goes fresh garlic and spinach, flash-seared then drizzled with a little olive oil and some lemon. A few baby potatoes roast in the oven, and a classic "protein-starch-veg" meal is done. No way Rio and Ryan will finish it all, so Kate and I share a little while we get ready to head back to Vedge.
4pm
At the restaurant, we check in with our managers before sitting down for lineup at 4:30. This is our chance for front and back of house to come together each day. We discuss the Dirt List and the day's ice creams and sorbets, put up samples of any new dishes, talk about any special requests coming in (a six-top chef's tasting menu with wine pairing and an industry promotional event going on in the cocktail lounge during happy hour). We break, then all dart out in our separate directions. The kitchen staff finish setting up their stations, pulling out garnishes and finishing sauces; the floor staff detail their sections, lighting candles and filling water pitchers.
4:55pm
Vedge is open and ready for a big, busy night. The happy hour regulars are loving the Korean tacos and sipping on whatever new funky cocktails our bar manager, Daniel, has created for the evening. Tonight we're running the Green Daiquiri made with fresh fennel and celery. The night rolls on, and there's always so much to do that I never watch the clock. By about 7pm, our tasting menu guests are sitting down and I'm orchestrating a sumptuous parade of plates to a group of very adventurous foodies. This is a little tour of classics and fresh ideas, trusted techniques and new inventions. Tonight, I'm showcasing a small cache of fiddlehead ferns and test-driving beautiful hand-cut pasta finished with ram and nigella seed, and Kate has finished the menu with a sorrel bonbon she's been working on. When I have a quick second, I sneak down to the walk-in to see if there's anything left of our staff meal. Score—fajitas! Always a crowd pleaser for our crew, I'm surprised there's a little left over.
10pm
The last guests' orders are in, and the night is winding down. Kate and I check out with our managers before heading home to relieve Ryan. She's been watching Rio since he was just 3 months old. Now part of our family, she understands our crazy schedule like no one else, and we love catching up with her.
11pm
Balcony time. We came up with this term years ago on vacation—it's about sitting outside on a deck or balcony somewhere, usually near the ocean, when we have a drink, relax, enjoy the view and talk about life, reflect o the day, and look forward to what's next. At home, we're lucky to have a half-floor loft tha hangs like a perch over our living room. Here we have balcony time, nearly every night, curled up in two big faux-leather chairs while we unwind from the day. As you may have guessed, there is food involved here too. Typically, it's something super simple, but Kate has a new sparkling wine to try, so we whip out the seaweed caviar, capers, and truffle mustard on toast points. We talk shop for a little and let our minds wander. Not a bad way to finish out such a jam-packed day. Just around midnight, we're setting our alarms and tucking into bed, thankful for everything we've worked for in life and ready for another busy day in the restaurant business.
Please support independent vegan media and get the very best in news, recipes, travel, beauty, products, and more.
Subscribe now to the world's #1 plant-based magazine!
Subscribe