News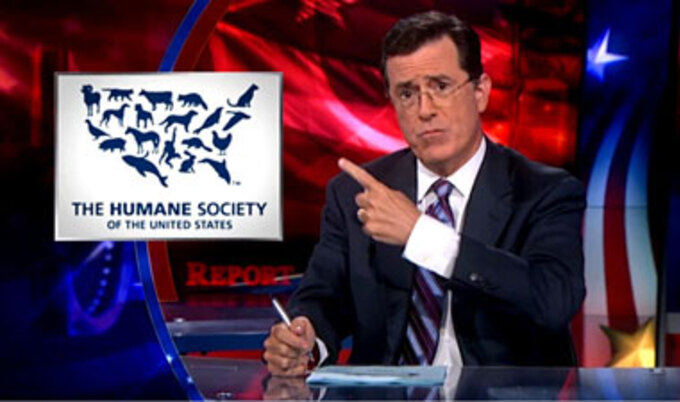 Colbert Calls Out Candidate for Cockfight Speech
The Colbert Report host noted the inhumanity of cockfighting and factory farming on an April 7 episode of his show.
April 8, 2014
---
Satirical political pundit Stephen Colbert lambasted Kentucky Republican Senate candidate Matt Bevin for speaking at a cockfighting event while on the campaign trial. Colbert chided Bevin for first denying that he was aware that he was speaking at a cockfight, and then expounded on the ludicrousness of Bevin's secondary defense in which he claimed the founding fathers engaged in cockfights and dog fights, thus making it an acceptable American tradition. Colbert also noted the hypocrisy of a US public that decried Bevin's choice of speaking venue yet still consumes chickens that are produced at inhumane factory farms. "Some so called Americans oppose making roosters fight to the death," says Colbert. "They prefer their poultry to be humanely crammed 40 to a crate and then be compassionately beheaded by a homicidal conveyor belt." Click here to watch the clip.
Want more of today's best plant-based news, recipes, and lifestyle?
Get our award-winning magazine!
Subscribe