Recipes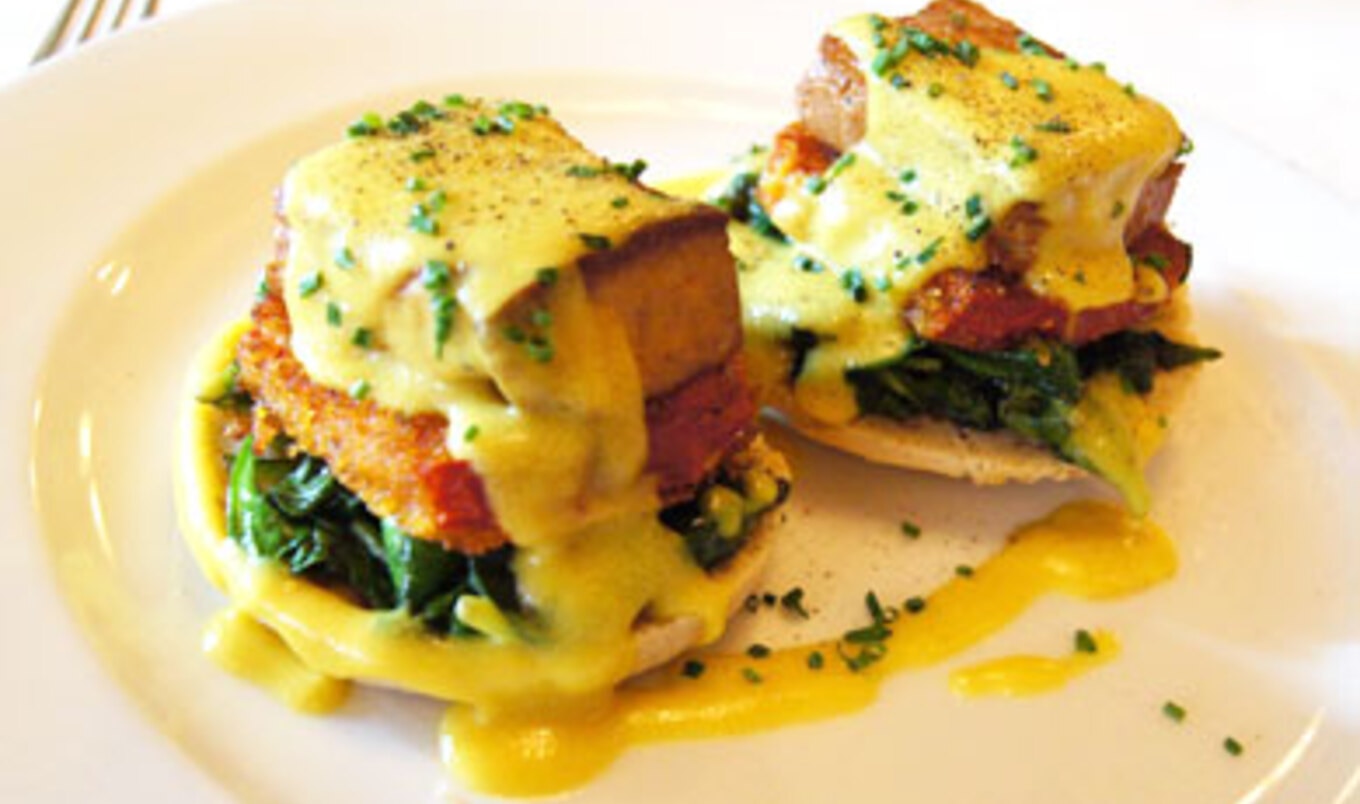 VegNews Exclusive: Top Tips for An All-Star Vegan Brunch
We talked to veganism's top culinary experts for advice on how to enhance your brunch experience.
April 17, 2014
---
When busy schedules abound and holidays are few and far between, it can be a challenge to get your nearest and dearest together for a few simple hours of enjoyment. So sometimes you have to create an occasion. Enter brunch—a meal synonymous with leisure, laughter, and light-heartedness. Whether you're planning a cozy occasion with just a few people or want to fill your home with a multitude of eager eaters, keep in mind these five no-fail tips for a meal worth remembering.
Beverages
Brunch should be a celebratory occasion, one that is worthy of a hearty cheers!. So it's important to have an array of drinks to keep those raised glasses full. Coffee is a must-have, but you don't have to settle on the plain, percolated variety. Mix things up with Creamy Boozy Iced Coffee, made with whipped cream, dark chocolate, and infused with Frangelico liqueur. While you can never go wrong with the ubiquitous mimosas and bloody Marys, Brian Patton, author of The Sexy Vegan's Happy Hour at Home, recommends mixing things up with creative cocktails using fruit and vegetable flavors. "There are plenty of vodkas infused with fruit, spices, and even tomato, celery, and cucumber that could combine nicely with fresh veggie juice," says Patton. "Combine carrot or beet juice with a celery or cucumber-flavored vodka, a bit of agave, and a splash of club soda, and you'll have a refreshing cocktail that gets you detoxing while you're re-toxing." Take a page from Patton's book with the Mangled Mango, made with mango purée and mixed with spiced rum, ginger beer, and lime.
Tofu Scramble Bar
Instead of serving one big batch of tofu scramble with all the mix-ins already mixed in, Post Punk Kitchen's Isa Chandra Moskowitz—who literally wrote the book on vegan brunch—recommends a buffet-style approach. This is the perfect way to appease the most picky eaters and avoid any allergy incidents. "Instead of adding a million ingredients to the scrambled tofu, create a scramble bar," says Moskowitz. "Have one big casserole and separate add-ins like sautéed veggies, avocado, and fresh herbs on separate serving plates. That way guests can do up their brunch anyway they like."
Sweet & Savory
Bring a dynamic edge to the brunch table with a spread that caters to your guests' sweet and savory sides. Your offerings can range from your most clever culinary endeavors to breakfast basics and lunchtime comfort foods. "I like brunch pizza, savory pancakes, tartines, and crêpes," says Makini Howell of Seattle's Plum Bistro. "Make brunch a special celebration almost like an expansive sweet and savory dinner in the middle of the day." For a simple-yet-sweet offering, try this Maple-Spice Ginger Cookie Breakfast Risotto, while these High Protein Vegan Breakfast Burritos can be divided up into scrumptious finger-food, mini-wraps.
Lucky Day
Just because you're hosting doesn't mean you have to do all the work! Ask your guests to prepare their favorite vegan dishes or dare them to try innovative and challenging recipes. If any of your friends are not well-versed in the art of cooking, you can ask them to bring store-bought brunch staples such as almond milk, fakin' bacon, or vegan breakfast sausage. You can also make the meal a collaborative effort and invite some of your friends over to lend a hand in the kitchen beforehand.
Day Before Preparation
The pros agree: keep the mayhem to a minimum and get a head start the night before. "Prepare as much as you can," says vegan culinary guru Chloe Coscarelli, "including setting the table, arranging flowers, etc. Things like hash browns, tofu scramble, unbaked coffee cakes, or cinnamon rolls can all be made the day before and reheated or baked off." For a meal that's convenient, but doesn't sacrifice quality for convenience, best-selling vegan cookbook author Robin Robertson recommends preparing dishes with a slow cooker. "The best thing about using a slow cooker for brunch is that you can assemble the dish ahead of time and then cook it in the morning to be ready in time for brunch," she says. "You can then keep it warm and serve it right from the slow cooker. What could be easier?"
No matter how extravagant or basic your brunch soirée, don't forget that the most important ingredient for success is your own enjoyment. Let the food and drink be the backdrop to the company you keep and the conversation you have. Each delicious dish and carefully crafted cocktail simply serves to enhance the overall experience as you savor the best part of the meal—those you share it with.
Love the plant-based lifestyle as much as we do?
Get the BEST vegan recipes, travel, celebrity interviews, product picks, and so much more inside every issue of VegNews Magazine. Find out why VegNews is the world's #1 plant-based magazine by subscribing today!