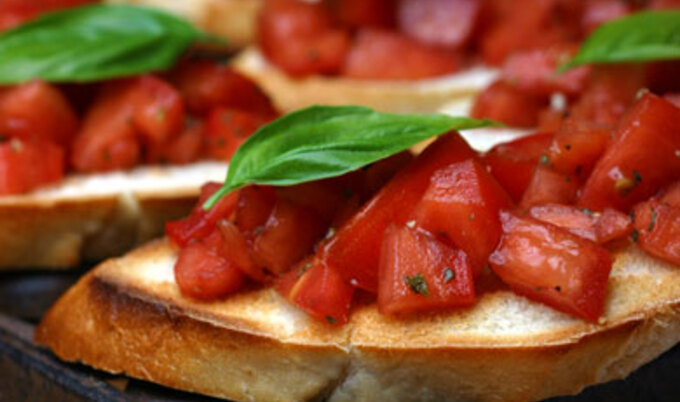 Tomato-Basil Crostini
Elegant, delicious, and easy to prepare, these crostini make the perfect summertime app!
Forget whatever new, fancy thing you can do with your iPhone; the app that is sure to actually improve the quality of your life is this simple, utterly yummy appetizer. If there's a better combination than tomatoes, basil, and bread, we don't even want to know about it.
Serves 6
What you need:
4 large tomatoes, diced
2 teaspoons sea salt or kosher salt
1/2 teaspoon freshly ground black pepper
1 teaspoon dried oregano
1 teaspoon dried basil
2 tablespoons balsamic vinegar
12-inch baguette or French bread, sliced into 1/2-inch-thick rounds
1 to 2 tablespoons olive oil
Fresh basil leaves, as garnish (whole or cut into ribbons)
What you do:
Preheat the oven to 400 degrees. In a medium bowl, add tomatoes, salt, pepper, oregano, basil, and vinegar and mix well. Transfer tomatoes to a mesh strainer and set over a bowl or sink. Drain 12 to 15 minutes.
Lightly coat a large baking sheet with olive oil. Arrange bread rounds on baking sheet. Drizzle a few drops of additional olive oil over each round. Bake until lightly toasted, about 5 minutes.
Allow rounds to cool 5 minutes, then arrange on a serving platter. Top each round with roughly 1 tablespoon of tomato mixture, and drizzle with additional olive oil. Top with a fresh basil leaf.
Love vegan food and cooking as much as we do?
Get the BEST, editor-tested recipes inside every issue of VegNews Magazine. Find out why VegNews is the world's #1 plant-based magazine by subscribing today!
Subscribe