Food + Recipes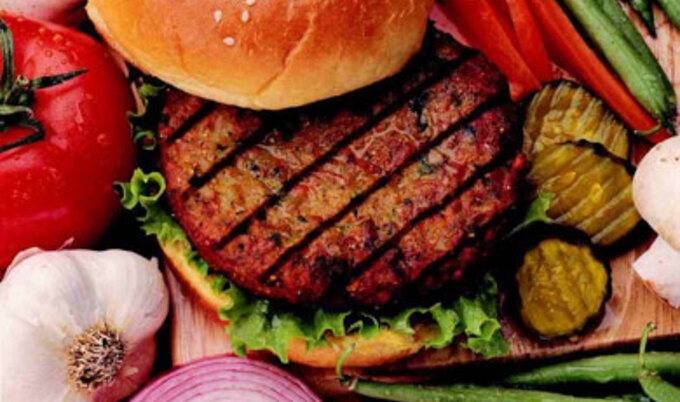 The Sexy Vegan's Spicy Korean Burgers
Everything else on the grill will pale in comparison to these Asian-infused, sweet-yet-savory patties.
---
Add Eastern flair to your backyard barbecue sessions this summer with these Spicy Korean Burgers by The Sexy Vegan blogger and cookbook author, Brian Patton. Asian pear, kimchi, and Worchestershire sauce create a tasty amalgamation of sweet, savory, and smoky flavors that will surely have you coming back for seconds, or even thirds.
Makes 4 burgers
What You Need:
1/2 cup tamari
1 cup vegetable stock
1/4 cup plus 2 tablespoons brown sugar, divided
2 teaspoons sesame oil
1/4 teaspoon liquid smoke
1 teaspoon vegan Worchestershire sauce
1-inch piece ginger, peeled and sliced
4 garlic cloves, smashed
1/2 medium yellow onion, roughly chopped
2 portobello mushrooms, de-stemmed and cleaned
1 cup frozen edamame, thawed and drained
1 flax egg (see Egg Exchange, below)
1 tablespoon mushroom powder (see Mushroom Magic, below)
1-1/4 cups panko breadcrumbs
Olive oil, for brushing
1 cup vegan mayo
1 tablespoon plus 2 teaspoons gochujang (Available at Asian food markets)
4 sesame seed buns
1-1/2 cups kimchi, drained and sliced
2 cups shredded romaine lettuce
1 Asian pear, peeled and thinly sliced into rounds

What You Do:
1. Preheat oven to 350 degrees. In a large bowl, whisk together tamari, stock, 2 tablespoons brown sugar, sesame oil, liquid smoke, Worchestershire sauce, ginger, garlic, and onion. In a casserole dish, place mushrooms gill-side up, then pour tamari mixture over mushrooms. Cover with foil and bake for 45 minutes. While mushrooms are cooking, in a food processor, add edamame and pulse until chopped into small pieces. Place into a mixing bowl and set aside.
2. When the mushrooms are done, uncover, and let cool. Remove mushrooms from liquid and roughly chop them. Strain ginger, garlic, and onions from cooking liquid. Reserve ginger, garlic, onions, and liquid.
3. In a food processor, add mushrooms, ginger, garlic, and onions and combine well. Add mushroom mixture to chopped edamame, then fold in flax egg, mushroom powder, and breadcrumbs. Mix well to combine. If mixture is sticky, add 1 tablespoon breadcrumbs at a time until mixture isn't sticky.
4. Divide mixture into 4 patties. Roll into a ball, then flatten into 1/2-inch thick patty. Brush tops with olive oil and bake for 30 minutes. In a small saucepan over medium-high heat, add reserved braising liquid and bring to a simmer until liquid is reduced by half, resulting in 3/4 cup liquid glaze. Whisk in 1/4 cup brown sugar and simmer until dissolved, about 2 minutes. Turn off heat and let cool. In a small bowl, add mayo and gochujang and whisk together until combined.
5. Remove patties from oven and let cool slightly. Brush one side of patty with brown-sugar glaze. In a well-oiled grill or grill pan, over medium-high heat, place patty glaze-side down. Grill for 3 to 4 minutes, brushing top with glaze, then flip burger and grill for an additional 3 to 4 minutes. Brush top of burger with more glaze.
6. Toast sesame seed buns and slather both halves of bun with mayo. Place patty on bottom bun and top with 1/4 cup kimchi, 1/4 cup lettuce, 3 pear slices, and top bun. Serve warm.
Mushroom Magic
Mushroom powder adds an extra umami flavor to this burger. Purchase dried mushrooms (we recommend shiitake or porcini), and grind them into a powder with a blender or spice grinder. Many soups, sauces, stews, and burgers benefit from the addition of mushroom powder.
Egg Exchange
To make a flax egg, in a small bowl, add 1 tablespoon ground flaxseeds and 3 tablespoons water and whisk together until combined. Place in refrigerator for 15 minutes before using.
Super Sides
Try serving these sophisticated burgers with these Crispy Yucca Tots or the Grilled Jicama Fries with Mango Mayonnaise found in our July+August 2013 Issue.
Please support independent vegan media and get the very best in news, recipes, travel, beauty, products, and more.
Subscribe now to the world's #1 plant-based magazine!
Subscribe