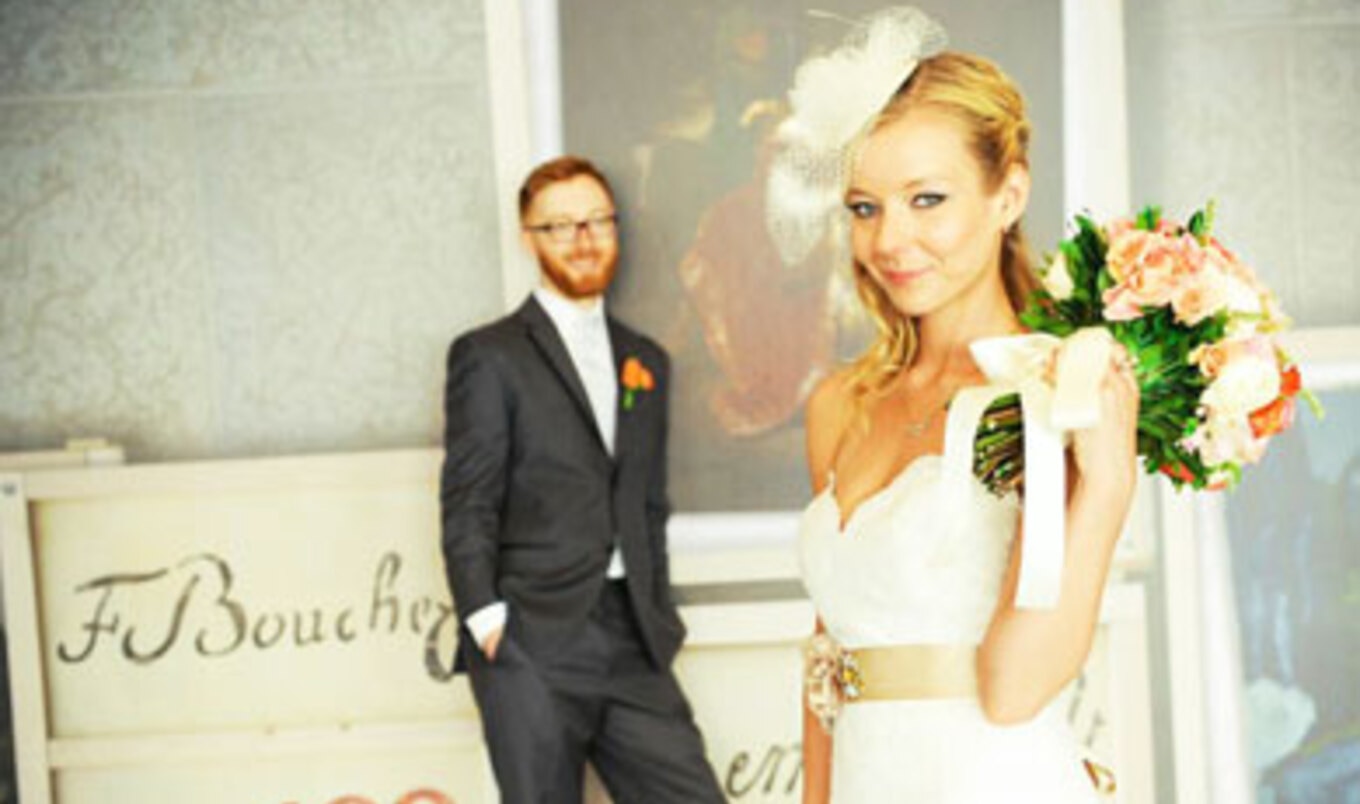 Our 2014 wedding couples tied the knot with style, compassion, and great vegan food.
September 4, 2014
---
Wedding place: Winnipeg, MB
Honeymoon destination: Mexico's Mayan Riviera
Menu standouts: Ratatouille with millet and roasted vegetables; Thai green curry with roasted mushrooms and coconut milk; banana split cake
Ashley & Jordan's love story …
It was an adolescent game of "Answer the Question," and Jordan and Ashley were at opposite ends of the parking lot, walking toward one another. Every time each of them answered a question correctly, they'd take one step forward. By the time Ashley was within a couple feet of Jordan, and he could see her pretty eyes, his entire body was shaking and sweating. He was a high school sophomore, she a freshman. Ashley was already friends with his cousin, so Jordan had seen her at family dinners and events for years—but this day was different. This was just about the two of them, and in three steps, they were an inch apart. She would finally know how much he felt for her. Before he could muster the nerve to ask the last question, Ashley leaped forward, kissed him, and the game was over—but their lives together had just begun.
The big day …
Though Ashley and Jordan knew their wedding menu was going to be completely vegan, they didn't tell anyone and decided that stealth was the best approach. Jordan tried to tell his parents, but their idea was to have the reception at a restaurant where "everyone could eat what they want." Since their wedding day was supposed to be about them and what they believed in, Jordan, a graphic designer, created the menu and went ahead with plans quietly. Guests were amazed at how good the food was and couldn't believe it was all plant-based. The couple made sure the menu included all unprocessed, whole foods, and were happy to explain what it was all about to curious guests. And the best gift? Jordan's formerly Paleo sister-in-law is now vegan!
Want more vegan weddings? Check out all of our 2014 vegan wedding couples here, 2019 couples here, 2018 couples here, 2017 couples here, and our 2016 couples here!