News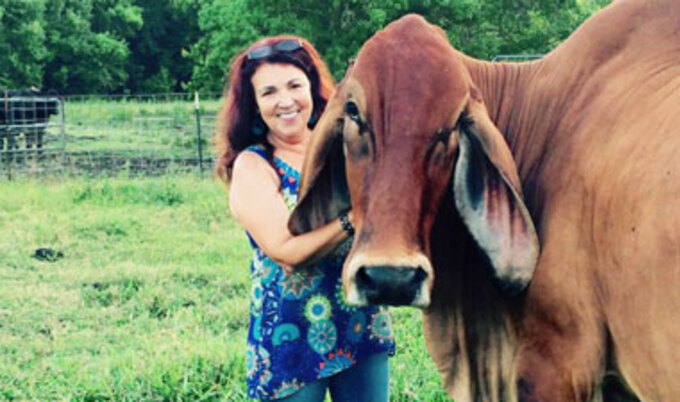 How One Rancher's Wife Used Crowdfunding to Finance the Animal Sanctuary of Her Dreams
Want to open your dream vegan business? New-animal sanctuary owner Renee King-Sonnen has been there, done that—and shares four tips to make it happen.
July 1, 2015
---
Crowdfunding sites—websites that allow people to donate money to causes, projects, or businesses they deem worthy—lend themselves perfectly to vegan entrepreneurs looking to spread the message of cruelty-free living. In the past few years, these campaigns have allowed an array of vegan projects to come to fruition, including vegan high-fashion label Vaute Couture raising approximately $415,000 on CircleUp, the first solar-powered food truck in Nebraska opening earlier this year (which is vegan), and filmmakers Kip Andersen and Keegan Kuhn raising more than $112,000 on Indiegogo for their award-winning documentary Cowspiracy.
One of the most inspiring crowdfunding success stories of 2015 is Renee King-Sonnen's $35,000 campaign to buy and feed 29 cows from her rancher husband to prevent their slaughter. After remarrying Tommy Sonnen six years ago, she moved with him and his newly-purchased cattle onto a 96-acre ranch in Angleton, Texas, approximately 50 miles south of Houston.
A city girl, King-Sonnen did not adjust to ranch life easily, so Tommy gave her a cow to ease her transition. King-Sonnen grew to love her energetic cow, whom she named Rowdy Girl, and could not tolerate watching the red trailers take the animals to slaughter every six months. After developing a deep bond with her companion cow, in October 2014, King-Sonnen went vegan. By December, she says, she was "hijacking" the cows from her husband to prevent them from being killed. With the ultimatum that her husband either save the cows or get divorced, Tommy obliged after negotiating $30,000 for the herd of cows, which represented his primary financial income.
Knowing she had to do something to save her marriage and her husband's cows, King-Sonnen started an online campaign to crowdfund the money needed to save the animals—a financial necessity for her husband who made his living off the ranch. Now, King-Sonnen is the founder of Rowdy Girl Veganic Farm and Sanctuary. More amazing news? The couple is still happily married, running the sanctuary together … and Tommy is now vegan.
VegNews talked to King-Sonnen about how she financed the sanctuary of her dreams using online crowdfunding and other creative financing, providing sage advice for anyone who wants to open their own vegan business.
Tip #1: Raise funds creatively
Not only did King-Sonnen crowdfund using two services—Indiegogo and Barnraiser—she hosts paid events on her ranch as well as sells Rowdy Girl Sanctuary T-shirts (which are funded by corporate sponsors). In May, she won a $2,000 grant from So-Delicious' #140Difference Twitter contest for individuals and nonprofits looking for funds for socially-minded projects. King-Sonnen also accepts donations through her website. Thanks to her Barnraiser campaign, Rowdy Girl Veganic Farm is hoping to become self-sufficient, funded by the produce grown and sold on the farm.
Tip #2: Reach out to the people in the best position to help you
"It can't hurt to ask!" King-Sonnen says of contacting potential supporters. Whether seeking words of advice or product sponsors, "talk to somebody who's done it." For example, she reached out to Howard Lyman (aka the Mad Cowboy), a fourth-generation cattle rancher in Montana who became vegan after 40 years of working in agribusiness. "I reached out to people that had done [what I wanted to do] in a way that made a mark on the movement because I wanted pristine advice."
Tip #3: Use your skills
King-Sonnen used her songwriting and performing background to record an original song titled "Red Trailer" to raise awareness for her project, and uploaded it to all of her social media pages. She also drew upon her extensive background in entrepreneurship to confidently contact investors and supporters. If you are not business-minded, surround yourself with people who are, she advises, because when your passions are aligned with financial security, it is easier to turn your dream into a sustainable reality.
Tip #4: Share your wisdom
King-Sonnen knows she has the power to help ranchers in a unique way. "I'm not your typical animal-rights activist that rescues cats and dogs from a puppy mill or marches to SeaWorld," she says. "Becoming an activist for farm animals is a totally different breed. A rancher is not going to listen to an animal-rights activist from SeaWorld; they're going to listen to another rancher that's gone vegan." Ranchers' wives inspired by King-Sonnen's transition from animal- to plant-based agriculture contact her regularly. She always speaks to them and advises them on how to adopt a vegan lifestyle. "I don't say I'm too busy because I don't believe that about my life," she says. "Time is not a limiting factor. I have all the time in the world for you. That's my mantra."
Please support independent vegan media and get the very best in news, recipes, travel, beauty, products, and more.
Subscribe now to the world's #1 plant-based magazine!
Subscribe
Give a Gift