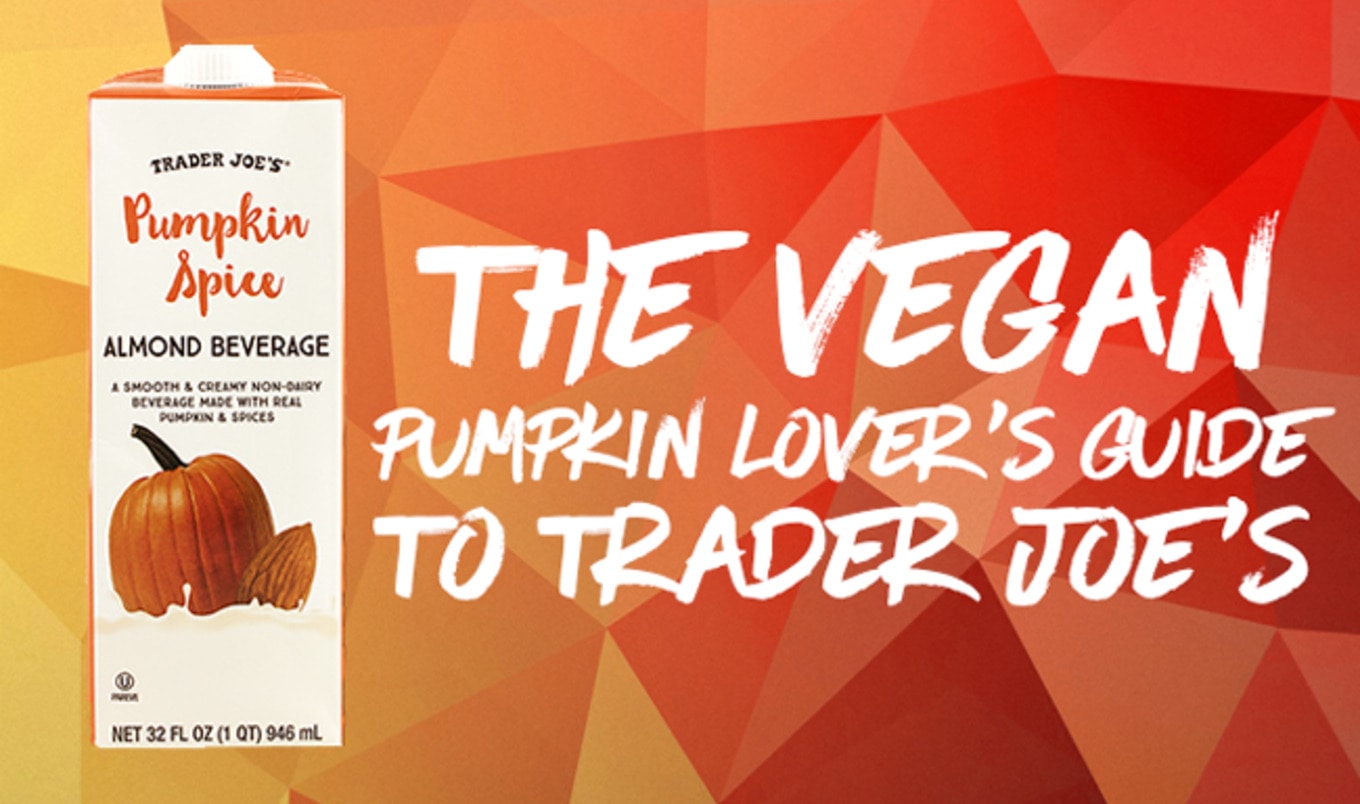 Jumpstart the holiday season with pumpkin-ized chips, cookies, and more from Trader Joe's.
October 9, 2016
---
Crisp air, changing leaves, and earlier sunsets—yes, the new season is here, and what better way to get in the fall spirit than with these tasty pumpkin delights that remind us that Halloween is just around the corner? We scoured the aisles of Trader Joe's to find the best selection of pumpkin foods and drinks that you won't be able to get enough of. From sweets and treats to chips and mixes, we've got you covered with all-things pumpkin this fall.

Pumpkin Spice Almond Beverage
America has spoken: we can't get enough of our pumpkin spice drinks! Good thing Trader Joe's has acquiesced to our pumpkin-loving palettes and provided us with this brand new seasonal almond milk. Warm this drink on the stove or in the microwave and add instant coffee or marshmallows on chillier days for added comfort.

Pumpkin Vinaigrette
This time of year has a tendency to work against our healthy eating habits. So when we found this pumpkin salad dressing, we knew it must be fate telling us to have our cake, but eat our salad, too. Made with pumpkin puree, extra virgin olive oil, and balsamic vinegar, this dressing pairs perfectly with anything from tossed leafy greens and fluffy grains, to roasted potatoes and grilled vegetables.

Pumpkin Bread & Muffin Mix and Baker Josef's Gluten-Free Pumpkin Bread & Muffin Baking Mix
Kitchen duty is in full swing from now until the end of the year, so why not add baked goods to the queue? These vegan pumpkin mixes can easily be turned into breads and muffins with only three additional ingredients—one of them being water! Make it a baking party and watch your efforts come to fruition with friends by your side.

Pumpkin O's
The weather is changing but our busy schedules aren't slowing down. Luckily, TJ's Pumpkin O's—a toasty, whole grain pumpkin cereal—make it easy for us to start off the day in a festive mood. For an additional nutritional punch, we're adding ground cinnamon, bananas, and, yep, pumpkin seeds.

Pumpkin Spice Rooibos Herbal Blend
These autumn nights can get a bit chilly, so we suggest putting the kettle on and settling down with this cozy red tea that combines natural pumpkin flavor, cinnamon, nutmeg, and cloves. Sit back and let your stress dissolve with every sip of this herbal blend, and we guarantee you will get a good night's rest.

Halloween Joe Joe's Cookies
We've worked hard to maintain our New Year's diet resolutions all year, so as 2016 winds down, take a break and bite into these scrumptious Halloween-themed pumpkin-shaped sandwich cookies with vanilla filling. Though these chocolaty Joe Joe's don't actually contain any pumpkin, we love them for their festive jack-o'-lantern cheer. Break these cookies into crumbs and sprinkle onto your favorite vanilla non-dairy ice cream for added decadence!

Pumpkin Joe-Joe's
Ditch the hard candies and go for the gusto this Halloween! These pumpkin cream-filled sandwich cookies are the autumnal version of Joe Joe's Sandwich Cookies, and happen to be perfectly dunkable. Dip these Oreo-like pumpkin bites into your favorite non-dairy pumpkin spice beverage for the ultimate seasonal indulgence. Your sweet cravings will never be so thoroughly satisfied.

Pecan Pumpkin Naturally Flavored Instant Oatmeal
We love this pumpkin flavored oatmeal for brisk mornings, and even more for the nutritional value! High in fiber and iron, you'll have no trouble keeping your energy up throughout the day with this quick and easy meal.

Pumpkin Tortilla Chips
Ditch the boring ol' snacks and try these pumpkin-infused tortilla chips. These not-so-ordinary chips are made with pumpkin puree, pumpkin seeds, cinnamon, and nutmeg, which guarantees a punch of flavor. Eat these chips by themselves or with your favorite dip. Either way, after every bite you'll be reaching into the bag for more. Get your pumpkin on!