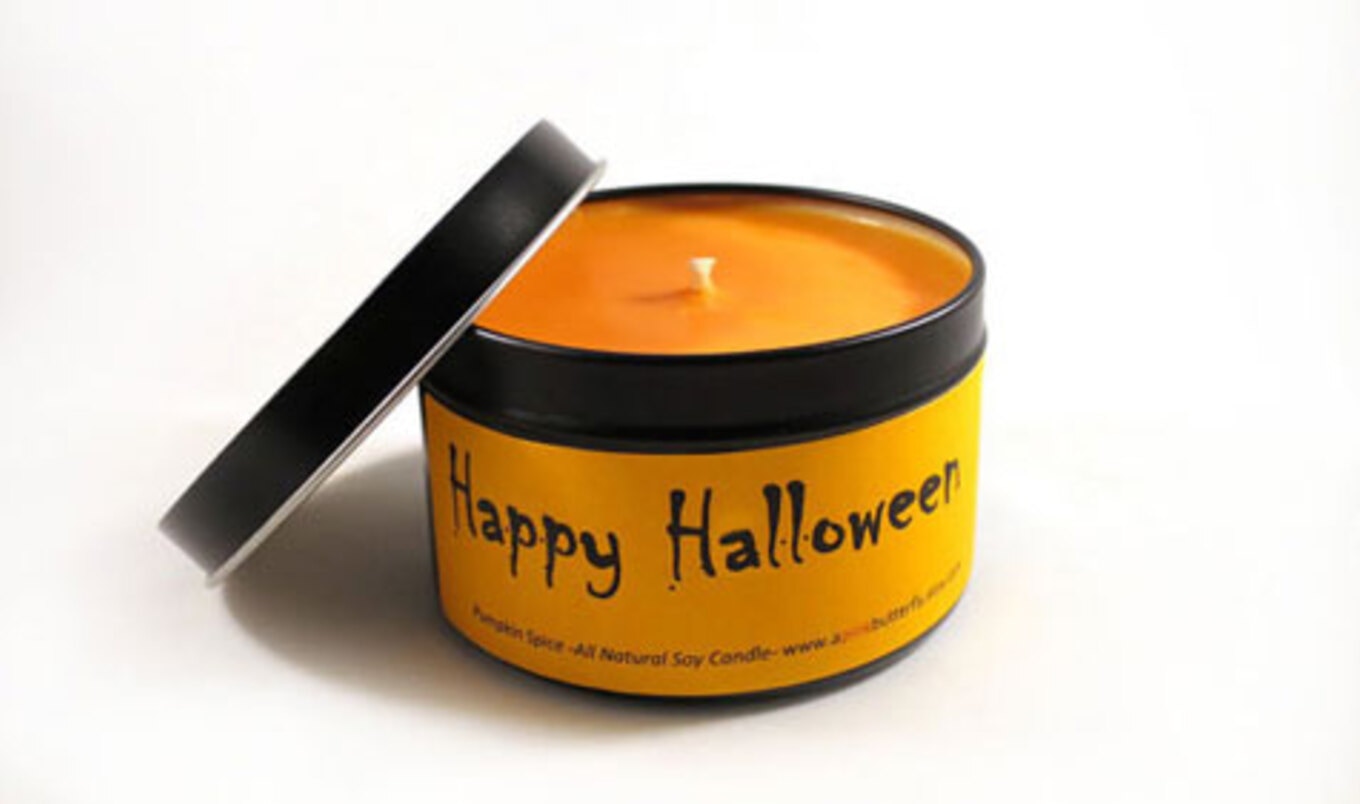 Get into the ghoulish spirit with a bevy of vegan costumes, vampire blood bath soap, and soy candles.
October 26, 2016
---
With thousands of designers, merchants, and artists selling their specialty crafts, we often turn to Etsy for those times when store-bought decorations just won't do. The fact that our money supports small businesses and independent artists doesn't hurt either, which is why we've been browsing the site for Halloween-themed clothing, bath and body products, candy, and costumes. Whether you're playing party host, trick-or-treating with the kids, or simply want to buy a little something for yourself, head to Etsy to ensure this Halloween is the most creative and frightening yet!
 
1. Vampire Blood Bath soap
You won't want to remain in character after the Halloween party is over, so remove all traces of your gory zombie, werewolf, or accident victim makeup with a bar of handmade Vampire Blood Bath Halloween soap. The bar is palm oil-free and made with Australian red reef clay, concentrated brewers wort, and orange and peppermint oils. Try the other Halloween-themed bars by Emerson Natural Soaps including Zombie Repellent, Spicy Pumpkin or Undead Sea Mud.
 
2. Spooky suds
If the smells of orange and peppermint from the Vampire Blood Bath Halloween Soap aren't your thing, try the lightly-scented vampire teeth soap. Put a set in the bathroom to really spook party guests and trick or treaters. They're also ideal for party favors or gifts; you can order one set of teeth, or five for a discount.
 
3. Bloodbath lotion
After you've lathered up and rinsed off, moisturize with Bloodbath's Morbid Moisture body lotion in "Zombie Love" scent. This sweet concoction of Italian bergamot, peach, strawberry, apple blossom, African tamarind, damask rose, and white musk will make you want to use this not only during Halloween but all year round.
 
4. "Dairy is Scary" pin
If you're not motivated to dress up this Halloween, wear your regular clothes and tack on a "Dairy is Scary" pin onto your t-shirt, jacket, or bag. Gooseandrabbit offers other pins, too, including "Honey is Not Vegan," "Dogs 4Ever," "Fur Free," and "Stop Eating Babies."
 
5. One scary mug
If you'd rather not leave the house on Halloween night, heat up your favorite tea and drink out of a nifty mug featuring sketches of original vegan costumes such as "couch potato," "vampire broccoli," and "zombie carrot." Designed and printed in Italy, the mug is made by Chiara La Scura, an artist who offers other vegan items in her Etsy shop.
 
6. Soy wax Halloween candles
Prep your house for party guests and trick-or-treaters with handmade, candy-smelling soy candles. These eco-friendly candles come in pumpkin spice, candy apple, caramel apple, and sweet cinnamon pumpkin and can be customized by requesting your very own Halloween message on the label.
 
7. Spider web purse
The spider web purse will pair perfectly with your witch costume, and it doubles as a cosmetic bag to store your goth makeup, fake blood, black nail polish, and vampire teeth. Artist Ivana from Belgrade, Serbia sells other vegan items including belt bags, messengers bags, and utility belts featuring bat wings, dragonflys, and skull designs.
 
8. The Kawaii ghost
Don't forget your four-legged friends this Halloween, as the "Kawaii Ghost" cat toy is made with eco-friendly, vegan felt and filled with five dashes of organic catnip and fluffy eco fiber fill. A minimum of 50 percent of the profits from items sold by artist Vanille are donated to an animal shelter in the Ukraine and various rescues in the United States.
 
9. Boogeyman whiskers
Add a little dusting of Boogeyman Whiskers to finish of your Halloween look this year. This shimmery, iridescent dust is made of 100-percent mica and can be used on face, eyelids, lips, and nails. The artist WoodlandWytchery sells other dusts including "Bat's Squeak," "Star's Twinkle," "Cat's Meow," and "Dragon Blood," all of which are handmade to order.
 
10. Owls, skulls, and bats!
Keep babies' feet warm while trick-or-treating with these handmade shoes (made by Michelle Johns) decorated with owls, skulls, and bats. The shoes are made with 100-percent cotton fabric, faux micro suede, elastic, non-slip bottoms, and fleece lining. Custom orders are also accepted.
 
11. Fancy trick-or-treat bucket
Up the kids' candy bucket game this year with a handmade crochet monster basket. The basket is made with 100-percent cotton yarn and has thick, sturdy sides so it will stand on its own. Be sure the bucket is filled with only the best vegan candy, which can be found at our Guide to Vegan Halloween Candy!
 
12. Eye of Newt
Keep dry lips moisturized with Eye of Newt Vegan lip balm. This limited edition Halloween scent smells like lemons, pears, and golden delicious apples. Made with castor oil, vitamin E, candelilla olive butter olive oil, virgin coconut oil, carnauba wax, and shea butter, it's a steal of a deal for less than $4.
 
Erin Goldmeier is a freelance writer whose work has appeared in Radar Online, PETA Prime, The Virgin Atlantic Airways blog, and Southwest Virginia Living.