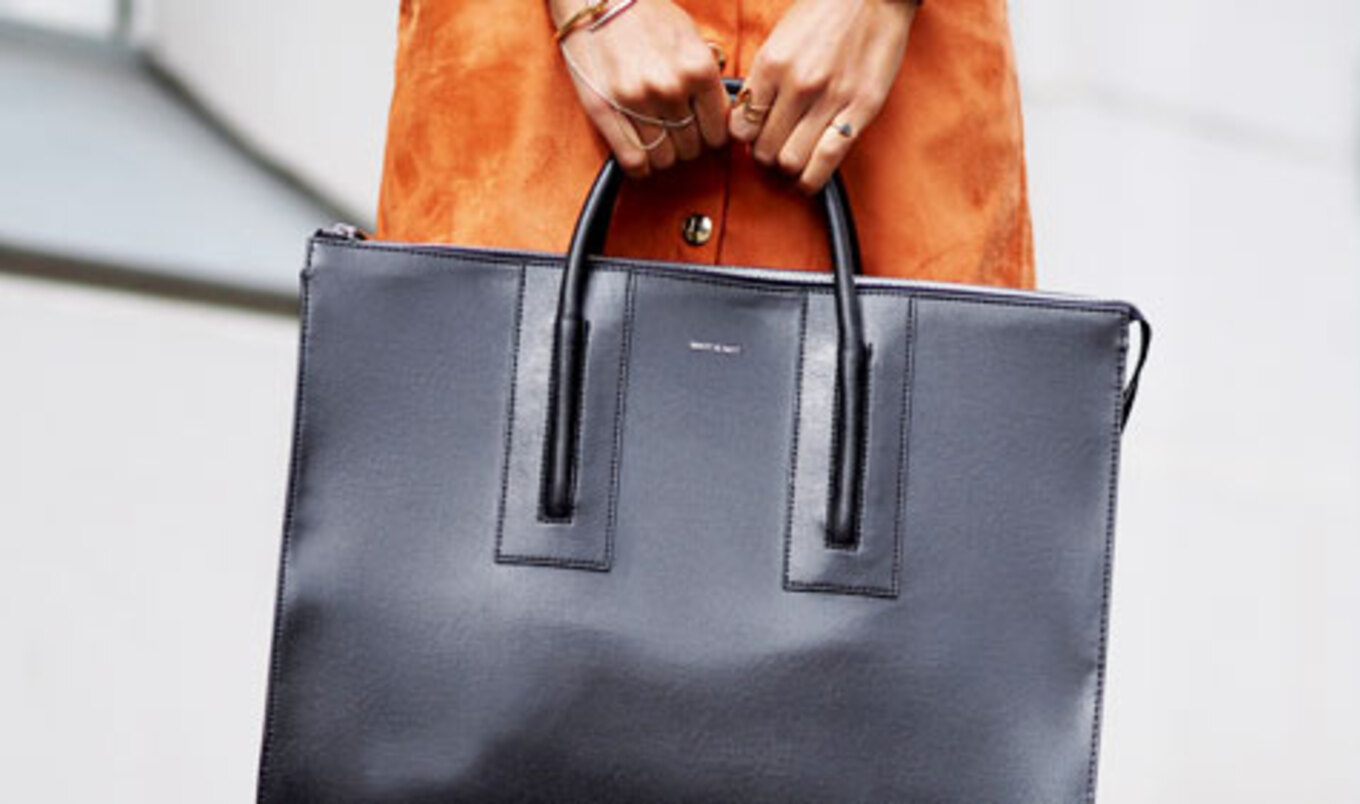 Give your meat-eating friend, family member, or lover a fashionable handbag, aromatic scent, or sexy clothing to prove there's no holiday gift that can't be vegan.
December 21, 2016
---
Many (if not most) vegans have a few unapologetic omnivores in their lives. These people include co-workers, friends, and family who seem to invite confrontation when we discuss our vegan ideals. Sometimes we try to educate our omnivorous loved ones about the issues by giving them a book or DVD that directly addresses cruelty to animals, only to see them roll their eyes and tuck our presents away on a shelf. With this in mind, we've created a list of five cruelty-free gifts that will impress the unapologetic omnivore in your life without coming off as being pushy. The good news? Vegans will love these, too!

1. Bags for women and men
Convincing non-vegans that there are fabulous cruelty-free alternatives to leather can be difficult. Luckily, there are plenty of options in terms of vegan handbags. For instance, what about gifting a wonderfully designed tote from all-vegan brand Matt & Nat? The company makes beautiful accessories for men and women that range from handsome messenger bags to purses in a variety of sizes and colors. Gunas is also a producer of high-quality handbags for women that prove no animals need to suffer in the pursuit of glamour. Finally, the website Beyond Bags is an online store that offers one gorgeous cruelty-free bag after another for women. If you really want to show how varied and amazing vegan bags can be, why not gift them all?

2. Be a jerk(y)
Louisville Vegan Jerky Co makes a cruelty-free version of this traditionally non-vegan food, proving once again that anything made from animals can be made better plant-based. Even the most adamant omnivore can't say no to these textured treats in savory flavors, including Smokey Carolina BBQ and Perfect Pepperoni. This gift is a great stocking stuffer … and just right to tuck into a gift basket.

3. Perfect perfume
For vegans, it's common sense that no animals should suffer in order for us to live happy, healthy lives. In fact, we live happier and healthier lives by being vegan. However, many of those who have not yet made a cruelty-free commitment are convinced they would be missing out on their favorite luxuries in order to live an ethical lifestyle. For these people, a holiday gift of a bottle of Lavanila brand perfume can sway them with its delightful scent. Wrap it nicely, and let its cruelty-free scent make the point that being vegan doesn't mean giving up life's little luxuries.

4. Totally toiletries
Sometimes it's easy to figure out what a person might enjoy as a gift, and other times it's a little more challenging to suss out someone's tastes. For those more challenging folks, a gift basket filled with fine toiletries featuring an assemblage of colorful, deliciously scented handmade vegan bath bombs, bubble bars, and soaps from vegan-friendly cosmetics company Lush is your solution. Lush also offers face and body masks, shaving cream, and lip scrubs in flavors like "Mint Julips" and "Bubblegum" that are free of both animal ingredients and testing. In addition, Bulldog has a collection of completely vegan skincare products specifically for men that includes affordably priced face scrub and eye cream, while many products in Jack Black's luxurious men's grooming line are also free of animal-derived ingredients and make for great gifts in stockings, or as part of a big basket full of vegan goodness.

5. Get romantic
Gifting a lover with something risqué to wear (and take off) when together is a great way to prove to them just how sexy veganism can be. For a sexy holiday gift that will turn on your omnivorous love interest, try slinky underwear or lingerie made of animal-free textiles. For men, PACT offers a sexy boxer brief in environmentally friendly organic cotton. For women, Agent Provocateur produces some of the highest quality lingerie money can buy, the majority of which is free from animal products. If you're seeking something less expensive, try Between the Sheets, which makes clear on its webste the fabrics used in production.

Maya Gottfried is the author Our Farm: By the Animals of Farm Sanctuary and the forthcoming Vegan Love: Dating and Partnering for the Cruelty-Free Gal.
JUST LAUNCHED! Get our 10 Easy Vegan Summer Meals recipe book as a FREE instant download.
JUST LAUNCHED! Get our 10 Easy Vegan Summer Meals recipe book as a FREE instant download.