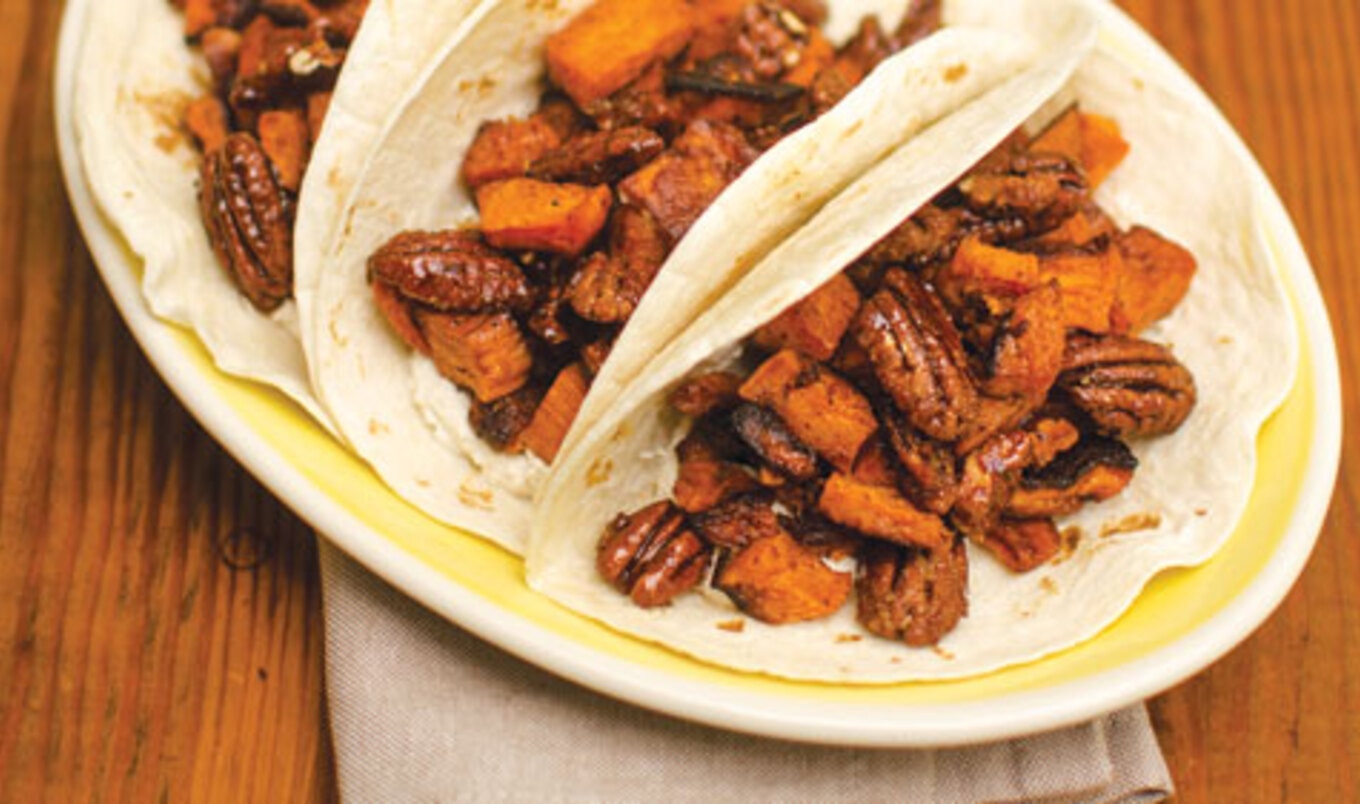 A cinnamon-laced sweet potato filling and candied pecans come together in this delicious dessert taco.
December 6, 2016
---
How do the authors of the Veggie Award-winning Taco Cleanse cookbook practice gratitude? With Thanksgiving-inspired dessert tacos, of course! Like pumpkin, sweet potato sparkles when accompanied by warm spices such as cinnamon, nutmeg, clove, and allspice. Here at VegNews, we're bigs fans of this sweet taco and plan on eating them all year-round.
Serves 4
What You Need:
For the candied pecans
1 tablespoon water
½ teaspoon cornstarch
½ cup sugar
½ teaspoon cinnamon
¼ teaspoon molasses
¼ teaspoon salt
¼ teaspoon vanilla extract
1 cup pecan pieces
For the sweet potato filling:
1 tablespoon canola oil, plus more for baking sheet
1 tablespoon maple syrup
½ teaspoon cinnamon
¼ teaspoon nutmeg
¼ teaspoon salt
1 large sweet potato' peeled and diced into ¼-inch cubes
4 flour tortillas
What You Do:

1. Preheat oven to 300 degrees. Line a baking sheet with parchment paper or a silicone baking mat.
2. For the pecans, in a medium mixing bowl, whisk together water and cornstarch. Add sugar, cinnamon, molasses, salt, and vanilla. Work mixture together with a rubber spatula until completely combined (the consistency should resemble wet sand). Fold in pecan pieces until evenly coated.
3. Spread pecan slurry thinly on baking sheet. Bake for 40 minutes, stirring once halfway through. Slide pecans with parchment paper onto a cooling rack and allow to cool completely. Crumble cooled candied pecans into bite-sized pieces.
4. For the sweet potato filling, preheat oven to 400 degrees and grease a baking sheet.
5. In a large bowl, whisk together oil, syrup, cinnamon, nutmeg, and salt. Add sweet potatoes and toss until evenly coated. Arrange in a single layer on baking sheet and bake for 40 minutes, stirring once halfway through.
6. Into each tortilla, assemble sweet potatoes and candied pecans on each tortilla.
Chef's Tip: Spread a spoonful of vegan cream cheese onto warmed flour tortillas prior to assembling.