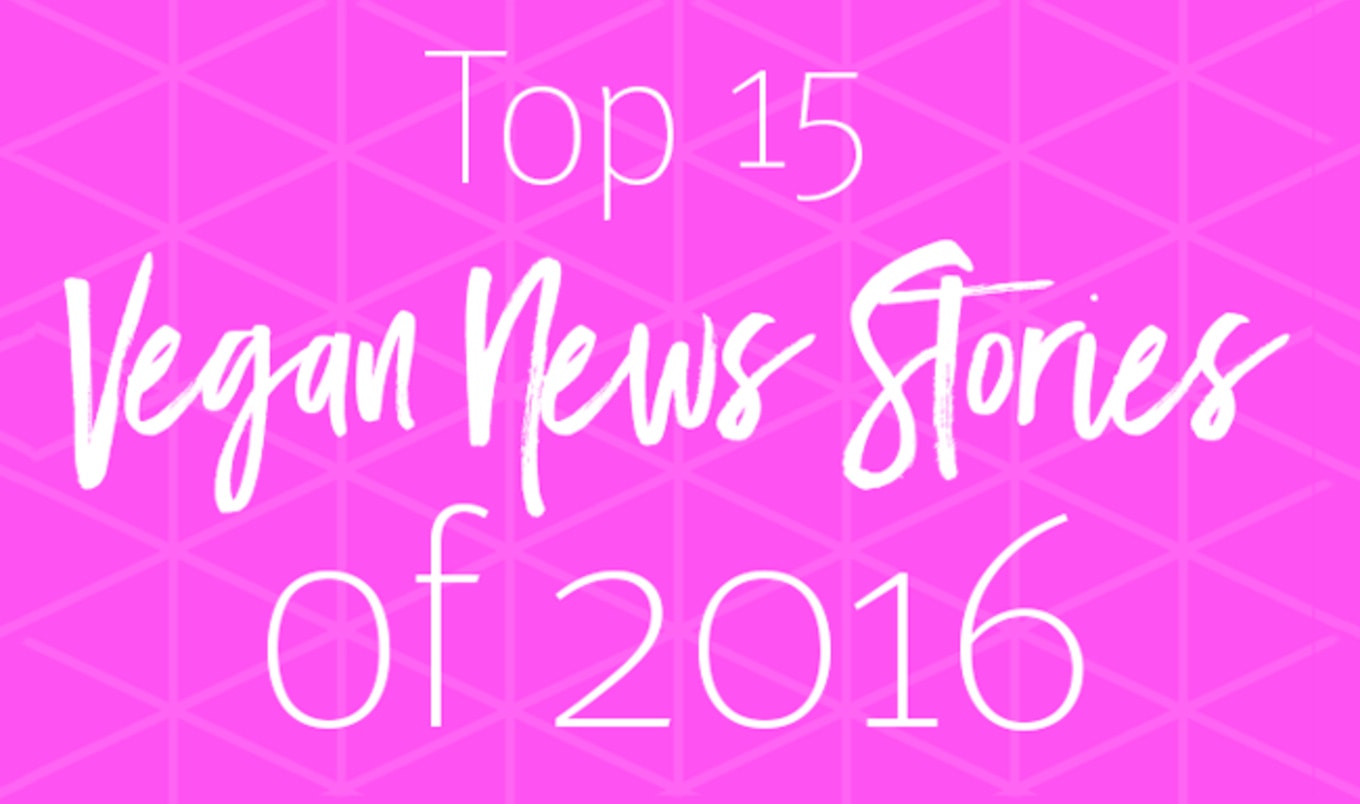 VegNews takes a look back at the year's most popular vegan headlines.
December 19, 2016
---
It was another banner year for veganism. From introduction of Ben & Jerry's long-awaited vegan ice cream to Taco Bell launching a certified vegan ordering guide, vegan living was more popular than ever in 2016. In honor of this exceptional year, here are our most popular news stories on VegNews.com. Let's look back at all that's been accomplished—and look forward to even more to come in 2017 in the world of veganism.

1. Obama Signs Groundbreaking Animal Testing Law
President Obama made history this year by signing a historic bill that set major restrictions on animal testing and requiring that new technologies be developed as alternatives. What's better—the amendment was drafted by our favorite vegan senator, Cory Booker.

2. Oprah Urges Her 33 Million Followers to Go Meatless
The most influential woman in media told her legions of fans to lay off the meat—that's major.

3. Groundbreaking Vegan Medical Center to Open in 2016
This interview with plant-based health luminary and physician Neal Barnard about his medical center proves that people are ready to take charge of their health, and a whole-foods vegan diet is the first step.

4. Wendy's Goes Vegan with New Burger Option
When the popular fast-food chain started selling veganizeable black bean burgers in three US test markets, VegNews commenters had one thing to say: Come to my city!

5. Biggest Loser Producer Launches Plant-Based Show
Published only one week ago, this story about a new plant-based reality show set to debut in April 2017, quickly shot up the ranking to this year's fifth most popular story.

6. Prolific Vegan Bodybuilder Jim Morris Dies at Age 80
He was Mr. Universe, posed nude (and looked better than any of us) for PETA at age 77, and shocked the bodybuilding circuit when he first gave up meat, laying the foundation for countless vegan athletes. We miss you, Jim.

7. NY-Based Chief of Cardiology Goes Vegan
John C. Teeters, MD, of New York's Highland Hospital, recognized how bad meat was for his health, so he ditched it—and the guy's a heart doctor! Very interesting …

8. Taco Bell Launches Vegan Guide
After introducing the industry's first certified vegetarian menu, Taco Bell went a step further and made a custom guide for ordering plant-based at its restaurants. Crunchwrap Supremes for us, please!

9. Starbucks Announces It Will Finally Carry Almond Milk
VegNews broke the story (and was heckling baristas for a photo), and now, we're sipping on almond milk lattes, cappuccinos, mochas, and more. Thanks Starbs.

10. Ethical Veganism Now Legally Recognized in Ontario, Canada
Canada's Human Rights Code was amended to include ethical veganism under the definition of "creed," making it illegal for hospitals, schools, and employers to discriminate against requests based on vegan ideals. Right on, Canada!

11. Ben & Jerry's Vegan Ice Cream Line Revealed
The four weeks between this news breaking and VegNews editors actually getting their hands on a vegan pint were dark, but was well worth the wait.

12. The Standard UK: "Is Leonardo DiCaprio Vegan?"
Environmental advocate Leonardo DiCaprio has lent his starpower for some incredible, invaluable activist work. But is he one of us?

13. Dutch Government Places Historic Limit on Meat
The Dutch government slashed its recommendations on meat consumptions, saying citizens should eat no more than two servings a week. Two is pretty darn close to zero!

14. Harry Potter Actress Speaks Out for Veganism
Evanna Lynch—otherwise known as Luna Lovegood—stood up for the animals during a speech, saying "killing and eating animals is a betrayal of our own core humanity, killing an innocent goes against our nature." We love you, Evanna!

15. Florida's Largest Beef-Packing Facility to Shut Doors
70-year-old beef-packing plant Central Beef felt the sting of the decreasing rate of beef consumption and went belly-up this year. We couldn't be happier.
Don't miss our list of Top 15 Vegan Recipes of 2016 and our Top 15 Vegan Stories of 2016!