News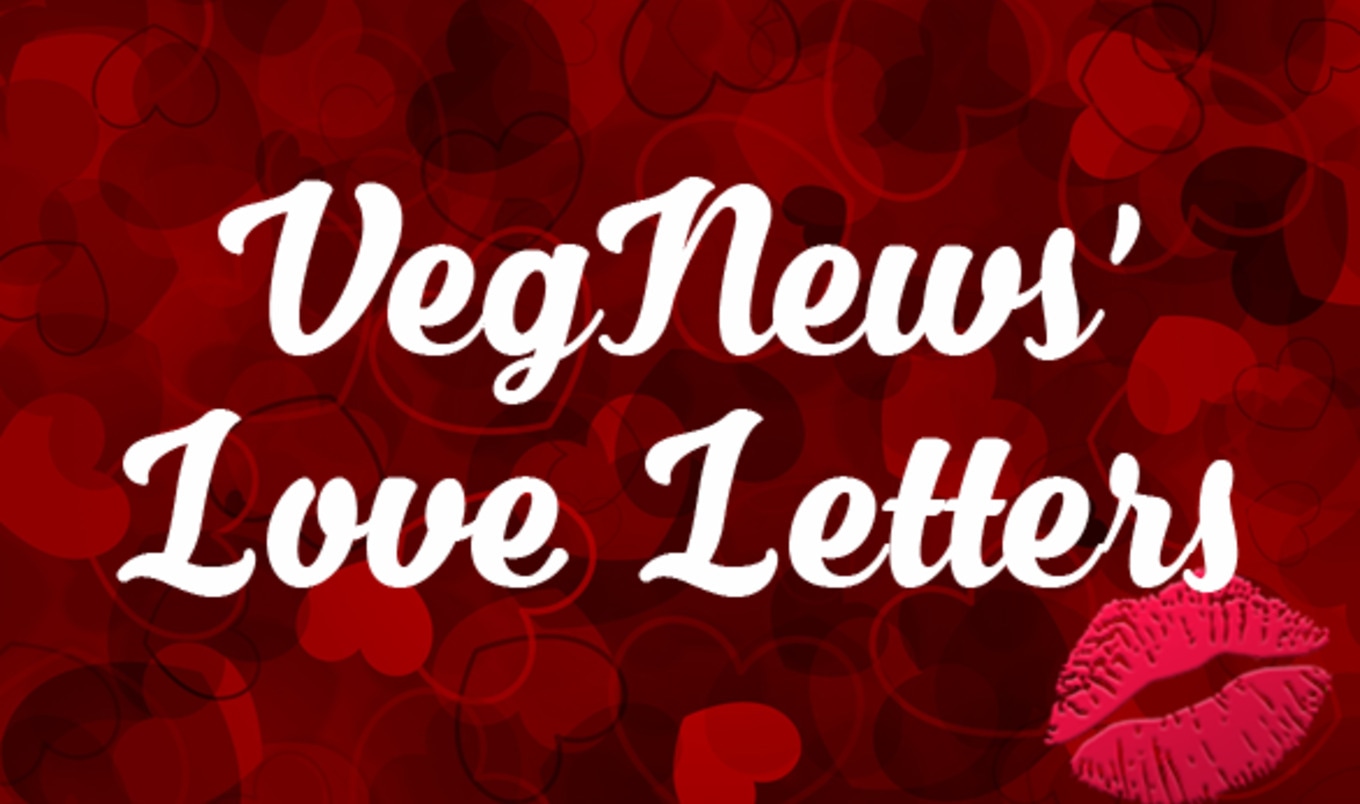 Dear Vegan Food, Love VegNews
Vulnerable, emotionally naked, and forever longing, the VegNews staff has written love letters to some of our favorite plant-based foods.
February 9, 2016
---
Can you smell that? Valentine's Day is approaching and love is in the air. Or is that the mesmerizing aroma of a hot vegan bánh mì? Either way, it's one in the same for these VegNews staffers, who have mustered up the courage to bare all and share, with you, our most intimate desires … for food.

Travel + Beauty Editor Aurelia d'Andrea details her yearning for nutritional yeast …
My darling Nutritional Yeast,
I remember the day we met like it was yesterday: you, me, a bowl of popcorn at my hippie neighbor's house. The attraction was immediate and intense, and I knew we were destined to be together. In the intervening decades, you and I have grown inseparable, and I'm continually amazed by the fun and creative ways that we are able to strengthen our bond over pasta and rice, cheesy sauces, and salad bowls. Without you, my dear, life would not only be dull and bland, but possibly lacking in B vitamins as well. For these and so many other reasons, I pledge to be yours, always.
With a passion that will never die,
Aurelia

Editorial Assistant Richard Bowie opens up about onions …
Oh Onion,
You humble bulb. Perhaps not the sexiest on the produce stands—you're what everyone needs, but not what everyone wants. Except for me. When I need a crunchy addition to salads, you're there for me. When I need a savory-sweet element in my sandwiches, you liven me up. When whatever roasted veggies I pull out of the oven leave me feeling unsatisfied, you—with your crisped edges and caramelized sugars—complete me. Red, yellow, white, Maui, Vidalia, or Cippolini—I love you I love you I love you in all your ways.
Besos,
Richard

Editorial Assistant Natalie Williams hass an obsession …
My Beloved,
It breaks my heart to think that once upon a time, I didn't care for you much. Now, I can't imagine life without you. Whether you top my morning toast, get mixed up with my lunchtime kale salad, or are dolloped onto my dinner tacos, I know you're with me every step of the way. Avocado, you are my one true love.
See you tomorrow,
Natalie

Recipe Tester Lyndsay Orwig's heart bursts for bánh mì …
My Dearest Bánh Mì,
How I love all of the flavors that you possess—it makes my mouth water just thinking about it. Be it your perfectly marinated tofu, your crisp, pickled carrots and daikon, your refreshing cucumber and cilantro, your spicy jalapeno, or your creamy vegan mayo. And, finally, you bring everything together with a fresh and satisfying baguette. Oh, how I love you so. You will always be the best sandwich in my heart, dearest bánh mì.
Love,
Lyndsay

Editorial Assistant Anna Starostinetskaya can't survive without salt …
Hello Salt,
You make everything better. Just a sprinkle, and you turn an overly sweet bowl of oatmeal into a breakfast miracle—a dash and I'm in savory kale salad heaven. When you're not around, my world is bland, boring, and unbearable. I can't even fathom the thought of a world where pickles and salted caramel cease to exist. So, this Valentine's Day, I'd like to tell you that you will forever dance on my taste buds and in my dreams. Salt, I love you. Let us ride into the sunset on a sauerkraut magic carpet.
Forever and for always,
Anna

Advertising Sales Manager Carol Treacy has everlasting love for eggplant …
Dear Eggplant,
I love your deep purple coat and subtle flavor that tastes just as good fried as it does sautéed. I invite you to my dinner table any time and, if you prefer, will address you as Aubergine as the name is so much more indicative of your persona: rich and sublime.
Sincerely,
Carol

Senior Editor Ryan Ritchie is meant for milkshakes …
Dear Vegan Milkshakes,
This isn't about the thrill of the chase. I'm not the type who enjoys a challenge. I want what I want, and what I want is you. Sadly, I can't have you. At least that's what the doctor says, but momma didn't raise no quitter. Similar to morning traffic, our love is real, compounded, frustrating, and difficult to navigate. None of those will stop me from loving you. You haunt my dreams, distort my reality. You make me say stupid things, the kind that make me seem like a fool in love. I am a fool in love. With you.
Forever yours,
Ryan Ritchie
Love the plant-based lifestyle as much as we do?
Get the BEST vegan recipes, travel, celebrity interviews, product picks, and so much more inside every issue of VegNews Magazine. Find out why VegNews is the world's #1 plant-based magazine by subscribing today!