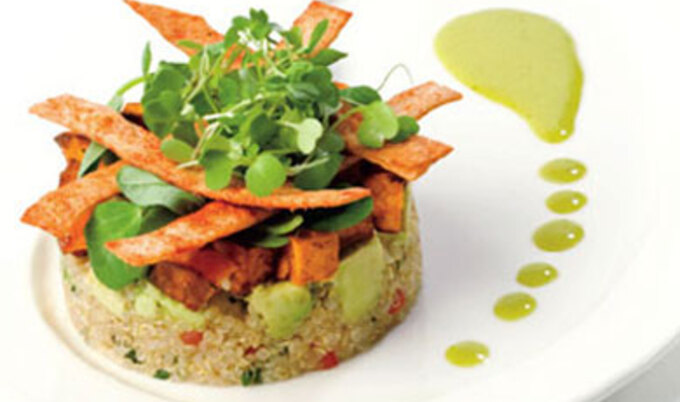 Quinoa, Avocado, and Sweet Potato Timbale
From the bestselling The Conscious Cook, we love this standout salad.
April 30, 2016
Give your cooking the gourmet treatment with this exquisite salad. Spicy, flavorful quinoa and roasted sweet potatoes complement cool slices of avocado, and pan-friend tortilla strips add the perfect crunch.
Serves 4
What you need:
:
1 cup quinoa, cooked in vegetable stock and cooled to room temperature
1/2 jalapeño, minced
1/4 cup plus 1 tablespoon fresh cilantro, minced and divided
1 sweet potato, peeled and cut into 1/4-inch dice
4 tablespoons plus 3 teaspoons extra-virgin olive oil, divided
Sea salt and freshly ground black pepper
Canola Oil
2 corn tortillas, cut into 1/4-inch strips
1 teaspoon Cajun seasoning
Juice of one lime
2 tomatillos in olive oil, skins removed
1 tablespoon rice vinegar
1 teaspoon light agave nectar
2 avocados, diced
Microgreens
What you do:
:
In a medium bowl place quinoa, jalapeño, 1 tablespoon cilantro, 1 tablespoon extra-virgin olive oil, lime juice, and salt and pepper to taste, and toss to combine.
Preheat the oven to 400 degrees. In a small bowl, toss the sweet potatoes with 2 teaspoons olive oil, and season with salt and pepper to taste. Spread a single layer on a baking sheet and roast for 15 minutes, or until soft in the middle and lightly browned; be careful not to let the sweet potatoes burn.
Lower the oven temperature to 350 degrees. In a small bowl, toss the tomatillos with 1 teaspoon of olive oil. Place on a baking sheet and roast for 15 minutes. Transfer to a food processor, add the vinegar, 1/4 cup cilantro, and agave nectar, and pulse to combine. With the motor running, pour in the remaining 3 tablespoons olive oil in a thin stream. Continue blending until emulsified. Season with salt and pepper to taste.
Pour 2 inches of canola oil into a small, heavy pot and heat until the oil shimmers. Add the tortilla strips and fry until crisp and browned, 1 to 2 minutes. Drain on paper towels and sprinkle with Cajun seasoning.
Place a 3-inch ring mold in the center of one of 4 salad plates. Fill with 1/4 of the quinoa mixture and press down with a spoon to pack the mold, smoothing the top. Place 1/4 of the sweet potato pieces on top of the quinoa and press down gently. Top with 1/4 of the avocado and press down gently. Carefully remove the mold. Repeat on the remaining salad plates.
Carefully place 2 tortilla strips parallel to each other about 1 inch apart on top of each timbale. Place 2 more tortilla strips perpendicular on top of those. Top the timbales with the microgreens and drizzle the dressing around the timbales.
Click here for more delicious recipes:
Quinoa Stuffed Avocados
Carbonada with Seitan
Grains & Greens Salad
Photo by Linda Long
Love vegan food and cooking as much as we do?
Get the BEST, editor-tested recipes inside every issue of VegNews Magazine. Find out why VegNews is the world's #1 plant-based magazine by subscribing today!