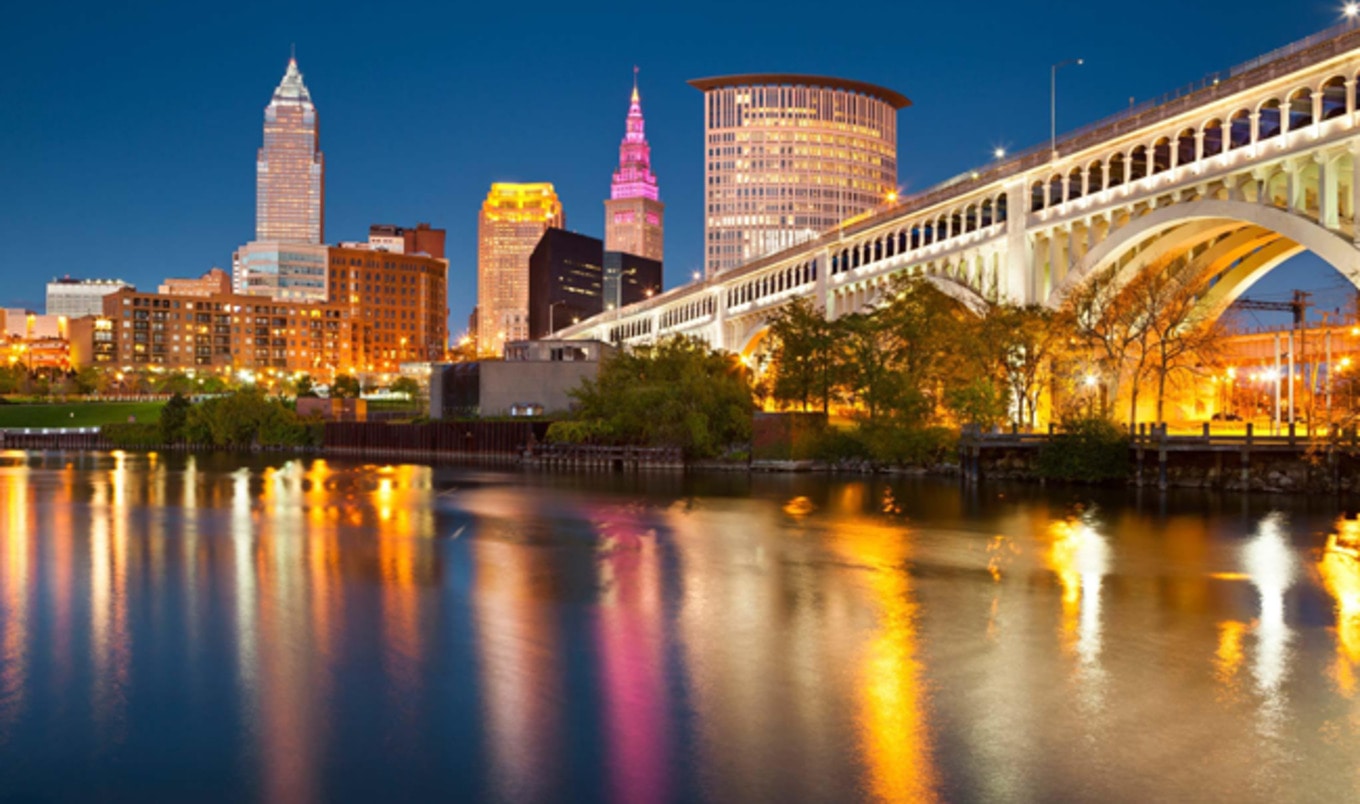 The Forest City is hotter than ever, and we don't mean the weather.
July 26, 2016
---
Coming off the city's first-ever NBA championship and the Republican National Convention, Cleveland's street cred has never been better. However, if you're like many vegans, you've assumed that the Rustbelt City built on steel is nothing more than a town where kielbasa reigns supreme. While that might have been true in the past, Cleveland is experiencing a vegan renaissance. Here are eight places to eat where cruelty-free plates are hotter than Betty White.

1. Tommy's Restaurant
Tommy's has been serving veg-friendly food in Coventry Village, the Midwest's answer to Haight-Ashbury, since 1972. The eatery first became known for its milkshakes—which have vegan options made with tofu, soy, or rice milk—but it's the burgers (homemade patties comprised of brown rice, adzuki beans, and vegetables) that locals love. And what burger is complete without fries? None, so order Tommy's grease- and salt-free fries, which have been voted as the best in Northeast Ohio. Tommy's also offers tofu scramble, kashi, granola, and oatmeal for breakfast, which can be made with non-dairy milk. Even better? The dining room is connected to popular indie bookstore Mac's Books.

2. Daily Press Juicery
Located in the Gordon Square Arts District, Daily Press Juicery serves smoothies created with ingredients such as dates, cinnamon, hemp, and açaí, which can also be made into a bowl. While they serve the "classic" green juices—combinations of kale, celery, ginger, and lemon—their standout juice is Heart Beets, a blend of watermelon, beets, lemon, and ginger. Their menu of small bites includes a vegan bánh mì sandwich and various avocado toasts with toppings such as cilantro cashew aioli and vegan mozzarella.

3. Beet Jar
Beet Jar is another all-vegan juice bar located on the edge of Ohio City, the Warehouse District, and the Gordon Square Arts District. Their green juice features kale, parsley, celery, and cucumber, while the carrot-based root juice made with ginger and orange makes for a healthy, refreshing beverage. For lunch, try the Bravocado sandwich, which comes with toasted coconut chips, avocado, and sprouts on wheat bread. But make sure to leave room for Beet Jar's homemade cheesecake or their chia pudding made with fresh fruit, coconut milk, and vanilla.

4. Cleveland Vegan
Cleveland Vegan provides both a vegan catering service and a café. Located in the western part of town, the café's menu is a mix of bowls, salads, and sandwiches, but it's their breakfast sandwich layered with tofu scramble, tempeh, sprouts, and avocado on a poppy seed bagel that have people lined up for hours during brunch. For dessert lovers, homemade glazed doughnuts topped with pecans and red velvet cupcakes with vegan cream cheese icing await, while vegan cheese Danishes' buttery, flaky crust combines perfectly with a sweet mix of blueberries and blackberries.

5. Barrio
While the three Barrio locations—downtown, Tremont, and Lakewood—aren't exclusively vegan, you can build your own plant-based tacos with fillings such as cilantro lime rice, Thai chili tofu, black beans, and pineapple salsa. Vegan items are indicated by a skull and are prepared with either hard or soft corn tortillas. If you're new to Barrio, order two of the Vegan Stoner tacos—a flour tortilla filled with vegetables simmered in a tangy sauce.

6. Fruit Vibe
Fruit Vibe is a guerilla juicery that pops up intermittently at farmers' markets and local grocery stores. True to their name, Fruit Vibes' juices feature seasonal fruit in beverages such as the Carrot Commander—which is sweetened with pineapple and apple—and the Berry Lemonade, which includes blueberries, blackberries, and raspberries. That said, visitors should try the local favorite Mocha, an almond milk blend with cold-brew coffee, cacao nibs, lucuma, and Himalayan sea salt that tastes like an adult version of chocolate milk

7. TownHall
TownHall is Cleveland's first GMO-free restaurant and is also where Cleveland Cavaliers such as JR Smith and former point guard Matthew Dellavedova have frequented. Monday is vegan night, but their normal weekly menu features several vegan items such as chili, tabouleh salad, quinoa salad, and tacos. Other than Mondays, brunch on Sunday is when you'll find vegan fare thanks to avocado toast, fresh-pressed juices, smoothies, crêpes, and sweet potato hotcakes with hints of cinnamon, nutmeg, and cloves.

Stephanie Bouzounis is a freelance writer living in Cleveland, OH who loves punk rock and lentils.