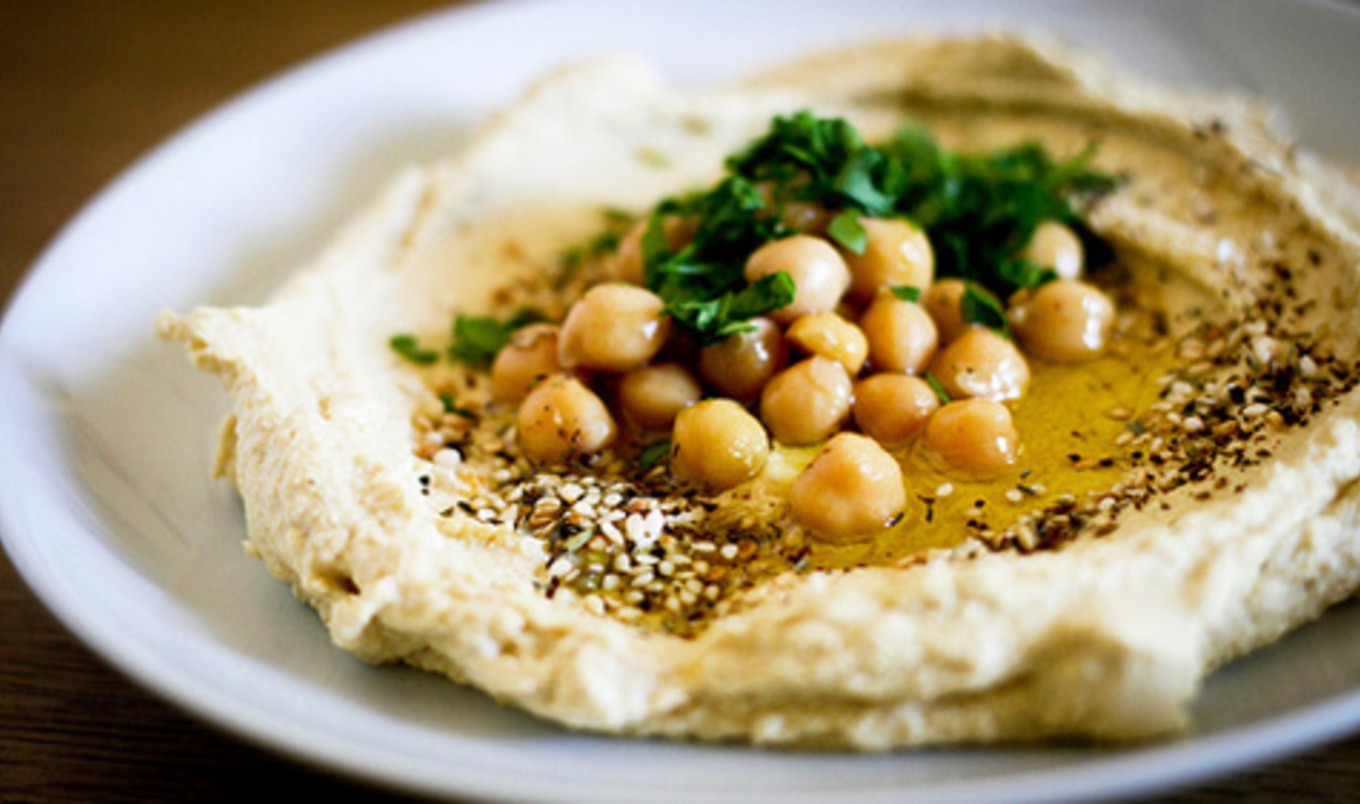 Hummus plates, tahini, and even Domino's Pizza are helping transform the Land of Milk and Honey into a vegan haven.
July 7, 2016
---
On the Jewish holiday of Sukkot—an agricultural holiday commemorating the 40-year period of Israelites wandering the desert—it's common to find many Israelis enjoying the country's miles of pristine coastline or barbequing throughout their many state parks. But at Park Leumi, a vast green space on the outskirts of Tel Aviv, a new tradition is emerging: thousands of vegans and the vegan-curious are foregoing traditional holiday barbecues in favor of Vegan Festival—all within wafting distance of charcoal grills cooking charred meat.

Vegan Festival debuted in 2014 and attracted approximately 15,000 people, but is expected to draw larger crowds this year give the increased interest in a plant-based diet. An estimated five percent of Israelis are vegan, festival co-organizer Omri Paz says, and with a population of approximately eight million people, Israel is believed to have the largest populations of vegans in the world. Paz, founder of the nonprofit group Vegan Friendly, attributes the growing trend to a number of factors, namely a variety of veg options and the spread of veganism via social media.

"Social media is big here and allows us to show what goes on in the factory farming, the meaning of what they eat, and the consequences when they eat an egg or dairy product," Paz says.

On the rise
Veganism wasn't always so popular for Israelis, but things began to change when a local news report exposed the abuse at a poultry abattoir. Due to the story, Israel's Agriculture Minister ordered all slaughterhouses to have security cameras installed in an effort to curb animal abuse. Reports such as these have inspired local celebrities, models, and public figures to advocate for a cruelty-free diet.

Veganism has also been on the rise in the Israeli military, where service is mandatory for young men and women. As conscripts demanded more vegan food, the Israel Defense Forces changed its menus, offering meat- and dairy-free options in mess halls. Israel's military recently announced that it will create special vegan boxes—including dried fruit, roasted chickpeas, peanuts, and beans—to soldiers in combat units who have limited access to fresh food. Vegan Israeli soldiers are also provided leather-free combat boots and berets.

Touring tahini
For centuries, plant-based cuisine has been a staple in the mediterranean diet. In Israel, small, locally owned eateries have been serving fresh hummus, falafel, and tahini since the country's inception. There's even a word to describe the "scooping up" of hummus with pita: leh-na-gev. Today, as you roam the cosmopolitan streets of Tel Aviv, it's common to find the "Vegan Friendly" decal in hundreds of local eateries and brasseries. Restaurant chain Domino's Pizza—one of the sponsors of Vegan Fest—added a vegan option to its menu, using coconut to create a non-dairy cheese that gained such popularity that other worldwide franchises—including several in India—added it as well.

The demand for vegan food is so popular right now that food tours have been created to show locals and tourists just how healthy and filling plant-based eating can be. One such tour is Delicious Israel. Founded by American expat Inbal Baum, the trek stops at veg and non-veg eateries to highlight local dishes such as tapas-style fresh salads and tapenades made from fresh beets with mint and olive oil, Moroccan spiced carrots, and shredded cabbage. Another must on Baum's list: dining at an Israeli hummuseriya, which is a sensory experience thanks to a velvety thick layer of hummus and fresh tahini that form the base of every dish. Customers can opt for a vegan version garnished with fresh raw onion and topped with fresh lemon juice, olive oil, warm cooked chickpeas, chopped parsley, and a dollop of spicy pepper paste (schug). By taking one of these tours, Baum says, diners are experiencing Israeli culture and history in the best way possible: through vegan food.

"Everything is so fresh here and vegan friendly," Baum says. "They throw 30 fresh salads on the table, and you don't have to order the meat. That's the basis of how we eat here: fresh produce and farm to table … before the concept even caught on in the United States."

Tel Aviv native Dana Shemesh is a freelance writer based in Atlanta, GA whose work can be found at CNN.com, BBC, The Associated Press, and The Jerusalem Post.
JUST LAUNCHED! Get our 10 Easy Vegan Summer Meals recipe book as a FREE instant download.
JUST LAUNCHED! Get our 10 Easy Vegan Summer Meals recipe book as a FREE instant download.