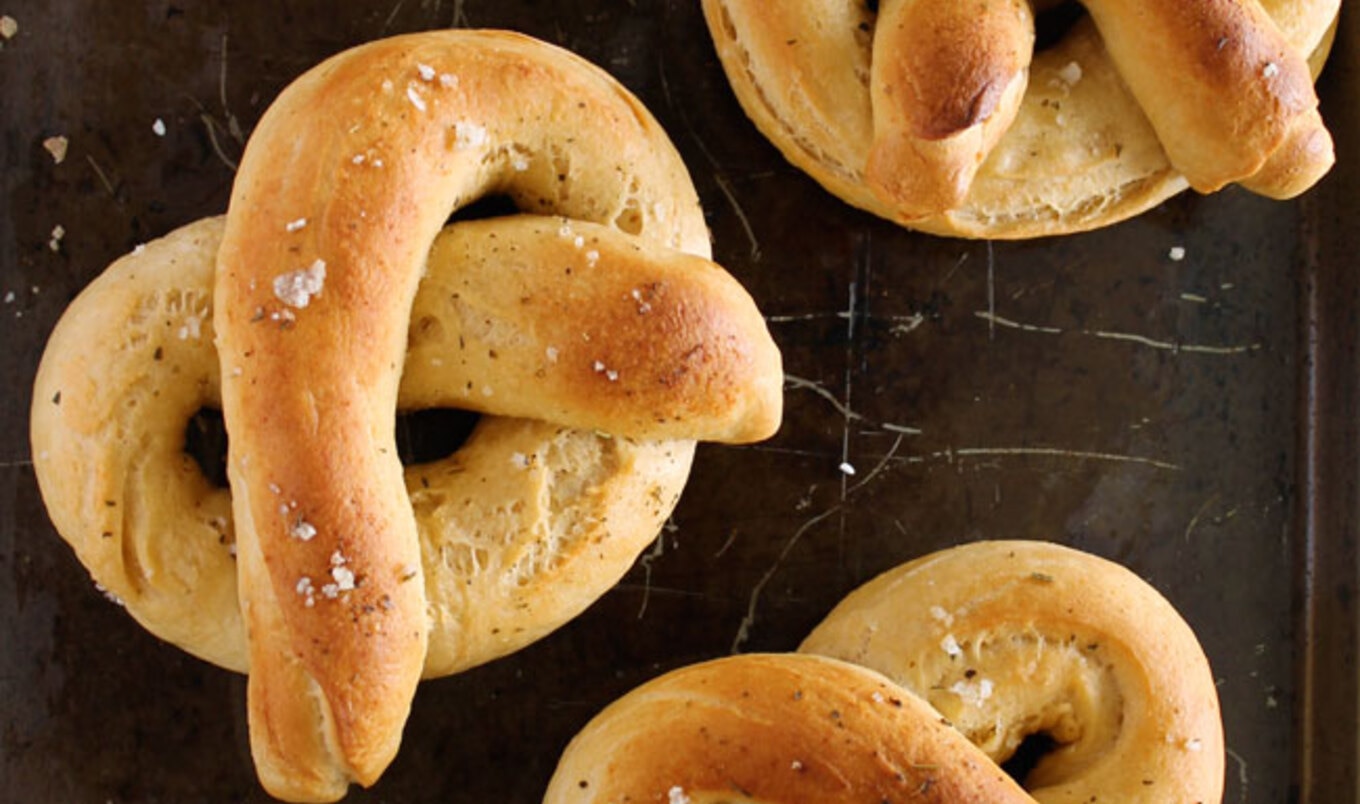 Roll out the dough, turn on the oven, and make yourself a guilt-free, hot vegan pretzel.
August 15, 2016
---
Whether you're going to a summer barbecue, a baseball game, or on a weekend getaway, you know you're going to need a snack, which is why we've created a list of the six best vegan pretzel recipes on the internet. But we didn't stop there, as we've also included a plethora of dipping options ranging from spicy mustard, vegan ranch, and a sweet glaze. So bite into a jalapeño, cheese, cinnamon, or garlic and herb pretzel, but whatever you do, don't get yourself twisted.
 
1. Love and Lemons' Soft Baked Salted Vegan Pretzels
The combination of salt and softness of Love and Lemons' Soft Baked Vegan Pretzel makes for a healthy and delicious warm summer go-to snack. The website recommends adding sea or Himalayan salt to the recipe, which is good because salt helps you to sleep better and also increases your metabolism. Love and Lemons' sweetener of choice is maple syrup, and you can substitute the white flour for whole wheat if you want to add more grains to your salty summer snack. Our advice? Don't forget the mustard.
 
2. Utterly Scrummy's Sweet Soft Pretzels
Utterly Scrummy's sweet cinnamon soft pretzels pair perfectly with summer berries and vegan ice cream. If you can't get enough of cinnamon baked goods such as cinnamon buns, churros, or even cinnamon-flavored ice cream, Utterly Scrummy's sweet soft pretzel recipe will satisfy your sweet tooth. The soft cinnamon pretzels will leave your home smelling like a bakery while bringing out the sweetness in summer. Even better? Cinnamon is loaded with antioxidants and helps reduce cholesterol, so take a big bite already.
 
3. Chocolate Covered Katie's Homemade Glazin Raisin Pretzels
Chocolate Covered Katie's Glazin Raisin pretzel recipe is comparable to a cinnamon roll but features a sugar-sweet glaze that makes takes this treat to a whole new level. If you're looking to cut back on sugar, use a natural sweetener such as agave and stevia. As an added bonus, raisins are high in fiber and protein, so get glazing..
 
4. Vegan Richa's Vegan Stuffed Pretzels
Vegan Richa makes vegan and gluten-free stuffed pretzels with mushrooms and green beans, but we prefer filling them with vegan sausages to make pretzel dogs. Her filling is made with green beans, chili flakes, and cremini mushrooms that are high in antioxidants and iron, which strengthen your immune system. Dunk these in Follow Your Heart vegan ranch or honey mustard dressing, and you're in hot dog heaven.
 
5. Vegan Yumminess' Garlic and Herb Soft Pretzels
If you haven't noticed, we love seasoned soft pretzels, especially those made with garlic and herbs. This passion explains why we're chowing down on Vegan Yumminess' recipe, which calls for garlic, Italian seasonings, and sea salt. The fact that it pairs perfectly with Minimalist Baker's cashew-less vegan queso makes a doughy snack we'll be serving all year long.
 
6. Fork and Beans' Vegan Jalapeño Pretzels
Fork and Beans offers spicy lovers a gluten-free option thanks to its dairy-free jalapeño pretzels. Jalapeños contain Vitamin A, which is good for your eyes and skin. Just don't touch your eyes after eating because that's a pain no pretzel fanatic should ever experience.
 
Christa Alexis is an earth-loving herbivore who animals adore.
Photo courtesy of Vegan Yumminess