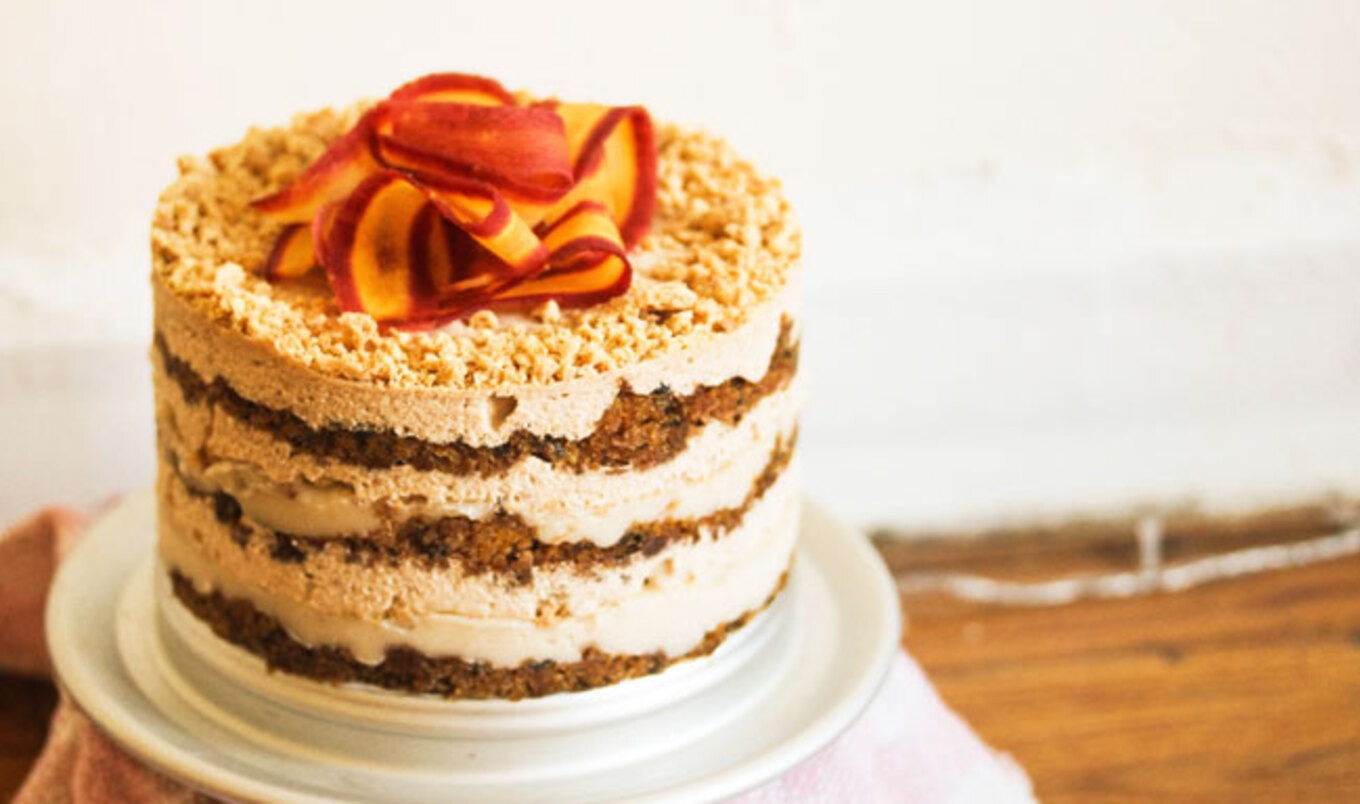 The popular dessert-based cookbook is getting a plant-based makeover.
April 14, 2017
---
If you've ever gazed at the carefully crafted treats in the Momofuku Milk Bar cookbook and wished they were vegan, you can stop now because your wish has become a reality thanks to Laura Varley. On her blog Soy Milk Bar, the Brooklyn-based vegan chef transforms popular confections such as Confetti Cookies and Hazelnut Praline into plant-based delicacies. Currently, Varley has cooked her way through 89 of the 139 recipes in Momofuku Milk Bar, which has gained the approval of Momofuku Milk Bar creator Cristina Tosi. We caught up with Varley to find out more about Soy Milk Bar and what inspired her to take on this ambitious and delicious task.

VegNews: How long have you been vegan and what inspired you to make the change?
Laura Varley: I've been vegan for about five years. I was raised vegetarian, without any eggs and very little dairy. As I got older, I naturally progressed into veganism based on what I was already familiar with, and by learning more about animal abuse and the environmental impact of factory farming.

VN: How were you first introduced to the Momofuku Milk Bar cookbook?
LV: Every year, I bake my sister a birthday cake, and one year she decided she wanted the Milk Bar birthday cake after finding a recipe for it online. I had so much fun veganizing it that I decided to get the book.

VN: What inspired you to veganize the cookbook?
LV: I started the project in 2014 with the birthday cake. I started the blog a couple of months later. I was a young pastry chef, and I really wanted to learn new techniques and get more experience. After the encouragement of my friends and family, I decided to take photos of the process and document them online. I also use the blog to help motivate me to finish the project.

VN: What have been the biggest challenges you've run into?
LV: Many of the recipes that rely heavily on eggs are the most challenging. For instance, the meringue in the banana cream pie, as well as the custard filling for the crack pie. I've worked on overcoming them by experimenting with almost any egg substitute a vegan could think of, including flax, aquafaba, agar, and even the Follow Your Heart VeganEgg. Aquafaba is a lifesaver!

VN: Of the recipes that you've veganized so far, which have become your favorites?
LV: I'm a sucker for cheesecake, so my two favorites have been the carrot cake and the cinnamon bun pie, both of which feature a recipe called "liquid cheesecake." The turkey Swiss croissants were a delicious savory recipe as well.

VN: When will followers be able to find photos of all the fully veganized Momofuku Milk Bar recipes at Soy Milk Bar?
LV: Since I work full time, I haven't been able to finish the project as quickly as I had hoped. Many recipes require a few tries before I perfect them; however, I hope to be finished by the end of this year.

VN: Will those of us entranced by the photos ever be able to access the recipes for these divine dishes?
LV: Yes, ideally! At first, I wanted to publish a 'zine about it when I was finished, but I think I will post the recipes after the whole project is complete.

Maya Gottfried is the author of Our Farm: By the Animals of Farm Sanctuary and the forthcoming Vegan Love: Dating and Partnering for the Cruelty-Free Gal.