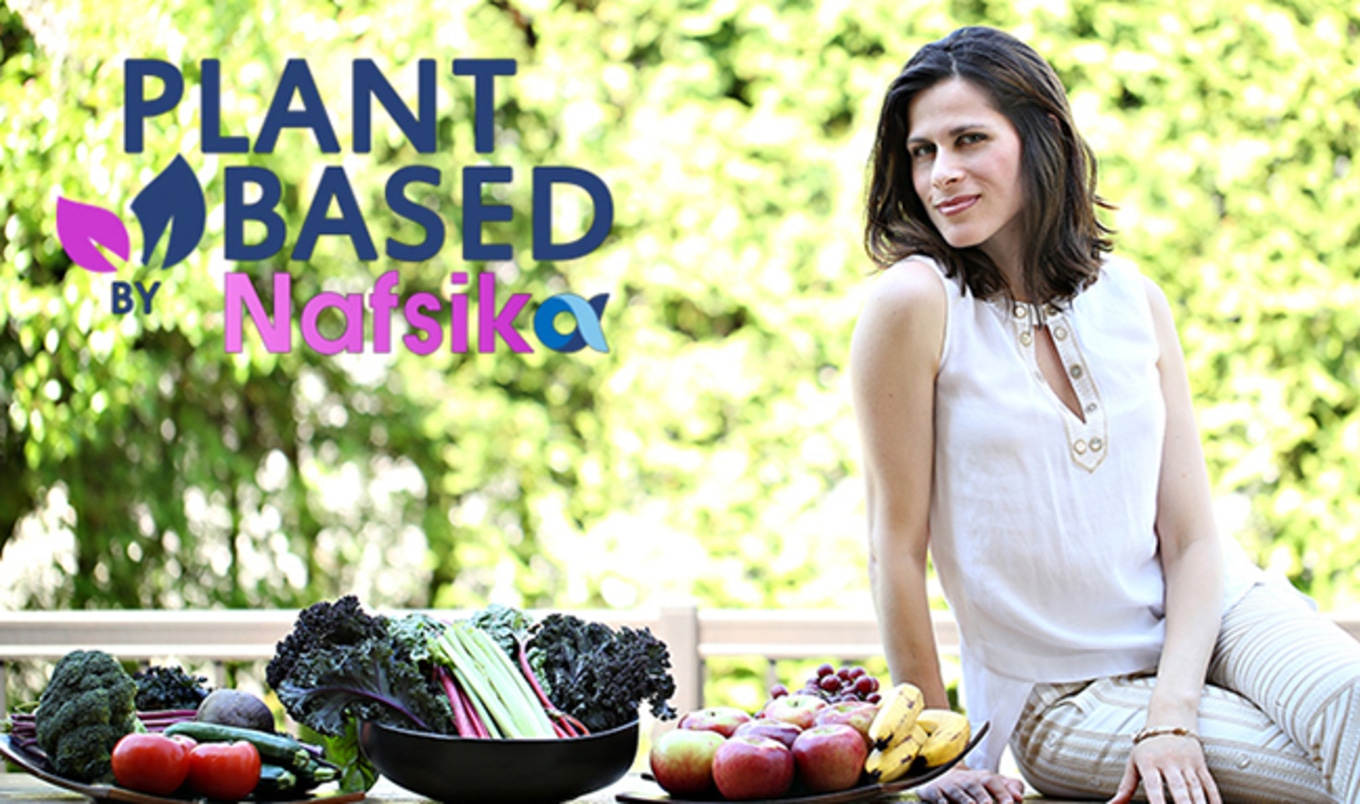 VegNews caught up with television host Nafsika Antypas to find out what she's planning for the her popular vegan TV show.
May 4, 2017
---
Nafsika Antypas has always loved animals. In 2014, the Montreal, Canada native founded the nonprofit People Against Violence, and in 2015, she started an organization called The Struggling Vegan. A year later, Antypas became the host and creator of the world's first vegan lifestyle TV show, Plant-Based by Nafsika, which features segments on cruelty-free food, fashion, beauty, health, and innovations. Plant-Based by Nafsika airs weekly on A&E's FYI channel, a network that reaches more than 70 million households across America. The second season of Plant-Based by Nafsika begins July 26, but we couldn't wait until then to find out more about the program, so we talked to Antypas to find out how she's helping make vegan mainstream one sexy fashion segment at a time.

VegNews: What inspired you to start your own show?
Nafsika Antypas: I went vegan a few years ago and wanted to learn everything there was to know about a vegan lifestyle. I noticed there were no vegan lifestyle shows out there and decided that I would be the first to do it. I wanted to change the world through food and figured that if I could get more people to switch from a meat-eating diet to a plant-based/vegan lifestyle, the world would become a healthier and more compassionate place.

VN: Why did you go vegan?
NA: I was browsing movies on Netflix one night, and the film Vegucated popped up, so I decided to watch it. After I did, I was upset with myself. I couldn't believe that I had been contributing to such animal cruelty, and I literally went vegan overnight. Furthermore, it got me thinking because both of my kids were breastfed, and the idea of someone else stealing my baby's milk bothered me. That's when I made the connection.

VN: In what ways has doing Plant-Based by Nafsika surprised you?
NA: I didn't realize what a strong and supportive community the vegan community was until I started this show. I love being surrounded by people who care.

VN: What do you love the most about interviewing others?
NA: Meeting all kinds of amazing and inspiring individuals helping make this world a better place. I also became great friends with them.

VN: What can viewers expect for next season?
NA: We're going to have lots more food; sexy, cruelty-free fashion; and topics that dig a little deeper than before.

VN: Where can people watch the second season?
NA: Season two will air weekly on the FYI channel every Wednesday at 7:30am starting July 26. It airs at the same time in all regions across the United States, and viewers should make sure they are subscribed to the FYI channel, which is part of A&E. Alternatively, we also upload the individual segments (not full episodes) to our website and YouTube channel, so anyone can catch a previously aired segment from anywhere in the world.

VN: What's your favorite thing about hosting Plant-Based by Nafsika?
NA: I love the whole process, from sourcing interesting guests to being a producer of my own TV show, but I think my favorite part is the feeling that I'm contributing to something that's for the greater good.

VN: Being a talk show host isn't your only career. Can you tell us more about your other projects?
NA: I have lots of projects, and the general theme is helping to make the world a more compassionate place. I founded People Against Violence to help victims of violence; I designed a personal safety app called uAlert that serves as a complete emergency response system; and I founded The Struggling Vegan Inc, which is an organization that helps people be vegan and interact with one another in what I call "The Veg Room," while giving members direct access to our plant-based doctors and coaches. I also am still very much involved with my father's food company, Pilaros, where we supply Mediterranean products such as olives and olive oil around the world.

Robin Raven is a journalist and the author of Santa's First Vegan Christmas.