The musical marvels we idolize are bringing compassion to the stage in every age.
May 24, 2017
---
There's no feeling quite like falling in love with an artist for their music and then having that connection amplified when finding that they also share your personal values. The power of music to relay profound messages and move us is as timeless as the stars—the ones in space and the ones on stage. So here is a rundown of some of our favorite old-school artists and their new-wave counterparts that are using their platforms to speak out for animals.
Lou Reed and Lana Del Rey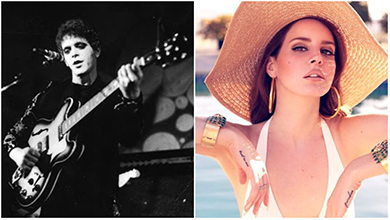 Lou Reed and Lana Del Rey have more in common than just their sultry, mysterious personas. While the two artists may be known for their cool and enigmatic exteriors, they both made the decision to embrace a meatless lifestyle and promote their ethical choices to their fans. Lou Reed, frontman of the rock legend The Velvet Underground, was known for his facetious tone with the press, but led by example with his decision to cut meat from his diet and attend vegan events such as Farm Sanctuary's Very Vegan Thanksgiving. Vegetarian Del Rey shares Reed's compassionate values and honored his influence with her tribute song,"Brooklyn Baby," which they initially intended to record together before his passing.
Joan Jett and Yo-Landi Visser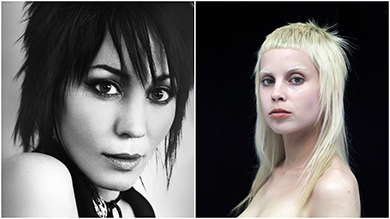 Not only did Joan Jett and Yo-Landi Visser both gain their claim to fame by challenging social norms with their hardcore counterculture style—Jett at just 15 when she formed the Runaways, and Visser with her South African Zef rap duo Die Antwoord—the two edgy stars also share an adherence to a veg lifestyle. Jett took the world by storm with her bad reputation, hard-hitting lyrics, and ethical choice to give up meat in the '80s. Since then, Jett has been involved with People for the Ethical Treatment of Animals (PETA) doing public interviews and even flyering on the streets with Vegetarian Starter Kits. Visser advocates her meat-free lifestyle in Die Antwoord's bizarre hit "Cookie Thumper," where she raps, "I smell lovely cuz I don't eat meat."
Prince and Ariana Grande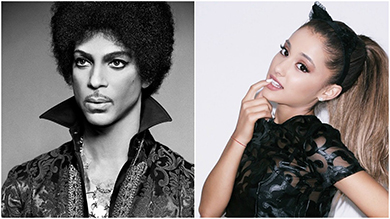 Prince and Ariana Grande are inspiring for a number of common reasons: their unique, bold fashion senses, their incredible, versatile vocal ranges, and their dedication to promoting a plant-based lifestyle. Prince's song, "Animal Kingdom," is a testament to the respect that all living beings should have for one another. Grande expressed the inspiration Prince is to her musically, as well as the values they share in an interview with Mirror: "I love animals more than I love most people, not kidding. But I am a firm believer in eating a full plant-based, whole food diet that can expand your life length and make you an all-around happier person."
Sir Paul McCartney and Jason Mraz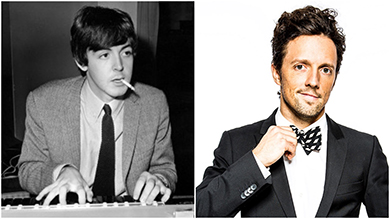 "You'd think that people would have had enough of silly love songs, but I look around me and I see it isn't so." Well, Paul was right. The legendary member of The Beatles, frontman of Wings, singer, songwriter, composer, and hopeless romantic, Paul McCartney may have written those words long ago, but they still hold true today. Jason Mraz perpetuates McCartney's sentiment through his boyish charm, chart-topping "silly love songs" such as "I'm Yours," and making the world a better place for animals. McCartney not only wrote the song "Looking for Changes" about stopping animal cruelty but he also invites PETA to every event he plays and advocates for his fans to cut meat from their diets. Mraz also does his part by maintaining a plant-based diet, and even resides on an avocado farm where he writes his music and leads an eco-friendly lifestyle.
Morrissey and Miley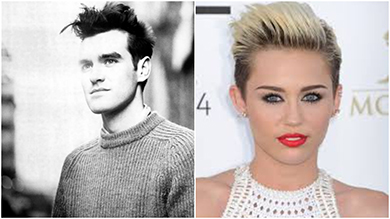 Famed frontman of the '80s British Invasion group, The Smiths, Morrissey shares a deep passion for a vegan lifestyle with Miley Cyrus, both of whom advocate for compassion through their music and celebrity presence. Throughout his career, Morrissey has used his platform to promote animal rights, including a campaign in alliance with PETA against animal testing. The Smith's song and album "Meat is Murder" shed light on the ethical issues of meat consumption and Cyrus carries forward this sentiment (and his upswoop hairdo) with her song "Pablo the Blowfish," in which she expresses the importance of empathy for all species.
Courtney Lodin is an editorial assistant for VegNews who would have undoubtedly been detained for Beatlemania had she been around in the early '60s.