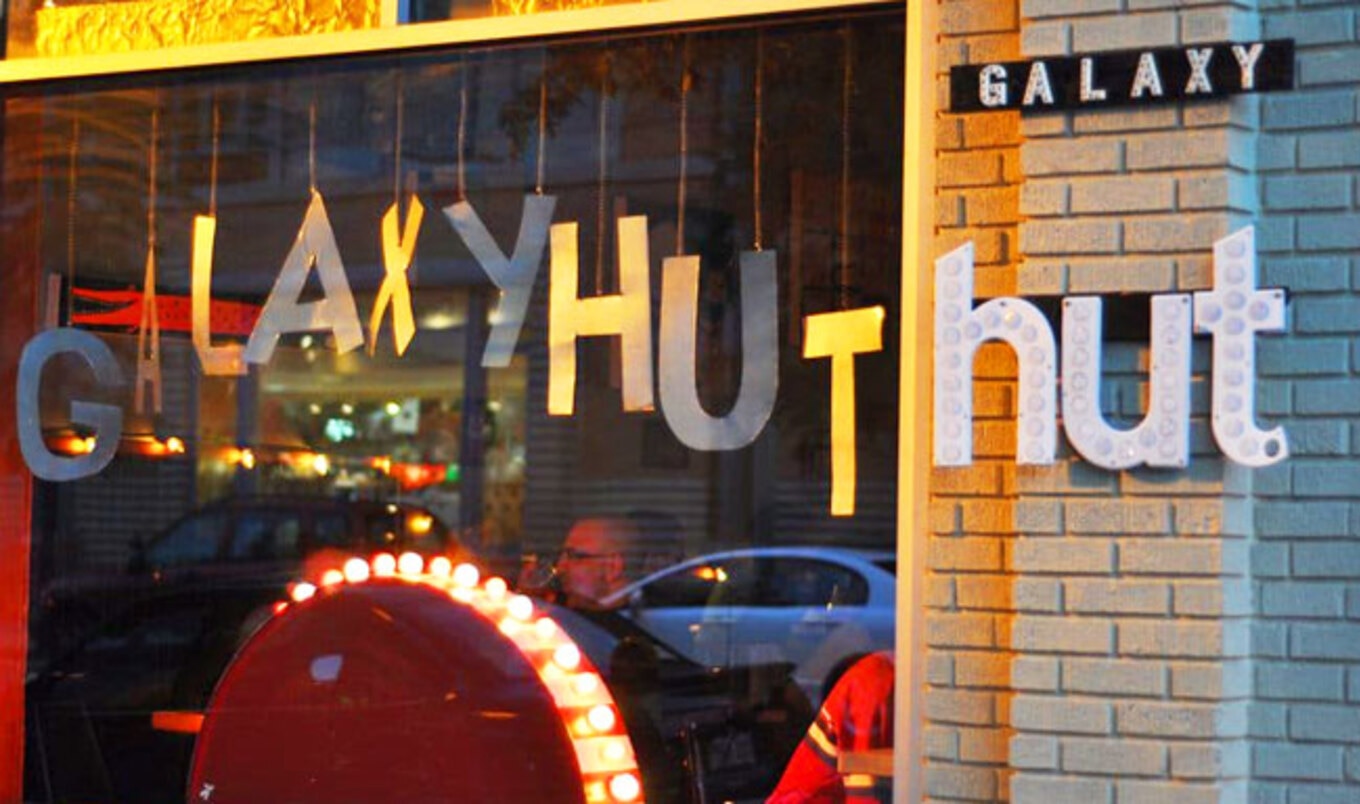 These restaurant owners love plant-based food so much that they've recently gone vegan.
September 9, 2017
---
A stone's throw from Washington, DC lies Arlington, VA's Clarendon neighborhood. While not as well-known as our nation's capital, the 45-block region is home to a burgeoning vegan scene thanks to a Wednesday farmers' market and a Whole Foods Market. However, plant-based food has been available in Clarendon since the early 1990s at bar/restaurant Galaxy Hut. While the eatery still serves meat, every dish on the menu—which includes a meatloaf sandwich, corn dogs, and a cheesesteak—can be veganized. Owned by married couple Lary and Erica Hoffman, Galaxy Hut's plant-based options have become so popular that the Hoffmans have recently gone vegan. We decided to speak to the twosome to talk about how the changing times of plant-based cuisine has had a positive impact on their business and their personal lives.
VegNews: Has Galaxy Hut always had an extensive vegan or plant-based menu?
Lary Hoffman: No. It always had one vegetarian sandwich on the menu, and before (buying the restaurant), I was the manager back in the 1990s, and I put a vegan barbecue sandwich on the menu in addition to the veggie burger. Once I bought the place in 2005, I really took off with trying to make as much vegetarian availability as possible. Now, everything's available vegan.
VN: How has the menu changed over time?
LH: What I noticed, because I worked in the kitchen pretty heavily and so did Erica years ago, is that even if it was a grilled cheese or something, people would opt for the veggie bacon over regular bacon. It started out as a lot of cheese-based (food), and then moving into the mock meats that were available—we use tempeh and textured vegetable protein and seitan pretty heavily—and as more products became available in that arena, we incorporated them in our menu. Now, we're in the middle of doing a menu tweak where we're trying to take off some of those soy- and seitan-based mock meats and replace them with some more phomemade products.
Erica Hoffman: The options have really started to explode. We're now moving away from the imitation stuff that's a lot more processed to a more plant-based solution for veggie meats and vegan meats, and the cheeses as well. My husband and I have recently gone vegan—we've been vegan now for about two months—and that's helped us with our menu development a lot! We were always trying things, but now it's really accelerated because it forces you to become creative about your own meals on a daily basis and really look at ways to promote plant-based versus doing the easy fix—carb-loading. We've added a lot of things recently to reflect that, and we'll continue to do that.
LH: We used to use texturized vegetable protein for our vegan chili, and now we use a plant-based one from Beyond Meat. Their burger just came to market for food service, so we're just running with it at both of our locations. We're doing a vegan patty melt with Beyond Burger. The next one we'll probably do is a Big Mac knockoff—a Big Mock.
VN: How has your customer base changed over time?
LH: I started hanging around Arlington and working at Galaxy Hut in the '90s and until maybe five years ago, people kind of sneered at Arlington as being hipster. We were fine with that! It's changed, but people still find us out. We're small, and we're still able to survive.
EH: There's tons of people in Clarendon—it's just that there's a lot of options now for beer, which we used to have the corner of the market on. And vegetarian options are becoming more widely available. However, I think there's a lot of work still that needs to be done in that arena, especially in Virginia. DC probably has a better handle on vegetarian and vegan options.
VN: Looking ahead to your revamped menu, what are some of your favorite vegan menu items?
EH: Definitely the Buffalo cauliflower. I would eat that every day if I wasn't concerned about the fried food! The eggplant fries are also very popular.
LH: People keep coming back for our vegan cheesesteak. That gets a lot of attention. It's our top seller.
EH: We love when people can come to our restaurants and enjoy the vegan food. I can't tell you how many people say, 'I'm not even vegetarian! I'm not even vegan! But man, I love those cauliflower wings.' Or, 'The vegan cheesesteak is so good.' We love that. There is nothing better than hearing, 'Hey, this plant-based food you're offering, I would eat that all the time, and I don't usually make that choice.'
Hope Nelson can vouch for Galaxy Hut's vegan cheesesteak and could, frankly, eat it every day.