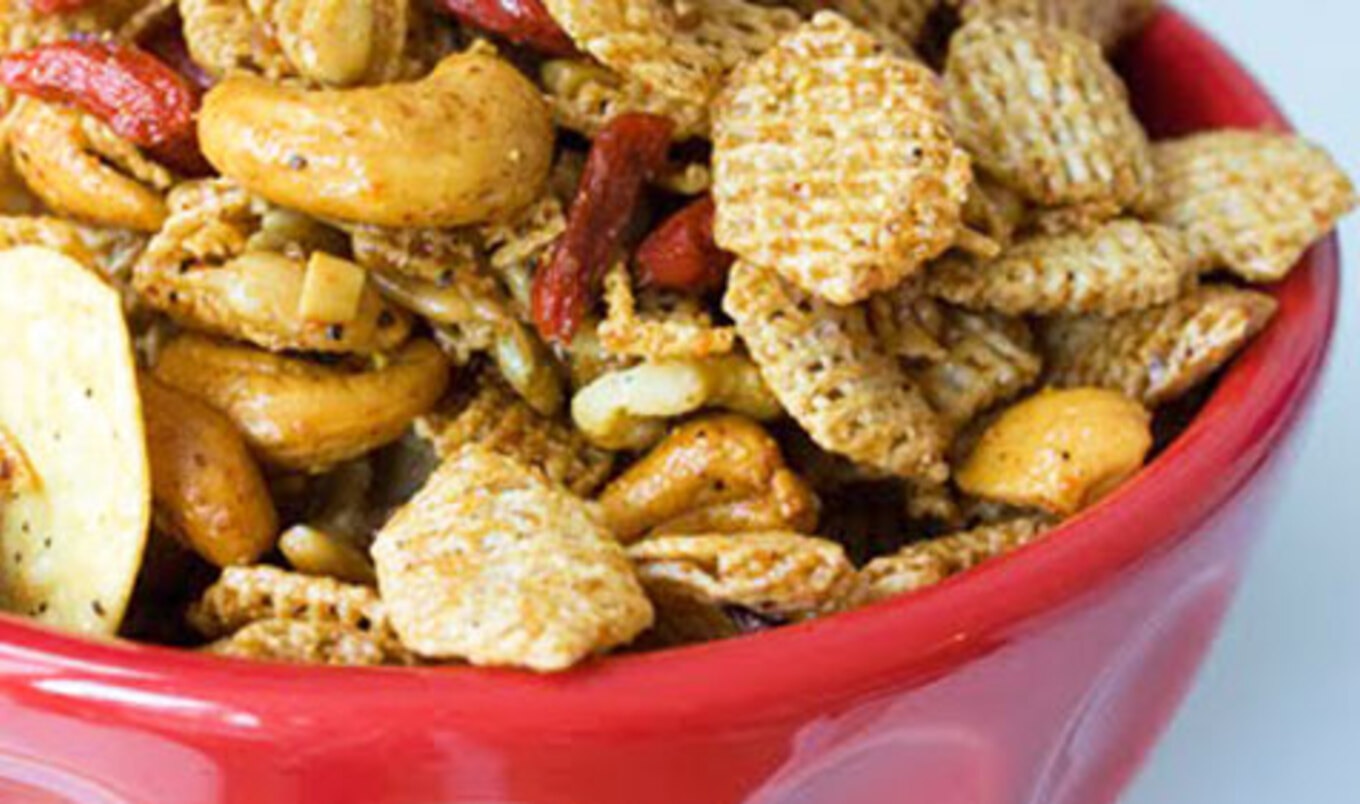 Take us out to the ball game with this list of sweet and savory snacks that will get you through the 7th inning stretch and beyond.
May 26, 2018
---
Opening Day for America's favorite pastime is here, and while everyone else is trying to figure out who's on first, we're busy thinking about what we're going to eat during those gorgeous spring afternoons at the ballpark. We love our peanuts and boxes of Cracker Jack (yes, they're vegan!), but we're bringing something new to bat with this medley of store-bought munchies and homemade fare. With nine innings to get through, we suggest playing hardball with several of the snacks below to make sure you cover all the bases.

1. Salt and Vinegar Roasted Chickpeas
This crispy, protein-packed snack from Oh She Glows is a healthier alternative to the tangy and briny taste often found when eating potato chips. By using roasted chickpeas, you'll be grabbing for one more crunchy bite all the way until the ninth inning.

2. Brami lupini beans
Brami has hit a home run with this healthy munchie made from lupini, a newcomer to the legume snack game. Lightly pickled in a variety of savory seasonings, these "miracle beans" can be enjoyed whole or shelled in four mouth-watering flavors (sea salt, chili lime, hot pepper, and garlic and herb). Packaged in convenient re-sealable bags, Brami's low-calorie, nutritious snack is ready to play!

3. Primal Strips Meatless Vegan Jerky
For a protein boost between innings, try one of the meaty soy, seitan, or shiitake mushroom-based offerings from Primal Strips. Made with all-natural ingredients, the strips come in six varieties (mesquite lime, teriyaki, hickory smoked, Texas BBQ, and hot and spicy) that range from sweet to spicy. Throw your concession stand eats a curve ball by cutting up these strips and sprinkling them on your French fries and popcorn.

4. Rocky Road Snack Mix
This recipe from Enjoy Life combines double-chocolate gluten-free cookies and dairy-free miniature chips for a chocolatey popcorn that also happens to be gluten-free. Even better? This nut-free recipe can be stored in the freezer so you can always have some the next time baseball fever strikes.

5. Hippeas
There are many puffed snacks on the market, but few that keep us coming back for more like Hippeas. While many chickpea snacks are roasted, Hippeas are ground into flour with other organic ingredients ideal for a tasty snack. Available in five scrumptious flavors (including Vegan White Cheddar, Far Out Fajita, and Sriracha Sunshine), these snacks serve up good vibes as much as a delicious bite.

6. "Better" Party Mix
This scrumptious blend from Healthy Happy Life is batting a thousand thanks to all all the basics you'd expect in a cereal mix. Superfoods, Goji berries, and flaxseed meal combine with sunflower seeds, cashews, and other mixed nuts for a hard-hitting yet very portable ballgame snack.

7. Beanfields rice and bean chips
Beanfields' Barbeque, Nacho, and Pico de Gallo chips come in 1.5-ounce sized bags, making them perfect for stadium noshing. These chips are delicious on their own, but will also kick up the flavor mixed into the dairy-free nachos at the concession stand. Try the Jalapeño Nacho variety, (also available in the 1.5-ounce size) to add more heat to your snack.

8. free2b Snack Breaks
With three flavors from which to choose, free2b's Snack Break variety packs are a guaranteed home run. Flavors such as Peppermint, Cranberry Pumpkin Seed, and Blueberry Crunch come loaded with dark chocolate and superfood additions in an easy-to-use re-sealable bag. Who are we kidding? By the bottom of the first, these snackable thins will be going, going, gone!

9. Peanut Butter Cup Energy Bites
With just five ingredients, these delicious power balls from Minimalist Baker are naturally sweetened and ready in just 15 minutes. Did we mention they taste just like a peanut butter cup? It's cookie dough pinch-hitting for a snack, and it's a winner!

Stephanie Dreyer is the founder of VeegMama, where she helps families cook and eat healthier.
JUST LAUNCHED! Get our 10 Easy Vegan Summer Meals recipe book as a FREE instant download.
JUST LAUNCHED! Get our 10 Easy Vegan Summer Meals recipe book as a FREE instant download.