Food + Recipes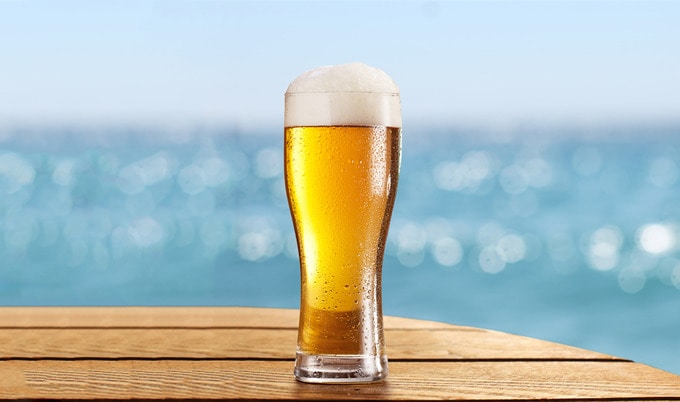 Beat the Heat With These 7 Ice-Cold Vegan Brews
Enjoy breezy summer nights and sweltering pool parties with these tasty, refreshing vegan beers.
---
There's nothing better than a crisp, chilled drink to cool you down on a hot summer day. VN shares some of the best seasonal beers there are to offer, plus a few that provide sensational summer taste year-round.
1. To-Gose (Abita Beer, Abita Springs, LA)
Enjoy the light, refreshing taste of this seasonal lager until September. This brew, made in small batches in a brewery 30 miles north of New Orleans, is aged with fresh key limes for a crisp flavor. This is a great anytime beer, wonderful alone with a twist of lemon or with summertime fare.
2. Allagash White (Allagash Brewing Company, Portland, ME)
This traditional Belgian-style brew is bottle-conditioned, which means yeast and a little bit of sugar are added after the beer is bottled. The resulting fermentation leads to natural carbonation and added tastiness. Coriander and curaçao orange peel create the fruity taste of this year-round brew.
3. ZŌN (Boulevard Brewing Company, Kansas City, MO)
Flemish for "sun," this seasonal selection is a Belgian-style witbier, or white beer. The light body and mild taste are prefect for pairing with veggie burgers and hot dogs (and a handful of potato chips, while you're at it). Brewed by Missouri's largest independent brewery, the ZŌN won the gold medal for Belgian-style witbier at the 2014 Great American Beer Fest.
4. India Pale Ale (Lagunitas Brewing Company, Petaluma, CA)
This "homicidally hoppy" ale is made with 43 different hops and 65 malts, creating a complex, intense flavor. If you live in the Bay Area, stop by the brewery for a free tour. Afterwards, nosh on delicious grub, try the IPA (Lagunitas' flagship beer), and listen to some live music at the brewery's outdoor beer garden.
5. Tartastic (New Belgium Brewing Company, Fort Collins, CO)
Well-known for its Fat Tire Amber Ale, New Belgium also hosts some pretty tasty seasonal selections—enter: Tartastic Strawberry Lemon Ale. Easy to drink and the mix of strawberry and lemon purées make the taste anything but simple. The brewery itself is not to be missed, either—it's employee-owned and 100-percent focused on sustainability. The bar stools are made from recycled bicycle rims!
6. Summer Pils (Saint Arnold Brewing Company, Houston, TX)
Texas' oldest craft brewery can do no wrong when it comes to beer—its seasonal selections are so popular they don't even make it onto grocery store shelves. Their Summer Pils uses hops imported from the Czech Republic and malt from Germany, which create a sweet, delicate, drink-at-anytime flavor.
7. Samuel Adams Summer Ale (The Boston Beer Company, Boston, MA)
The seasonal selection from one of America's best-known breweries is a grocery-store staple to grab for any summer moment. The not-so-secret ingredient? Grains of Paradise, a rare African pepper. Wheat and lemon peel are added to the brew, resulting in a pint that is nothing short of addicting.
Want even more ideas? Check out Barnivore. Packed with hundreds of breweries, wineries, and distilleries, this handy site will take the guesswork out of choosing a vegan pint (or two). Cheers!
Want more of today's best plant-based news, recipes, and lifestyle?
Get our award-winning magazine!
Subscribe