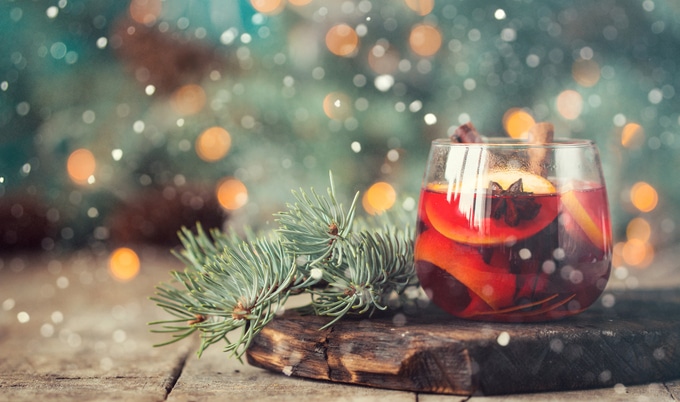 Try These Vegan Adult Drinks to Help You Forget 2019
Whether you're celebrating the holidays, the arrival of winter, or in need of a yummy drink to warm your insides, these winter-inspired cocktails are sure to keep you cozy.
Christmas is officially over, but, thanks to New Year's Eve, the holiday spirit continues. And while Christmas might the season for ugly Christmas sweaters, running from one family member's home to another, and overdosing on family-fun time, New Year's is when we like to park it in one spot and enjoy a few adult beverages. This year, to accomplish our NYE mission, we've found four boozy takes on classic cold-weather drinks that'll have us saying goodbye to 2019, and hello to 2020. Cheers!


Mulled Wine
Slightly sweet and perfectly spiced, this drink is perfect for people who prefer wine but want to get into the New Year's spirit.
What You Need:
1 bottle of red wine (preferably dry)
¼ cup brandy
2 cinnamon sticks
1 tablespoon whole cloves
1 tablespoon whole allspice
½ tablespoon whole peppercorn
1 orange peel
What You Do:
1. Over medium heat, heat wine and brandy. Add spices and bring to a boil.
2. Reduce to simmer and cook for additional eight minutes.
3. Strain liquid through mesh colander and serve with orange-peel garnish.


Spiked Peppermint Hot Chocolate
This spiked peppermint hot chocolate is everything your inner child loves … and everything your adult self needs. Omit the alcohol for the perfect kid-friendly winter drink.
What You Need:
¾ cup non-dairy milk
3 teaspoons vegan chocolate chips
3 ounces Baileys Almande
1 ounce whiskey
⅛ teaspoon peppermint extract
1 candy cane
5 peppermint Dandies
What You Do:
1. Over medium heat, heat milk and chocolate chips, and stir to combine.
2. Once chocolate chips have melted, add Baileys, whiskey, and peppermint, and stir until heated through.
3. Place candy cane in mug with stick side in.
4. Pour Baileys mixture into mug and top with as Dandies.


Hot Buttered Rum
This vegan version of the winter classic is a warming indulgence.
What You Need:
½ tablespoon vegan butter, sliced
1 cup cider
2 ounces spiced rum
⅛ teaspoon vanilla
¼ teaspoon cinnamon
1 whole-star anise
What You Do:
1. Place butter at the bottom of a heat-proof cup.
2. Over medium heat, combine cider, rum, and vanilla until heated through.
3. Pour liquid over butter and garnish with a sprinkle of cinnamon and top with star anise.


Hot Toddy
Hot toddies are great drinks for curling up by the fire (or space heater) with a good book. Fighting a cold? This drink is also good for whatever ails you.
What You Need:
1 cup herbal tea
2 ounces bourbon
2 teaspoons agave nectar
1 slice of lemon
1 cinnamon stick
What You Do:
1. Into prepared tea, pour bourbon and agave, and stir to combine.
2. On top off the liquid, float a lemon slice and garnish with cinnamon stick.
3. Let stand for five minutes and enjoy.
Perri Lerner is a freelance writer eating her way around the vegan paradise that is Portland, OR.
Love vegan food and cooking as much as we do?
Get the BEST, editor-tested recipes inside every issue of VegNews Magazine. Find out why VegNews is the world's #1 plant-based magazine by subscribing today!
Subscribe