Jackfruit has become a go-to ingredient for compassionate cooks, both professional and amateur. Not only is it tasty, full of fiber, and versatile, but it's also an excellent source of B-vitamins. Jackfruit tacos, enchiladas, salads, and desserts have popped up on menus and dinner tables everywhere, and these 11 innovative dishes are sure to make you say tofu, tempeh, and seitan don't have jack on jackfruit!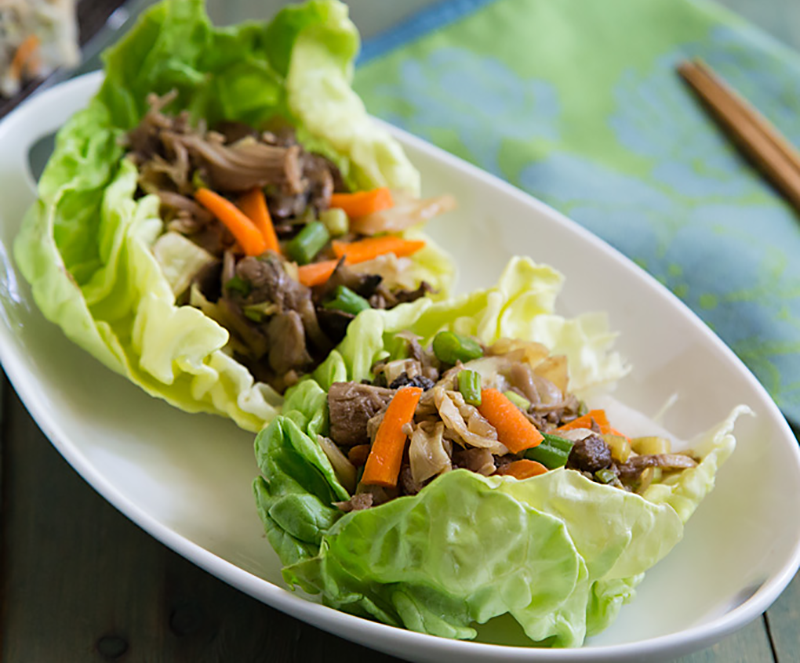 1. Mu Shu Jackfruit Lettuce Wraps
Savory, garlicky jackfruit wrapped in cool, crisp lettuce—it's a perfect plant-based option with just as hearty of a bite, way less calories, and none of the cholesterol or animal suffering that comes with traditional pork. We think Mu Shu Jackfruit Lettuce Wraps are definitely the way to go.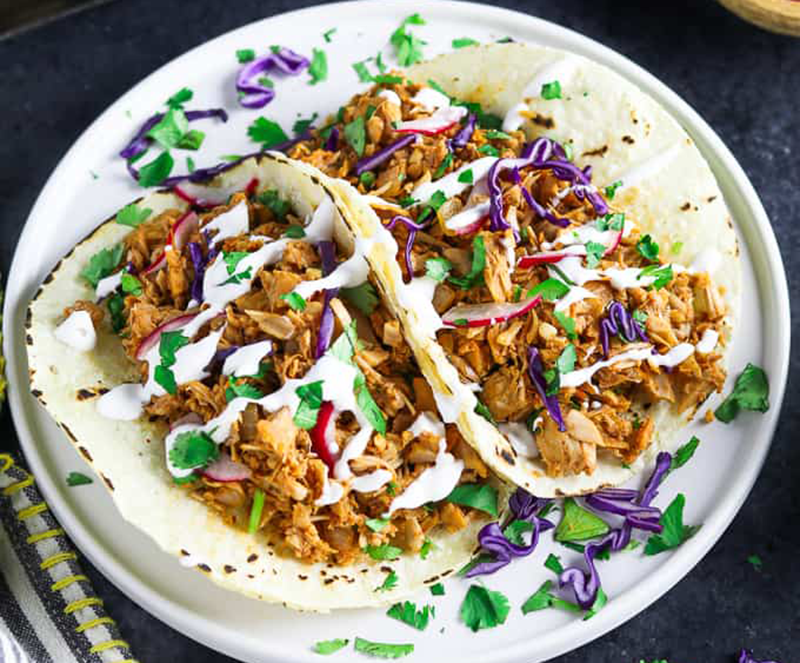 2. Easy Jackfruit Carnitas Tacos
The lovely thing about jackfruit is that as it cooks and softens, it begins to pull apart, taking on a shredded texture similar to pulled pork. Add a few shakes of your favorite spices, a little tomato paste, and you've got yourself the ultimate go-to tacos for every Taco Tuesday.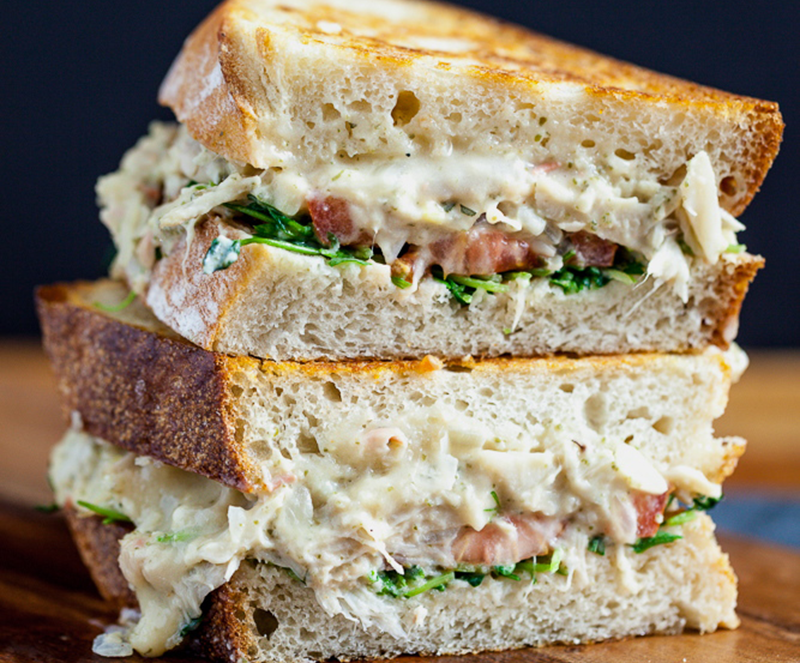 3. Jackfruit "Tuna" Melt
Ooey gooey fish-free tuna melt! Check out this amazing sandwich with vegan mayo, white beans, jackfruit, melted vegan mozzarella, and beautiful bright red tomatoes––all deliciously smushed between two slices of bread and toasted to golden perfection.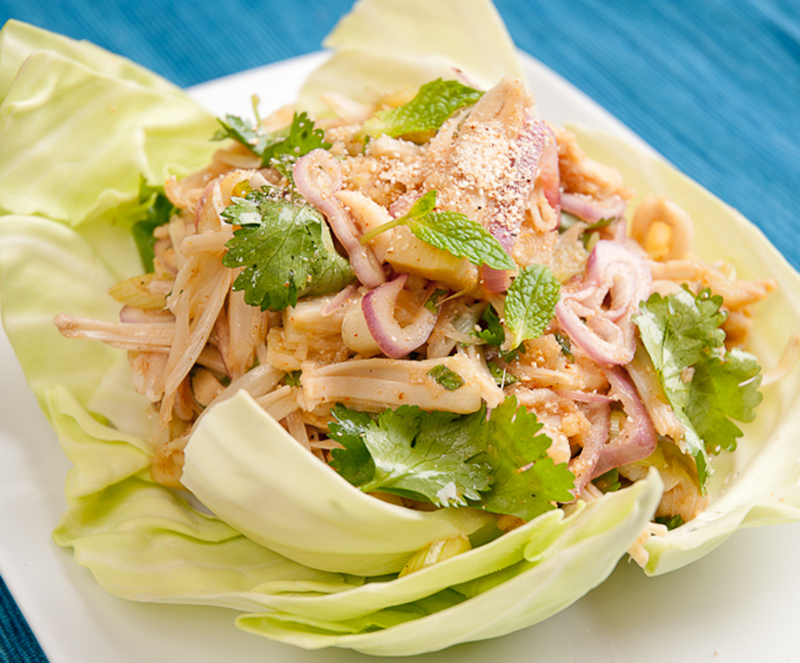 4. Laotian and Thai Salad
When the day calls for a light lunch and decadent, cheesy dishes just don't sound that appetizing, turn to the crispy, tangy bite of this Asian-inspired jackfruit salad, dotted with red shallots and hot chili powder, and topped with mint and cilantro.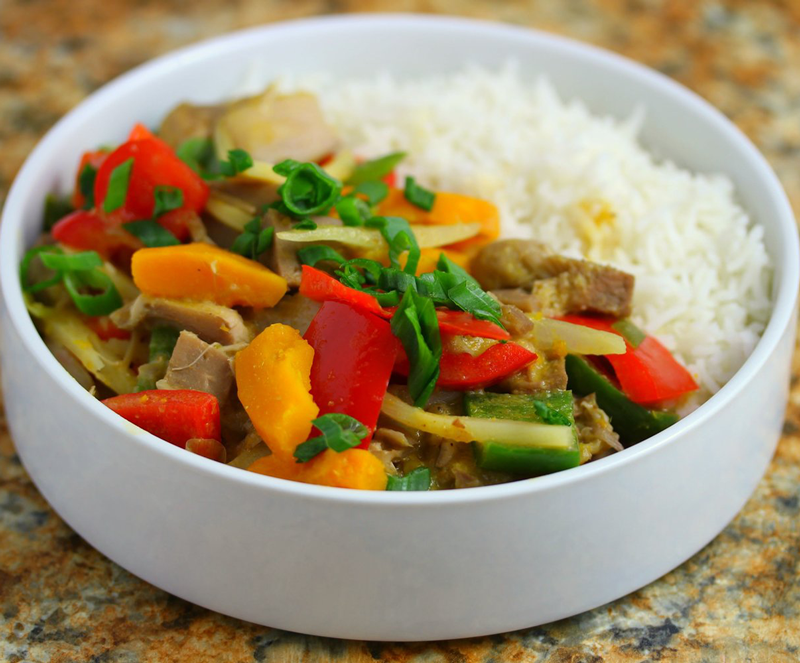 5. Jackfruit Coconut Curry
Is there anything better than curling up on the couch with a warm blanket and hot bowl of rich coconut curry? Especially if it's this colorful jackfruit curry, brimming with coconut milk and a medley of bell peppers, bamboo shoots, and butternut squash. Did we mention there's a bit of jalapeños in it, too? Just for a little more spicy kick.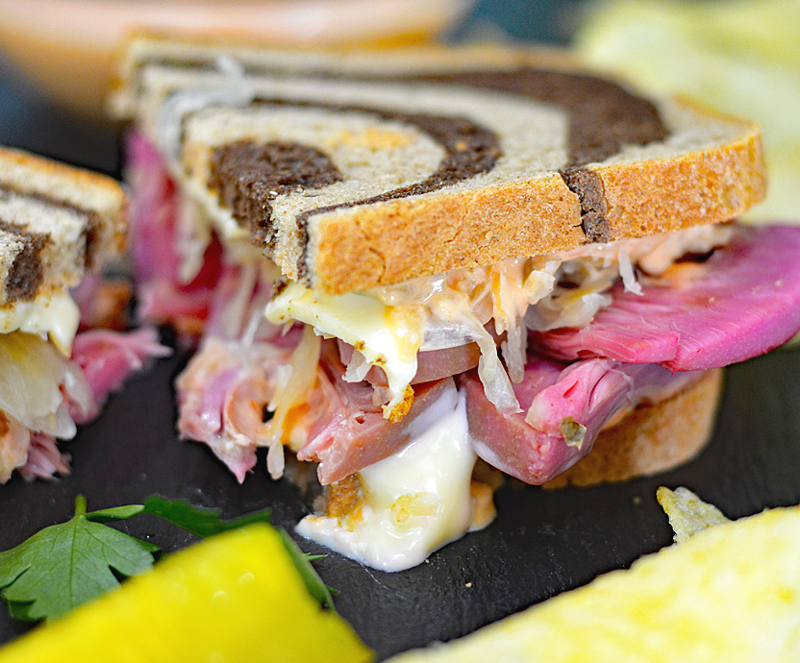 6. Corned Jackfruit Reubens
Marinated jackfruit is stacked a mile high on swirled or dark rye bread beneath a layer of sauerkraut and special Thousand Island sauce in this sammie. The end result? A cheesy, creamy, and delicious reuben.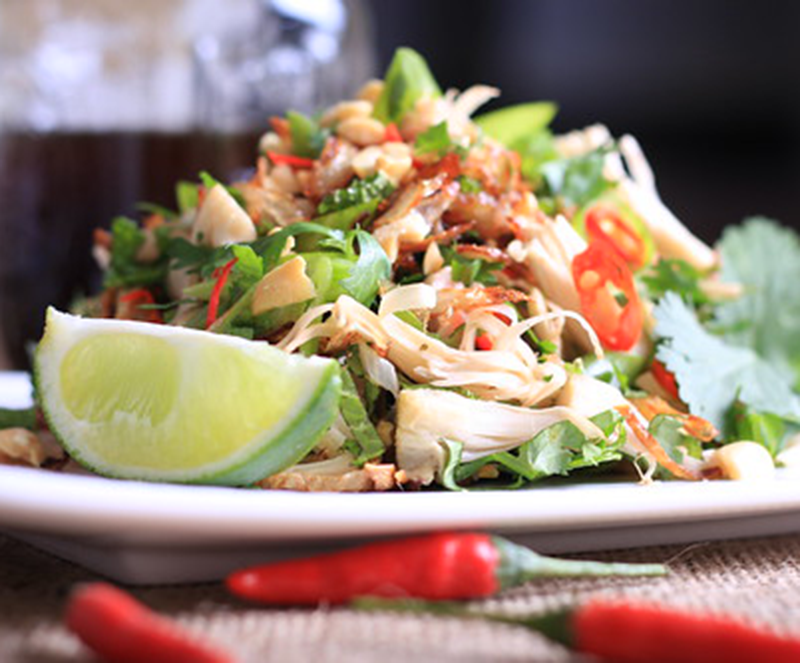 7. Spicy Jackfruit Salad
The neatest thing about jackfruit is that it takes on whatever flavor you decide to use for your dish. Be it the salty smokiness of soy sauce, the distinct taste of freshly grated ginger, or the in-your-face kick of red hot chilies. This Spicy Jackfruit Salad tossed with garlic and scallions from Olives For Dinner can't be beat.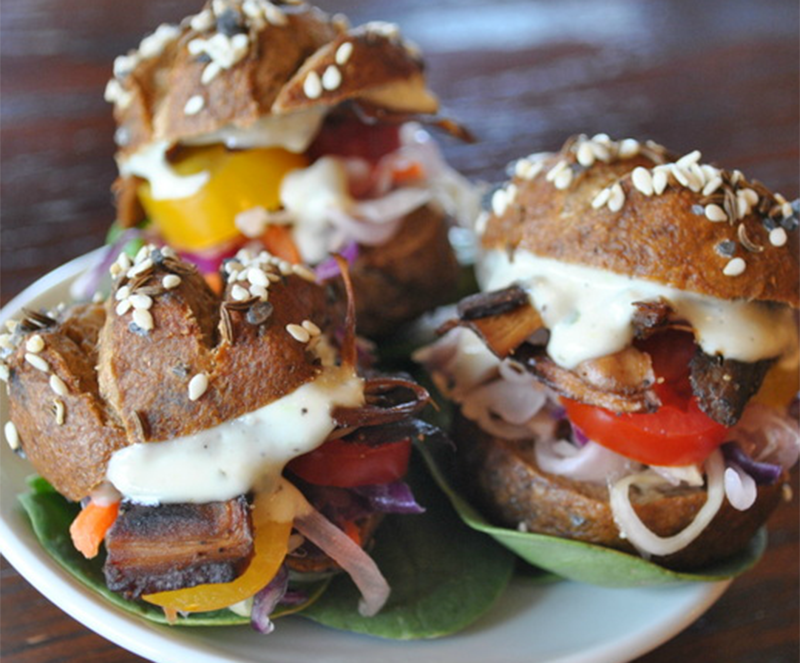 8. Jackfruit BLT Sliders
Two words: jackfruit bacon; but hold on, we have a few more from this recipe and our friends at Vedged Out: Onion & Rye Pretzel Bun and Vegan Wasabi Ranch Dressing—all assembled into the ultimate Mini Jackfruit and Kimchi BLT Sliders. You're welcome.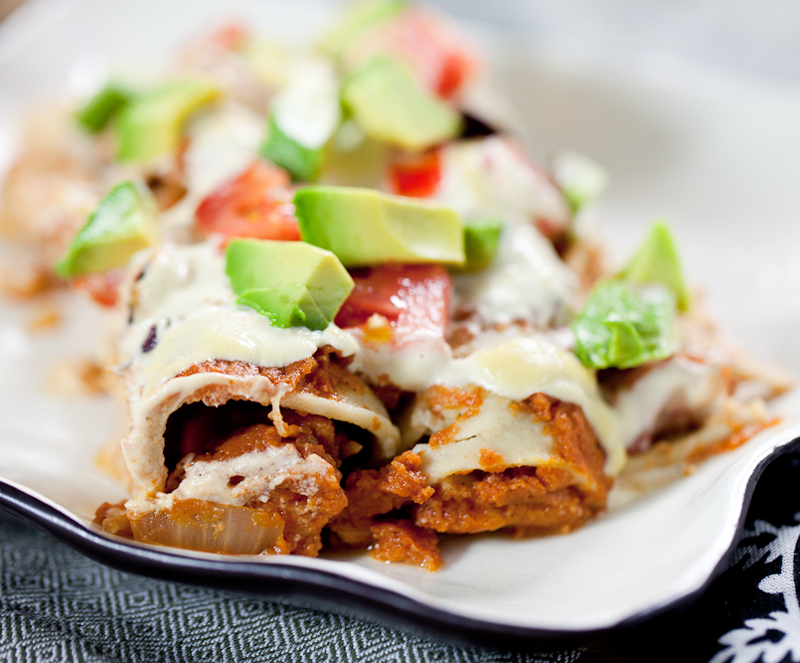 9. Jackfruit Enchiladas
Though we love burritos at the VNHQ, sometimes a melty enchilada can really win us over, and Keepin' It Kind's Jackfruit Enchiladas are blanketed in cashew crema and avocados—two toppings and three tasty words we can totally get behind.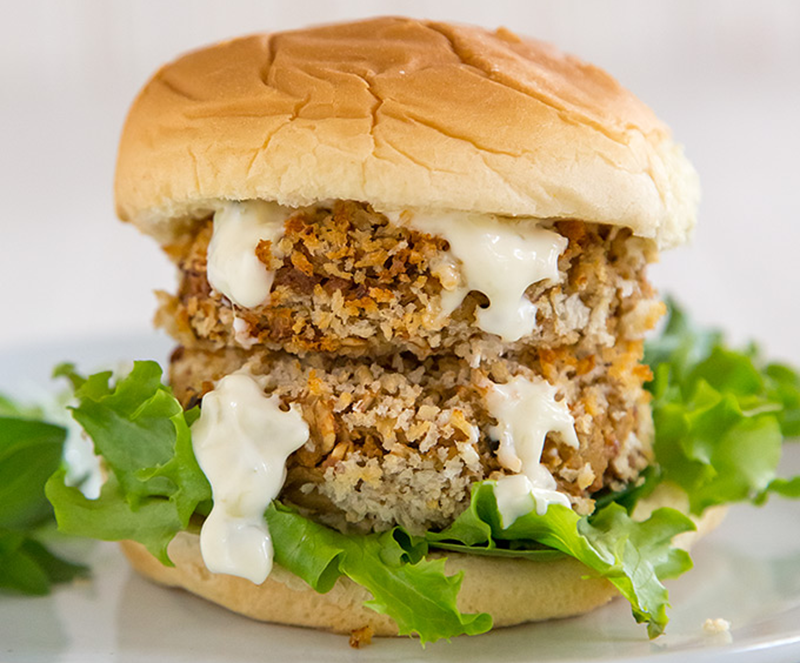 10. Jackfruit "Crab" Cakes
This ingenious vegan Jackfruit "Crab" Cake recipe from Fatfree Vegan gives you a healthier, plant-based alternative to those mushy, fishy cakes everyone's always raving about. Add a dash of Old Bay Seasoning and bake these breaded babies for the ultimate cruelty-free finger food.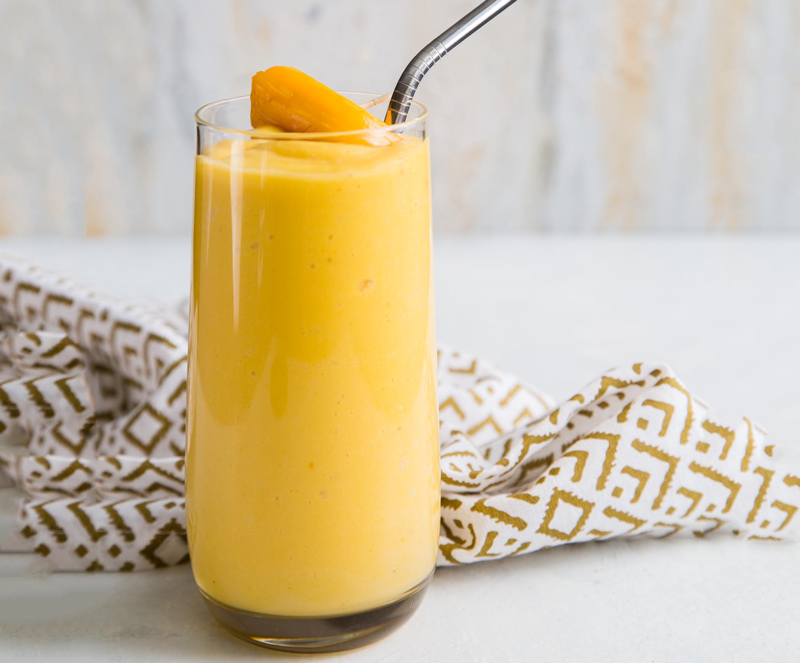 11. Tropical Jackfruit Smoothie
Liven up your morning smoothie with this Tropical Jackfruit Smoothie from The Little Epicurean. Don't fall victim to the same smoothie every day! Branch out from the usual strawberry, carrot, kale combo—try combining jackfruit, mango, banana, coconut milk, and pineapple juice in the 'ol blender and give it a whirl.
Want more of today's best plant-based news, recipes, and lifestyle?
Get our award-winning magazine!
Subscribe