When I first became pregnant two years ago, I was cleaning my bathroom and alarm bells rang: I could literally smell the toxins from the cleaning products I was using. There's a reason our sense of smell is heightened while pregnant, and this moment underscored just how important that is. After researching the heck out of cleaning products and just how toxic they really are, I realized I was better off making my own. After much trial and error making other DIY cleaning product recipes, I learned how to perfect them. My go-to recipes are now all simple to make, effective, and will make your home smell like a five-star spa!
Essential Oil 101
Essential oils are a mandatory component of all of these recipes. Not only are they praised for their awesome cleaning powers (coupled with vinegar and/or castile or natural dish soap), but they can also invigorate and relax you as well as provide immune defense throughout your home. Aura Cacia is a trusted brand, as they are third-party purity tested, organic, and ethically sourced; however, there are many wonderful essential oil brands as well as homemade ones you can purchase at your local farmers' market. If you are pregnant, note that essential oils have great benefits during pregnancy, but because of their potency, not all are equally as safe for pregnant women. Also, companion animal owners should store all essential oils away from their pets (just like any other cleaning product). These recipes are perfectly safe (safer, even, than traditional chemical-based products), just don't use them to rub down Fido. Finally, feel free to supplement your favorite essential oils from the ones used below, depending on your fragrance preference.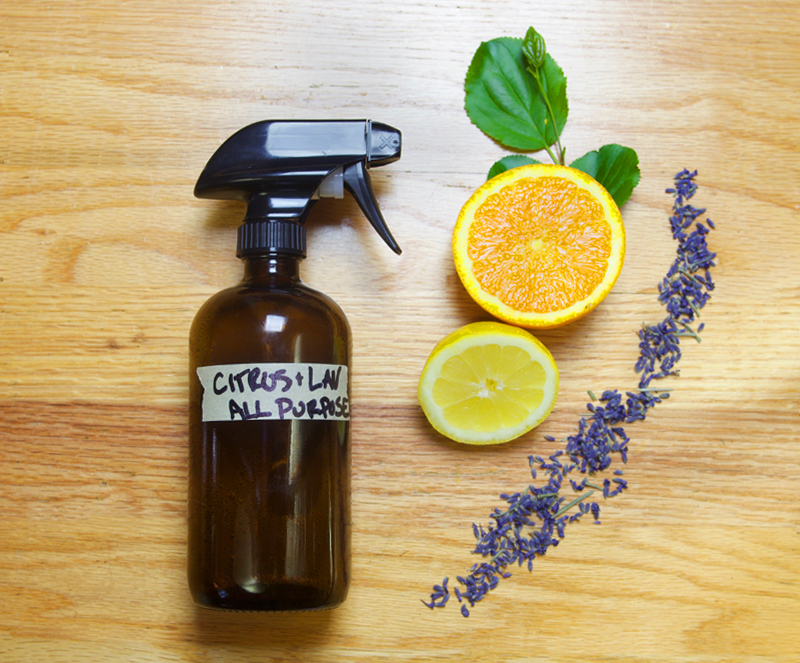 Citrus & Lavender All-Purpose Cleaning Spray
What you need:

10 drops sweet orange essential oil
10 drops lavender essential oil
5 drops lemon/eucalyptus essential oil blend
5 drops melaleuca essential oil (tea tree oil)
1 cup white vinegar
1 cup distilled water (tap is fine, too)
1/2 teaspoon natural dish soap (do not use castile soap—when combined with vinegar, the mixture becomes too gooey. Try a natural dish soap such as Mrs. Meyers, Dr. Bronners, or one of these)
What you do:
Combine all ingredients in a 16-ounce glass spray bottle and shake.
How to use:
Spray onto cabinets, tabletops, countertops, sinks, and any other surface. It also works as a fabulous carpet refresher and upholstery cleaner.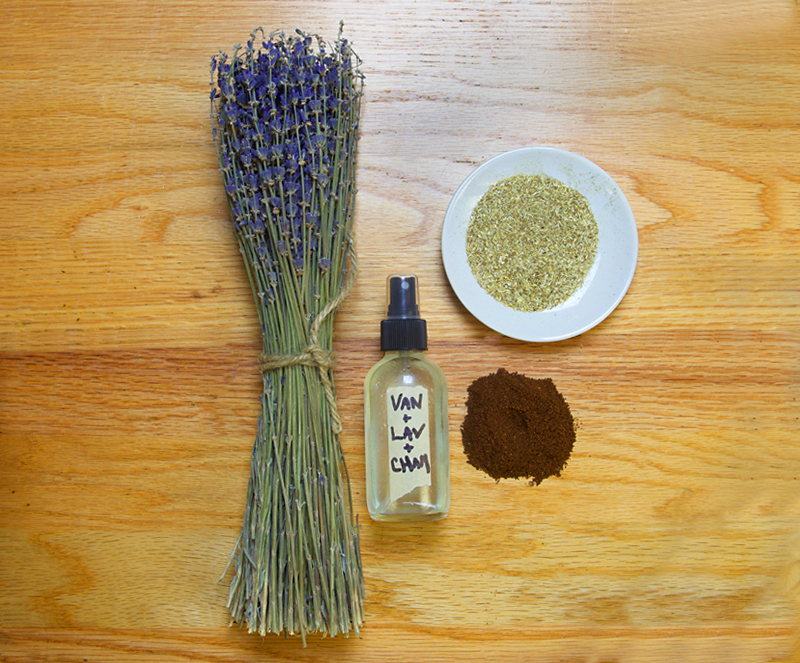 Vanilla, chamomile, and lavender home spray
What you need:
10 drops lavender essential oil
10 drops vanilla essential oil
10 drops chamomile essential oil
2 tablespoons rubbing alcohol
¾ cup distilled water
What you do:
Combine all ingredients in an 8-ounce glass spray bottle and shake.
How to use:
Spray throughout your home to invigorate your senses and eliminate odors.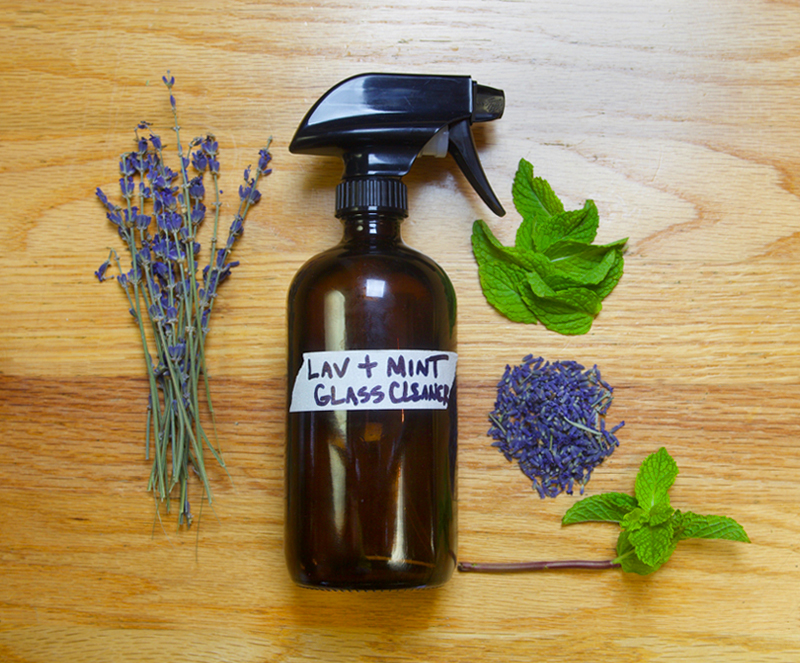 Lavender and mint glass and window cleaner
What you need:
8 drops peppermint essential oil
8 drops lavender essential oil
1/8 cup vinegar
1/8 cup rubbing alcohol
1½ cups distilled water
What you do:
Combine all ingredients in 16-ounce glass spray bottle and shake.
How to use:
Spray onto mirrors, glass, and windows. Wipe excess away with a cloth or paper towel for a streak-free shine.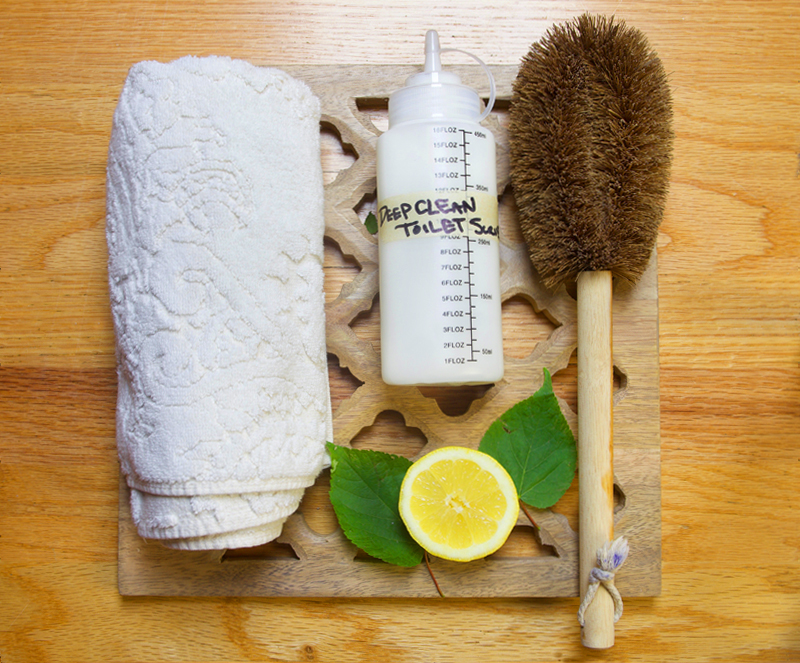 Deep cleaning toilet scrub
What you need:
What you do:
Combine all ingredients in a squeeze bottle and shake.
How to use:
Squirt into the toilet and scrub with some good ol' fashioned elbow grease. Let stand for 15 minutes before rinsing.


Samantha Schacher is host and managing editor of the nationally syndicated television show, Daily Blast Live, co-founder of Biren & Co., and a proud mama.
Photo credit: Sam Schacher
Please support vegan media while getting the very best in news, recipes, travel, beauty, products, and more.
Subscribe now to our award-winning magazine!
Subscribe