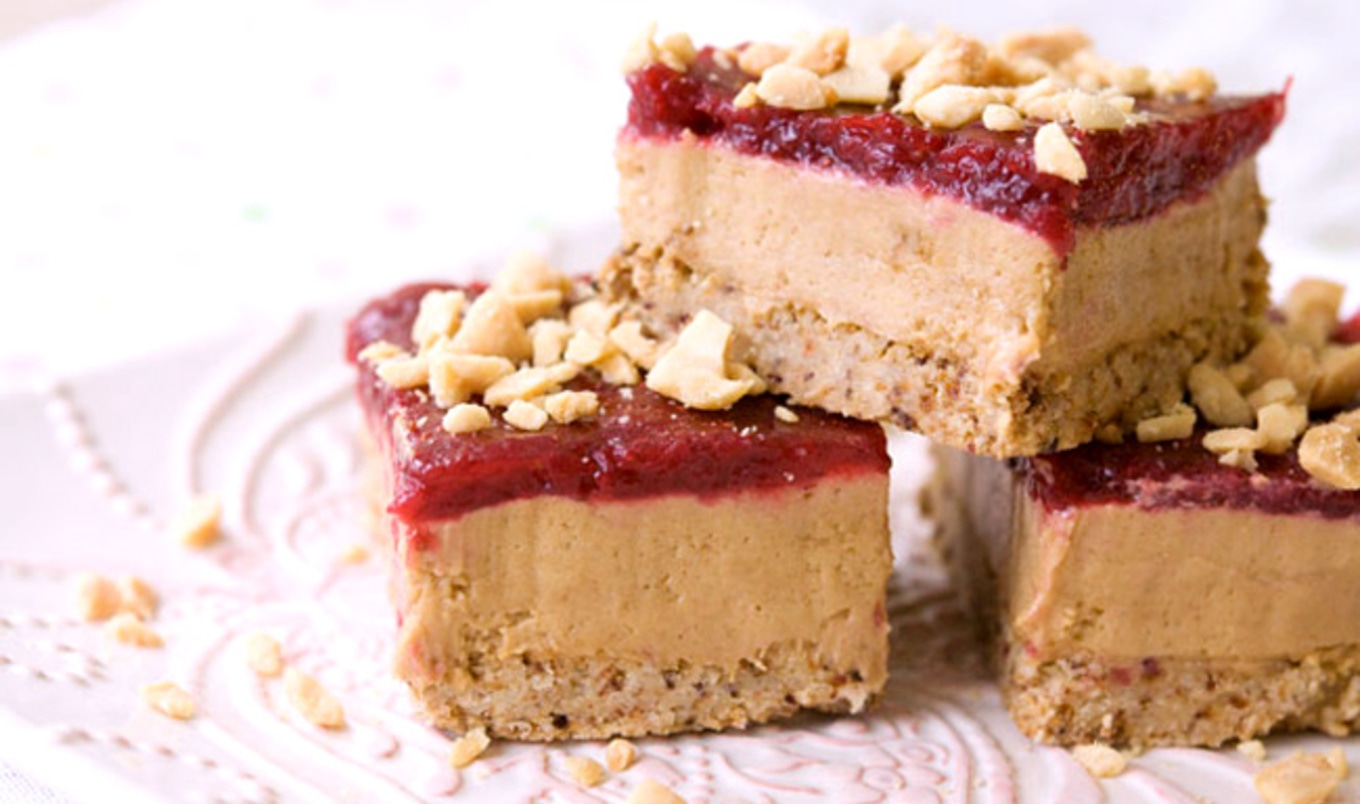 Whip up these innovative PB&J-inspired recipes that go beyond bread.
March 26, 2021
---
Things that trigger vivid memories of childhood: bowl cuts, swing sets, velcro shoes, and peanut butter & jelly sandwiches. We remember plenty of days spent swinging away, the wind blowing through our perfectly straight-edged bangs, our velcro-ed feet kicking gleefully in the air, and our chipmunk cheeks smeared with PB&J. While those were indeed the days, who says adults can't enjoy the childhood staple? Here are 10 dishes bringing peanut butter and jelly back—though we'd advise leaving the bowl cut in the past.
1. Blondies
Blondies are brownies minus the cocoa powder; the decadent dessert bars use brown sugar in place of the traditional brownie's cocoa and we like it. Take the already unconventional a step further by whipping up a batch of these Gooey Peanut Butter and Jelly Blondies for your next picnic. Plus, they're made with garbanzo beans so those with gluten intolerance can enjoy worry-free.
2. Breakfast Pizza
We definitely love breakfast pizza. What could possibly elevate breakfast pizza to the next level? You guessed it, everyone's favorite sweet combination of peanut butter and jelly. Pop this healthy protein-packed Peanut Butter, Jam, and Banana Breakfast Pizza in the oven to kick any morning off right.
3. Fudge
We know what you're thinking: I've got these delicious PB&J chocolate cups, wouldn't fudge be just too much chocolate? While we don't think there's such thing as too much chocolate, for those concerned we have good news: the Peanut Butter and Jelly Fudge is rich, decadent, and free of chocolate—not to mention there are only six ingredients.
4. Ice Cream Bars
As the temperature outside begins to rise, we're reminiscent of days spent lounging in the grass noshing on a PB&J, so imagine our excitement when we saw that our beloved sandwich could be made in ice cream bar form. What better way to ring in warm spring days? Oh, and did we mention that they're raw? Consider our minds officially blown.
5. Linzer Cookies
Be still our hearts, these adorable peanut butter and jelly heart-shaped linzer cookies beg to be eaten. Dusted to perfection with powdered sugar, the cookies sandwich a swath of raspberry jam between peanut buttery goodness. While it suggests a card accompany these sweets with the message, "We go together like peanut butter and jelly," we'd be too busy eating the cookies to read it.
6. Mousse Bars
No need to worry about anything sticking to the roof of your mouth with this light and fluffy peanut butter and strawberry jam dessert. With the slightly tart but delightfully sweet strawberry layered between smooth peanut butter and salty chopped peanuts, this PB&J mousse bar is frankly irresistible and, by the way, sugar-, soy-, and gluten-free.
7. Muffins
Sometimes pizza for breakfast just isn't what you're in the mood for, and what you need is a more traditional grab-and-go start to your day. That's where peanut butter and jelly-filled muffins come in. Made with bananas, rice milk, and flaxseed, Robin Asbell's Elvis-style muffins from Oregon Live are the way to go for breakfast, lunch, or a mid-afternoon snack.
8. Popsicles
While the mere mention of a sugary peanut butter and jelly ice pop makes our mouth water, we can't believe how pretty these popsicles are; brightly colored jelly frozen beneath a layer of rich, cool peanut butter––the only thing missing from the Peanut Butter and Jellies is the man in the white paper hat and his ice cream truck.
9. Smoothie
Sometimes we're running a little late and can't be bothered to prep, mix, and bake our way to a full stomach. Luckily, the household blender lends itself well to whipping up delicious meals in seconds, and this Peanut Butter and Jelly Smoothie is just that—a satisfying blend of nutty almond milk and the natural sweetness of dates and blueberries ready after one quick whirl. There's plenty of omega-3s and antioxidants to go around.
10. French Toast
Ooh la la! French toast buried beneath a mound of luscious peanut butter and jelly's fancy cousin raspberry compote has arrived. Not only are the slices of sourdough fried to golden perfection, but they're also dipped in silken tofu, nutritional yeast, and vanilla for an innovative spin. Roll up the sleeves of your silk pajamas and get ready to daintily dig in on your next trés chic Sunday morning brunch.