We've always known that veganism is the future, but we never knew just how big and how fast we'd get there. Fast-food chains are offering monumentally successful vegan options. Some of Hollywood's biggest and brightest stars are ditching meat and publicly embracing a plant-based lifestyle. Even meat companies like Tyson and Smithfield have come to the plant side. But there's no place this unprecedented rise in veganism can be felt more than on grocery store shelves.
From the early days of soy milk and Tofurky at the local co-op to today's quick trips to the corner store for oat milk and a pint of Ben & Jerry's, vegan products at grocery stores across the country have never been better. But which are the coconut cream of the crop? VegNews editors pulled upon their decades of knowledge to share the 100 most iconic, most essential, most game-changing, most unique, and most delicious vegan products of all time.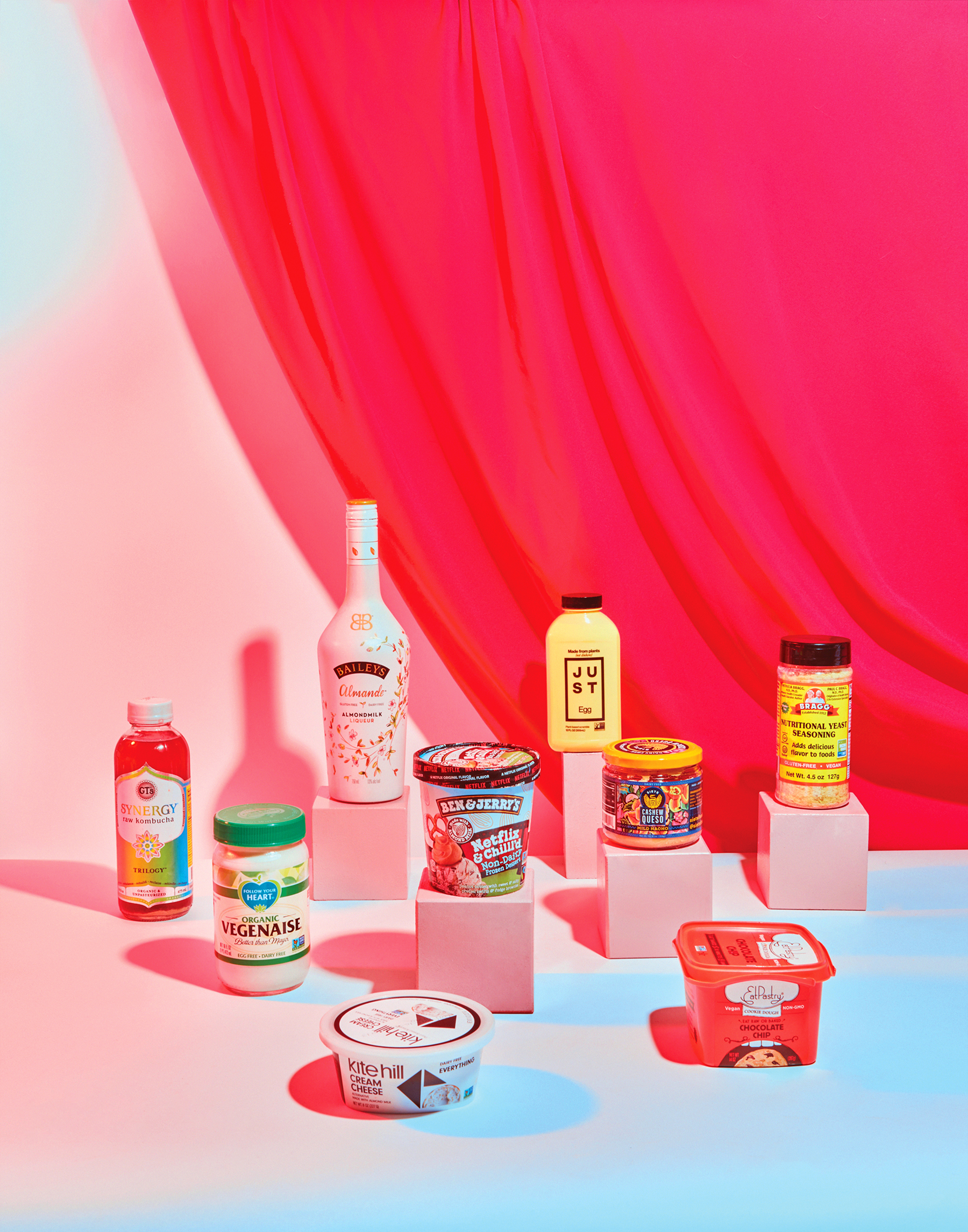 Savanna Ruedy
100 Brave Robot Ice Cream, Perfect Day
Bay Area food-tech company Perfect Day has created the impossible: real dairy that doesn't come from cows. Made with innovative microflora and digital DNA code (while never using a live animal), this dairy ice cream may just be the beginning of an exploitation-free future that's super creamy to boot.
99 Tom Bumble, Oregon Bark
We thought twice about sharing this higher-quality Butterfinger remake since it's our favorite little secret. But its candied peanut butter-flake center and rich chocolate coating make it a true standout.
98 Everything But the Bagel Seasoning, Trader Joe's
Pizzas? Check. Breakfast bowls? Oh yeah. Popcorn? You know it! This bagel-in-a-bottle seasoning of sea salt, garlic, onion, and poppy and sesame seeds is going on, well, everything!
97 Oat M*lk, Minor Figures
Coffee connoisseurs (and foam fanatics like us) know the secret to a perfectly frothy, foamy latte: Minor Figures oat milk. The brand's in-house baristas live, breathe, and dream coffee, so it's no surprise its milk is engineered to bring out the best of each brew.
96 Chocolate Hazelnut & Almond Butter, Justin's
Nutella is the chocolaty trend that never loses steam. So this seven-ingredient, dairy-free blend (with 250 percent less sugar than actual Nutella) has us fully leaning into our cravings.
95 FRuffalo Wings, Field Roast
The sausage pioneers at Field Roast challenged all we knew about game day appetizers with these saucy Smoked Apple Sage sausages that are lightly battered, perfectly fried, and doused in spicy Buffalo sauce.


94 Rice Dream Pies, Dream
We're still not over the discontinuation of these perfected ice cream sandwiches featuring chewy oatmeal cookies, light vanilla ice cream, and a delicate chocolate shell. Say it's a nightmare, Dream, and bring them back!
93 Pecan Butters, Sunday Provisions
Brazil nuts, pistachios, tiger nuts—if they've made butter out of it, we've tried it. But trust us when we say you must find a jar of this crunchy maple-infused pecan butter. Original, chocolate, coffee, or cinnamon-spiked—it doesn't matter, just try them!
92 Vegan Honey Mustard Dressing, Follow Your Heart
You won't find actual honey in this bottle of golden goodness. Instead, layers of maple syrup, vinegar, Dijon mustard, and a Vegenaise base give it its sweet-tart-creamy taste that our wraps, pretzels, and vegan chicken sandwiches need.
91 Cheezecake, Daiya Foods
One taste of this pie's perfectly crumbly crust and velvety creamed coconut filling (in New York-style, chocolate, strawberry, and key lime flavors) and you'll agree: Daiya has perfected the vegan cheesecake.
90 Cheddalicious Crackers, Back to Nature
These big, crispy, cheesy crackers are brand-new to the vegan snack scene, but they've perfected the Cheez-It fakeout so well that they'll completely fool any nibbling nine-year-old (and a few magazine editors, too).
89 Frozen Dark Chocolate Almond Sea Salt Bar, KIND
The ubiquitous granola bars that should be vegan (dang honey) have a super-cool cousin. And good news: it's totally vegan. Layers of almond milk ice cream, crisp dark chocolate, nuts, and smooth nut butter—we're in heaven.
88 Original Soy Nog, Silk
The holidays just wouldn't be the same without nog, and we're taking ours without eggs, thank you very much! Silk's very merry beverage has always been a plant-based favorite, but even more so with a splash of Kahlúa and a mountain of whipped coconut cream.
87 Coffee Creamers, Nutpods
Hotels, diners, airports: listen up! It's 2020 and we're so over plain black coffee. And with tempting flavors like French Vanilla, Toasted Marshmallow, and Cinnamon Swirl, there's no reason not to add these top-tier creamers to your coffee bars … please!
86 Organic Fruity Bears, Surf Sweets
The cute, bear-shaped chews of your childhood have gotten a grown-up makeover, ditching gelatin for vitamin C and a dose of color from black carrots, blueberries, and turmeric.
85 Soy Yogurt, Whole Soy & Co
While today's vegan yogurt market is expected to be worth $7.4 billion by 2027, if you ask us, it all started with this trailblazing, supremely smooth, cult-favorite yogurt that, sadly, went out of production in 2015. Our spoons and granola miss it every day.
84 Cocomels, JJ's Sweets
Extra-chewy caramels made from coconut milk? Jackpot. Original, Sea Salt, Vanilla, Espresso, Chocolate Covered—we buy 'em all.
83 Dairy-Free Feta Crumbles, Follow Your Heart
2020's introduction of this salty, crumbly, how-the-hell-is-this-vegan feta blew our socks off. So long briny tofu—our baked artichoke dip and Greek spanakopita just got a major upgrade.
82 Vegan Muffins, Abe's
Fact: mornings are a million times better with muffins. That's why staying stocked up with these always-moist, allergen-free mini bites is such a wise decision.
81 Primal Strips, Primal Spirit Foods
What would a stroll through your local health food store be without Primal Strips? We've been gnawing on these tender, succulent vegan jerkies for as long as we can remember, and we're not stopping anytime soon.
80 Gourmet Cheezy Garlic Croutons, Kelly's Croutons
Crispy. Crunchy. Cheesy. Garlicky. What else could you want from a snack—err, salad topper? Made with Miyoko's vegan butter and plant-based parm, these sourdough nuggets are in a league of their own.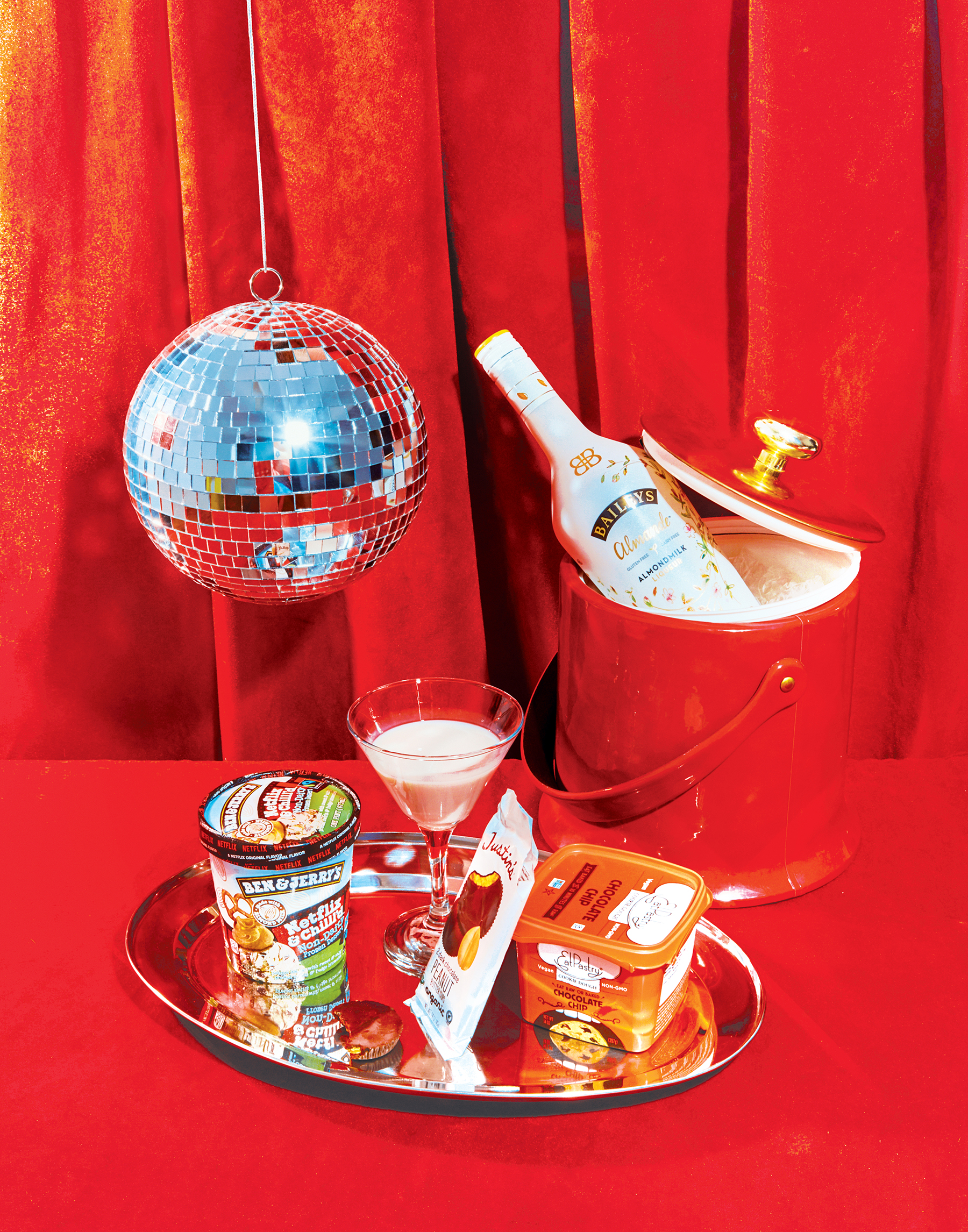 Savanna Ruedy
79 Cashew Quesos, Siete Foods
The Garzas—a Mexican-American Texas family of seven—are revolutionizing cheesy appetizers across the nation with their whole-foods quesos (in Mild Nacho and Spicy Blanco) made with cashews, tomatoes, onions, and bell pepper.
78 White Cheddar Popped Popcorn, SkinnyPop Popcorn
Admit it. In those big holiday tins of popcorn, you'd jump straight for the cheesy flavor first. It's okay, us too. And with SkinnyPop (all popcorn shapes are beautiful, by the way), we can have a whole bag of our first-choice kernels any time of year.
77 Chocolates, Lagusta's Luscious
Chef-turned-craft chocolatier Lagusta Yearwood's confections are so good, we can't just pick one. From cranberry-orange caramels to chocolate dreidels to work-of-art bars decorated with edible flowers and freeze-dried berries, we simply can't get enough.
76 Dairy-Free Oui, Yoplait
When yogurt giant Yoplait launched an exquisite coconut cream line of its French-style yogurts in fruit-at-the-bottom flavors like mango, strawberry, and raspberry, we were all in. And honestly, how could we say anything other than "oui" to these adorable glass pots?
75 Mochi Cashew Cream Frozen Dessert, My/Mochi
Pillowy, melt-in-your-mouth mochi stuffed with cashew ice cream in flavors like strawberry, vanilla, chocolate, salted caramel, and Neapolitan earns this unique Japanese-American novelty a spot on this list.
74 Better Than Sour Cream, Tofutti
Whether topping tacos or making extra-velvety cheesecake, this ultra-thick soy sour cream from veteran brand Tofutti is our first stop.
73 Salted Caramel Cold Brew Coffee, Califia Farms
A kiss of dairy-free sea salt caramel swirled with cold brew and Califia's signature almond milk make our morning caffeine kick that much more irresistible.
72 Spicy Chik'n Vegan Patties, BOCA
BOCA Burgers tend to get all the hype, but here's a secret—the chicken patties are where it's at. A touch of heat and a crisp crumb coating make these our preferred frozen standbys.
71 Classic Cashew Brie, Jule's Foods
This aged cashew brie with a funky rind and buttery center is made with just four simple ingredients (organic cashews, water, enzymes, and salt), making it our secret weapon at holiday get-togethers.
70 Veggie Pepperoni, Yves Veggie Cuisine
From charcuterie boards to meatless meat lover's pizzas, this chewy, perfectly spiced pepperoni deserves a permanent spot in our fridge.
69 Smart Dogs, Lightlife
The quintessential American hot dog—made without any of the gross animal stuff! Nestle into freshly warmed buns, top with your favorite fixings, and you'll soon realize why these classic soy-based dogs are a number-one bestseller.
68 Nut Butter Bar, Clif Bar
Clif Bars were already one of our favorite nutritious, on-the-go energy boosters. But when they were stuffed with peanut, hazelnut, almond, and cashew butters, we became fans for life.
67 Mediterranean Style Block, Violife Foods
This is a top pick based on innovation alone. Throw this dairy-free halloumi onto a griddle and watch as it turns into a cheesy wonder with a crispy exterior and slightly melty, gooey inside.
66 Ravioli & Tortellini, Kite Hill
Co-developed by Tal Ronnen of Los Angeles' famed Crossroads Kitchen, these almond milk ricotta pastas are the definitions of gourmet. And with spinach-, ricotta-, and mushroom-stuffed options, you don't need a side of veggies (we won't tell).
65 Vegan Parmesan, Parma!
Improving upon pizza is a tall task. But a nutrient-dense topping (thanks to nutritional yeast, walnuts, hemp, and sunflower seeds) that's also irresistibly cheesy? This vegan parmesan totally does it.
64 Unreal Corned Beef, Mrs. Goldfarb's Unreal Deli
When Shark Tank's Mark Cuban pledges $250,000 to finance your product, you know you've got a winner on your hands. And this re-creation of a beloved New York deli staple—crafted from wheat, chickpeas, tomatoes, and beets—is certainly a winner.
63 UnTurkey, Now and Zen
We're paying homage to a gone-too-soon hero from the '90s, a plant-based holiday cult classic from Miyoko Schinner herself: the UnTurkey. In 2006, its manufacturer Green Options mysteriously closed shop, leaving OG vegans with an eternal craving for seitan turkey with golden yuba skin, stuffing (a must!), and pools of thick, savory gravy.
62 Skillet Meals, Gardein
Lambless Vindaloo, Chick'n Florentino, and Porkless Thai Curry—no, these aren't dishes at your town's fanciest vegan restaurant. They're super-convenient, heat-and-eat meals courtesy of the ever-innovating vegan meat company Gardein.
61 Dark Chocolate Crispy Gems, Unreal
M&M's, eat your heart out! Each of these fair-trade dark chocolate morsels tastes just like the classic candy, but with a dose of puffed quinoa crunch and none of the dairy.
60 Plant-Based Pockets, Tofurky
Hot Pocket lovers, rejoice! Tofurky's veganized version of the classic after-school snack provides a big dose of ham-and-cheddar nostalgia and comfort in just three minutes.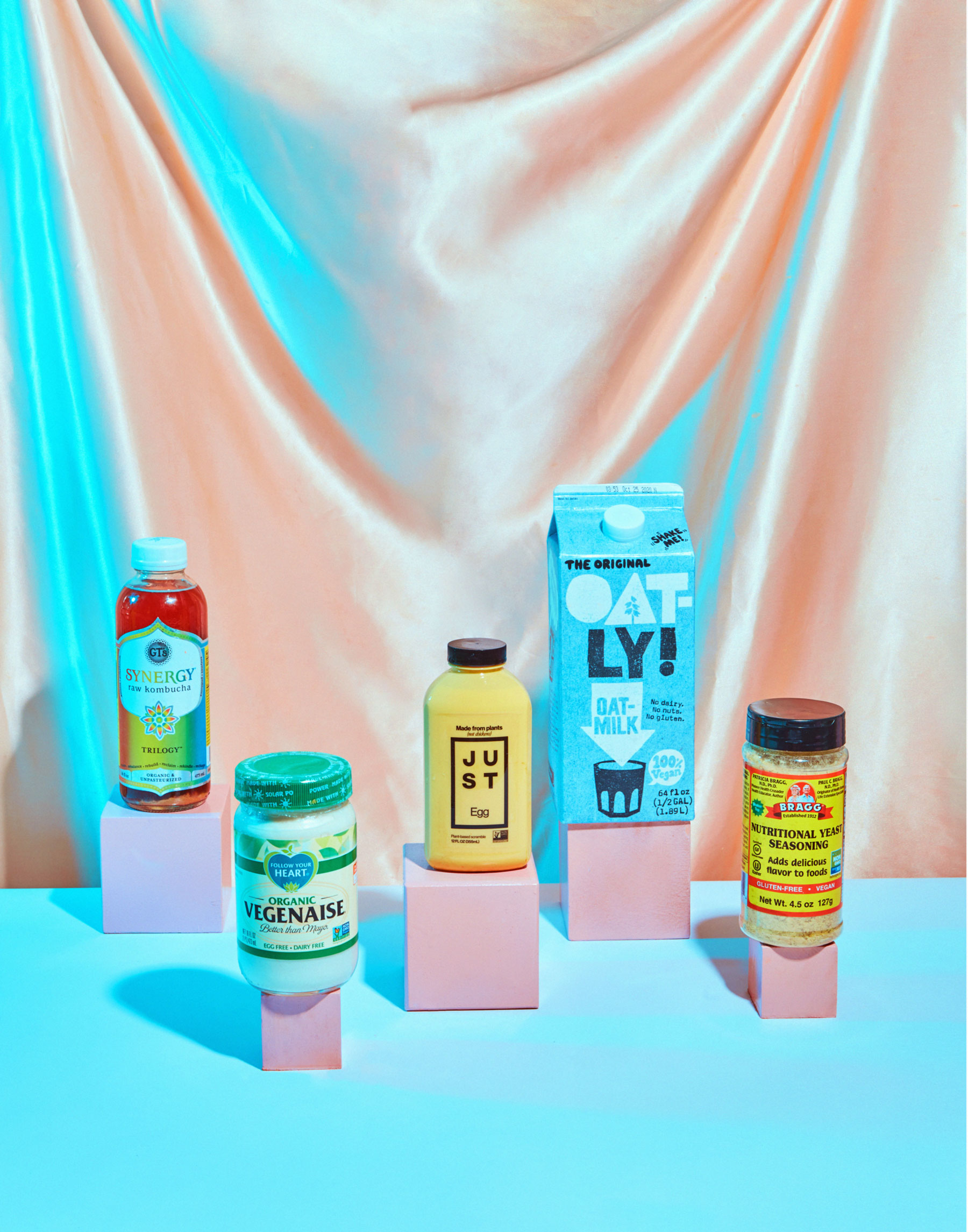 Savanna Ruedy
59 Veggie Lover's Pizza, Sweet Earth Foods
Not a pepperoni person? Sweet Earth's next-level, thin-crust pie boasts big chunks of broccoli, mushrooms, Brussels sprouts, and tomatoes along with melted mozzarella and a cauliflower herb sauce. It's not delivery, it's devoid of animal suffering.
58 Dipped Sorbet Bars, SorBabes
You've never seen sorbet like this. Jammy orange, cherry, and caramel swirls are folded into dreamy sorbets like wildberry, lemon-strawberry, and decadent almond butter before being enrobed in a thick chocolate shell and sprinkled with crispy quinoa and almonds. Sure beats plain ol' raspberry, right?
57 Burritos, Alpha Foods
Dorm days may be long behind us, but frozen burritos are always welcome in our kitchen. Especially in zero-deprivation flavors like Pizza, Chik'n Fajita, zesty Mexicali, and cheesesteak-inspired Philly. A tasty, handheld meal in a few microwavable minutes? Ding ding!
56 Fiery Hot Crunchy Curls, Peatos
After yearning for vegan Hot Cheetos to no avail, these fiery-hot crunchy curls are making our snack dreams come true. Boasting plant-powered ingredients like pea and lentil flour and no bad-for-you ones, we're no longer mourning our break-up with Chester Cheetah.
55 Cauliflower Gnocchi, Trader Joe's
Air fry it, bake it, post it to Instagram (we're always checking @cauliflowergnocchi for recipe inspo)—there's no real wrong way to enjoy this über-popular, gluten-free gnocchi.
54Synergy Trilogy, GT's Living Foods
As the first company to put kombucha on shelves across the US, this 25-year-old brand has taken kombucha from hippie drink to a mainstay of 21st-century wellness. And this blend infused with raspberry, lemon, and ginger is our go-to.
53 Deluxe Rich & Creamy Shells & Vegan Cheddar, Annie's
The fact that the boxed mac and cheese of our childhoods has gotten a grown-up and good-for-you upgrade thanks to this 31-year-old vegetarian brand is great, but its new decadent cheddar sauce has us really cheesin'.
52 Smoky Tempeh Strips, Lightlife
When Whole Foods rolled out its gone-viral TTLA sandwich (that's tempeh, tomato, lettuce, and avocado) across the US, they turned to this vegan bacon for its salty-sweet, smoky flavor. And since vegan social media star Tabitha Brown digs it, we do, too!
51 Liquid Aminos, Bragg
Homemade vegan sushi rolls, mushroom gravies, and even scoops of vanilla ice cream (no really—try it!) would be nothing without this gluten-free, soy sauce alternative.
50 Vegan Taquitos, Starlite Cuisine
These crispy rolled wonders were absolute lifesavers during our early vegan days in college—so much so, that if they offered a course, we'd be certified taquitologists.
49 Soy Creamy Cherry Chocolate Chip Ice Cream, Trader Joe's
Joe wasn't about to let Ben and Jerry have all the fun. This dairy-free (quart-sized!) reimagining of the iconic Cherry Garcia ice cream is a cherry-studded vegan dream come true.
48 Dark Chocolate Peanut Butter Cups, Justin's
There's a reason why VegNews readers have voted these classic PB treats the best vegan candy for six (!) years in a row. Dark chocolate, creamy peanut butter, a dash of cane sugar, and all organic? Can't get more simple—or more perfect—than that.
47 California Veggie Burgers, Dr. Praeger's
In a world dominated by beefy, bleeding vegan burgers, we often go back to basics with these patties made from carrots, spinach, peas, zucchini, and onions—and we're not the only ones. This classic veggie burger has been a fan favorite for more than 25 years.
46 Just Ranch, Eat Just
The way we see it, you're either a ranch dressing lover or you're wrong. And JUST's flawless but fairweather take quickly amassed a devoted following that craved its perfectly balanced herbs and spices with a lusciously creamy body. Now if we could just get it back in stock ….
45 Nacho Bean Chips, Beanfields
Doritos have nothing on these bad boys. Seriously—they're addictively crispy, covered in finger-licking, dairy-free cheesy seasoning, and pack a punch of fiber and protein thanks to a black bean-infused recipe.
44 Ricotta, Kite Hill
Made from California almond milk, this light-and-tangy dairy-free ricotta is a versatile kitchen godsend—loaded-up lasagnas, extra-luscious JUST Egg scrambles, and homemade cannoli, we're coming for you.
43 Fresh Vegan Mozz, Miyoko's Creamery
Trust us, anything dairy mozzarella can do, Miyoko's cultured buffalo-style Fresh Vegan Mozz can do better.
42 Vegan Cookies, Alternative Baking Company
When these giant, bakery-style cookies started showing up at checkout stands in the late '90s, we were never the same. In fact, the chocolate-covered espresso bean cookies very well may have been our first vegan love affair.
41 Golden Fishless Filets, Gardein
Fish and chips. Baja fish tacos. Fish … nachos? Hey, when the plant-based fish fillets are this tender, flaky, and golden, we're up for anything.
40 Deli Slices, Tofurky
These tofu-based deli slices have found their way into our sandwiches, stomachs, and hearts. And with lunch-ready flavors like Roast Beef, Smoked Ham, and even Bologna, there's no reason why your future shouldn't contain a cold cut or two.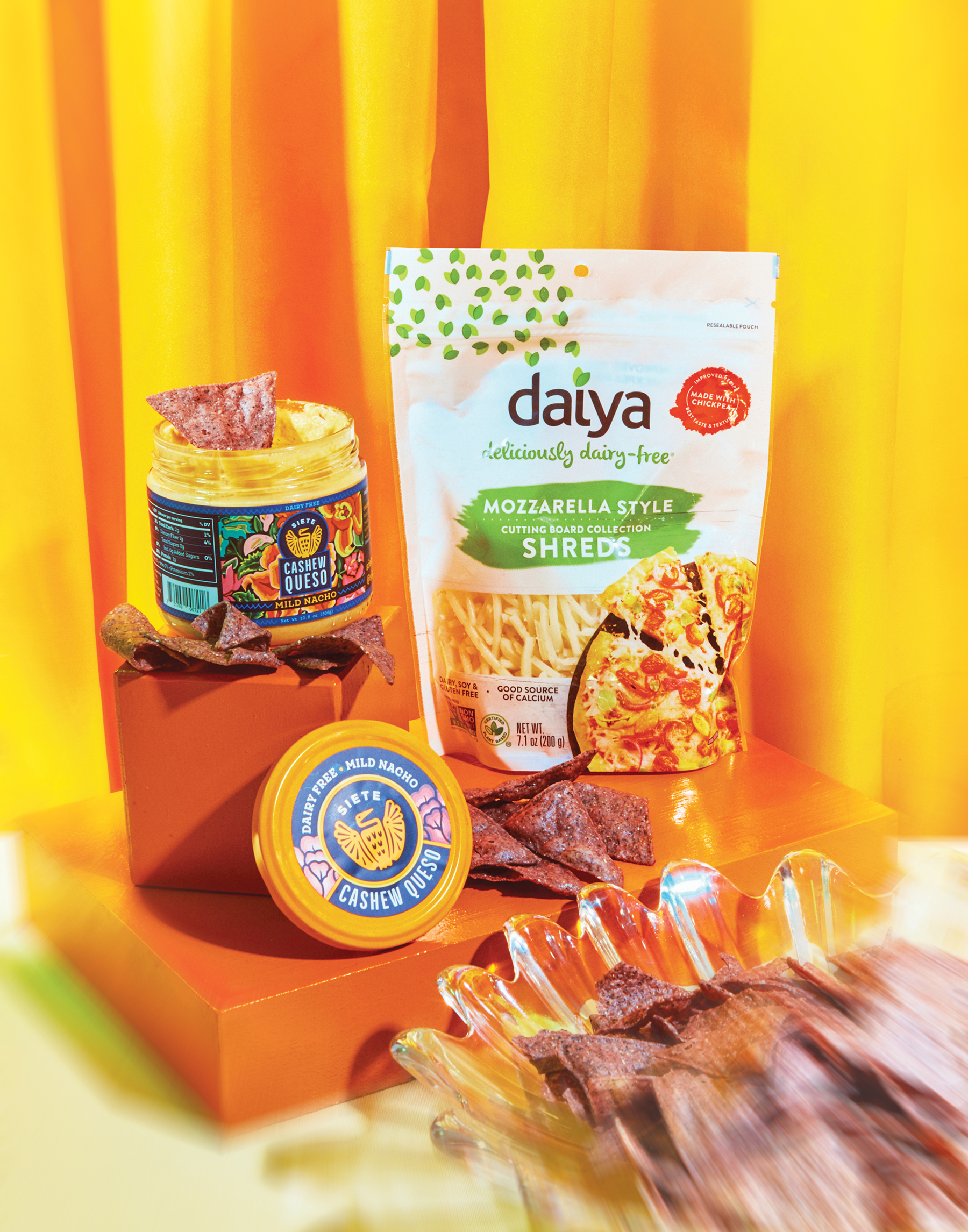 Savanna Ruedy
39 Hazelnut Cranberry Roast En Croute, Field Roast
Pro holiday tip: any cousin with a tired vegan joke can be stopped in their tracks with this hazelnut-infused seitan roast with sausage, ginger, and cranberry stuffing all wrapped in flaky puff pastry.
38 Peanut Butter Chocolate Chip Cookies, Uncle Eddie's Vegan Cookies
We can't quite put our finger on why these time-tested goodies are such an incredible vegan cookie—maybe it's their soft-yet-chewy bite, home-baked flavor, or charming brown paper bag. But what we know for sure is Eddie is now our favorite uncle.
37 Salted Caramel Cluster Cashew Milk Ice Cream, So Delicious Dairy Free
Vegans these days are spoiled for choice when it comes to non-dairy ice cream, but none can touch this addictive pint filled with shards of chocolate, roasted cashews, and ribbons of salted caramel.
36 Vegan White Cheddar Puffs, HIPPEAS
Crunchy chickpea puffs dusted in a light, dairy-free cheddar coating that packs a dose of protein and are Leonardo DiCaprio-approved. Need we say more?
35 Roasted Vegetable Pizza, Amy's Kitchen
This fan-favorite 'za breaks all the pizza purity rules with its no-cheese nakedness and tender gluten-free crust. But one slice—brimming with roasted onions, umami-rich shiitakes, marinated artichokes, and a hint of balsamic—will make anyone a believer.
34 Cocowhip, So Delicious Dairy Free
In 2014, our vegan desserts became whole, thanks to the advent of these tubs full of sweet, light-as-air coconut whip. Pies, parfaits, and puddings—perfected!
33 Chao Slices, Field Roast
They started off making spot-on seitan sausages, but Field Roast is also to thank for these melt-in-your-mouth, fan-favorite cheese slices made from a fascinating and tasty blend of fermented tofu and coconut.
32 Just Like Parmesan, Violife Foods
Whether you shave off large petals for your salads or grate it over garlic bread, this versatile, flavorful parmesan wedge is an absolute must for vegan cheese lovers.
31 Everything Cream Cheese, Kite Hill
Your corner market fresh out of everything bagels? Don't fret! Plain bagels with a few smears of this ingenious almond milk cream cheese infused with onion, garlic, and poppy and sesame seeds will do the trick.
30 Crispy Chik'n Bites, Sol Cuisine
There are few things more American than a chicken nugget lunch. So imagine our surprise when this Canadian company came and changed the game with these big, juicy, crispy morsels of nuggety perfection.
29 Benevolent Bacon, Sweet Earth Foods
The "But bacon!" argument is no longer valid—Sweet Earth's smoky, salty, chewy, plant-based version made from seitan has made sure of it.
28 Vega One Organic All-in-One Shake, Vega
Whether you're a brand-new herbivore or a seasoned vegan, chances are you're still asked: "Where do you get your protein?" Well, simple: Vega. And with 20 grams of protein per serving plus seven flavors—trust us, we're good, bro.
27 Vegan Whipped Cream, Reddi Wip
Hot cocoa, ice cream sundaes, fresh fruit, or, hell, sprayed directly into our mouths—the possibilities are endless with these almond and coconut milk-based canned whipped creams.
26 Vegan Fried Egg, Be Leaf

We've got tofu scrambles down, but plant-based fried eggs have been more of a challenge. That is until Be Leaf entered the ring. Now our breakfast sandwiches, bistro-style burgers, and Korean bibimbap are finally complete.
25 Cuties, Tofutti
We may be in the golden age of plant-based pints, but sometimes an old classic—like soy vanilla ice cream sandwiched between soft, chocolaty wafers—is all we want.
24 Organic Hazelnut Chocolate Bar, Vego
It used to be that the best part of visiting the UK was this giant Nutella-inspired chocolate experience made from Italian hazelnut paste, pure cocoa, and whole hazelnuts. But now, they've come stateside, so we're enjoying these heavenly bars any time we want—no passport required.
23 Cookie Dough, EatPastry
What's better than fresh-baked chocolate chip cookies? Skipping all the preheating and parchment paper and getting down to business. If you catch us hovering at the fridge with a spoon and this edible cookie dough, please don't bother us.
22 Non-Dairy Ice Cream Bar, Magnum
When Magnum churned out vegan versions of its famous bars—complete with the signature crack of Belgian chocolate—we nearly fainted. Add salty-sweet Sea Salt Caramel and crunchy Almond varieties, and we're melting.
21 Fish-Free Tuna, Good Catch
Pouches of moist, flaky, tender tuna are now a reality for plant-based eaters, thanks to brothers and pro chefs Chad and Derek Sarno and their proprietary blend of chickpeas, soy, lentils, peas, and faba and navy beans.
20 Sausages, Field Roast
Field Roast's artisan sausage makers use European and Asian culinary traditions plus the finest ingredients like red wine, caramelized onions, and chipotle peppers for one-of-a-kind, immensely flavorful links.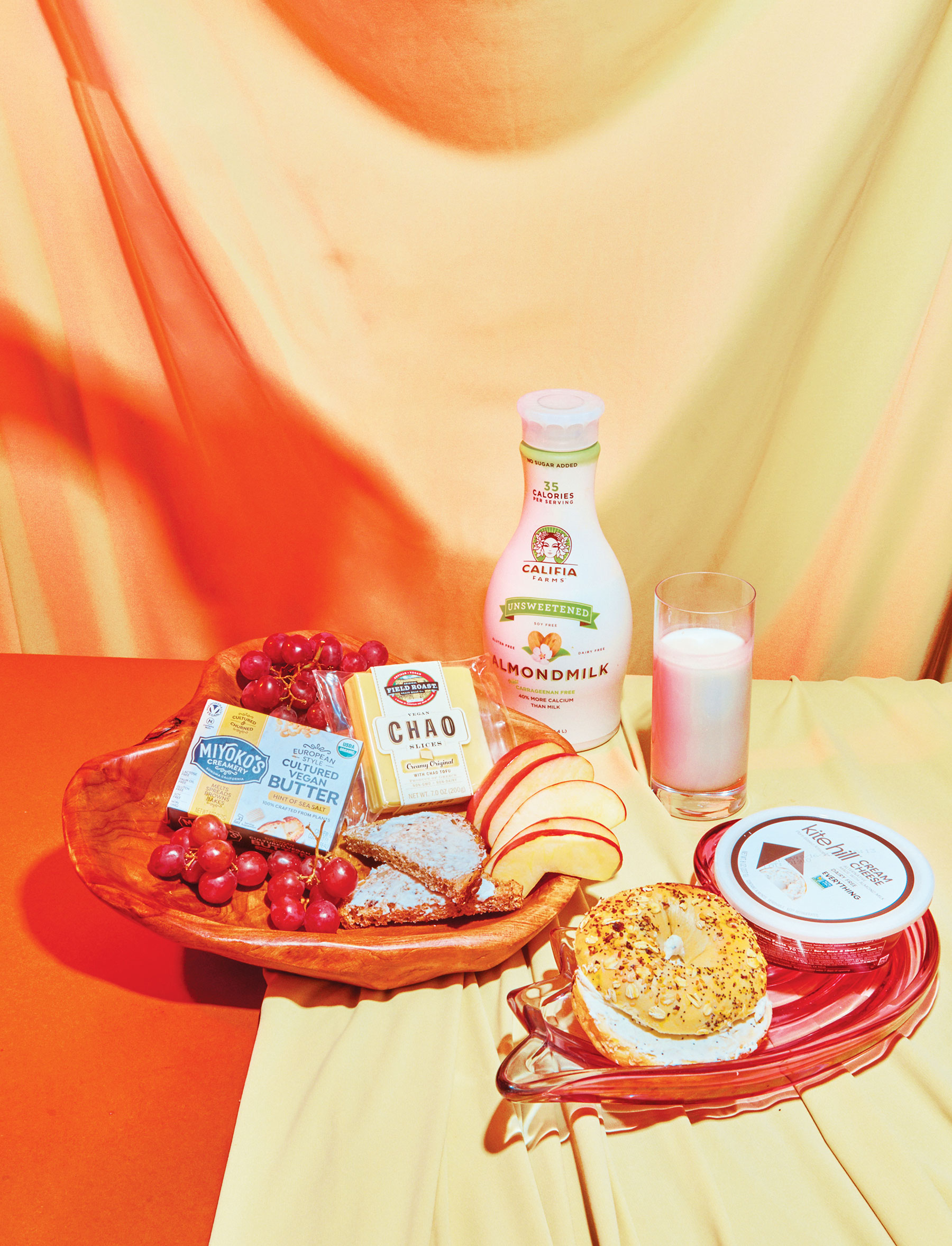 Savanna Ruedy
19 Thin Mints, Girl Scout Cookies
Spring means Girl Scout Cookie season, and Girl Scout Cookie season means vegan cookie hunting. So when it comes to these crunchy chocolate cookies layered in mint cream then dipped in vegan chocolate, we're buying all the boxes. For the Girl Scouts, of course.
18 Almande, Baileys
Here, here! A toast to the iconic Irish Cream makers for delivering a sumptuous vegan version of its popular spirit made from almond milk and fragrant vanilla. Now, who's ready for cocktails?
17 Soymilk, Silk
Soy is the original alt-milk—it walked so that almond, coconut, and oat could run. And if you ask us, Silk's rich, luscious, and nutritious take is still untouchable.
16 Beyond Sausage, Beyond Meat
Beyond Meat completely revolutionized the just-like-meat vegan burger, and their juicy, porky plant-based sausages may be even closer to the real thing. Only one question remains: Original or Hot Italian?
15 Vegan Marshmallows, Dandies
Vegan s'mores, mugs of hot cocoa, rice crispy bars—as far as we're concerned, none would be possible without these puffy, gelatin-free marshmallows.
14 Nutritional Yeast Seasoning, Bragg
We mean it when we say we'd be lost without this cheesy, nutty, B12-boosted nooch. And now that it's going mainstream (capturing recent attention from the Food Network, Women's Health, and The New York Times), pay no mind if you see us walking out of the store with 10 or 20 bottles.
13 Vegan Buttery Sticks, Earth Balance
What makes almost any vegan dish better? Vegan butter! These OG sticks set the gold standard for spreading, baking, and frying just about anything.
12 Almondmilk, Califia Farms
Soy may be the OG, and sure, oat is the hottest milk of the moment, but don't forget—almond milk helped completely change the game in the last decade. And we can thank Califia's sleek packaging and über-smooth taste for driving masses to the plant milk side.
11 Slices, Follow Your Heart
Cheddar, Gouda, Pepper Jack, Provolone, American. Never fear—there's a Follow Your Heart slice of cheese (that melts like a dream) for every craving and any dish.
10 European Style Cultured Vegan Butter, Miyoko's Creamery
Uncultured American butter—that's what ruled our simple lives when we needed something to fry up grilled cheeses or top a stack of flapjacks. But Miyoko's sophisticated spread made from cashews and coconut oil changed everything. Now we slather this luxurious and tangy butter onto our baguettes and use it to make delicate French crêpes. Ooh là là.
9 Roast, Tofurky
There's a reason why the holiday season has become synonymous with Tofurky. Since 1995, this tofu- and wheat-based roast—filled with savory wild rice and a bread crumb stuffing—has been the best way to show compassion at the dinner table. A drizzle of ready-to-heat vegan gravy only makes things better.
8 Cutting Board Collection Shreds, Daiya Foods
A true plant-based pioneer, Daiya was there for our earliest cheese-less cheese cravings before dairy-free alternatives fully entered the mainstream. And after a recent reformulation left the classic shreds meltier, stretchier, and cheesier than ever, we're officially obsessed.
7 Non-Dairy Pints, Ben & Jerry's
Between reimagined classics like almond milk Cherry Garcia and Chocolate Chip Cookie Dough to non-dairy exclusives like sunflower butter Crème Brûlée Cookie and Mint Chocolate Cookie, these pints live completely rent-free in our freezers (and we don't mind!).
6 Cheese Wheels, Miyoko's Creamery
Miyoko's may now be a household name (that butter!), but it all started with its gourmet, cashew-based artisanal cheese wheels that showed just how fancy—and delicious—plant-based eating could be.
5 Impossible Burger, Impossible Foods
Impossible Foods isn't concerned with just making the best plant-based burger—it's on a mission to remove animals from the food chain and completely revolutionize the way we eat. A tall order, but with the introduction of its game-changing, soy-based meat to high-end restaurants, then fast-food chains, then grocery stores (and with sister products like Impossible pork, sausage, and chicken coming soon), it's well on its way to making it happen.
4 Oat Milk, Oatly
This wildly popular Swedish import started an oat milk revolution stateside in 2016 (and made national headlines during the Great NYC Oat Milk Shortage of 2018), and for good reason—it's super-smooth, has a low carbon footprint, and makes a mean mocha.


3 Just Egg, Eat Just
For selling the equivalent of 50 million chicken eggs since launching in 2019—and for helping to create the cheesy omelets, fried rice, and French toast of our dreams—this exceptional mung bean-based vegan egg earns top billing on our list.
2 Vegenaise, Follow Your Heart
Move over Lady Gaga, because in 1977, the real star was born. The world's first vegan mayonnaise got its start in California's San Fernando Valley, but now is enjoyed across the globe, unlocking the potential for perfectly dressed sandwiches, mayo-slathered elotes, and poke bowls topped with swirls of the creamy stuff. Add in flavors like Chipotle, Garlic Aioli, and Sriracha and you've got one of the best vegan products of all time.
1 Beyond Burger, Beyond Meat
It's the burger that changed the world. The Beyond Burger made headlines for being the first "bleeding" vegan patty before appearing at national chains like Carl's Jr., TGI Friday's, and Denny's. Now, it's sold alongside animal-based meat in grocery stores around the country. Its popularity boosted Beyond Meat to become the first vegan company to join the stock market, where it smashed records and created a global media frenzy. For ushering in a new era where vegan food has become fully and completely mainstream, the Beyond Burger is, without a doubt, the best vegan product of all time.


For more vegan products, read:
19 Vegan Condiments That Are Better Than the Real Thing
The VegNews Guide to Vegan Boxed Mac and Cheese
Why the Best New Vegan Meat Products Will Come From Korea