Take us out to the ball game with this list of sweet and savory snacks that will get you through the seventh-inning stretch and beyond.
April 8, 2023
---
Baseball season is in full swing, and while everyone else is trying to figure out who's on first, we're busy thinking about what we're going to eat during those gorgeous spring afternoons at the ballpark. We love our peanuts and boxes of Cracker Jack (yes, they're accidentally vegan!), but we're bringing something new to bat with this medley of store-bought munchies and homemade fare. With nine innings to get through, we suggest playing hardball with several of the snacks below to make sure you cover all the bases.
Can you buy vegan food at baseball stadiums?
Between all the hot dogs and burgers at stadium food stands, is there anything vegan to be found at baseball stadiums? The short answer is: yes.
Major league sports venues are becoming more vegan-friendly in general—a positive symptom of the mainstreaming of plant-based food. We're not just talking Cracker Jack or fries. You can now buy a substantial meal—including hot dogs, nachos, sushi, and more—that'll keep you energized while you cheer your team on and boo the challenger. And often, there's vegan beer too. (Let our guide to vegan beer show you the way. Some of the most mainstream names in the industry are a-okay for animal-free diets.)
If you're looking for food that you can buy at the baseball park itself, here are just a few of the best options you can find. (If you're looking for a more comprehensive list, then check out our guide to the most vegan-friendly stadiums across the country.)
Vegan food at baseball stadiums
1 Globe Life Field in Arlington, TX
According to Eater, the home of the Texas Rangers is catering to vegans right now with a PLT Sandwich. Instead of bacon, it features portabella mushrooms, bibb lettuce, sliced tomato, and a helping of vegan mayonnaise, too.
2 Citi Field in Queens, NY
If you're off to see the Mets, you have plenty of plant-based choices ready and waiting for you. According to Major League Baseball's (MLB) Citi Field Dining Guide, you can grab everything from nachos to burgers to Beyond Sausages at the stadium's Vegan City section.
3 Oracle Park in San Francisco
The home of the San Francisco Giants does not disappoint when it comes to vegan-friendly game day snacks. As well as the standard peanuts and chips, you can also find several plant-based meat options from Impossible Foods, including nuggets, chili, and burgers, reports Veggl.
4 Yankee Stadium in Bronx, New York
At the Yankee Stadium, vegan Yankees fans won't be disappointed, according to the MLB. The Halal Guys portable carts, for example, have falafel and pita options, and you can also treat yourself to dairy-free soft serve at exclusive Oatly sections.
5 Truist Park in Atlanta, GA
Starting from April 6, 2023, Truist Park will be serving fans of the Atlanta Braves vegan bratwurst from the now-iconic Atlanta burger joint, Slutty Vegan. But that's not all, there will also be vegan chicken strips, fries, and a range of dairy-free dipping sauces on offer.
The best store-bought vegan snacks to bring to a baseball game
Convenience is the name of the game here and we're willing players. If you don't want to buy food at the stadium, we love to keep a stash of these vegan snacks on-hand for all of our outings and adventures. (And not to mention, as an emergency hunger cure.)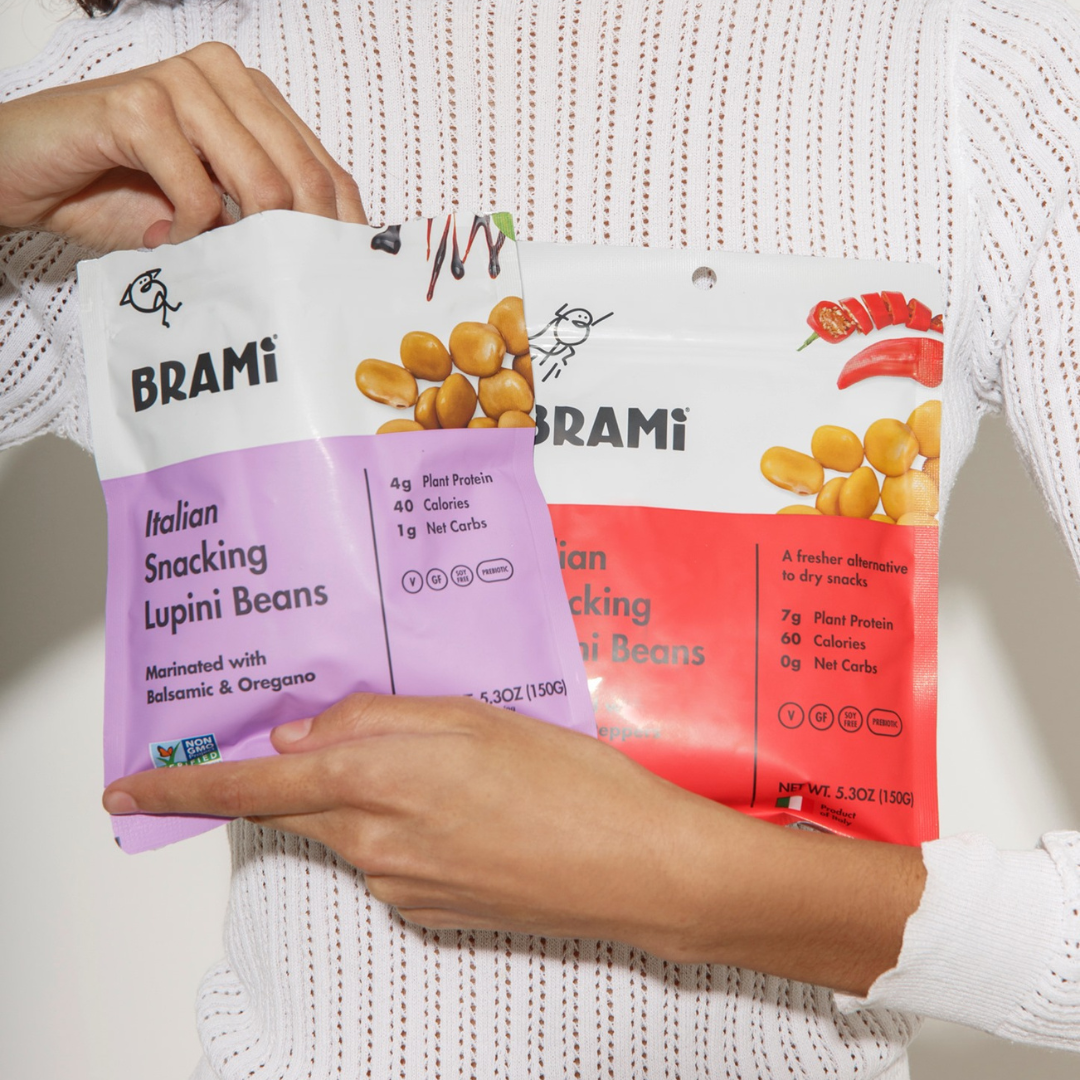 Brami
1 Brami lupini beans
Brami has hit a home run with this healthy snack made from lupini, a newcomer to the legume food game. Lightly pickled in a variety of savory seasonings, these Italian "miracle beans" can be enjoyed whole or shelled in four mouth-watering flavors (Sea Salt, Chili Lime, Hot Pepper, and Garlic and Herb). Packaged in convenient resealable bags, Brami's low-calorie, nutritious snack is ready to play!
Learn more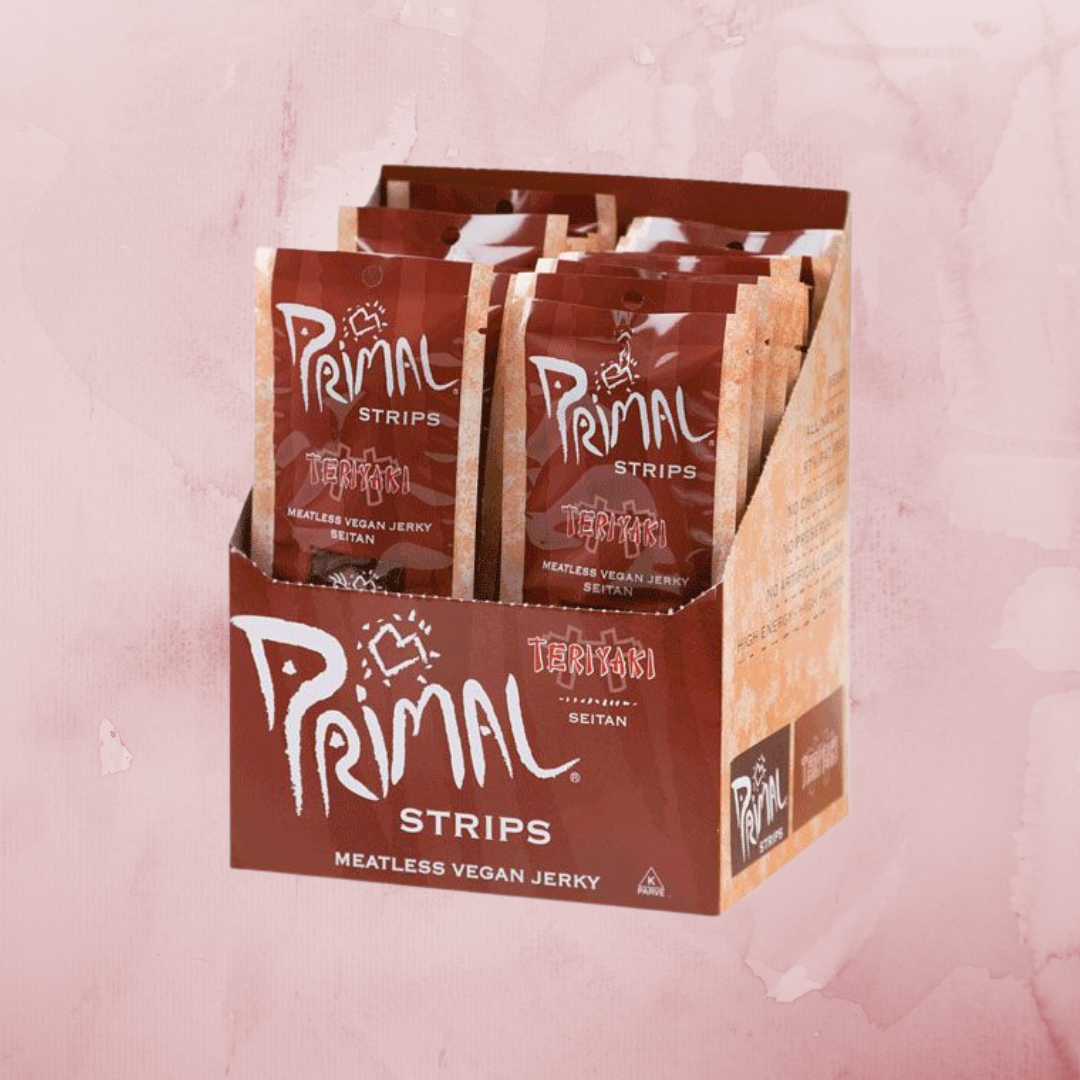 Primal Spirit Foods
2 Primal Strips meatless vegan jerky
For a protein boost between innings with a satisfying chew, try one of the meaty soy, seitan, or shiitake mushroom-based offerings from Primal Strips. Made with all-natural ingredients, the strips come in six varieties (mesquite lime, teriyaki, hickory smoked, Texas BBQ, and hot and spicy) that range from sweet to spicy. Throw your concession stand eats a curve ball by cutting up these strips and sprinkling them on your French fries and popcorn.
Learn more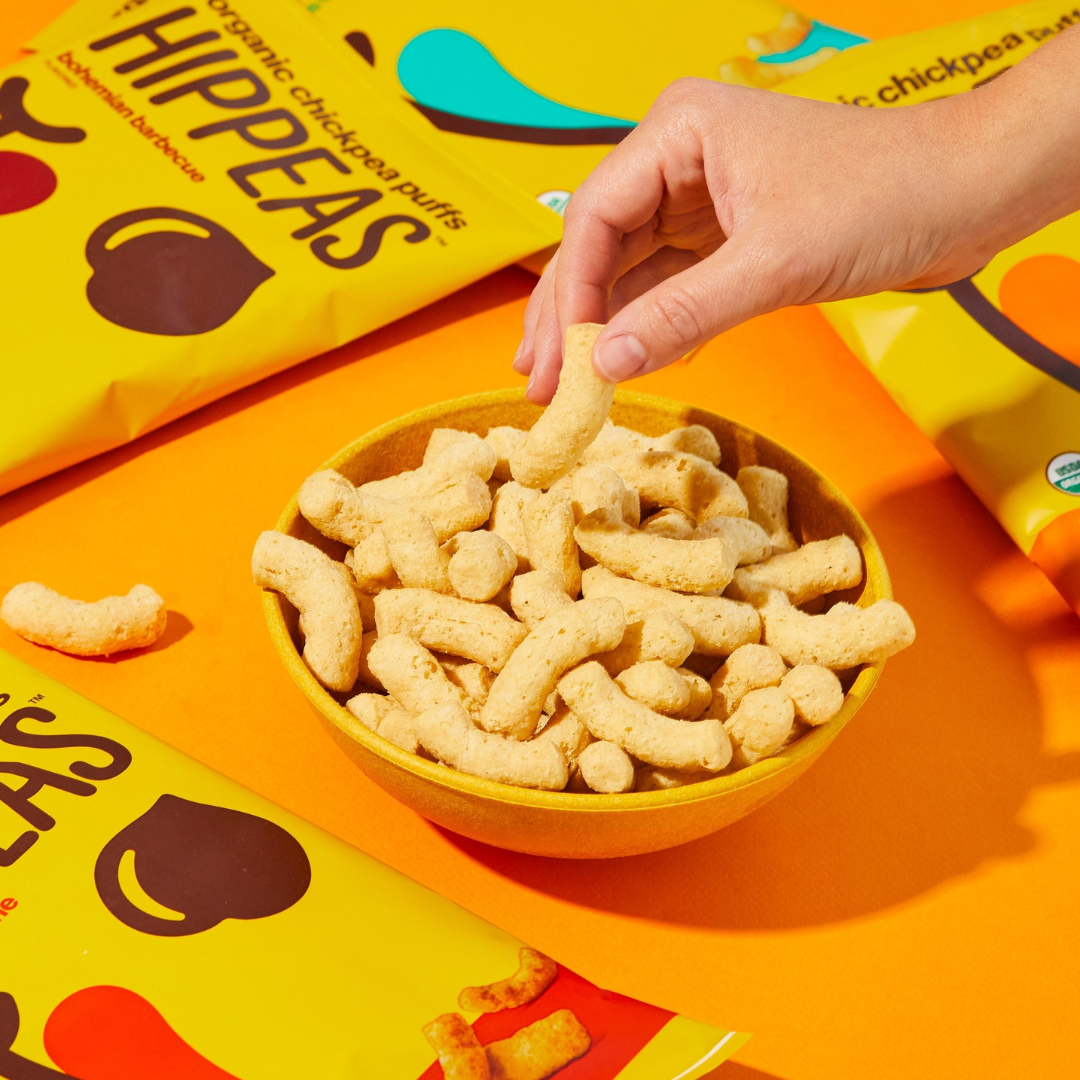 Hippeas
3 Hippeas
There are many puffed snacks on the market, but few that keep us coming back for more like Hippeas. While many chickpea snacks are roasted, Hippeas are ground into flour with other organic ingredients ideal for a tasty snack. Available in five scrumptious flavors (including Vegan White Cheddar, Nacho Vibes, and the spicy Sriracha Sunshine), these snacks serve up good vibes as much as a crunchy, delicious bite.
Learn more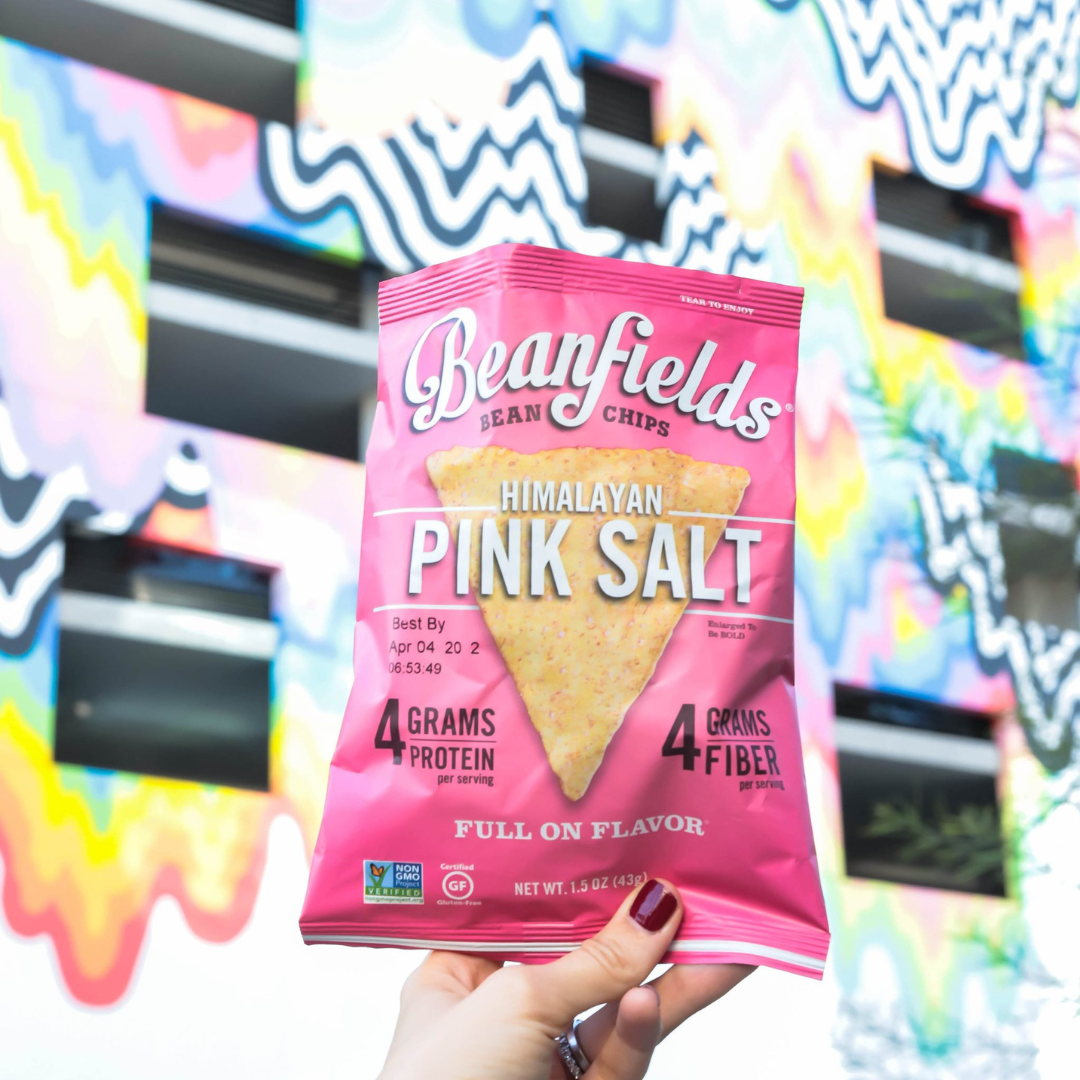 Beanfields
4 Beanfields chips
Beanfields' Barbeque, Nacho, and Pico de Gallo chips come in 1.5-ounce sized bags, making them perfect for stadium noshing. These chips are delicious on their own, but will also kick up the flavor mixed into the dairy-free nachos you might find at the concession stand. Try the Jalapeño Nacho variety to add more heat to your snack—and don't forget to bring a dip, like salsa.
Learn more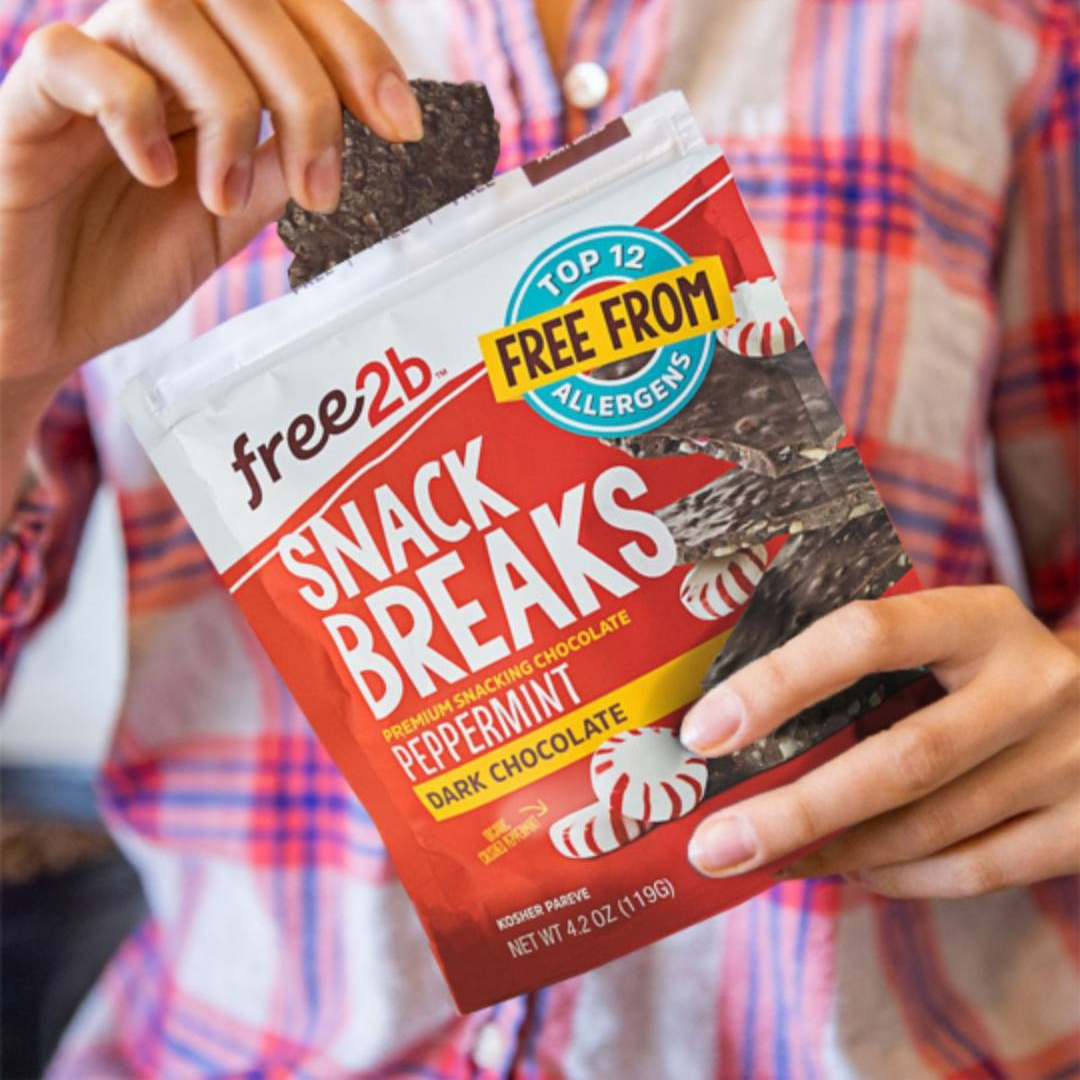 free2b
5 free2b Snack Breaks
With three flavors from which to choose, Free2b's Snack Break variety packs are a guaranteed home run. Flavors such as Peppermint, Cranberry Pumpkin Seed, and Blueberry Crunch come loaded with dark chocolate and superfood additions in an easy-to-use resealable bag. Who are we kidding? By the bottom of the first, these snackable thins will be going, going, gone! So, arrive at the game with a few options in tow.
Learn more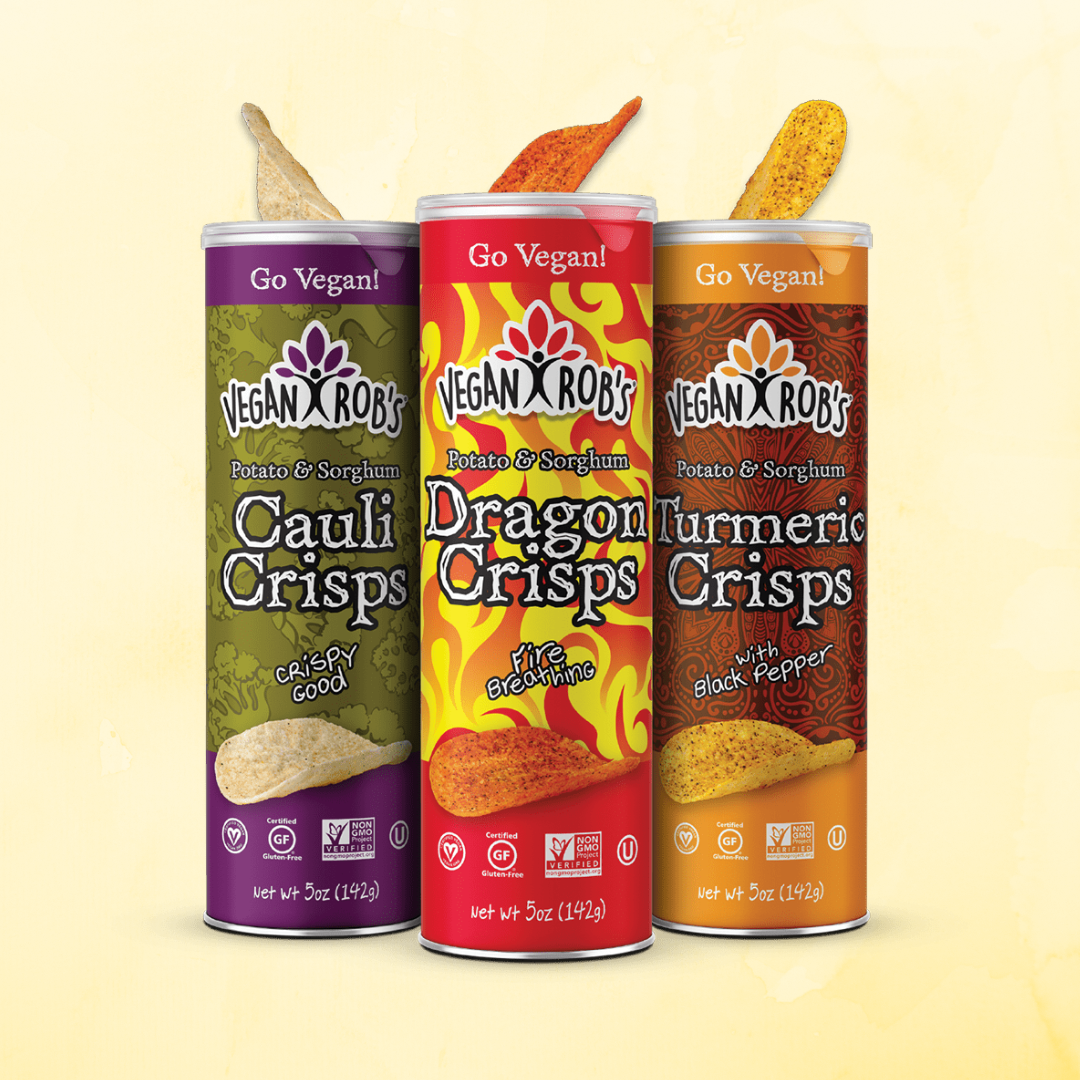 Vegan Rob's
6 Vegan Rob's Crisps
We love these crunchy, Pringles-inspired chips because it's totally acceptable to keep a tube all to yourself. Made from potato and sorghum flour, they're gluten-free, vegan, and come in fun flavors like the spicy, lip-tingling Dragon or the mild Turmeric With Black Pepper. You'll finish these in one sitting, trust us.
Learn more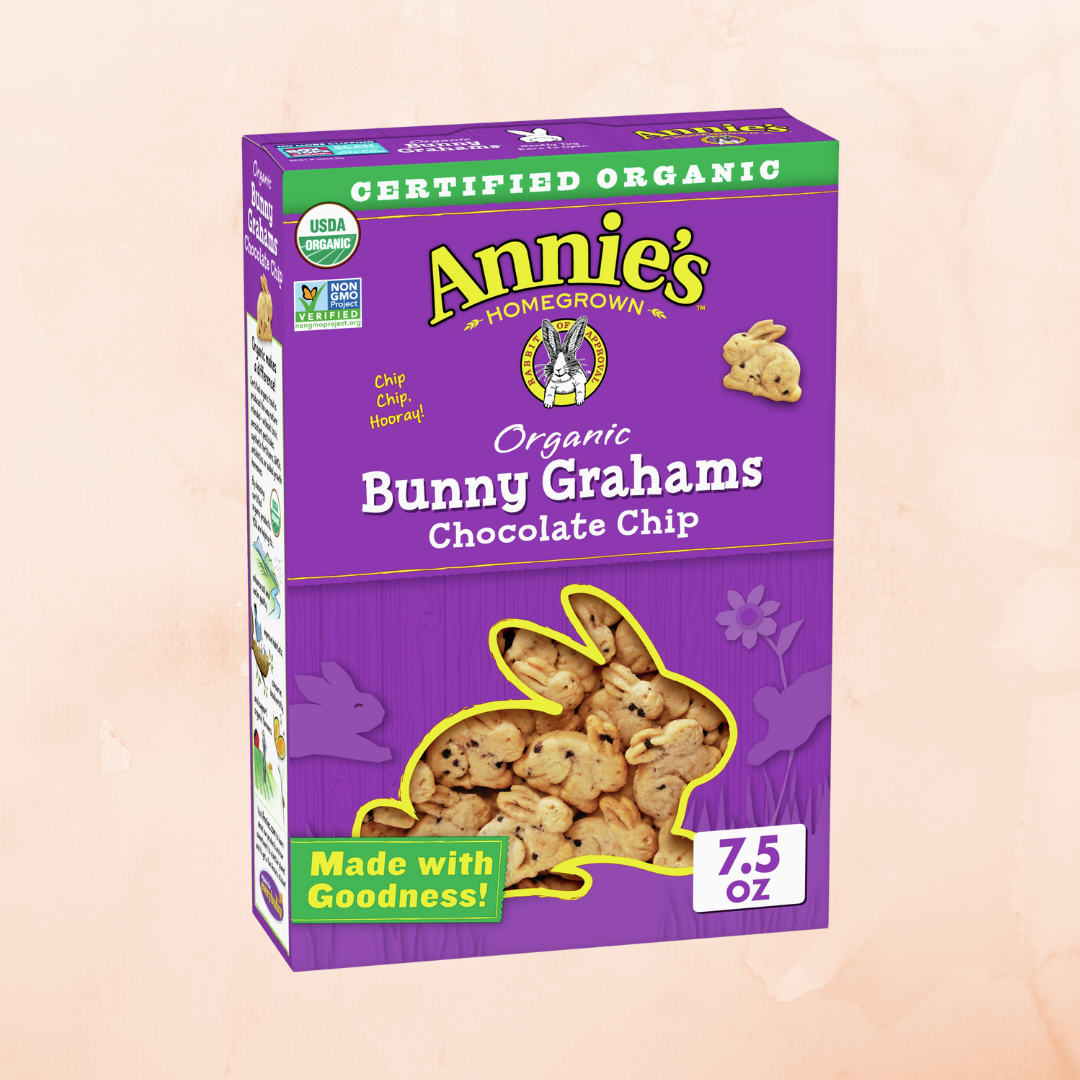 Annie's Homegrown
7 Annie's Chocolate Chip Bunny Grahams
Need a kid-friendly snack? Annie's Chocolate Chip Bunny Grahams are honey-free cookies that both kids and adults alike will love. They're free from high-fructose corn syrup, artificial colors, flavors, and preservatives, too. If you're looking for another vegan cookie flavor from this brand, check out the Birthday Cake Bunny Grahams. You won't regret it.
Learn more
Homemade vegan snacks
If you'd prefer to DIY your snacks, then pick from one of these plant-based recipes below. Whether you're craving salty, sweet, or spicy foods, we've got you covered.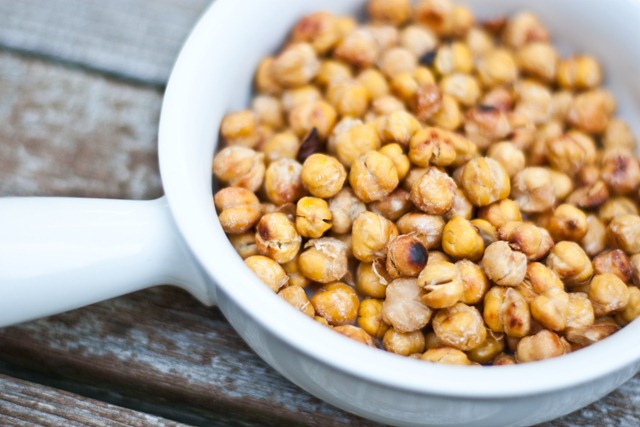 Oh She Glows
1 Salt and vinegar roasted chickpeas
This crispy, protein-packed snack from Oh She Glows is a healthier alternative to the tangy and briny taste often found when eating potato chips. By using roasted chickpeas, you'll be grabbing for one more crunchy bite all the way until the ninth inning.
Get the recipe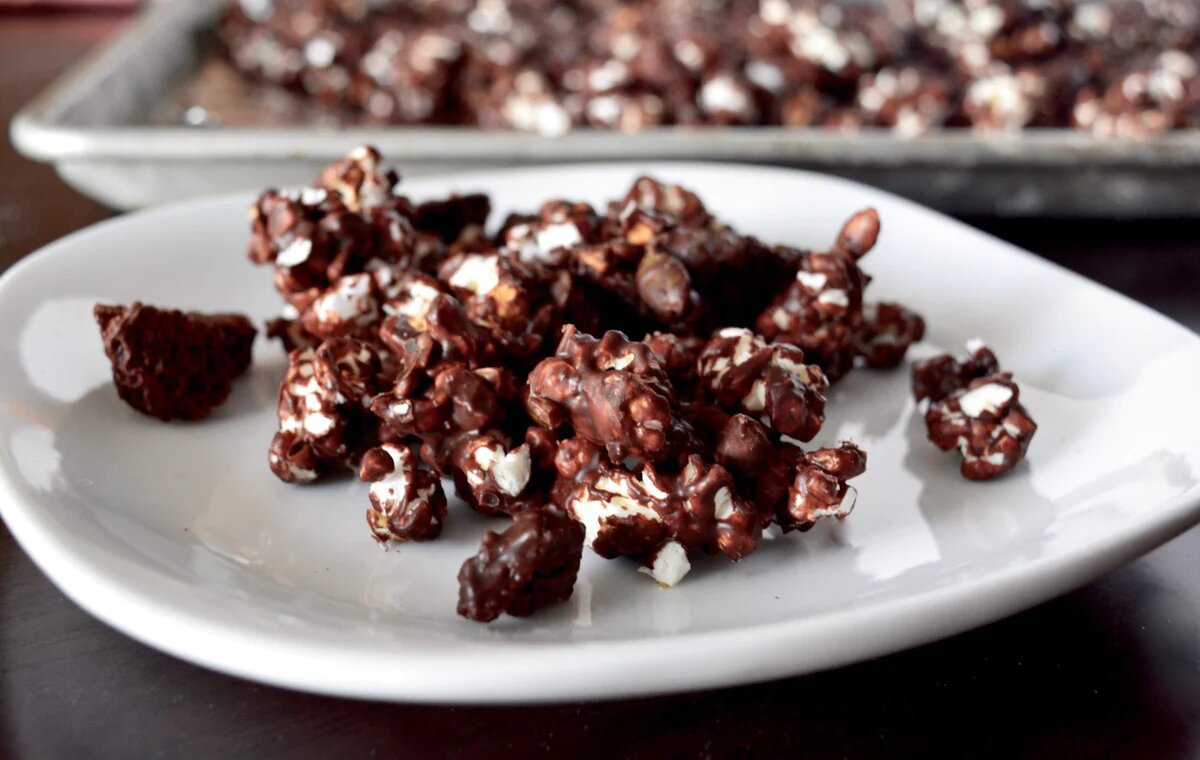 Enjoy Life Foods
2 Rocky road snack mix
This recipe from Enjoy Life combines double-chocolate gluten-free cookies and dairy-free miniature chips for a chocolatey popcorn that also happens to be gluten-free. Even better? This nut-free recipe can be stored in the freezer so you can always have some the next time baseball fever strikes.
Get the recipe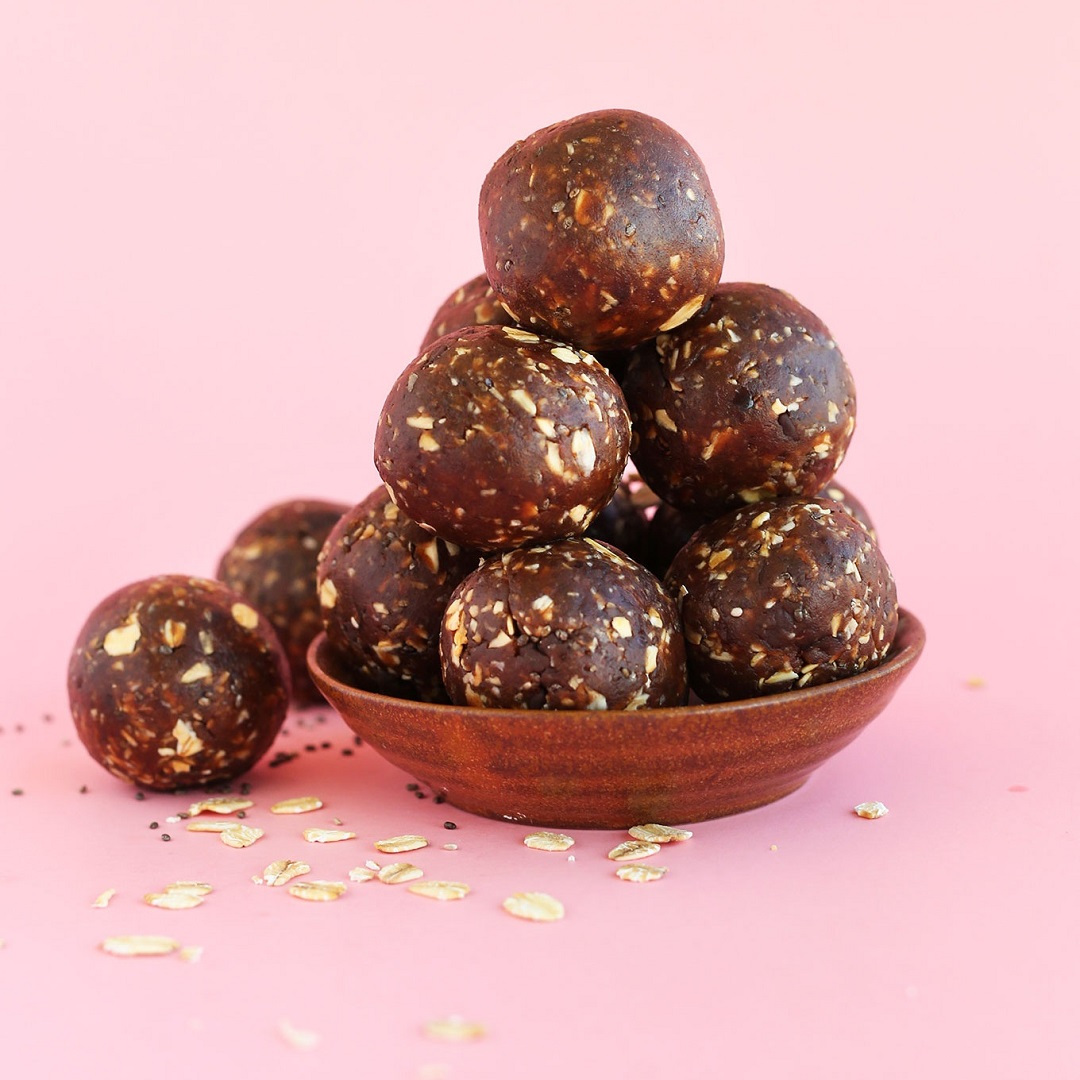 Minimalist Baker
3 Peanut butter cup energy bites
With just five ingredients, these delicious power balls from Minimalist Baker are naturally sweetened and ready in just 15 minutes. Did we mention they taste just like a peanut butter cup? It's cookie dough pinch-hitting for a snack, and it's a winner!
Get the recipe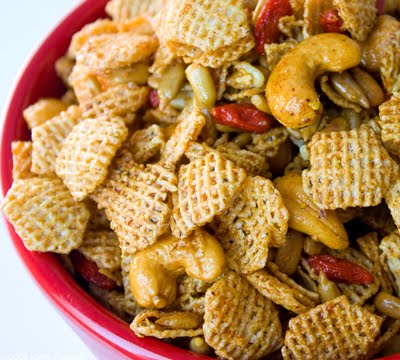 Kathy Patalsky
4 'Better' party mix
This scrumptious blend from Healthy Happy Life is batting a thousand thanks to all the basics you'd expect in a cereal mix. Superfoods, goji berries, and flaxseed meal combine with sunflower seeds, cashews, and other mixed nuts for a hard-hitting yet very portable ballgame snack.
Get the recipe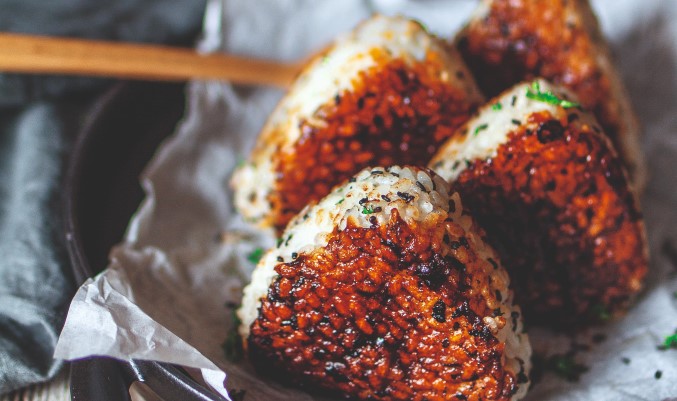 Nadine Horn and Jörg Mayer
5 Vegan grilled onigiri
These easy-to-make grilled onigiri feature rice mixed with a savory blend of black sesame seeds, nori, and fresh parsley. But that's not all—they're cooked in a Japanese barbecue sauce glaze to give them an umami, slightly crunchy exterior. These rice balls travel well, so not only are they great for the game, you can make them for quick lunches and picnics, too.
Get the recipe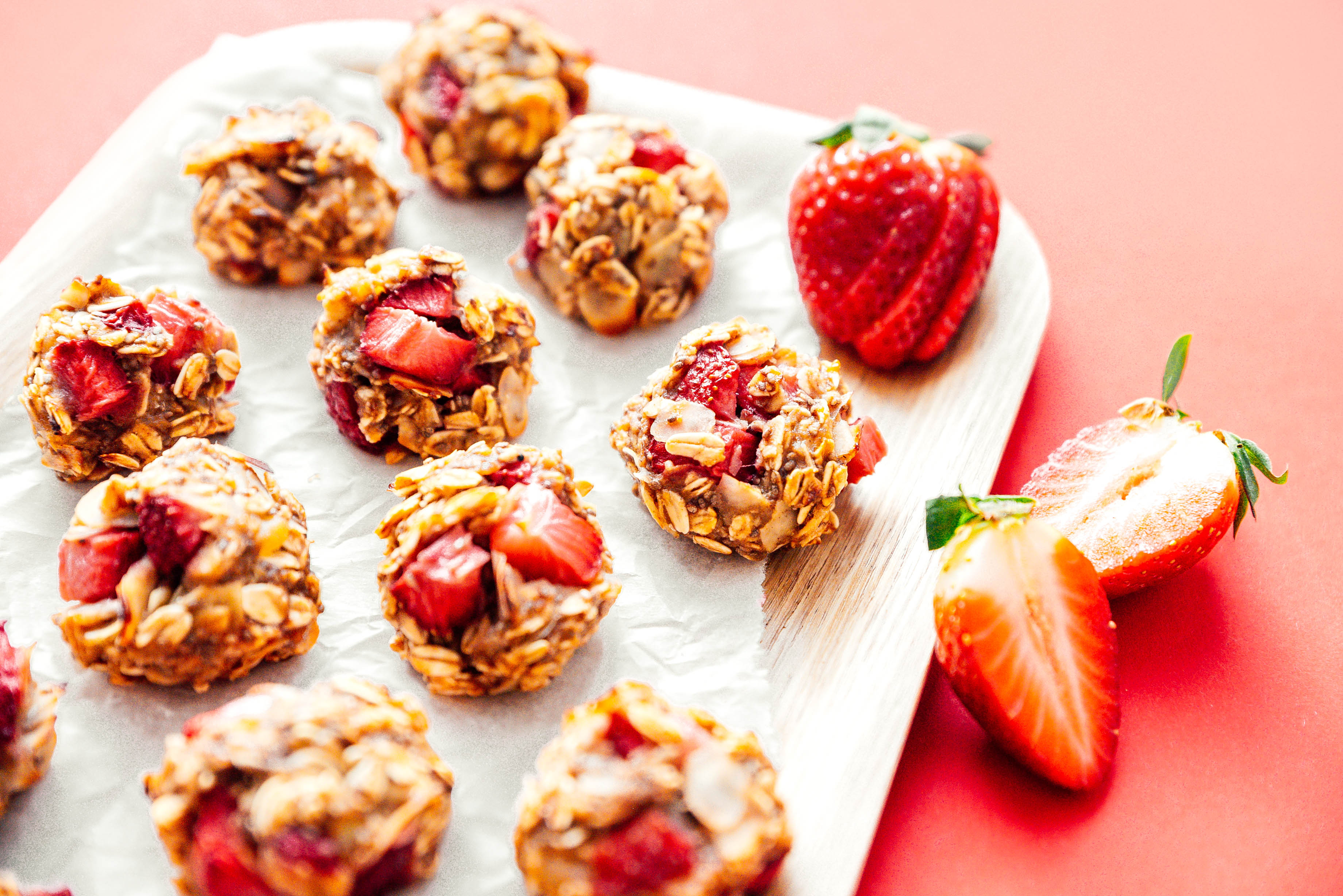 Sarah Bond
6 Strawberry chia oat bites
Wholesome and sweet, these snacks are packed with oats, strawberries, chia, mashed banana, applesauce, slivered almonds, and plenty of spices. They're perfect if you're looking for a healthier snack to keep you satiated while you watch the game—so, they're a winner in our books.
Get the recipe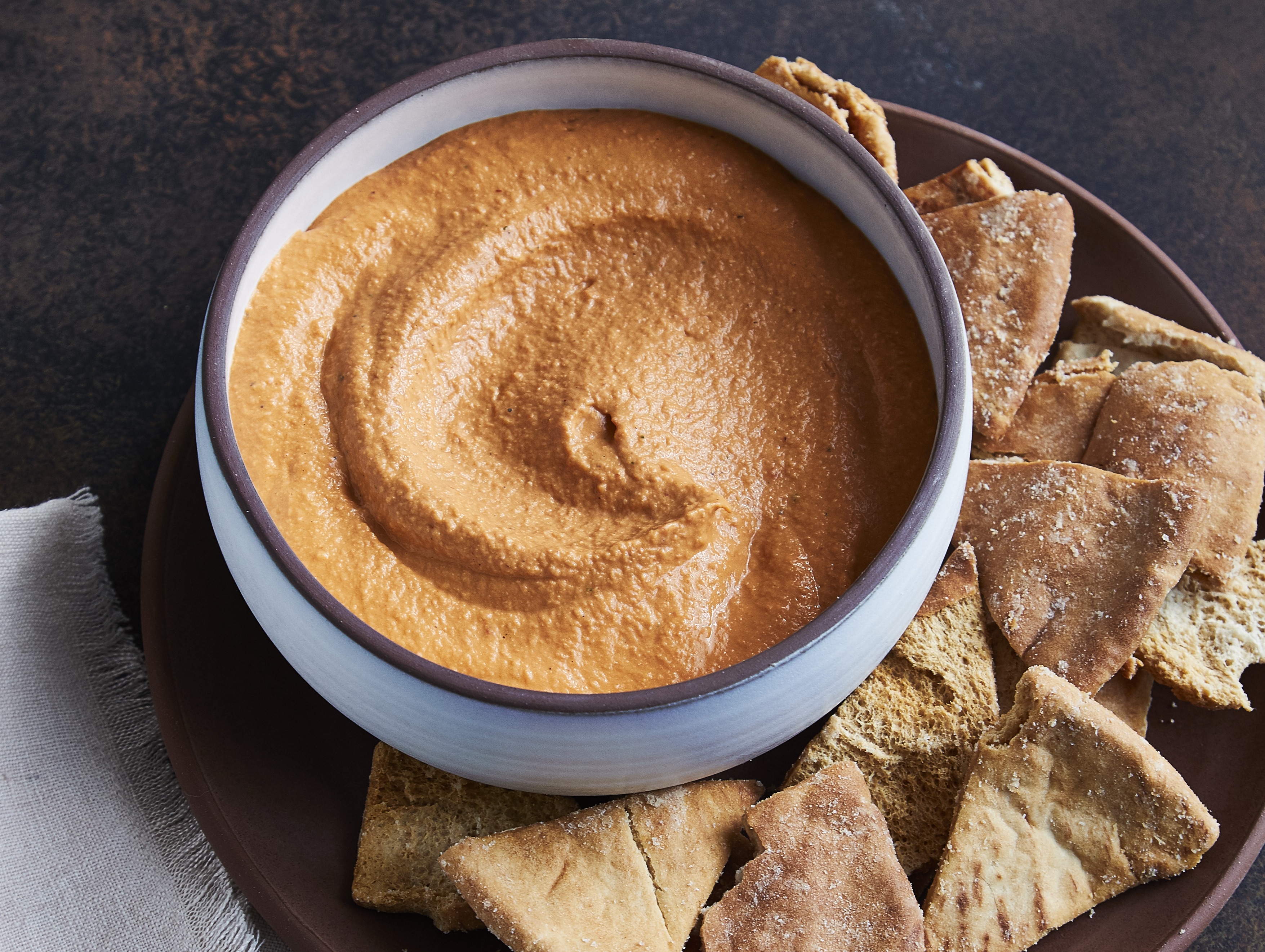 Hélène Dujardin
7 Garlicky pizza hummus
Get your pita chips, celery, and carrots ready. This protein-packed dip is reminiscent of a great slice of pizza, thanks to the use of nutritional yeast, tomato sauce, oregano, rosemary, parsley, basil, and plenty of garlic. Pro tip: add red pepper flakes to taste if you like spice in your life.
Get the recipe
For more on vegan snacks, read:
Here at VegNews, we live and breathe the vegan lifestyle, and only recommend products we feel make our lives amazing. Occasionally, articles may include shopping links where we might earn a small commission. In no way does this effect the editorial integrity of VegNews.