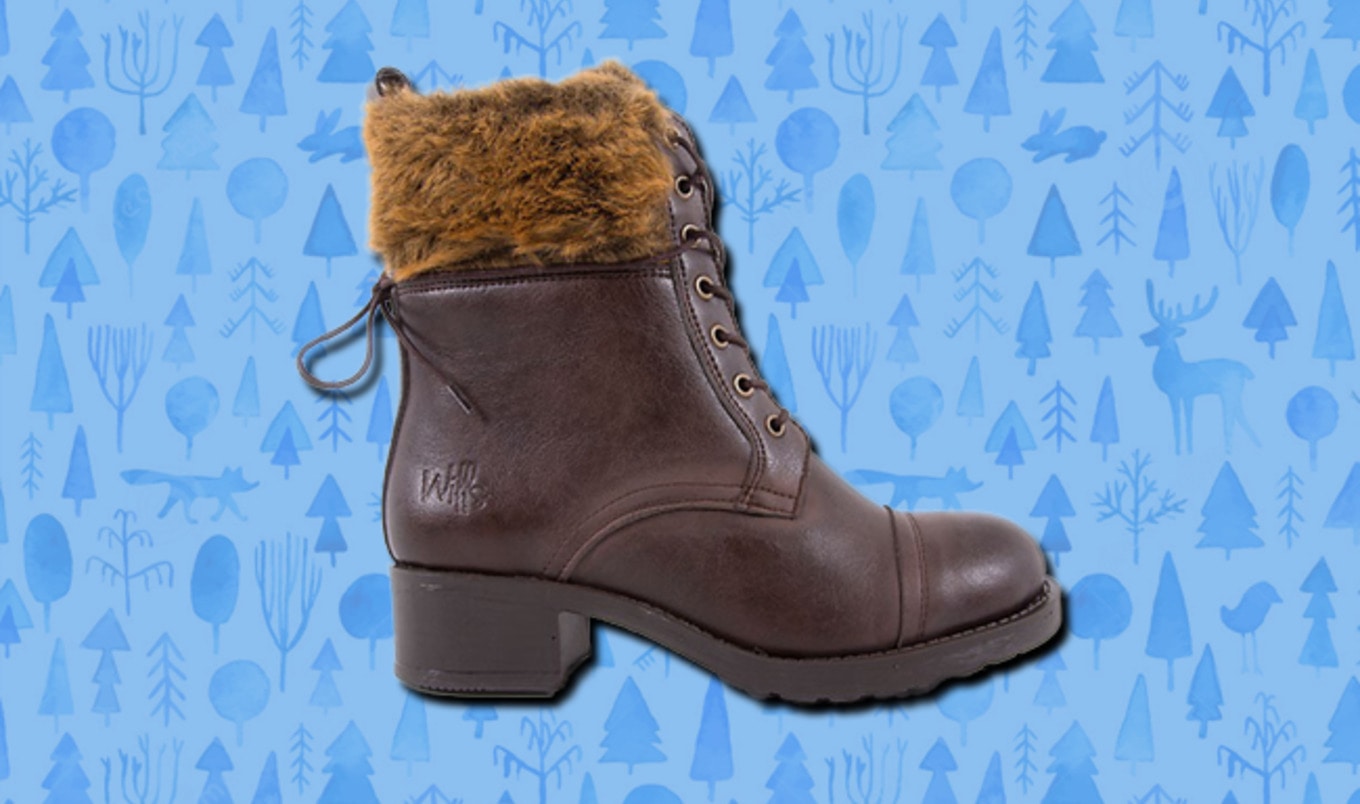 Dropping temperatures don't mean forfeiting fashion.
December 4, 2017
---
With the chill in the air and winter fast approaching, it's time to indulge in fabulous cold-weather boots. There was a time when one might have been happy to find a warm boot that didn't contain any wool or leather, but, today, options abound, and we can be super-stylish while also being cozy and compassionate. Here are eight of our favorite vegan boots that keep us looking stylish, even on icy-cold days.
1. Aspen Hiker Boot from Bhava
Beautiful and comfortable, warm and sophisticated, cute and well-designed—what don't we love about the Aspen Hiker Boot? These low-heeled and nicely structured boots offer everything you need for navigating all kinds of winter weather, while sporting your signature stylish look. No need to apologize for your shoes or tote a spare pair, as these work as well inside as out.
2. Farah Faux Sheepskin Vegan Over the Knee Boots from Beyond Skin
This chic pair offers the glamour of an over-the-knee boot but with a thick synthetic lining that will keep you cozy even on bitterly cold days. Inspired by a vintage '70s look, the Farah Boots will have you feeling like you should be lounging in a ski lodge with a (vegan) hot toddy in hand. These gorgeous boots (available in black and gray) go great with skinny jeans or tights and a miniskirt, and once you slip into their warmth, you will want to combine them with all of the above.
3. Sandalwood from JBU
A little heel never hurt anybody (unless, of course, you're walking on ice), and JBU has found a way to offer a winter ankle boot with a bit of height, along with a soft-and-warm lining that keeps toes toasty. A two-and-a-half-inch heel and strappy design makes these cold-weather boots cute enough to wear with your evening look yet also perfect for complementing your jeans or work outfit. Available in brown (with a turned-out, off-white lining) or black (accented with gray), these might become a classic go-to vegan boot.
4. Aviator Boot from Will's Vegan Shoes
Speaking of heels, you might feel like a movie star in these aviator-chic brown boots with height. The heel adds just a touch of glamour but with all of the structure you'll need to move around with ease as the sidewalk gets slippery. The vintage look dresses up these brown boots that would go as well with a stylish pair of jeans as with a pencil skirt.
5. Caribou Boot from Vegetarian Shoes
Vegetarian Shoes offers a stylish pair of low-heeled gray boots with bright orange laces to bring some color to those chilly December days. What makes these boots particularly awesome for winter is the warm, synthetic-fleece lining that enwraps your feet to keep away the cold.
6. Liana from Arcopedico
For those milder winter days, the Liana boot in black or brown is elegant and fashion forward, hitting below the knee and with a low heel. Offering the comfort of a close-to-the-ground shoe with a chic design, these are the kind of boots that go as well with jeans as with a dress. You can sport them to a gallery opening, to work, or to meet with your friends for mulled wine at the holiday fair.
7. Vegan Jadon II from Dr. Martens
Dr. Martens shoes have withstood the test of time, and have remained a classic for decades. The company now makes a few styles of vegan boots, including the popular unisex eight-eye design in black. In the tradition of rebels, however, if you'd like to march to the beat of a different drum, pick up the Vegan Jadon II boots in cherry red. They have a thick sole for a platform look, while the pop of color will warm you up on cold days.
8. Snug Boot from Vegetarian Shoes
For a boot that offers both the comfort and warmth of a substantial shoe and the cuteness of something stylish, Vegetarian Shoes offers a great option with the Snug Boot. Available in basic black mid-calf style with a fleecy faux-wool lining, these boots can take you everywhere from the grocery store and the yoga studio to lunch with your best friend.
Maya Gottfried is the author of Vegan Love: Dating and Partnering for the Cruelty-Free Gal and Our Farm: By the Animals of Farm Sanctuary.