Summer's heat and humidity may be unbearable at times, but the opportunity to cool down with vegan frozen desserts is one thing that makes us excited about the season. From fruity popsicles to ice cream cones and sandwiches, we love it all. But, truth be told, the freezer aisle is packed with options these days. Not that we're complaining—dairy-free desserts were once as mythical as the unicorn unless you trekked out to a specialty grocery store. However, we're happy to be your guide through the landscape of vegan frozen desserts.
Vegan popsicles
Thankfully, you'll rarely come across a fruit popsicle that's not vegan. Here are some of our personal recommendations for brands to look for at the grocery store.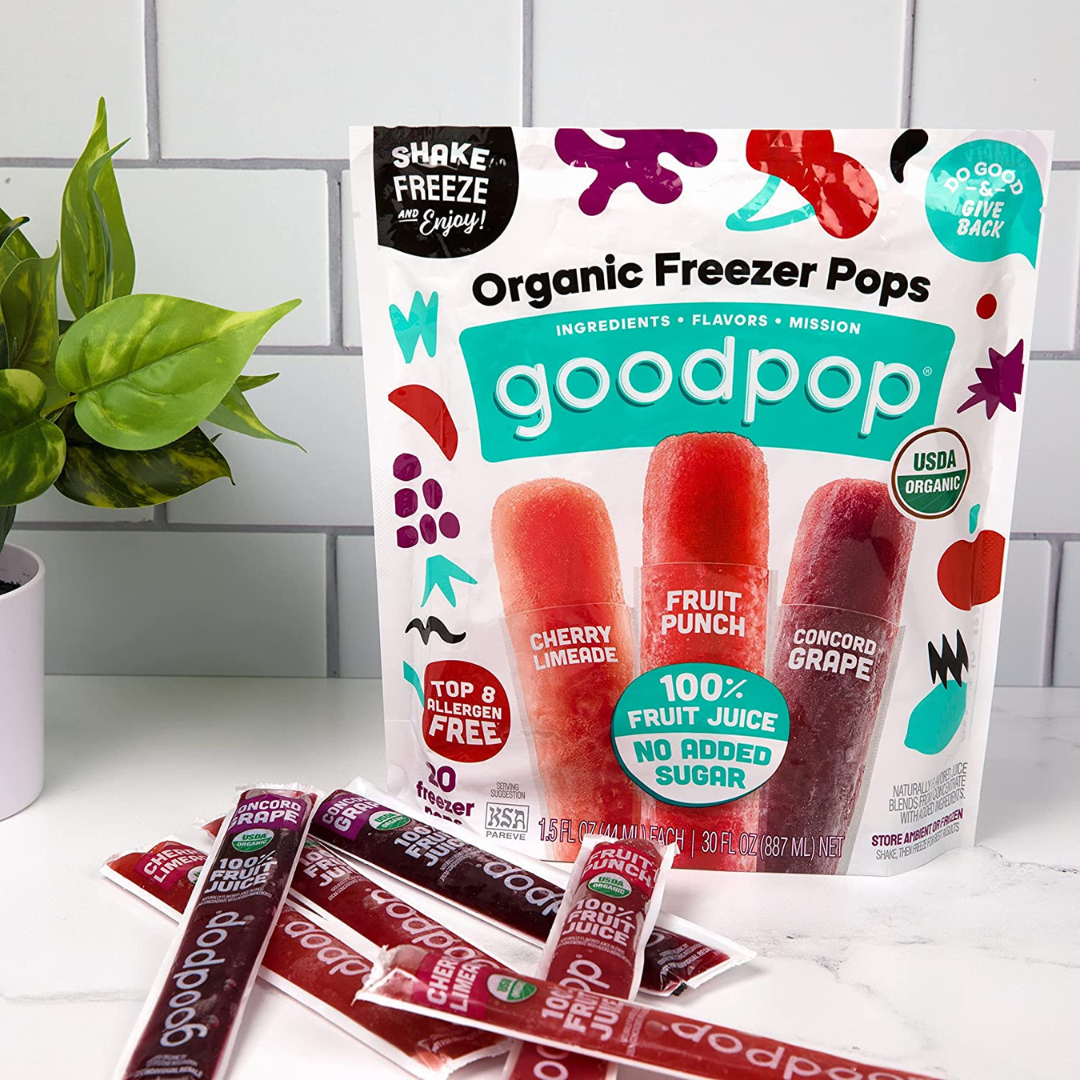 GoodPop
1 GoodPop
If you're looking for options, then GoodPop has you covered. This frozen dessert-maker has more than 10 fruity flavors to choose from, including classics such as lime, strawberry, grape, and cherry. But their unique flavors are where GoodPop really shines. We highly recommend picking up Mango Chile (inspired by fresh mango with Tajín), Strawberry Shortcake, and Orange n' Cream—a dairy-free creamsicle made with organic coconut instead of cow's milk. Bonus: each flavor is made with real fruit.
FIND IT HERE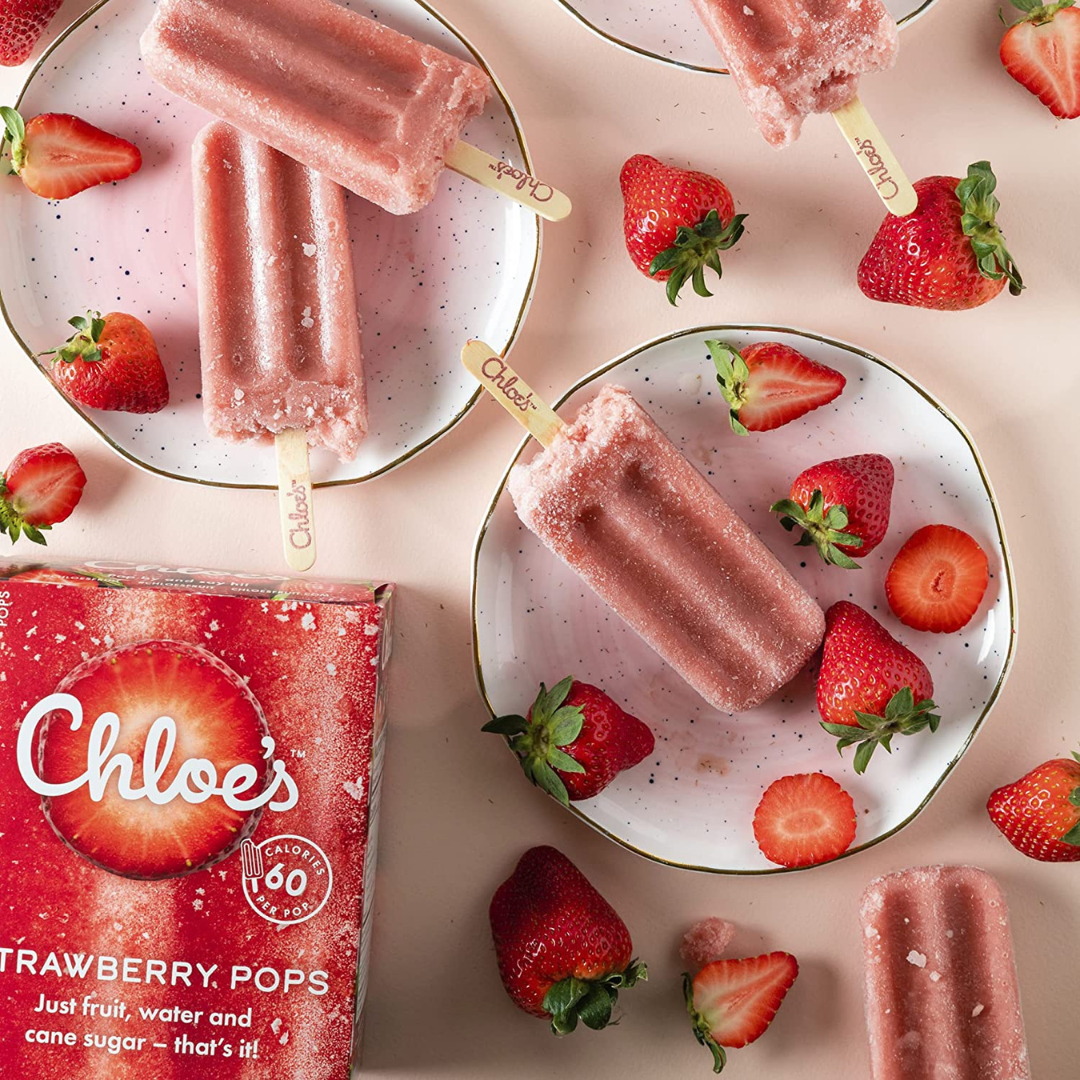 Chloe's Fruit
2 Chloe's Fruit
Our freezers have been stocked with many-a Chloe's Fruit bars throughout the years, regardless of the weather. The majority of these flavorful fruit bars are made with just three ingredients—fruit, water, and a little bit of sugar—with the exception of the chocolate-dipped varieties, which are also 100-percent vegan. Choose from flavors such as blueberry, pomegranate, grape, and banana-based dark chocolate. They're just the thing to help cool you off after getting home after spending time under the hot sun.
FIND IT HERE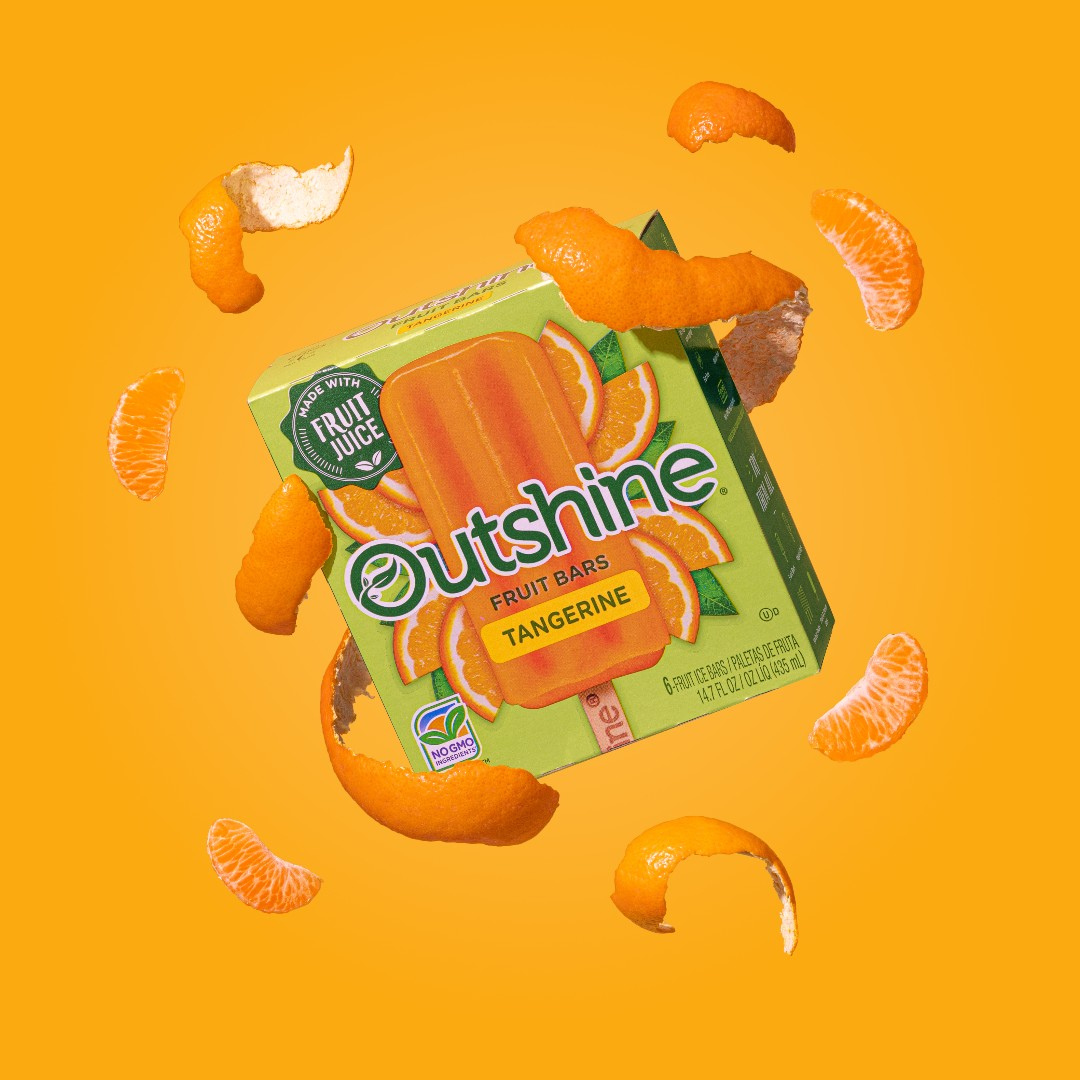 Outshine
3 Outshine
This vegan-friendly brand touts flavors made with real fruit juice, no artificial colors or flavors, and zero high-fructose corn syrup. In fact, they contain no added sugar at all. It comes in refreshing flavors like pineapple, peach, mango, and lemon. The only non-vegan flavors to watch out for in Outshine's fruit bar range are the ones made with coconut which, unfortunately, contain dairy.
FIND IT HERE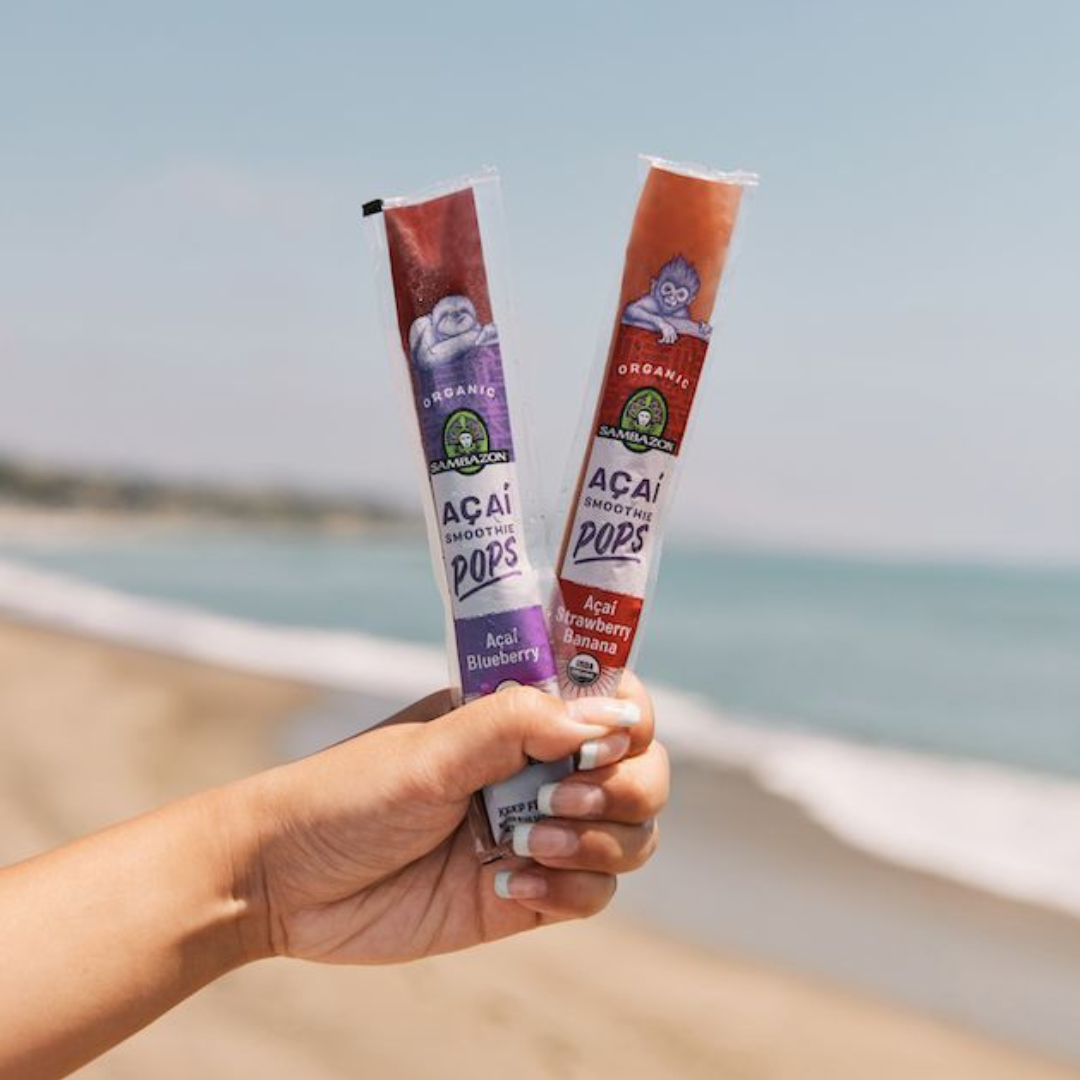 Sambazon
4 Sambazon Smoothie Pops
Best known for its frozen açaí bowls, Sambazon also dabbles in desserts, such as these fruity smoothie pops. They are inspired by those classic freezer pops that powered us through childhood summers but instead of high-fructose corn syrup, they're made from real açaí berries and contain no added sugars. There are two flavors: classic açaí or açaí strawberry-banana.
FIND IT HERE
Vegan novelty desserts
From cones to dairy-free ice cream-stuffed mochi, these novelty desserts are for ice cream lovers who don't want to dig into a pint. But if that's what you're looking for, check out our guide to oat milk ice cream.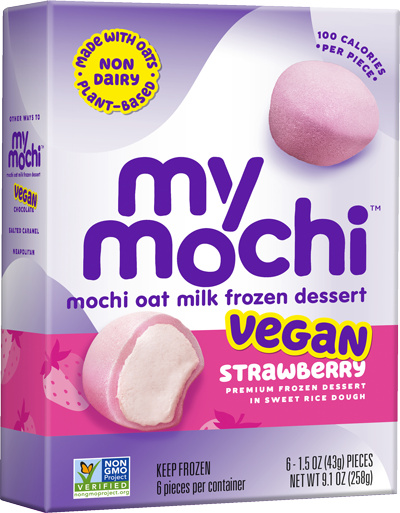 My/Mochi
5 My/Mochi
You may have encountered mochi, a wagashi (traditional Japanese dessert) made by pounding sweet short-grain japonica glutinous rice with corn or potato starch, at a restaurant. This delightfully chewy dessert is often stuffed with ingredients such as anko (sweet red bean paste), strawberry, and ice cream. The former two are vegan by default and thankfully, there are vegan options for the latter. My/Mochi has four dairy-free flavors to choose from: strawberry, salted caramel, chocolate, and Neapolitan, which has a delicious strawberry jam center.
FIND IT HERE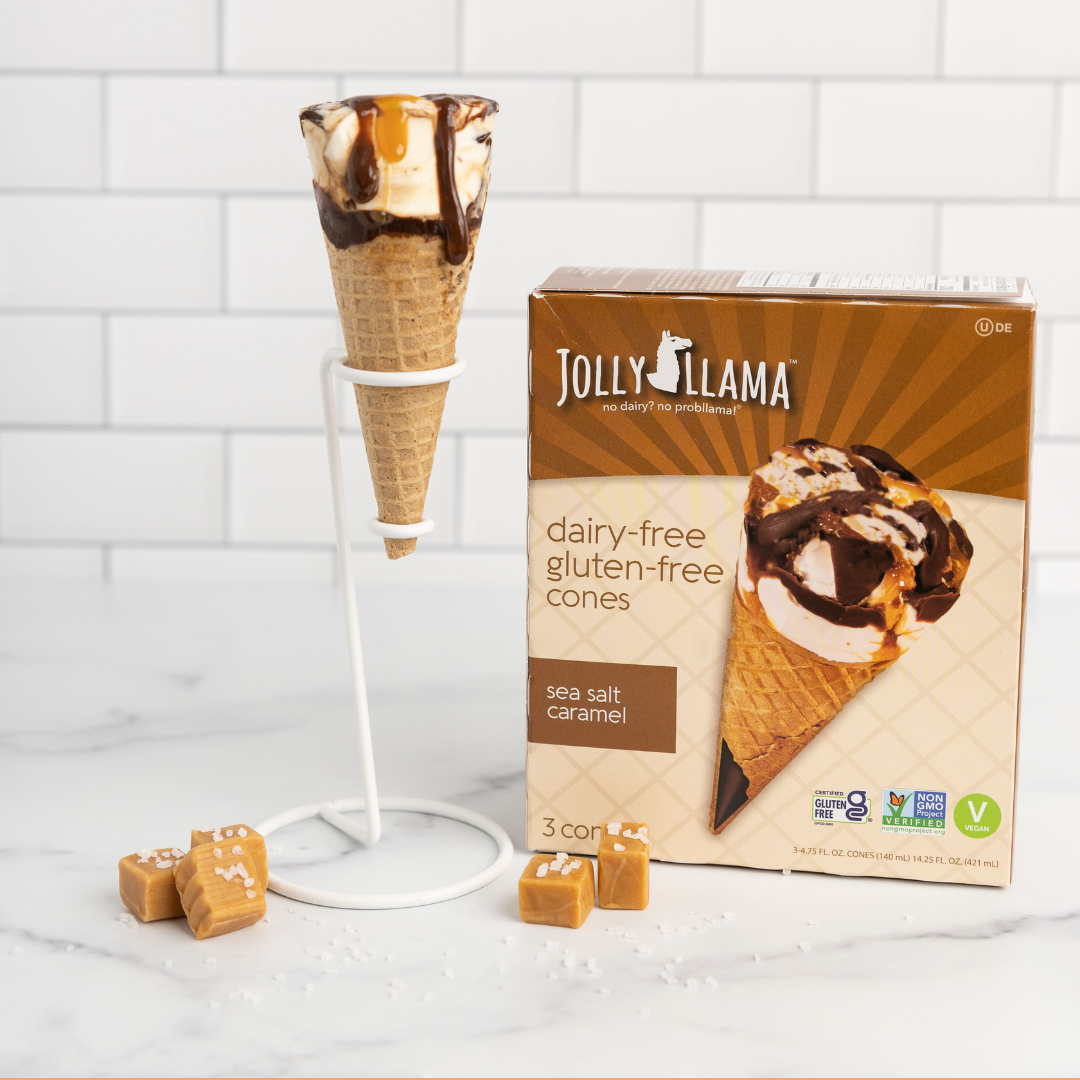 Jolly Llama
6 Jolly Llama Cones
The brand Jolly Llama has a whole line-up of vegan frozen desserts that includes ice cream sandwiches and sorbet push-pops. But our current obsession is their Cornetto-style cones which, naturally, contain that coveted nugget of chocolate at the bottom. Not only are these treats dairy-free thanks to coconut cream, but they also feature a gluten-free rice flour cone.
FIND IT HERE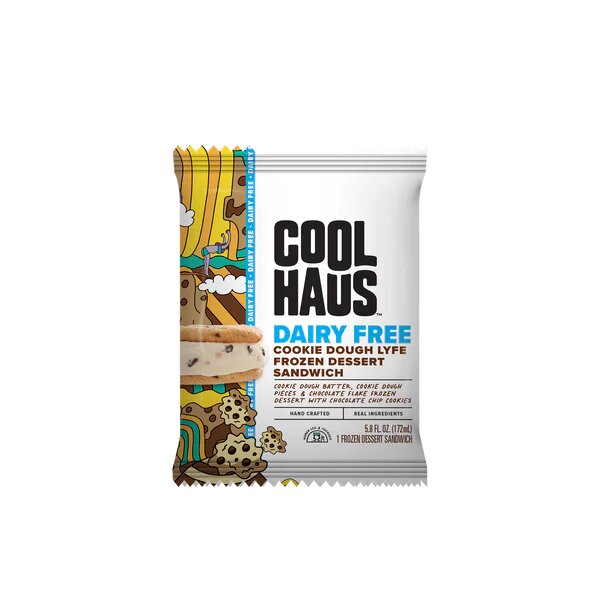 Coolhaus
7 Coolhaus Dairy-Free Ice Cream Sandwiches
We're pro-sandwich here at VegNews, and that includes all sammies, sweet and savory. Coolhaus, a vegan-friendly, woman-owned brand, will capture your heart, too, with their dairy-free ice cream sandwiches. Each treat features ice cream made from either rice milk or cocoa butter that's situated between two giant cookies. Keep an eye out for flavors like horchata, cookie dough, mint chip, and vanilla. Gluten-free? Don't worry, pick up the gluten-free Tahitian vanilla ice cream sandwich.
FIND IT HERE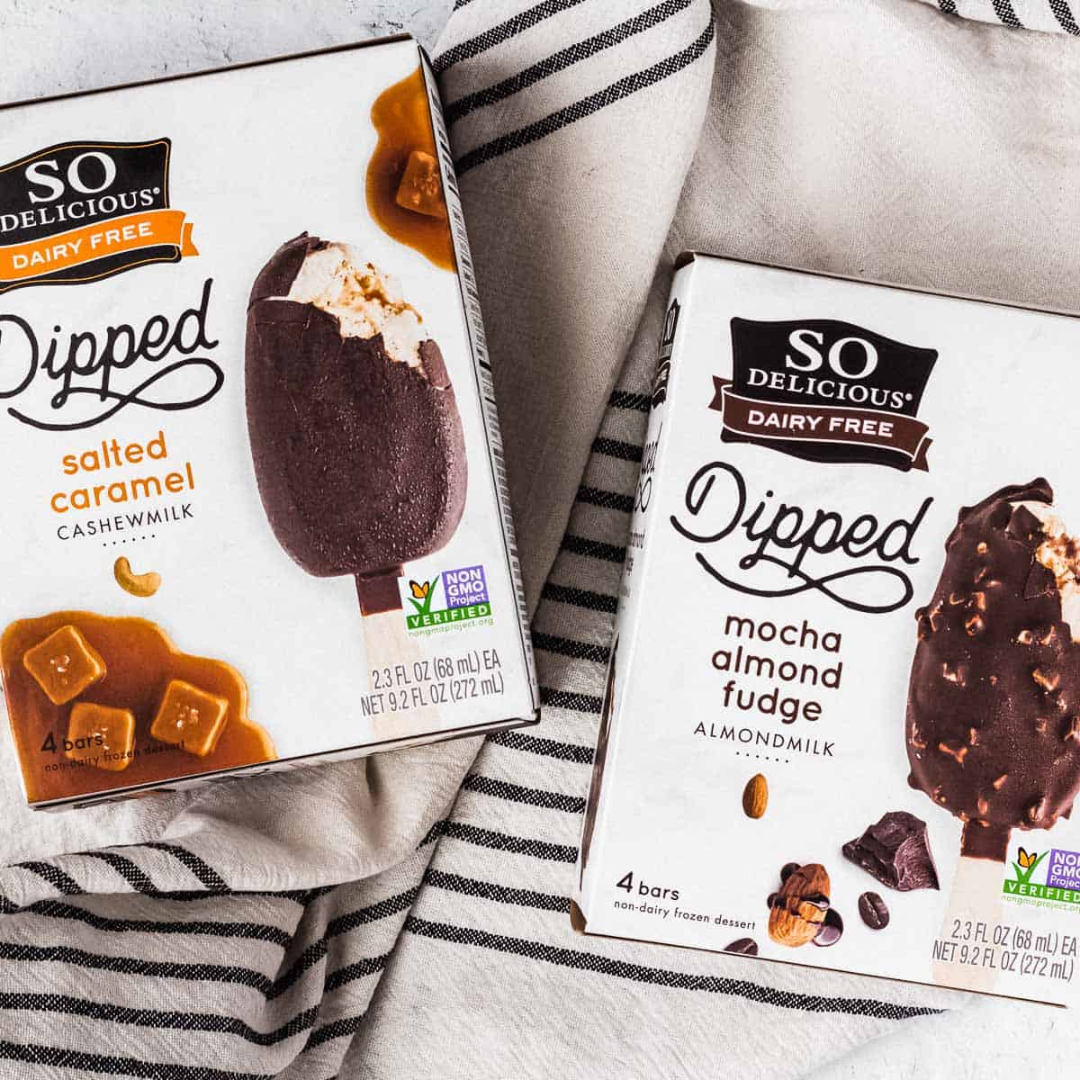 So Delicious
8 So Delicious bars
This 100-percent vegan brand has been a mainstay in our kitchens—and our freezers—for years. So Delicious' pints are stellar, but these dairy-free bars channel a certain nostalgia for childhood treats. There are eight flavors to choose from, featuring either a coconut milk, cashew milk, or almond milk base, most of which have a chocolate coating. The exceptions are the chocolate fudge bar and the peanut butter flavor, which consists of chocolate cashew milk ice cream enrobed in a peanut butter shell.
FIND IT HERE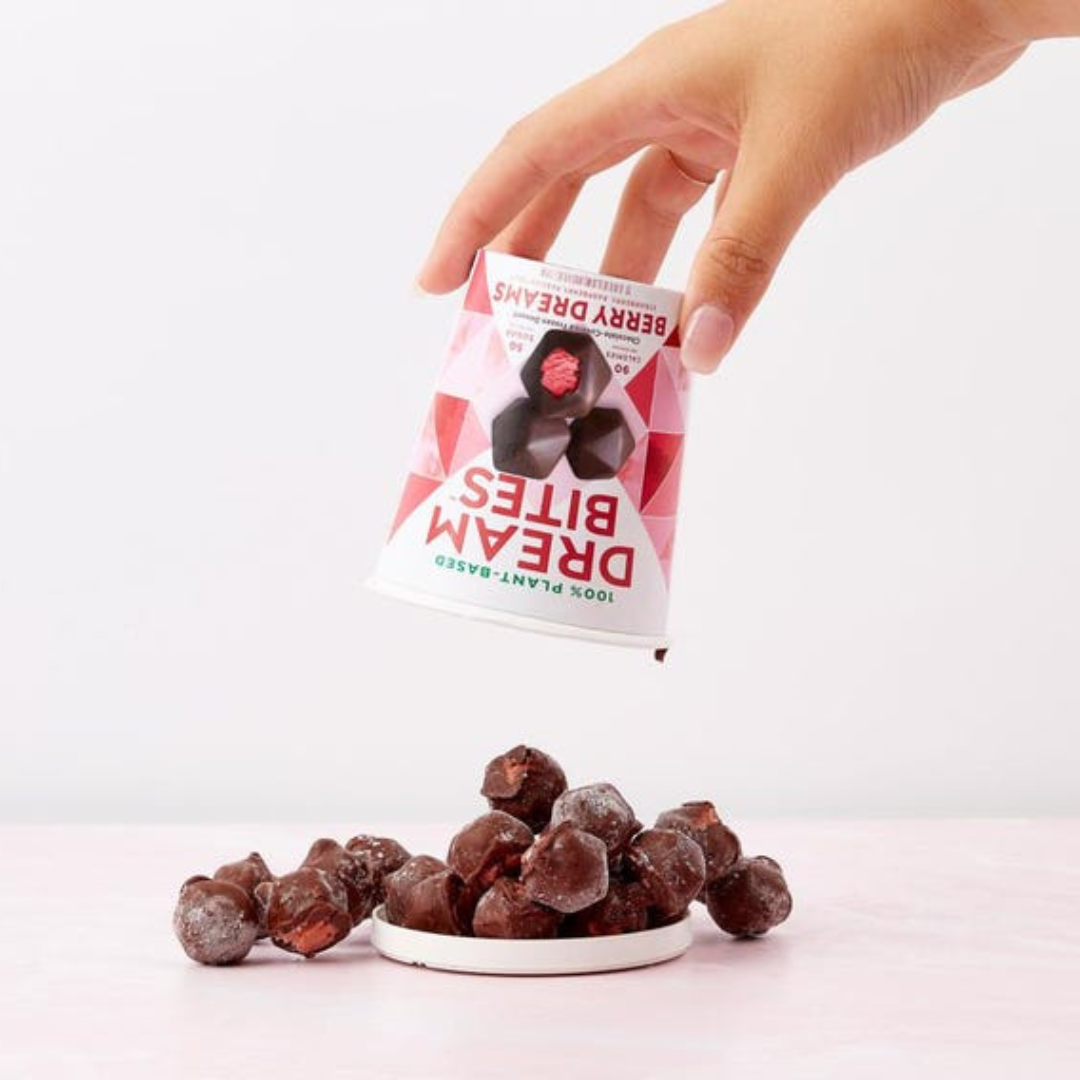 Dream Pops
9 Dream Pops' Dream Bites
These geometric bite-sized treats by Dream Pops are as eye-catching as they are delicious. The creamy vegan ice cream center is made from coconut and then wrapped in a crunchy chocolate coating. Flavors include strawberry, peanut butter, Banana Cream, Birthday Cake, and Mint Chip. But if you're looking for something that's more mess-free, go for their popsicles.
FIND IT HERE
Vegan ready-made desserts
These ready-made frozen desserts are perfect for gatherings, big and small. And, they beat having to make your own from scratch when you're pressed for time or low on spoons.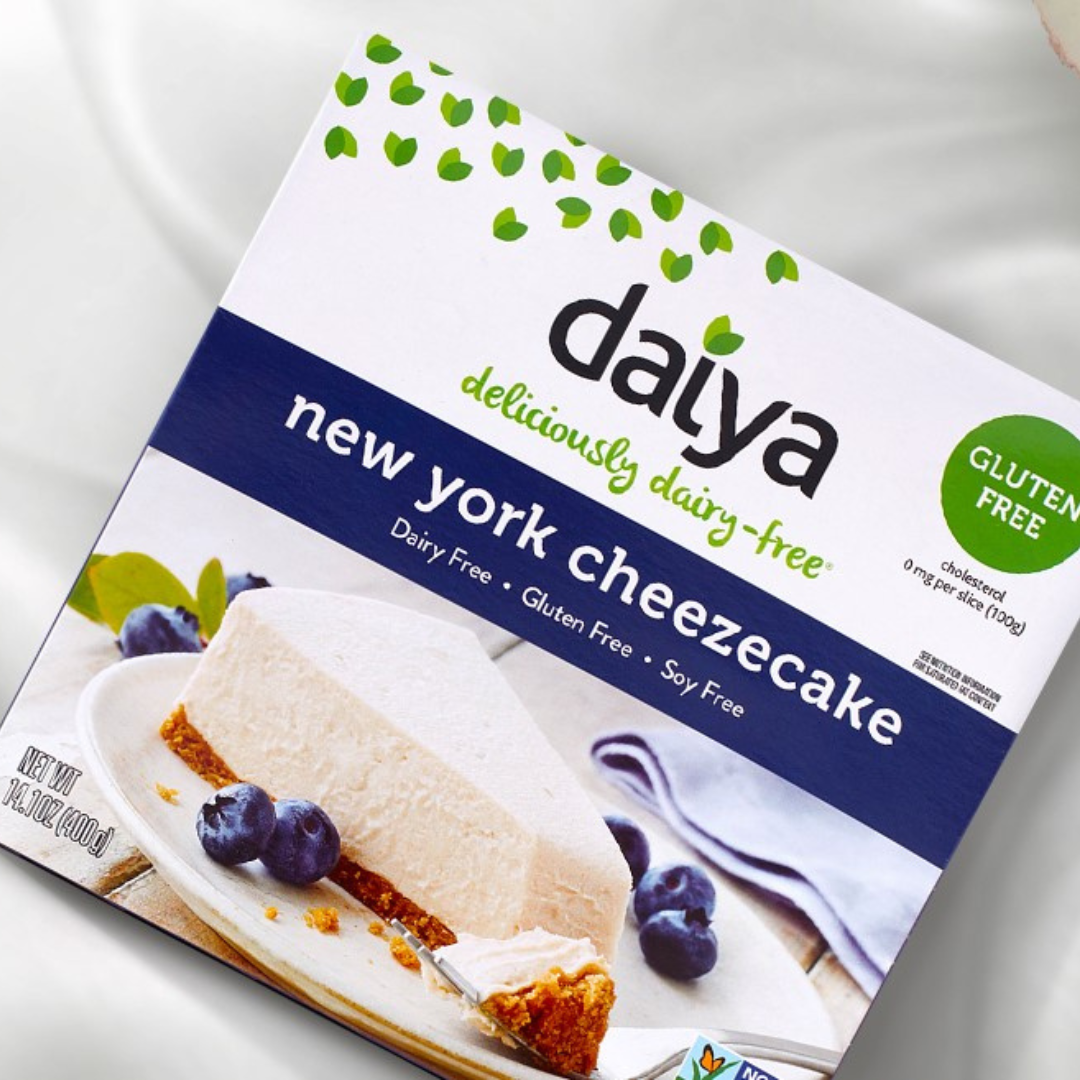 Daiya
10 Daiya Frozen Plant-Based Cheezecakes
We know that Daiya is synonymous with vegan cheese, so it's only natural that this dairy-free brand would make its way into cheesecake territory. Its range of frozen vegan cheesecakes has a creamy, decadent filling made from coconut, plus a gluten-free crust made from brown rice flour and tapioca starch. It comes in five flavors: New York-style, Key Lime, Pumpkin Spice, chocolate, and strawberry. Just remember to let it thaw in the refrigerator five to six hours ahead of when you plan to serve it.
FIND IT HERE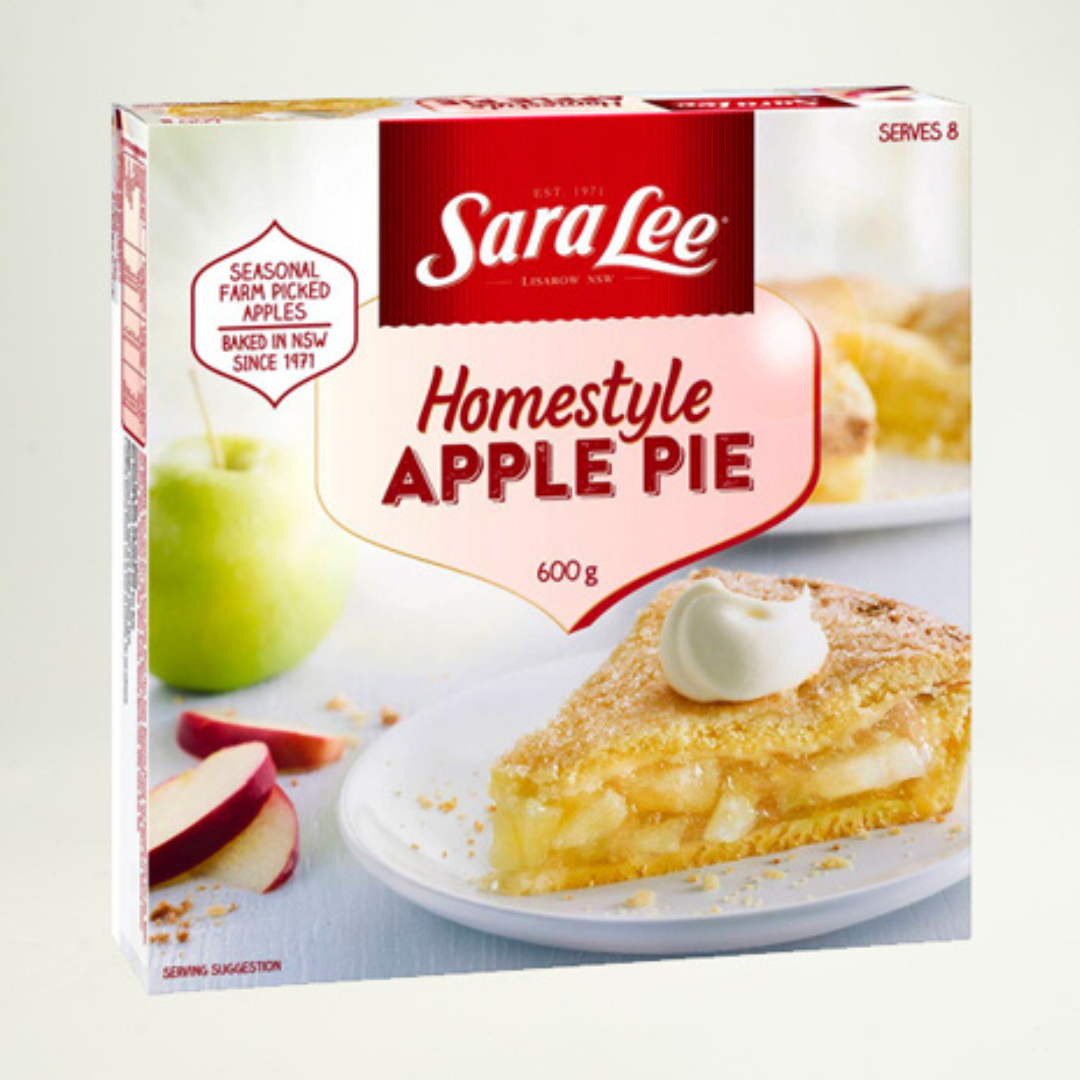 Sara Lee
11 Sara Lee Fruit Pies
Sarah Lee is a frozen dessert company that has been around since 1939 and is best known for its extensive range of frozen fruit pies, which happen to be accidentally vegan with the exception of seasonal varieties like sweet potato, pumpkin, and Southern pecan. But, that leaves vegans and flexitarians alike to choose from plenty of options, including Dutch apple, cherry, peach, and blueberry. Pair them with a scoop of dairy-free ice cream and a generous dollop of vegan whipped cream.
FIND IT HERE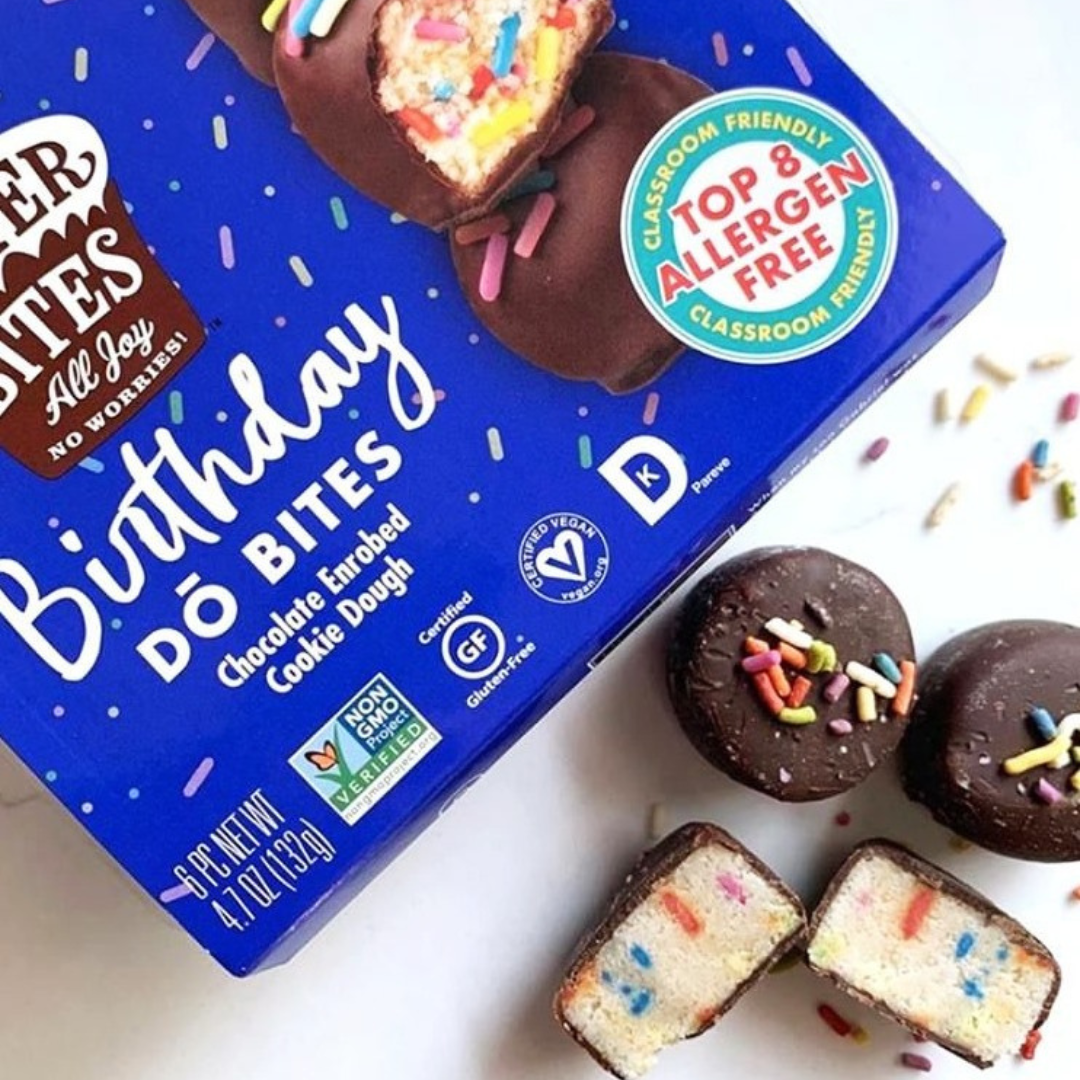 Better Bites
12 Better Bites Cake Bites
This freezer-safe brand specializes in allergen-friendly vegan bakery treats. Better Bites' perfectly snackable cake bites encompass their most extensive range, which includes flavors like vanilla, chocolate, and strawberry. But if you're looking for something that can feed a crowd, opt for the full-size chocolate Amore Cake. Everything is free from the top eight allergens.
FIND IT HERE
For more on summery vegan desserts, read:
Here at VegNews, we live and breathe the vegan lifestyle, and only recommend products we feel make our lives amazing. Occasionally, articles may include shopping links where we might earn a small commission. In no way does this effect the editorial integrity of VegNews.