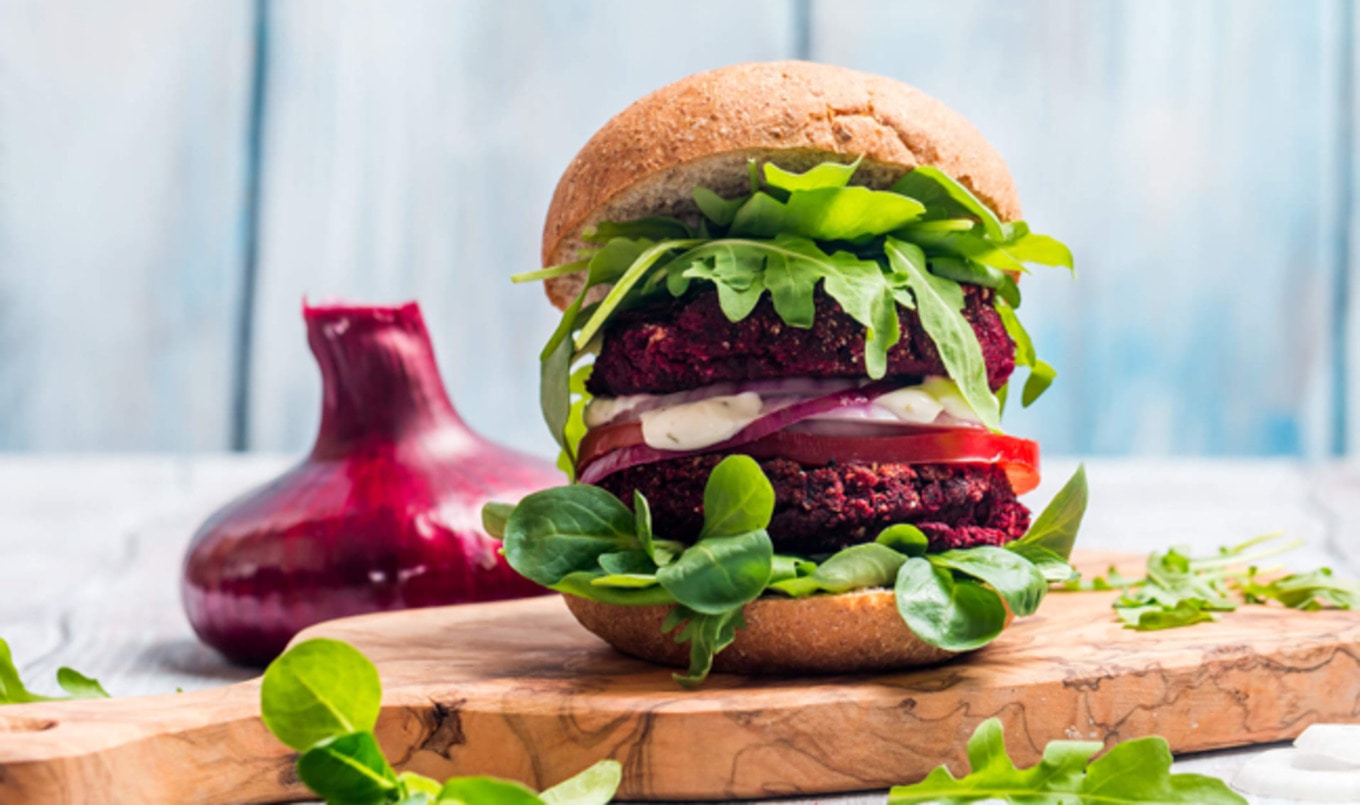 Whether you're at the grocery store, a restaurant, or at home, we're here to help you enjoy the healthiest veggie burgers possible.
January 1, 2019
---
Veggie burgers are one of our favorite vegan foods ever. And, with so many varieties (black bean, quinoa, tofu, etc) now available, we seem to be eating them more than ever. But how healthy are all these veggie patties, and should we be worried about the nutritional values of these cruelty-free foods? To answer this question, we looked at store-bought brands, those found at restaurants, and homemade recipes to determine the top qualities to look for when choosing a veggie burger.
The grocery store
Selecting a store-bought veggie burger is easier than you might assume. And, if you haven't studied the labels on veggie burgers lately, you might be surprised to find that many brands are open about their "clean" ingredients list. Luckily, many of these companies use only real ingredients without artificial additives and preservatives, while a few let consumers know how the burger is processed (eg, without hexane or with non-irradiated spices). Still, sodium is an issue, as the closer the number is to zero, the better the product. The American Heart Association recommends no more than 1,500 milligrams of sodium (aka, salt) a day to prevent high blood pressure. This equates to approximately 500 milligrams per meal (200–300 milligrams per burger). In addition, three grams (or more) of dietary fiber on a label is considered a good source, while five grams (or more) is considered excellent. Next, look for the vitamins A and C content, as vegetables contain some of the highest amounts of these vitamins. Furthermore, look at the iron content. When reading labels, 10–19 percent of daily value is considered a good source, and more than 20 percent is considered excellent. Finally, scour the ingredients list to see if the burger is free of artificial ingredients. The old saying still rings true—"If you can't read it, don't eat it."
Dining out
If you prefer fresher ingredients, restaurant burgers are the way to go, as an increased interest in plant-based eating has lead many chefs to develop their own veggie burger recipes. Many of these patties contain simple ingredients made with just a few components and include quinoa, pinto beans, chipotle peppers, walnuts, carrots, beet juice, and spices. If you're eating a non-vegan restaurant, be sure to ask about the ingredients because some restaurants use eggs, milk, and sour cream in their recipes. For an example of a mainstream restaurant doing vegan burgers correctly, visit Denver's American Grind, where the cruelty-free patty was voted the best veggie burger of 2017 by Westword. This burger contains beets, sweet potatoes, carrots, chickpea, and chickpea flour, while aquafaba (cooked garbanzo bean liquid) is used as a binder.
From scratch
There are many reasons to make veggie burgers at home. The first is the fact that you can control the ingredients and the nutritional content. For instance, the more plants you use, the more nutrition you'll receive, as plants contain phytochemicals, which protect us from disease. Next, you can opt for locally grown ingredients to help area businesses. Finally, you can cater the burger to your tastebuds' desires. Like salt? Add some. Want more heat? Top your patty with a jalapeño. Then, get wild with the condiments, and top with ketchup, onions, tomatoes, mustard, hot sauce, vegan avocado crema, chive aioli, cucumbers, lettuce, Swiss chard, vegan mayonnaise, or barbecue sauce. However you prefer your burger, you know you're having it your way!
Cathy Schmelter is a registered dietitian and founder/owner of An Ounce of Nutrition. She develops sustainable food and nutrition education programs for schools and also helped develop the menu for the first all-vegetarian school in Denver, CO.