I'm rolling out the rainbow-hued red carpet, heading to Gay Day at Universal Studios, getting my picnic blanket ready for Dyke Day, and eating every multi-colored baked good in Tinseltown. Here's how I plan to get my vegan on, Pride-style.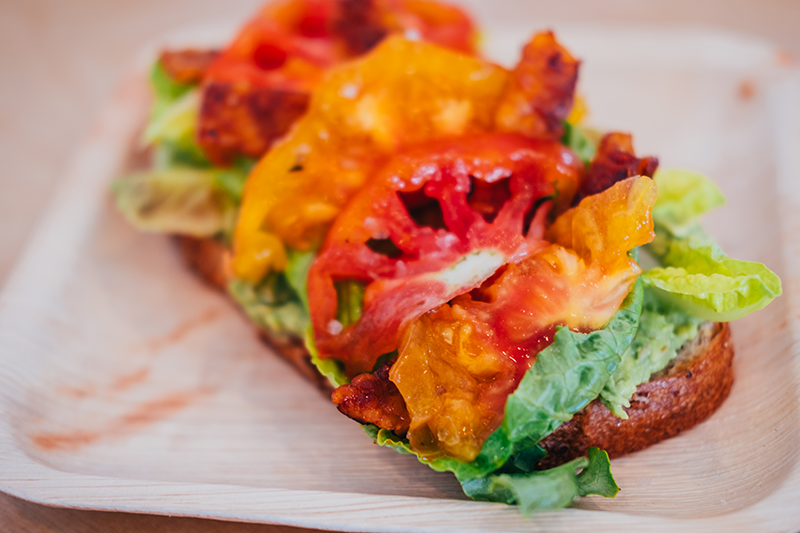 1. Doughnut Forget
Lest we forget, let this be your reminder that June is the official Pride month nationwide in commemoration of the 1969 Stonewall riots, marking what is largely considered the most important event leading up to the modern-day LGBTQ movement. That was only 10 years before I was born, and I basically came out of the womb singing "I Am What I Am," yet the reason I was able to eventually be out-and-proud had largely to do with those riots, which opened the door for queers like me to be assimilated into society. And so this month—and every other month of the year—I am grateful to those rioters who looked injustice in the eye and said "nope." And so I will do what I do best: celebrate by eating in solidarity with my queer compatriots as well as with the animals. My first stop is queer-owned Silver Lake eatery Jewel, owned by power couple Jasmine Shimoda and Sharky McGee, who plan on offering rainbow vegan doughnuts this month. I plan on keeping their business very healthy for as long as these iconic desserts are on the menu, and if they run out before I get there, let's just say it will be its own sort of riot.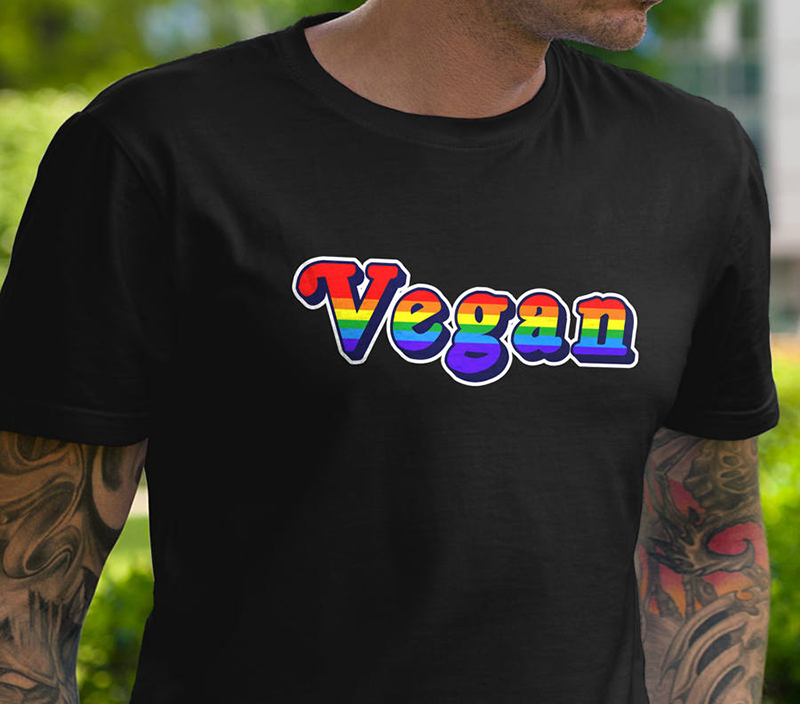 2. Pride Parade
Guess what I recently learned? That the Executive Director for Christopher Street West, the nonprofit that produces the annual LA Pride Festival—Madonna Cacciatore—is an ethical vegan! Whaaaaat?! Not only is her name Madonna, which is kind of gay-icon enough, but this longtime activist has unabashedly connected the dots between LGBTQ rights and animal rights, which is something that is super near and dear to my heart. "My primary reason for being vegan is my love and compassion for all creatures," she says. "I feel that every living being should have a chance to thrive. I'm calling on all my fellow vegans to #JUSTBE at LA Pride 2018." I'll be attending LA Pride wearing a shirt that brings home both of these important messages—that I'm queer, that I'm vegan, and that I'm not going anywhere. At last year's San Francisco Pride Parade, I went all out with my glittery garb. Cacciatore, who probably already has her Pride outfit picked out and ironed, is relentelessly shining a light on the overlapping issues that connect various social justice causes. "Compassion is key to a vegan lifestyle," she continues. "My wife and have been together 15 years. We've celebrated 10 of those as vegan, and we wouldn't have it any other way."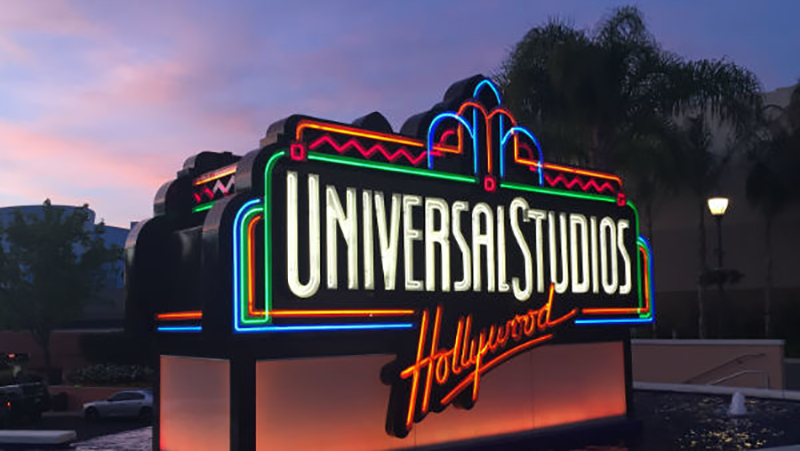 3. Universally Gay
Speaking of Christopher Street West, on June 2, if you are looking for me, you might want to check Harry Potter World. Or Jurassic Park. Or Super Silly Fun Land! That's because I'll be celebrating Pride at Universal Studios, which dedicates an entire evening to raising funds and awareness for LA Pride. Thankfully, there are plenty of vegan options for me while I'm there, including but not limited to Thai Udon Noodle Salad, a Roasted Portobello Mushroom Burger, and even Gilly Water (which is really just Harry Potter-themed water, but perhaps it will effectively keep away the dementors—and please note that our 23-year-old Assistant Editor was consulted on that last line).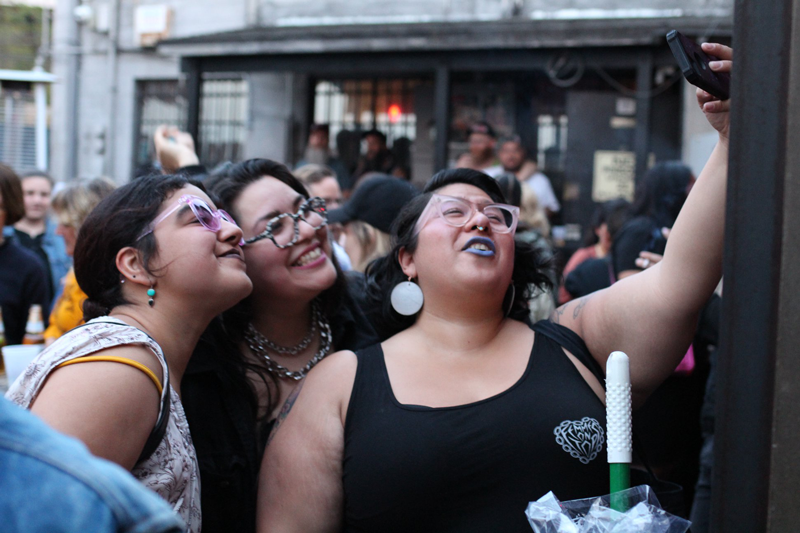 4. Dyke Day
But what really makes my lesbian heart sing is Dyke Day, which usually happens the day before the parade, preceding the energetic and eye-candy-tastic Dyke March—created to bring visibility and inclusivity to women who love women, regardless of labels. This year, my wife Moore and I will be getting our picnic on in style with an elaborate lunch that will include air-fried seitan, potato salad, and rainbow crudite. The single most effective way to change the world for animals is through delicious vegan food, so we will bring enough to share … probably.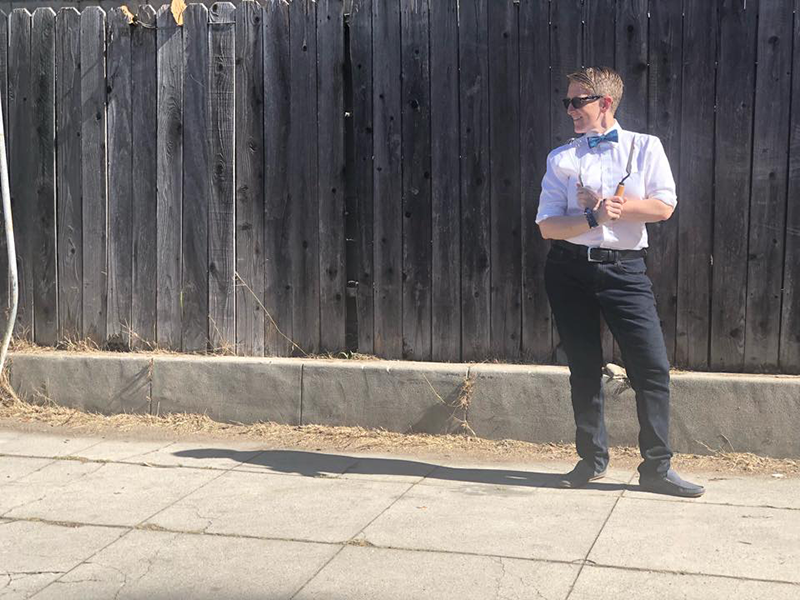 5. Media Maven
Since I can't really cook (though I am enthusiastic about air-frying take-out leftovers—don't knock it 'til you try it!), I am relying on Moore to make the aforementioned picnic grub. Lucky for me, she is a whiz at food concocting (24 years of veganism has perfected her use of seitan, even though she and I disagree about how to pronounce it). And though she might be a seasoned meal-maker, I'm a passionate media-maker (to each their own!), which is why we started Butch Home Ec—an all-inclusive, gender-bending vegan platform focused on making inexpensive and comfortable things beautiful, ethical, and DIY-friendly. Since I strongly believe that vegan hacks (munchies and otherwise) should be broadcast, I'll diligently document the delectable ways Moore veganizes our queer-themed food and festivities. I strongly encourage anyone with a phone or computer to harness the power of DIY media, and use your platform to be out and proud about your queerness (or your support of this still-marginalized community), as well as your veganism. Media of all kinds increases visibility a billion-fold, which is why I dedicate my life to it.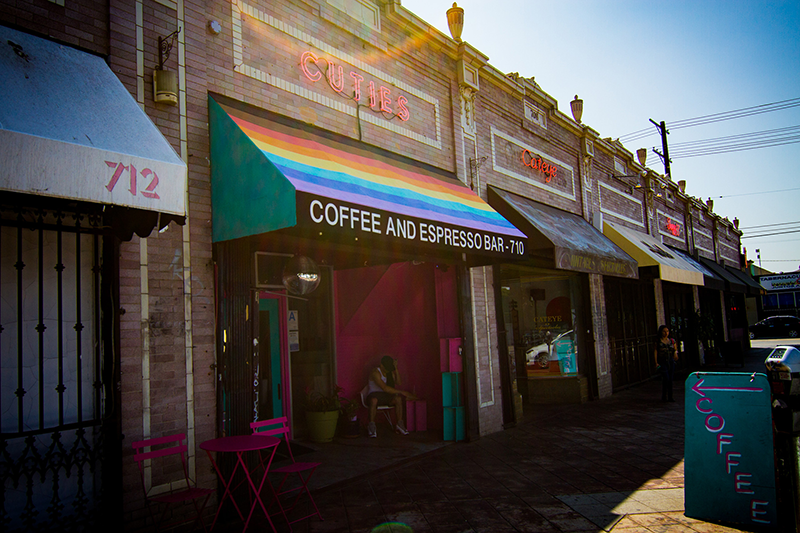 6. Community-Building
For anyone concerned about a cause greater than themselves, one of the most important ways to stay sane and avoid burnout is to build and foster safe spaces. Though "self-care" seems to be a buzzword lately (I'm a total fan and proponent), the lesser known concept of "community care"—coined by Black Lives Matters co-founder Patrisse Cullors—which basically means we need to have each other's backs on the regular, especially when we're fighting the good fight, should be part of any change-maker's M.O. That's why my very favorite place to hang out and write, edit, scheme, or simply caffeinate is LA's Cutie's, which is only an eight-minute drive from my apartment. Word to the wise and hungry: This queer-owned and operated coffee bar and event space hosts a regular pop-up Saturday brunch featuring tons of vegan options, including a hearty breakfast bowl and a sweet bread pudding. In honor of Pride, next time I visit, I might also grab a copy of the "Lesbians Throughout History" coloring book that they sell.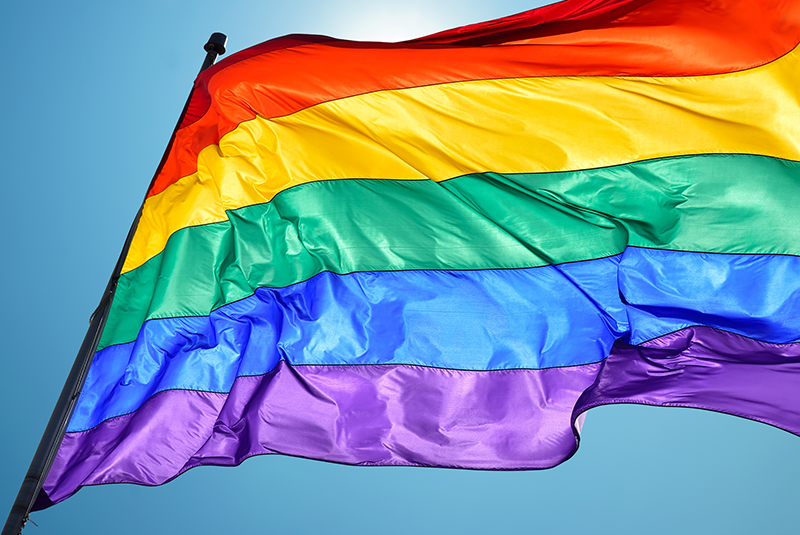 7. Come Out, Come Out
The LGBTQ movement would not and could not have made it this far without straight allies, and the animal-rights movement is an entire social-justice cause made up of allies. So come out, come out wherever you are! In a video I produced for Our Hen House called "Coming Out for Animal Rights," vegans who came to animal advocacy by way of LGBTQ causes (including me) speak about the overlaps between these movements. With that in mind, I'm going to use every opportunity possible this month (and, again, all year) to speak up for all animals—humans and non—who are less lucky than me. As a relentless, out-and-proud vegan, there are few things I love more than having my cake and eating it, too. And there is nothing I want more than a rainbow-hued world full of vegan cake. Happy Pride.


Jasmin Singer is the Digital Director for VegNews, the co-host of the Our Hen House podcast, and the author of the memoir Always Too Much and Never Enough.