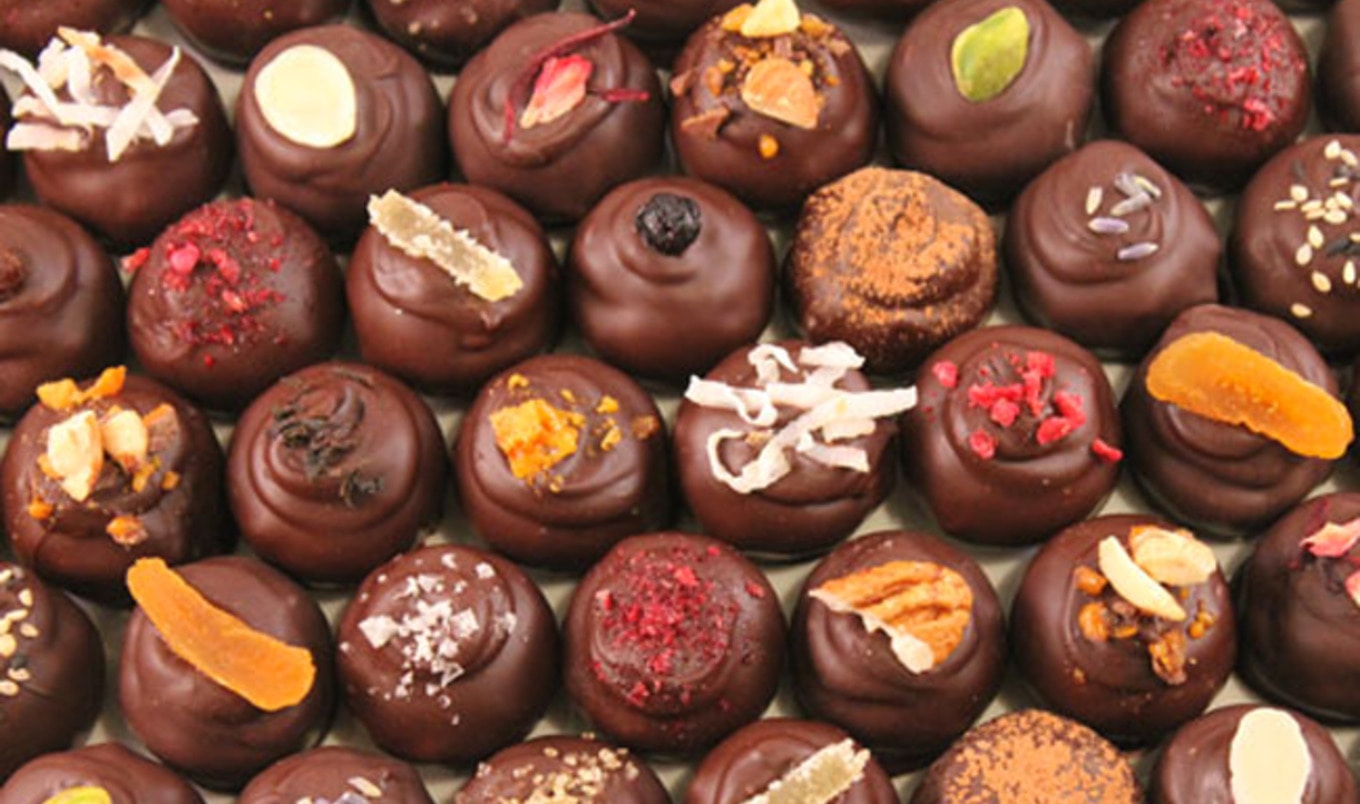 Giving a gift from one of these vegan companies to your loved one almost guarantees you'll be celebrating Valentine's Day for years to come.
February 11, 2016
---
With Valentine's Day approaching, now is the time to shower your loved ones with jewelry, flowers, and—most important—chocolate. The jewelry and flowers are easy to come by, and thanks to a slew of options from a growing number of artisanal vegan chocolatiers, so is dessert. If it's vegan, you know you can't go wrong with any number of chocolates, but to help you decide, here are the most Valentine's Day-worthy vegan chocolates we could find.

1. Lagusta's Luscious
Vegan, 100-percent organic, and fair-trade, Lagusta's Luscious boast local ingredients, fresh-ground spices, homegrown herbs, and earth-friendly packaging. Seasonal flavors include Macadamia Maui Vanilla Cream with Chamomile and a Blood Orange Heart made with local fruit and house-made organic vanilla.

2. Charm School Chocolate
Charm School Chocolate hand-makes its vegan coconut milk and vanilla bean white chocolate bars using simple organic ingredients and fair-trade cacao. Because they are true artisans, they slow-roast the cacao themselves for up to five days and source local ingredients whenever possible.

3. Rescue Chocolate
This vegan, fair-trade chocolate company dedicates 100 percent of its net profits to animal-rescue organizations around the United States. Every chocolate wrapper helps spread information regarding a particular cause, and the treats even have fun names such as "Mini Peanut Butter Pit Bull" and "Salted Caramel Bow-Wow Bon Bons."

4. Farm Sanctuary "Be My Valentino" Truffles
For animal lovers with a sweet tooth, a V-Day gift doesn't get much better than truffles from Farm Sanctuary. Proceeds from this heart-shaped box (with adorable "Be My Valentino" tag) go to a heartfelt cause—Farm Sanctuary.

5. ZIMT chocolates
Artisanal sweets from ZIMT chocolates are raw, vegan, organic, and ethically sourced. The Peppermint Nib'd bar contains only cacao nibs, coconut sugar, cacao butter, and peppermint essential oil, while the truffles show the same exquisite minimalism.

6. Raaka
With an impressive selection that includes Bourbon Cask Aged, Vanilla Rooibos, and Lapsang Chai, Raaka also features Butternut Squash Truffles and specialty bars from a monthly subscription. The brand is also committed to green practices and uses only raw cacao stone ground in small batches.

7. Pacari
Pacari is the first single-origin organic chocolate made entirely in Ecuador. Located just a few miles from the small organic farms they work with, this family-owned company strives to preserve the prized Arriba Nacional cacao bean, found only in the South American country. Pacari's raw and exotic bars include Lemongrass, Andean Blueberry, and Fig.

8. Diego's Chocolate
Similar to Pacari, Diego's Chocolate is one of the few companies to make chocolate where cacao is grown, which greatly reduces carbon footprint and also creates a fresher product. This Guatemalan company uses a base of just three pure ingredients, an heirloom species of Guatemalan cacao, and an old family recipe.

9. Gnosis Chocolate
Gnosis handcrafts raw, vegan chocolate using ethically sourced cacao that's 100-percent free of refined sugar, gluten, dairy, soy, and peanuts, while its bars incorporate medicinal herbs, fruit, and superfoods. For that special sweetie in your life, consider the Passion Bar—an aphrodisiac chocolate bar containing rose hips, damiana, horny goat weed, and passionflower.

10. Dear Coco
This award-winning company offers a wealth of vegan chocolate bars, truffles, and hot chocolate spoons (complete with vegan marshmallows in the center). The exotic flavor collection includes a Barcelona Toffee Chocolate Bar, Madras Toffee Chocolate Bar, Moroccan truffle collection, and Valentine's Day truffle box.

11. Chocolate Hollow
This Vermont chocolate company makes handcrafted bars with only a few organic, vegan, and fair-trade ingredients. They're best known for Shmilk, a vegan milk chocolate made from a top-secret recipe (hint: instead of dairy milk powder, they use a mix of macadamia and organic soy).

12. Bixby & Co.
Bixby & Co. is a Rainforest Alliance-certified, woman-owned, gluten-free company with a line of vegan chocolate bars and drinking chocolate. With flavors such as Strawberry-Cinnamon-Almond and the Whippersnapper (made with Maine blueberries, walnuts, and black pepper), there's something for everyone.

13. eatingEvolved
Thanks to a selection of chocolate bars and coconut butter cups (this month's flavor is Strawberries & Cream!) made with the purest ingredients available, eatingEvolved is a company for the health-conscious vegan. The signature dark chocolate bar contains only organic single origin cacao and organic coconut sugar, while the brand also has a chocolate spread.

14. Sjaak's
With individually wrapped dark, "melk," and lavendar hearts (you can even get a full tub), Sjaak's helps you share a delicious Valentine's Day with your loved ones. The socially responsible and sustainable company, which is entirely vegan, also makes Eli's Earth Bars—caramel and nut-filled candy bars encased by dark and melk chocolate.

15. Hnina
Hnina is your destination for dairy-free, nutrient-dense truffles. This conscious company uses only raw, sustainable cacao and 100-percent, organic, and unprocessed ingredients from local farms. Make sure to order the vegan varieties, as truffles are made with either maple syrup or honey.

Melissa Robinson is a freelance writer and content strategist with a love of conscious business, natural products, and chocolate.