In regards to the culinary scene, London kitchens had some catching up to do compared with the rest of the world's metropolises. While cities such as New York, Paris, Rome, and Seoul have long been regarded as culinary destinations, London has just recently broken its reputation of bland food and mushy peas. London's vegan scene has flourished in stride with this culinary renaissance, making the city one of the top spots for gourmands and foodies alike—no matter one's dietary preference. Understanding that one only has so much stomach real estate per day, we've scoped out the local's top five favorite vegan spots to put on your food bucket list.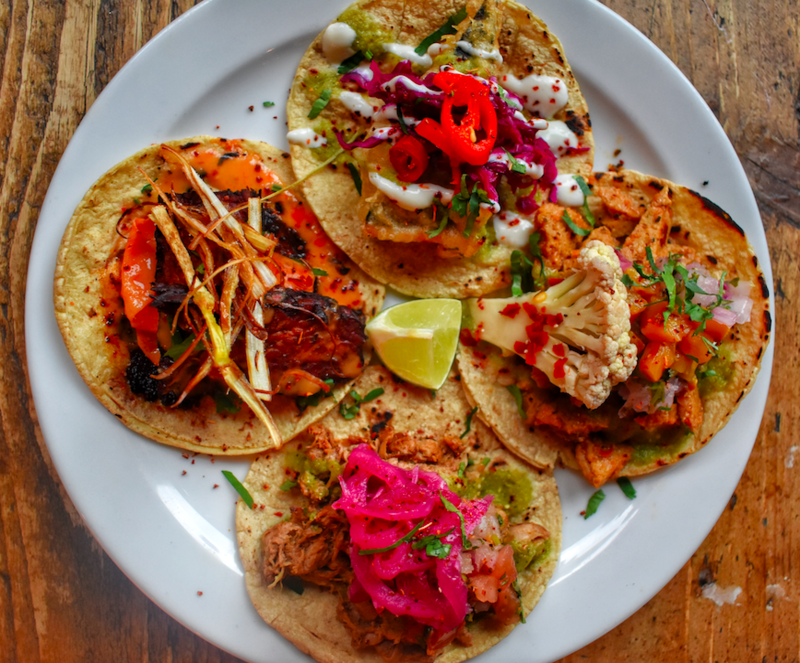 1. The Spread Eagle
Lay low and act like a local by sitting down for a drink in London's first all-vegan pub. Though the act is traditional in itself, don't expect the usual pub food here. The popular vegan taco joint Club Mexicana runs the kitchen and dishes out Mexican-inspired eats. Expect over-the-top menu items such as the Loaded Nachos piled high with vegan chorizo, sweet potato, red pepper queso, and pink onions; and a selection of meaty tacos including Beer-Battered Tofish, Al Pastor Pork, and Jackfruit Carnitas. Craving a burger? The MFC (Mexican Fried Chick'n Burger) and the Club Mex Cheezeburger are nothing short of messy, indulgent, and one hundred percent life-affirming. If you can manage dessert, the ice cream sandwich made with smoked salt caramel and a miso biscuit is heavenly.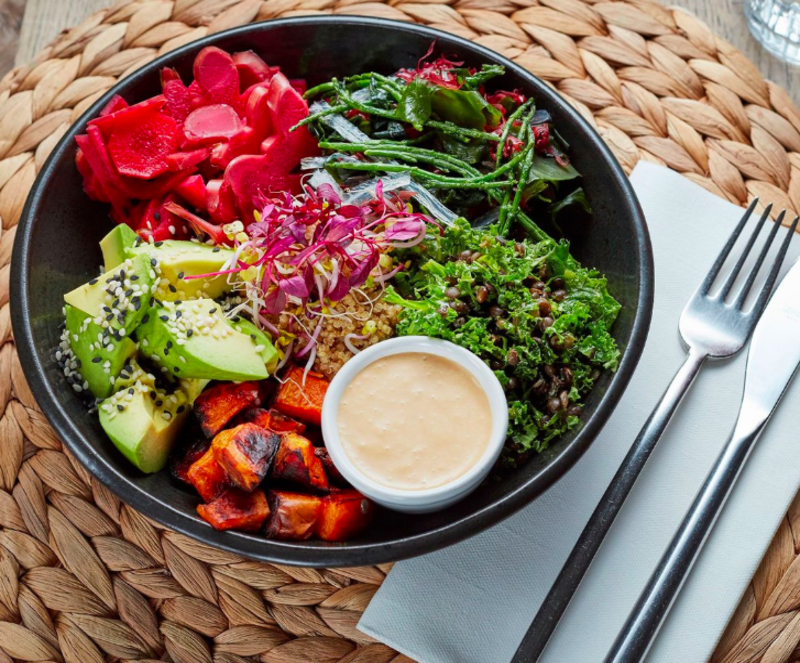 2. Farmacy
Have a few pounds to spare? Dress smart and make your reservations for Farmacy—an upscale vegan restaurant that has attracted a loyal following since its opening in 2016. All the ingredients are either grown on the restaurant's farm or sourced from local and sustainable suppliers. For breakfast, try the Protein 'Omelete' featuring a savory chickpea pancake filled with greens, avocado, roasted butternut squash, and harissa; the not-too-sweet Chocolate Chip Waffles; or the Farmacy Breakfast—a vegan take on the classic English breakfast plate including potato rosti with truffle cream, roasted tomatoes, marinated portobello mushrooms, and sprouted baked beans. When the sun dips behind the Tower of London and the tealights come out, Farmacy swaps out its menu to highlight a medley of macrobiotic bowls, international entrées, and comfort food sides such as pizzettas and mac and cheese. Complete your meal with a farm fresh Farmacy juice or a delightful dessert. Between the Eton Mess, Raw Chocolate Tart, and Banana Bread & Peanut Butter Pudding, you're going to want to bring people so you can try them all.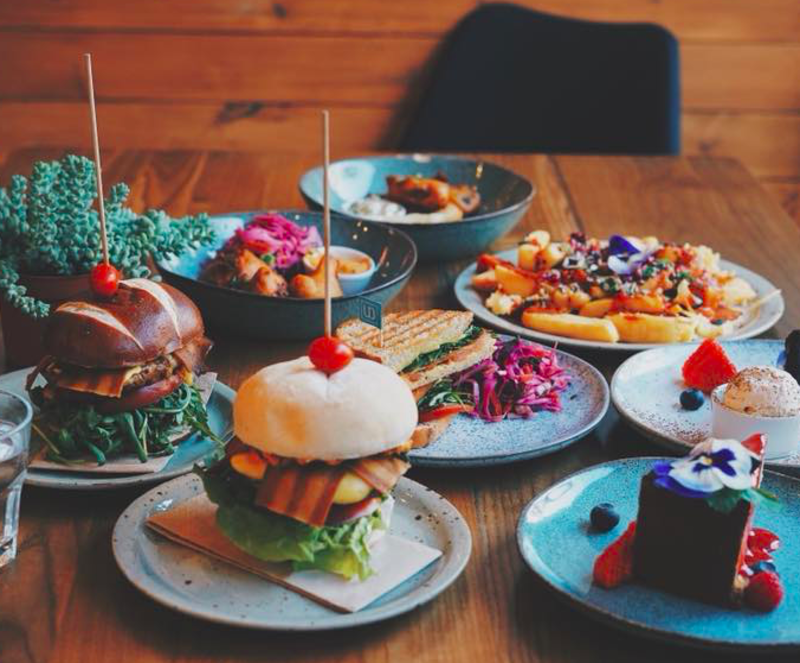 3. Unity Diner
For those who like to make their patronage go the extra mile, plan to have a meal (or four) at this non-profit East London restaurant. Co-founded by vegan activist Ed Winters (aka Earthling Ed), all proceeds go toward Surge, an animal rescue sanctuary and campaign-driven nonprofit organization. The American comfort food-inspired menu includes savory dishes such as waffle fries, tempura-battered broccoli and cauliflower wings, several tasty takes on burgers and hot dogs, and the ultimate attraction—the Dirty Loaded Fries—a mountainous pile of French fries, melty vegan cheese, crispy onions, and seitan, all dolloped and drizzled with garlic mayo, barbecue sauce, and hot sauce. We highly recommend sharing this item to save room for dessert!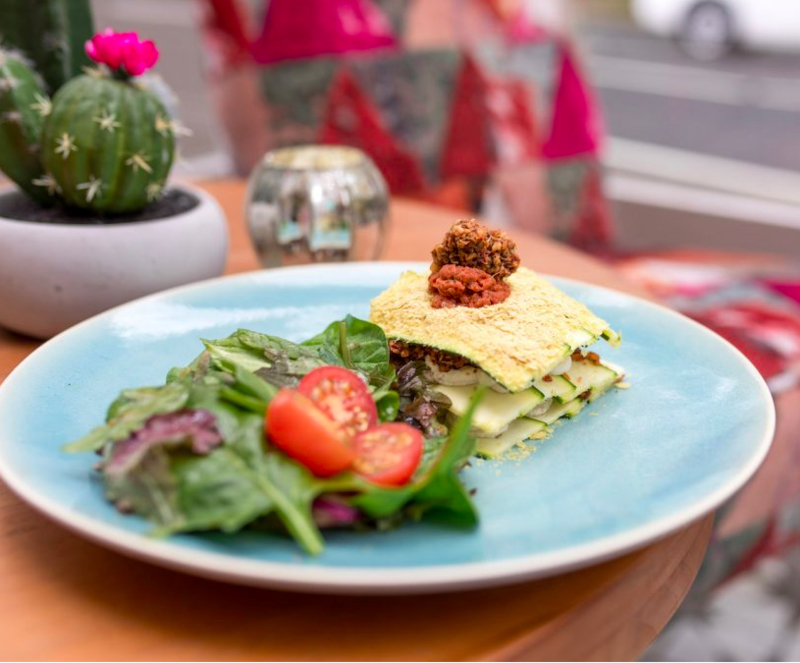 4. Tell Your Friends
For feel-good fare, check out this chic yet relaxed eatery in South West London. Start your order with a smoothie or a fresh-pressed juice—the cacao, peanut butter, maca, banana, and almond milk smoothie is practically a meal in itself. During the evening hours, swap your juice for a craft cocktail, glass of wine, or beer. The food menu changes regularly, but one can always expect the hits such as the crispy jackfruit 'Chicken' Bites and the creamy cashew-based mac and cheese. Both the daytime and evening menus strike the perfect balance between healthful and indulgent, so you can order the Raw Bowl one night and the White Bean and Fennel 'Fish' Pie another time. Or, do as we do and make your dining partners share with you!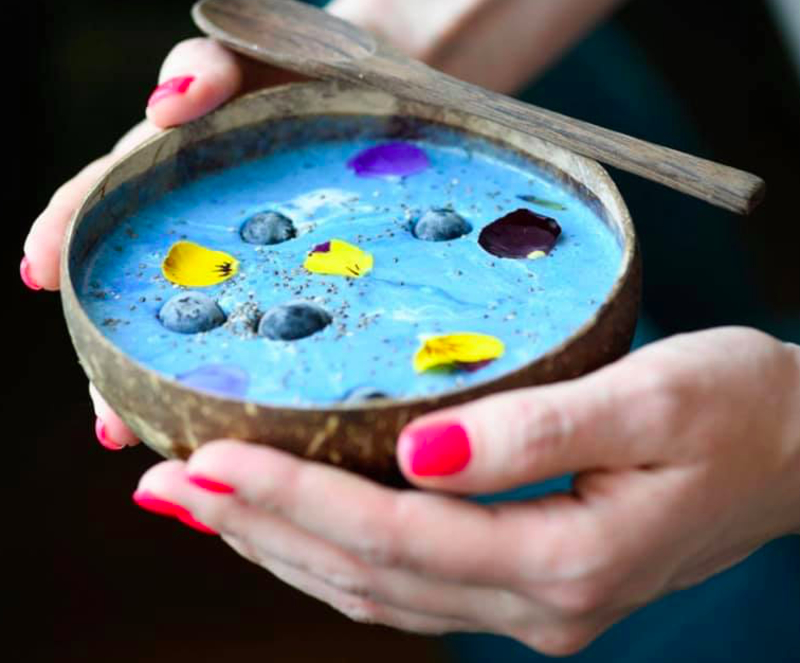 5. Kalifornia Kitchen
One of London's newest vegan restaurants, Kalifornia Kitchen is arguably the most Instagrammable. The hot pink exterior is impossible to miss, and interior decor is just as eye-catching. The ethos of this spot is to prove that "healthy is sexy," and by the time we completed our meal, we were convinced. A few of the outstanding dishes include the Banana Skin Tacos made with pulled banana skins slathered in a hickory smoked barbecue sauce paired with a cool and tangy rainbow slaw; the Tempeh Caesar salad comprised of blackened and cultured tempeh, kale, romaine, pickled cabbage, and a housemade caesar dressing; and Paula's Pecan Pie. The restaurant also features a special summer menu (get the Galaxy Bowl, trust us), and a CBD menu featuring CBD-infused smoothies, baked goods, granola, and vegan gummies. If there weren't so many incredible vegan options to try in London, we would eat here every day.