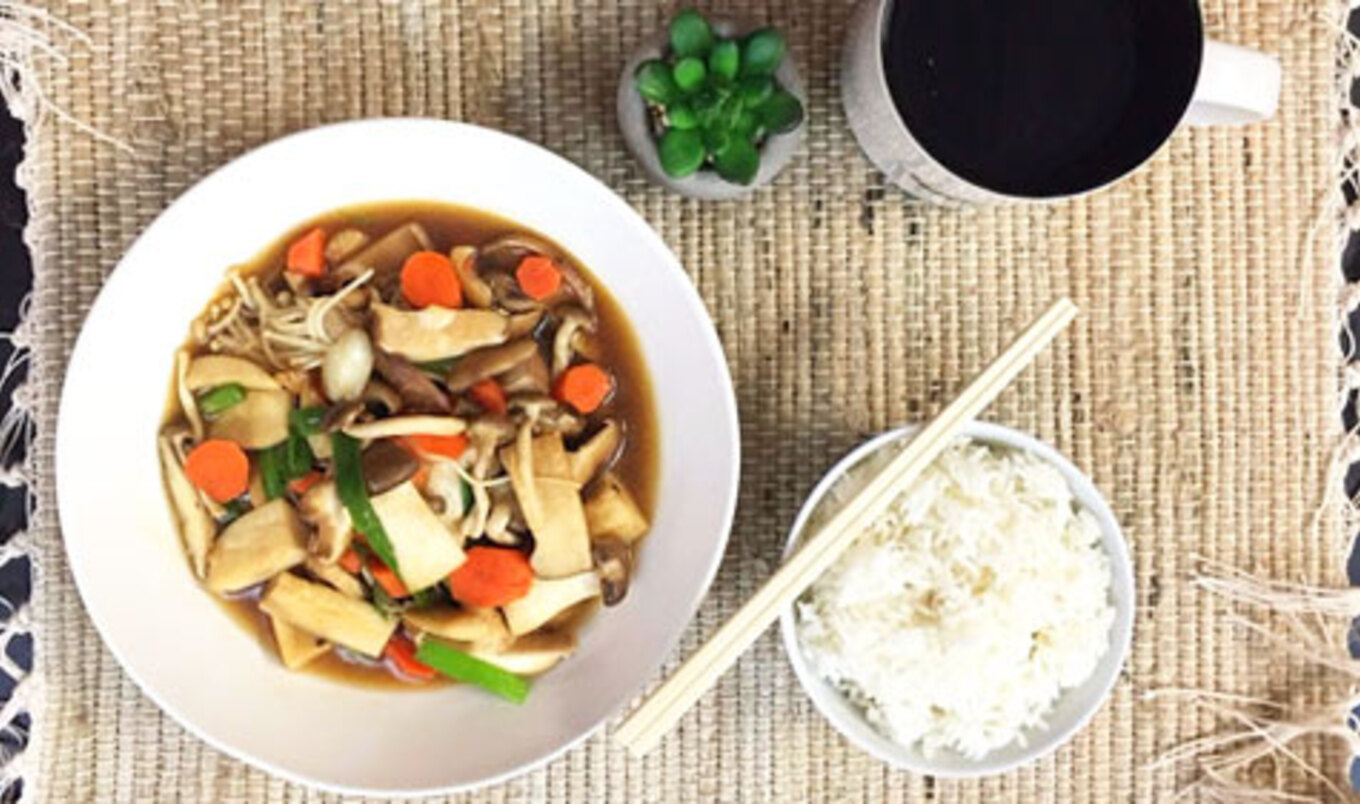 Get out your passport because persimmons, hot soy milk, and stuffed buns await.
March 23, 2017
---
When I tell strangers I live in China on a vegan diet, often I am met with shocked looks on people's faces. Some still think local diets consist of dog meat, monkey brains, and chicken's feet, but Chinese cuisine is very friendly to plant-based eaters. Until recently, a typical Chinese diet was almost entirely plant-based, which is one reason why T. Colin Campbell, PhD, could conduct research for his seminal book The China Study (regarding the medical benefits of cruelty-free diets) in the Middle Kingdom. In addition to many of the amazing vegan foods you can find in the United States, China is also home to an array of localized delicacies that ensure plant-based travelers will enjoy more than just white rice.

1. Hot soy milk
Forget your morning cup of joe—hot soy milk is officially the best way to begin your day. The confusing bit is that there are two types of soy "milk": doujiang and dounai. Doujiang is made of freshly blended soybeans and water and—if you're lucky—you can find vendors that blend them with whole grains and legumes such as red beans, peanuts, or barley. This means that the beverage contains more fiber, protein, and vitamins than dounai, the type of soy milk more readily available in the US, which is processed one more time.

2. Roasted sweet potatoes
During winter months, roasted sweet potatoes with a crispy outside and soft, caramelized filling are the perfect combination of healthy and indulgent-tasting. Found at many street vendors, the price is unbeatable, too, as I've never paid more than $1.50 for one of these. It's a good thing that, according to Michael Gregor, MD, "sweet potatoes can be considered a superfood."

3. Seitan
China might be known as the land of soy and tofu, but seitan (aka, wheat gluten) is also one of its most delicious and underrated ingredients. A common dish at Buddhist vegetarian restaurants, seitan has been a documented food in China since the sixth century. While sometimes restaurants prepare this soy alternative to imitate meat in both texture and appearance, wheat gluten is tastiest when baked and spongy, so the dough soaks up all of the flavors of its sauce.

4. Fake fish
Despite telling people that I am vegan, often I'm asked, "Do you eat fish, though?" I've never eaten seafood, but if I so desired, I could order faux-fish cutlets made from soy and/or wheat gluten in a chili oil (a meat-free spin on the Sichuan classic) or a veggie version of a spiky sea cucumber. Don't be shy: at vegetarian hotspot Lin's Lounge in Beijing, the signature sea whelks (a type of sea snail) made from konjac (also known as "voodoo lily," "snake palm," or "devil's tongue"), are delicious.

5. Curry
Though China and India share a border, Chinese curry is probably not what you picture of when you think of classic Indian curry. In fact, the dish entered China by way of Malaysia vis-à-vis Cantonese cooks. The vegetables and tofu in dairy-free yellow curry served on this side of the Sino-Indian border are not spicy, and ghee is almost unheard of here, which makes it easy for vegans.

6. Fresh fruit
You know those gorgeous breakfast-bowl posts on Instagram that seem impossible to make yourself? Many of those photogenic ingredients are common in China. White and red dragon fruit, persimmons so juicy you can suck the insides out in one indecorous gulp, and Asian pears the size of a softball are just some of the more common fruits available here. And you know how expensive goji berries are in the United States? They're from the Himalayas and cost the equivalent of $4 for approximately one pound on this side of the world.

7. Stuffed buns
Bread is not a rarity in China—it's just not your sliced white bread variety. Baozi are stuffed buns with savory fillings such as mushrooms, carrots, or leafy greens, or sweet fillings such as red beans, black sesame, or purple taro paste. If you're craving other carbohydrates, you can also find chocolate bread, pumpkin cornmeal buns, toasted spicy bun skewers, scallion pancakes, and vegan sesame cookies at bakeries and restaurants.

8. Lotus root
Palates in Shanghai tend toward the sweet, which has led to the national popularity of lotus root. Boiled until soft, then stuffed with sticky rice, and covered in a sticky, viscous osmanthus syrup, lotus roots are most commonly served as a cold appetizer, but this dish also doubles as a dessert (you can feel virtuous about eating this because the lotus root is a vegetable rich in vitamins B and C). If you're craving a similar flavor while touring the city, you can also find candied fruits and nuts on skewers for less than the equivalent of $1.

Veronica Houk lives in Beijing and New York and covers the vegan lifestyle, travel, and art.