The city that is famous for the very vegan-unfriendly Philly Cheesesteak sandwich has jumped on the vegan bandwagon with gusto. With more than 12 plant-based restaurants in Philadelphia's Center City alone, you can enjoy an abundance of vegan burgers at HipCityVeg, and creative fast-casual sandwiches at Wiz Kid (from the culinary team behind Vedge and V Street). The City of Brotherly Love has reinvented the meals that made it famous and is now the epicenter of towering, plant-based, creatively built satisfying sandwiches that will impress even the most devoted omnivorous cheesesteak connoisseur. We've collected the 8 that you must not miss.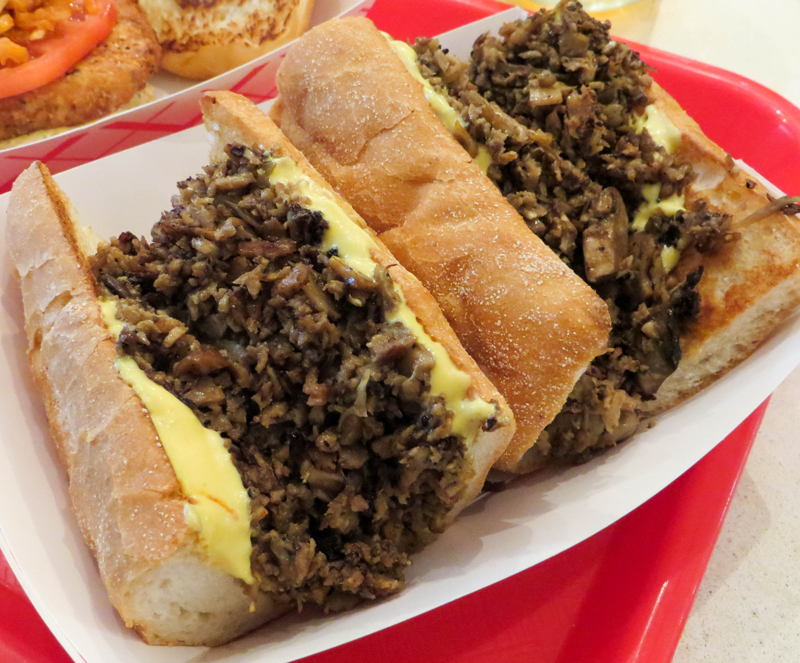 1. Philly Cheesesteak
When in Philly, you need to get a classic Philly Cheesesteak, and Wiz Kid has the best in town. Instead of greasy beef covered in melted cheese, the completely cruelty-free Wiz Kid Philly sandwich consists of seitan, mushrooms, fried onion, and "rutabaga wiz" (creamy cheese made from rutabaga, garlic, soy, miso, white pepper, and nutritional yeast). It tastes just like the real deal but is 100-percent vegan, and lacks the excess of grease.
View this post on Instagram
2. Crispy Hip City Ranch
Made from fresh, local, and mostly organic ingredients, hop into HipCityVeg for their outrageous Crispy Hip City Ranch, which reinvents a fried chicken sandwich as a completely cruelty-free fast food favorite. This vegan version consists of battered plant-based chicken, lettuce, tomato, onion, pickle, and peppercorn ranch dressing. You also have the option to add buffalo sauce to it, for a sweet kick. Everything on the menu at HipCityVeg is made with non-GMO soy ingredients and is packaged in eco-friendly compostable materials. So it's a win for the environment, as well as for the animals, and for you.
View this post on Instagram
3. Cubano Club Slider
A vegan Cubano in the middle of Philadelphia? Yep, and it's one of the most popular sandwiches at Bar Bombón, a Puerto Rican restaurant serving up plant-based fare just outside of Rittenhouse Square. The Cubano is loaded with blackened chick'n, smoked tempeh, avocado, dill pickles, lettuce, tomato, and grain mustard aioli. All of their proteins are made with non-GMO soy and organic grains, making your "meaty" sandwich as cruelty-free as can be.
View this post on Instagram
4. Langos Brunch Bun
A vegan version of the ultimate weekend morning breakfast sandwich, a bagel and lox can still hard to come by, but not at revered Philadelphia vegan restaurant, V Street. Try their Langos Brunch Bun that stacks smoked beets instead of lox, topped with fried capers, cucumber, tomato, and a sauerkraut remoulade. Due to its constantly evolving superior street food cuisine, the restaurant is a desired destination among omnivores and vegans alike, so make sure to book your reservations far in advance for that perfect Sunday bagel brunch.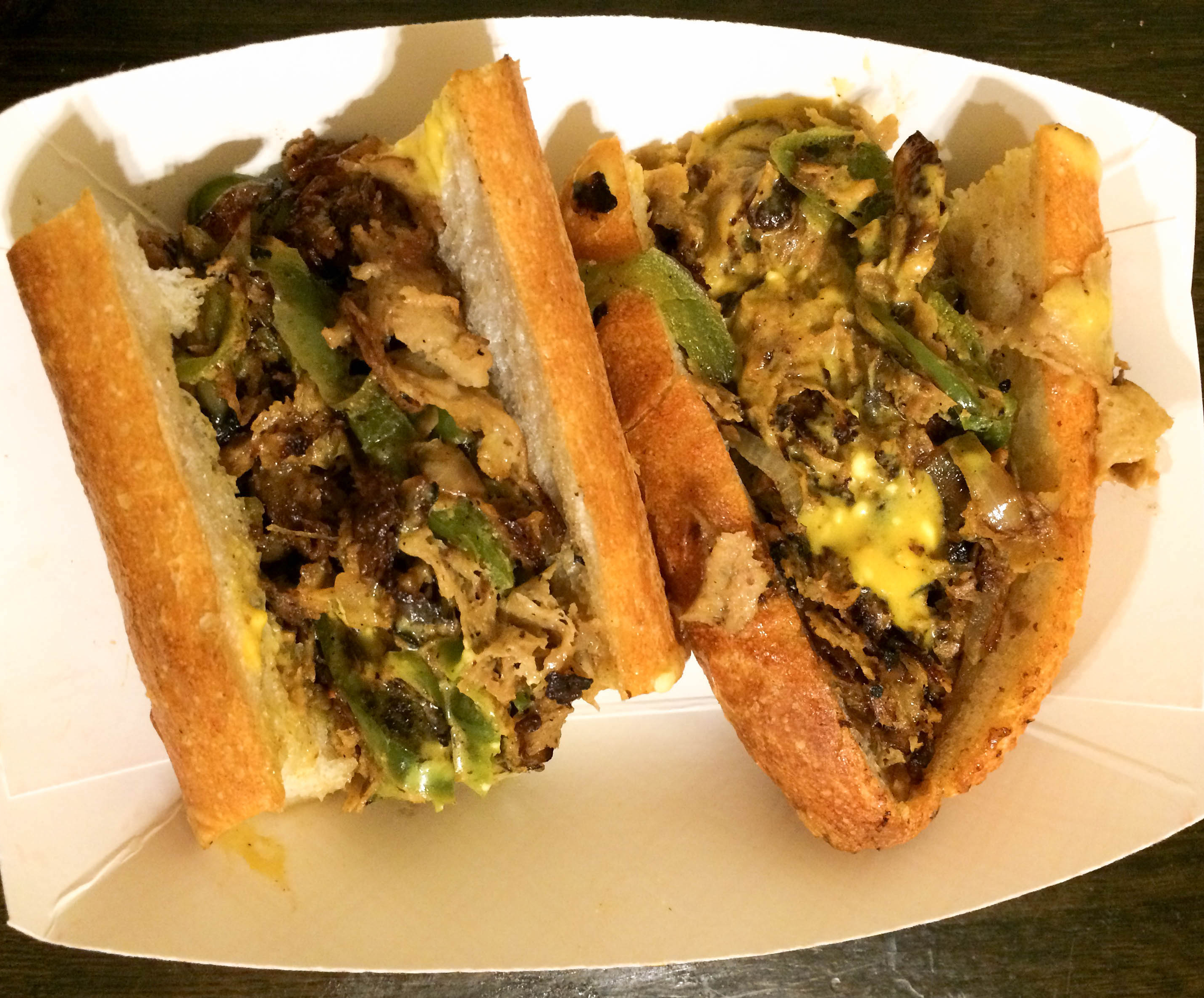 5. Seitan Cheesesteak
This is Philly, and Cheesesteaks abound. For another plant-based version of the classic, try Philly's first all-vegan pizzeria, Blackbird. In addition to fantastic vegan pizza, they make a juicy, cheesy, savory Seitan Cheesesteak. This sandwich is made with rosemary and garlic seared seitan, grilled diced onions, green peppers, and vegan cheese "whiz." If you're craving a traditional Cheesesteak that tastes like the long-standing originals, Blackbird Pizzeria is the place to go.

6. Caramelized Eggplant Bao Buns
For a twist on the traditional two-slices-of-bread sandwich, order a plate of these savory Chinese buns at all-vegan Philadelphia restaurant, Charlie Was a Sinner. The steamed buns are filled with caramelized eggplant, smothered in sweet hoisin sauce, and topped with a pickled slaw. Order them up for a sophisticated nosh alongside the imaginative cocktails served in the posh, intimate atmosphere of this off-the-beaten-path restaurant.
View this post on Instagram
7. Mushroom Meatball Sub
P.S. & Co.'s hearty mushroom meatball sub offers a rich, classic, abundant Philly sandwich sans the animal products. Drizzled in tomato sauce and almond parmesan, it's the Italian sandwich of your dreams with all of the flavor and no cruelty. Even better, as P.S. & Co. is a bakery, they make all of their bread in-house. This sub is served on an organic millet baguette, adding a whole new level of sandwich-ecstasy.
View this post on Instagram
8. Oat Flax Bagel (Secret Menu Item)
This breakfast sandwich is not your average bagel and cream cheese. If you ask for the Oat Flax Bagel from P.S. & Co.'s secret menu, you will be handed the ultimate toasted organic oat-flax bagel with guacamole, a tofu scramble, Miyoko's chive cream cheese, and choice of a chili sesame or jalapeño hot sauce. High in protein and bursting with flavor, this sandwich delivers the dream combo of a bagel with cream cheese, and breakfast tacos, all in one!

Brianne Nemiroff is a journalist from Los Angeles focusing on entertainment, non-toxic beauty, and vegan travel, and is the Beauty Box Manager for VeganCuts.