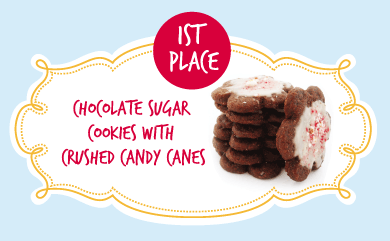 Topped with peppermint icing and a sprinkling of candy canes, these chocolate sugar cookies from VegNews reader Celeste Hill were an instant hit with VN staffers.
August 19, 2011
Melt-in-your-mouth chocolate sugar cookies are glazed with a peppermint frosting and crushed candy canes for the ultimate holiday cookie.
Makes 36 Cookies
What you need:
2 cups sugar
1-1/2 cups vegan margarine
3 teaspoons egg replacer powder plus 4 tablespoons water
2 teaspoons vanilla
3 teaspoons baking powder
4 tablespoons non-dairy milk, divided
3-1/4 cups flour
3/4 cup cocoa powder
1-1/2 teaspoons peppermint extract
1-1/2 cups powdered sugar
6 small or 2 large candy canes
What you do:
In a large bowl, mix together sugar and margarine. In a small bowl, mix egg replacer and water. Combine egg replacer mixture with sugar mixture, and add vanilla, baking powder, and 1 tablespoon non-dairy milk. Mix well.
In a large bowl, combine wet ingredients with flour and cocoa powder. Separate dough into 3 sections, and refrigerate for 3 to 4 hours or an hour in freezer.
Preheat oven to 350 degrees. Roll out dough to 1/3-inch thick and cut out cookies with cookie cutters. Bake in oven 9 to 12 minutes. Transfer from pan to a cooling rack until completely cooled.
For the icing, in a medium bowl, whisk together peppermint extract, powdered sugar, and 3 tablespoons non-dairy milk. In a food processor or blender, crush candy canes into small pieces. Using a pastry brush, paint icing onto cooled cookies. Sprinkle crushed candy canes on top of icing.
Check out all of our 2011 VegNews Holiday Cookie Contest Winners!
First Place: Chocolate Sugar Cookies Iced with Crushed Candy Cane Topping by Celeste Hill
Second Place: Vegan Rugelach by Lisa Peterson
Third Place: Cinnamon & Chocolate Linzer Cookies by Jess Nadel
Honorable Mention: Soynog Whoopie Pies with Cinnamon-Chocolate Cream Cheese Topped with Chocolate Drizzle by Diana Chow