It's hot out there. And while humans can easily jump in a pool or grab an iced cold brew to cool down, our beloved dogs need a little extra help chilling out on their own. Below are six easy recipes (veganized) for homemade dog treats varying in shape, size, and ingredients. Recipes can be made in paper cups or popsicle molds; just make sure to use small nylon dog bones instead of sticks so your dog won't choke (a small treat also means your favorite Fido can have seconds). Here are our favorite homemade ways to cool down our four-legged fur children.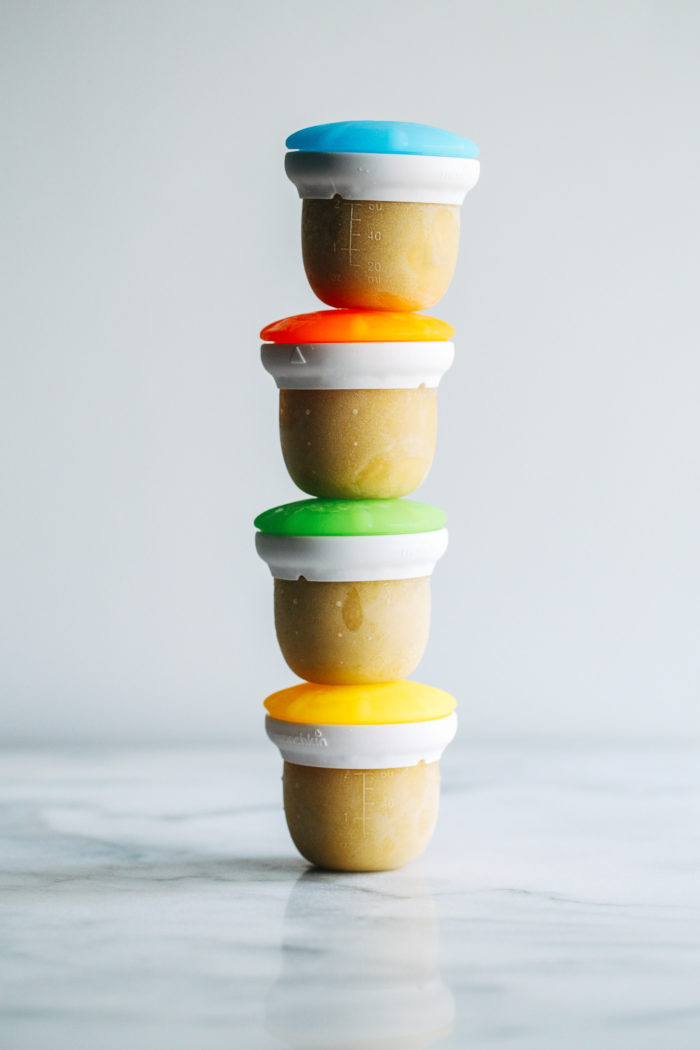 Making Thyme for Health
1 Frozen Puppy Yogurt by Making Thyme for Health
This recipe is both healthy and delicious for your pup. Coconut milk, unsweetened peanut butter, maple syrup, and carrot combine to make a sweet treat while the addition of probiotic capsules (choose a dairy-free one) help with the frozen yogurt-like consistency and keep your puppy's tummy happy!
Get the recipe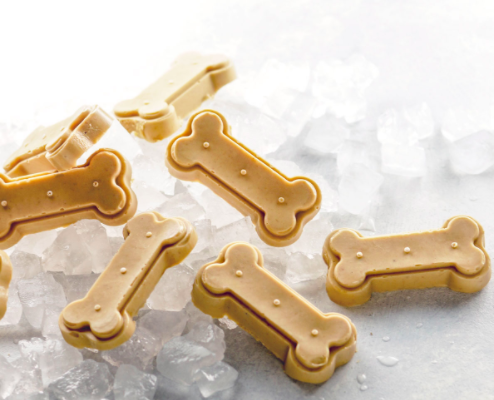 Detoxinista
2 Healthy Peanut Butter Banana Treats by Detoxinista
This recipe is super simple, but the real "wow" factor comes from using silicon pans in the shape of dog bones or paws! Using just banana, water, and unsalted and unsweetened peanut butter, you can whip these up with ingredients you're sure to have around!
Get the recipe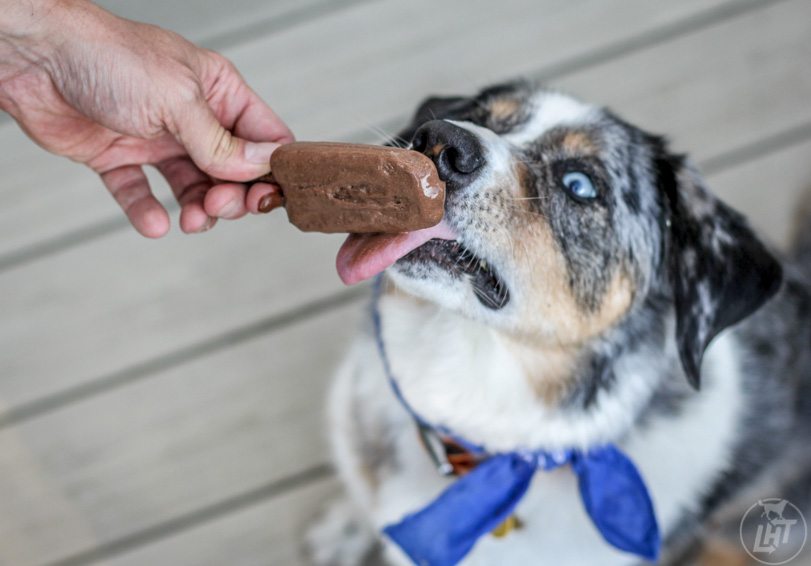 Long Haul Trekkers
3 Carob Fudgsicles by Long Haul Trekkers
Dogs would surely love to dig into some real chocolate fudgsicles; luckily, using carob as a swap for chocolate (carob does not contain theobromine, the toxin that makes chocolate poisonous to dogs) makes this recipe canine-friendly! In addition to the carob, the recipe uses full-fat coconut milk, peanut butter, banana, and maple syrup. Carob is also high in fiber and pectin, which can eliminate toxins and is great for treating tummy issues.
Get the recipe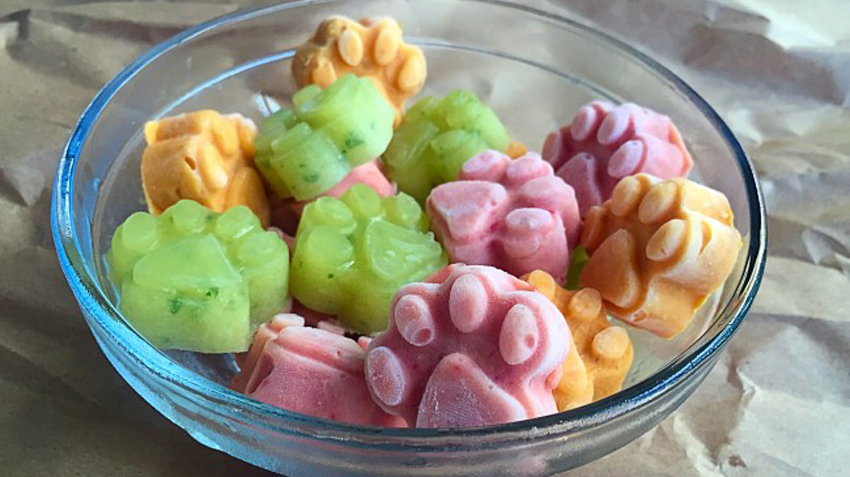 Nationwide
4 Frozen Fruit Bites by Nationwide
These fruity bites are more like yummy ice cubes than ice cream. Simply combine ice cubes and any kind of freshly chopped fruit—making sure to pick fruits that have high water content—and pour into molds after blending. Go the extra mile and opt for paw-shaped molds. Your pup is sure to appreciate the extra touch! Our favorite part of these yummy bite-sized treats? You can enjoy them alongside your pooch on a hot day.
Get the recipe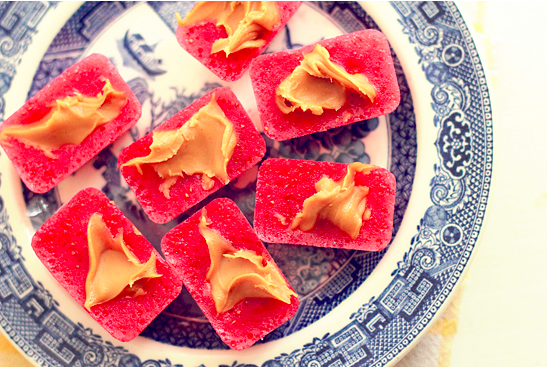 Pawsh Magazine
5 Peanut Butter + Jam Freezies by Pawsh Magazine
This frozen treat is taking PB&J to the next level. Strawberry purée and canine-favorite peanut butter are swirled together to form this sweet treat. Make these DIY bites, sit back, and watch your four-legged friend indulge.
Get the recipe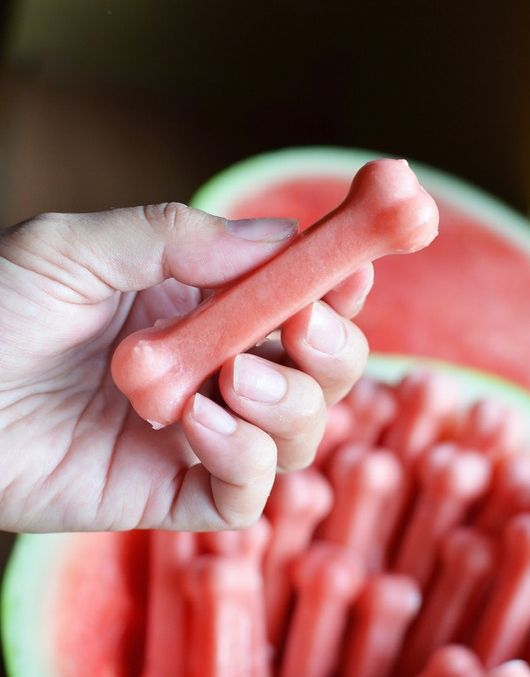 Grr Feisty
6 Watermelon Pupsicles by Grr Feisty
This recipe is another surefire hit. The best part? These pupsicles can easily be made with ingredients you're sure to have at home. Coconut milk and in-season watermelon are blended and frozen to make an epic summertime treat your pooch won't forget.
Get the recipe
For more about vegan dogs, read:
Can Dogs Be Vegan? Yes. And Here's Why.
Vegan Diet for Dogs Linked to Better Health, New Study Finds
The Truth About Craigslist's 'Free' Animals
Hayden Seder is a freelance writer and editor in Sun Valley, Idaho and has been vegan for 14 years.